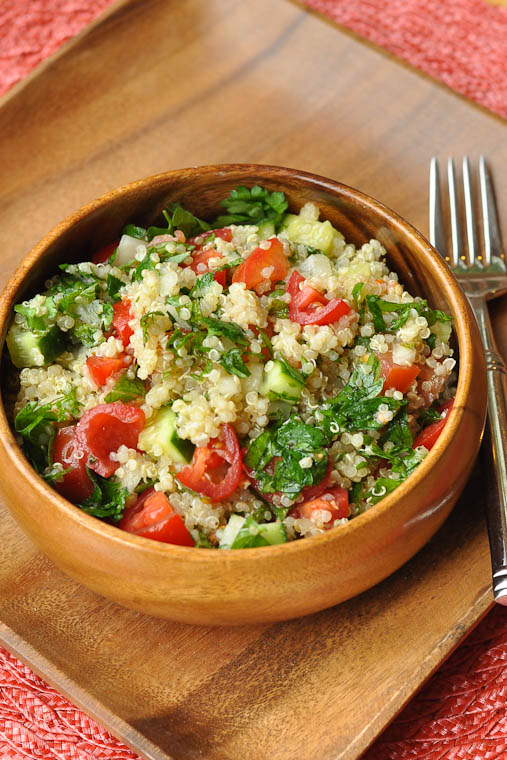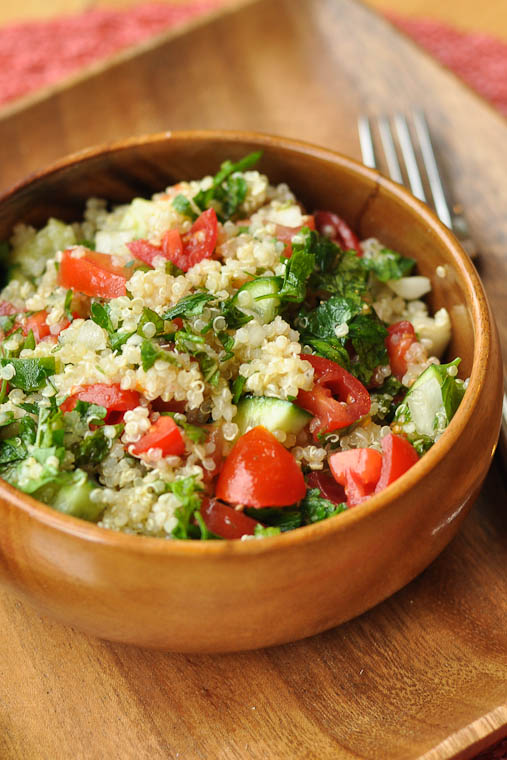 I can't remember the first time I tried tabouli, but I have been eating at Middle Eastern restaurants since I was a kid. If you haven't had it, it's a typical Arabic salad made of bulgur, parsley, mint, tomatoes, often seasoned with garlic, onions and a simple dressing of olive oil, lemon juice, salt and pepper. There are slight variations of the salad: usually just varying amounts of the herbs and seasonings.
Although I love it with the traditional bulgur, I don't always have it stocked in my pantry so I tried using quinoa once. It was a great substitute and you get the added benefit of using a higher protein grain. What I love about a cold vegetable and grain salad is that you can make it ahead of time and have it ready for a dinner side dish or for leftovers in your lunch. In fact it is often better as it sits a day. I always serve it with falafel too. Mmmmm.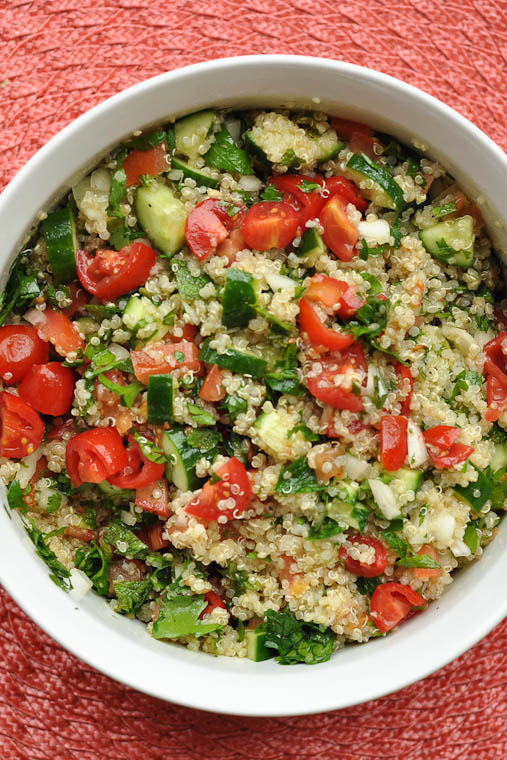 My husband spent close to 2 years in the Middle East so he loves the  cuisine. Based on my experiences, the dishes have such bold, delicious flavors, but aren't too complicated to make. Tabouli is one of those dishes that is very popular and common in America now so you will see it anywhere from salad bars to the grocery store's grain section (you just add the fresh veggies and herbs). I love the addition of refreshing crisp cucumbers.
A little on quinoa (pronounced "keen-wah")- it is an ancient grain with the added benefit of being high in protein, fiber and iron. It has a nuttier flavor than bulgur or rice, but it makes a great substitute. You'll want to rinse it before cooking to remove any possibly bitter flavors from the natural coating called saponins, which are meant to protect the crop while growing and make sure the birds don't eat it. Even if your package says pre-washed, I'd still rinse it.
This is such a versatile dish- you can eat it as is, add grilled chicken to it, stuff it in a vegetarian wrap. Make a salad bowl out of it. LOVE this stuff. Don't skimp on the parsley- you'll probably need two bunches! The only way you can mess up this dish is by under-seasoning. Otherwise, adjust amounts to your liking.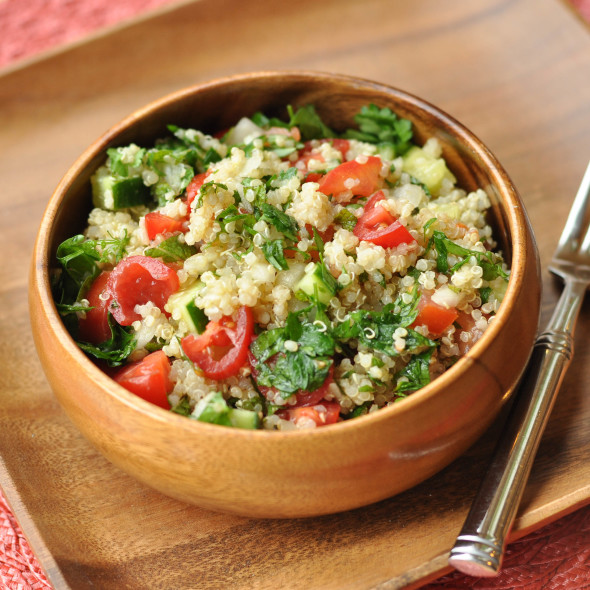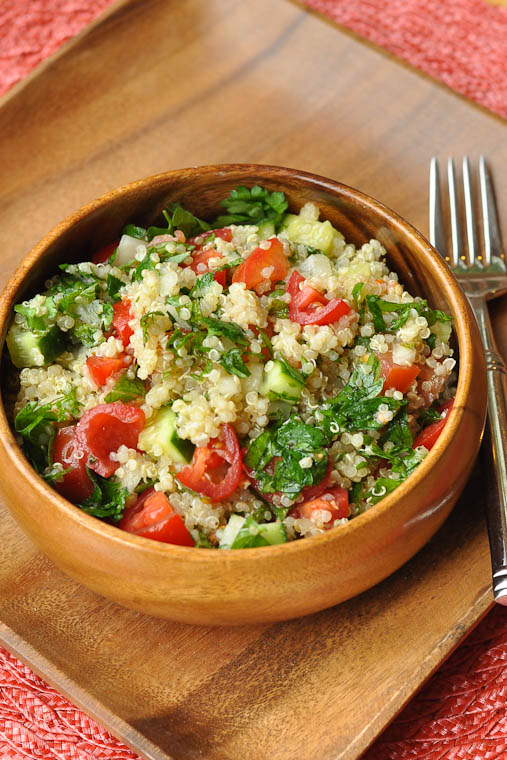 Tomorrow I will be at a food blogging conference that just happens to be in Seattle….eek! I am SO excited. I have been planning on attending for over a year before we got the job here. Isn't that crazy? I am so anxious, nervous and excited to attend and leave my babies. Then on Monday we are off to Hawaii for vacation and a family reunion. Let the summer begin!
Healthy Grains: Quinoa Tabouli
Ingredients
1 cup dry quinoa, rinsed, drained and cooked according to package instructions
2 cups chopped tomatoes, about 2 large
1½ cups chopped cucumbers
½ cup chopped onion (can substitute green onions)
1 cup fresh mint leaves, finely chopped
2 cups fresh Italian parsley, finely chopped
Dressing:
3 Tablespoons olive oil
⅓ scant cup freshly squeezed lemon juice (about 3 lemons)
1 garlic clove, grated
½ teaspoon ground cumin
½ teaspoon Koser salt
¼ teaspoon pepper
Instructions
Combine quinoa and water in a medium saucepan and bring to a boil. Reduce heat to simmer, cover and cook for 10-15 minutes or until all water is absorbed. Transfer to a large bowl to cool while you prep other ingredients.
Add chopped tomatoes, cucumbers, onions and fresh herbs to cooked, cooled quinoa. In a small bowl, whisk together ingredients for dressing. Pour over quinoa salad and toss to combine. Refrigerate for a couple hours to chill slightly. Serve room temperature or cold.
Notes
If you want to make this the traditional way, just substitute 1 cup of bulgur for quinoa and cook per package directions. Adjust the seasonings as needed. You can always add more or less vegetables or herbs depending on your preferences.