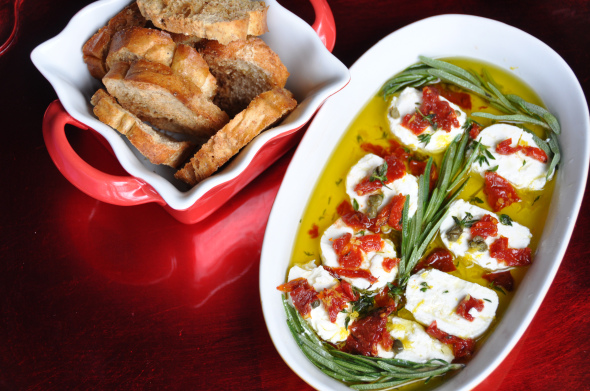 I am super excited about Thanksgiving next week. The kids have the week off so we will definitely be having some fun, both here in Louisiana and hopefully Texas. I posted this recipe 5 years ago! Not only is it delicious, but the recipe includes a lot of ingredients that are likely in your pantry of fridge.
I love cheese as an appetizer, but we all know that it's easy to consume a lot when part of a large cheese tray. Consuming a lot of cheese equals consuming a lot of saturated fat and calories. One of the benefits of goat cheese is that it's lower in saturated fat and calories compared to regular cow milk cheese. It is one of my favorite cheeses and if you think you don't like it, you should try it marinated with all of these flavors.
Interesting facts about goat cheese (chevre):
It's is easier to digest than many other cheeses.
The high digestibility of goat cheese results from the unusual structure of its fats, which are generally small molecules, made up of short-chain fatty acids. Their small size makes them easier to break down and digest than the larger-chain fats of cow's milk and cheese.
It is almost 40% lower in calories, fat and saturated fat compared to cow's milk cheese like cheddar. For example 1 oz of goat cheese has: 70 calories, 6 grams of fat, 4 grams of saturated fat. Compare that to 1 oz of cheddar cheese which has 113 calories, 9 grams of fat and 6 grams of saturated fat. Plus a little goes a long way due to strong flavors.
The dipping oil is delicious too because it absorbs so much flavor from the rosemary and thyme. Another bonus of this gorgeous appetizer is that it can be made ahead of time, even the day before. When I choose dishes to make during the Holidays I like to plan a few dishes that can be made ahead of time that way I am not in the kitchen all day (ha ha…like that is even possible!). Although this year I don't think I will be doing all the cooking by myself like in years past.
You really need to make this on!
This is what you'll need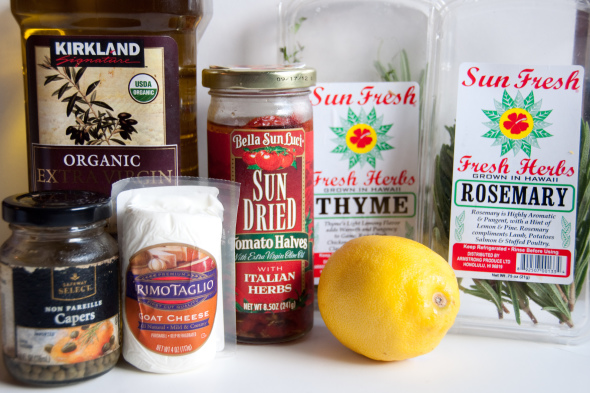 The assembly of this dish couldn't get much easier and here is your final product.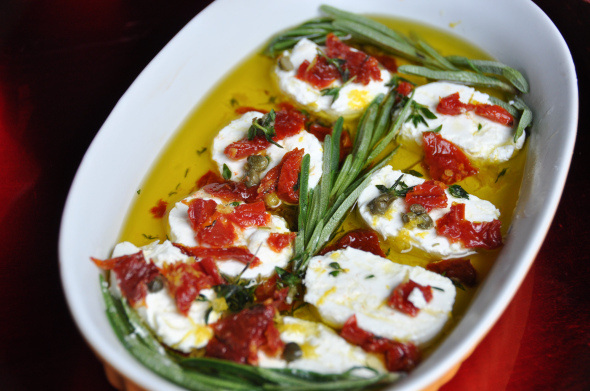 The crostini I made at home as well. Just cut loaf of wheat bread into slices, drizzle with olive oil and bake until crisp.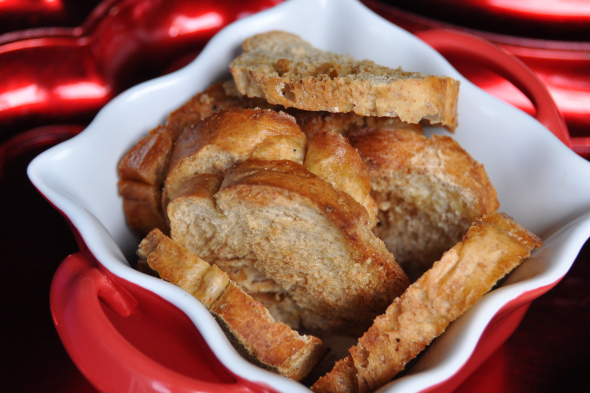 This was originally posted Dec. 20, 2010 (I did not update the photos this time, just the text. The photos bring back too many memories from when I was starting out blogging). 

Marinated Goat Cheese with Herbs & Lemon
Author:
Melanie F. | Nutritious Eats
Ingredients
For the cheese:
¼ lb log of goat cheese, cut into 8 rounds
2 Tablespoons finely chopped sun-dried tomatoes packed in oil
½ teaspoon minced capers
1½ teaspoon lemon zest
3 rosemary sprigs
1 teaspoon fresh thyme, chopped
⅓ cup olive oil
pinch of sea salt or kosher salt
For the Crostini
1-2 loafs of baguette or wheat bread (I fit about 30 slices on my cookie sheet)
2 Tablespoons olive oil
Instructions
In a small, shallow dish, arrange the goat cheese slices in one layer. If the cheese starts to crumble, just use your hands to press it into the slice.
Sprinkle with lemon zest, sun-dried tomatoes, capers and thyme. Sprinkle a little sea salt or kosher salt over the dish. Tuck the rosemary sprigs into the dish.
Pour the olive oil over the cheese and let marinate in the refrigerator for 2 to 6 hours. It can be served sooner if needed, but the flavors will improve with time. Bring the dish to room temperature (about 20 to 30 minutes) before serving.
For the crostini:
Preheat oven to 375 degrees. Slice bread into slices ¼" to ½" thick. Place in one layer on cooking sheet. Drizzle with olive oil.
Bake for 15-20 minutes, turning at least once, until light brown and crisp.
Yield: 30 crostini
Notes
This dish can be made a day ahead of time. If you are feeding a large crowd, you could purchase the larger goat cheese log and double the recipe of the marinade. The Crostini can also be made a day or two ahead and stored in an air tight container.

Cheese Recipe Adapted from Best of Fine Cooking Magazine
Originally share here at
A Soft Place to Land