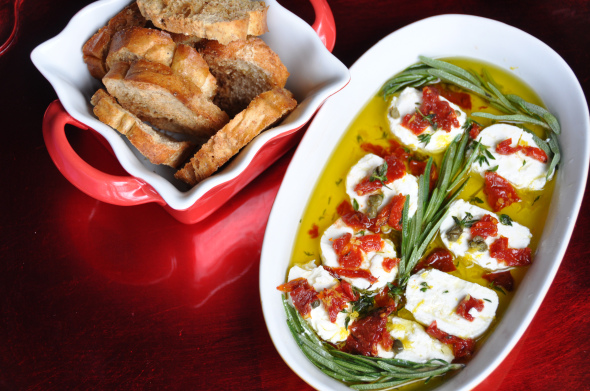 I have this fabulous recipe to share with you, but you have to follow the link to get it (edit: recipe now included on this post)! I am thrilled to be guest posting over at A Soft Place to Land, a blog that I've been following for over a year now. I was immediately hooked when I found Kimba's blog, which is all about home projects, furniture rehab and life in general. I have learned so much from her and for the first time rehabbed a $10 Salvation Army end-table following her tutorials! Please stop by to visit, check out my post and the rest of her wonderful blog.
More of what you'll find:
How to make this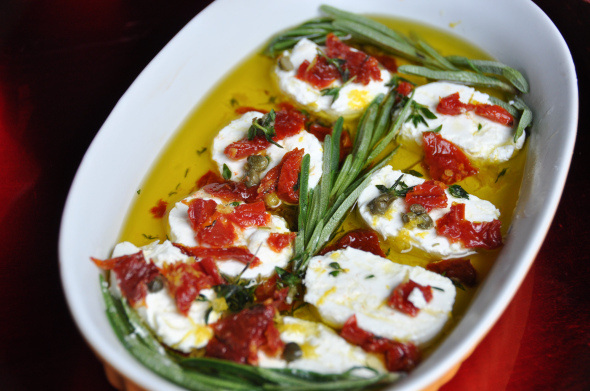 and these homemade crostini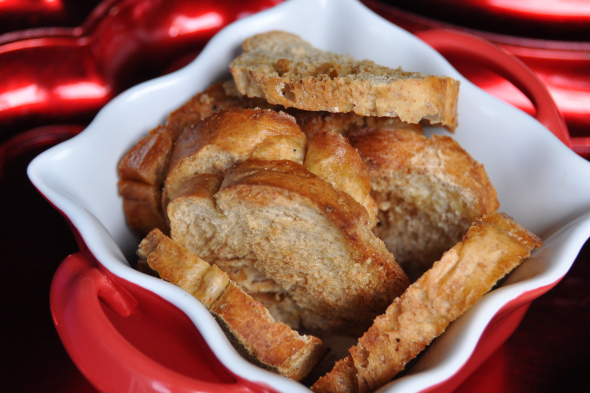 Tomorrow I will be posting another delicious and healthy appetizer! It's crunch time and I need to finish my grocery list!
UPDATE: you can now find the recipe right here!
Goat Cheese Marinated with Herbs and Lemon
Recipe modified from the Best of Fine Cooking Magazine

INGREDIENTS:
1/4 lb log of goat cheese, cut into 8 rounds
2 Tablespoons finely chopped sun-dried tomatoes packed in oil
1/2 teaspoon minced capers
1 1/2 teaspoon lemon zest
3 rosemary sprigs
1 teaspoon fresh thyme, chopped
1/3 cup olive oil
pinch of sea salt or kosher salt

DIRECTIONS:
1. In a small, shallow dish, arrange the goat cheese slices in one layer. If the cheese starts to crumble, just use your hands to press it into the slice.
2. Sprinkle with lemon zest, sun-dried tomatoes, capers and thyme. Sprinkle a little sea salt or kosher salt over the dish. Tuck the rosemary sprigs into the dish.
3. Pour the olive oil over the cheese and let marinate in the refrigerator for 2 to 6 hours. It can be served sooner if needed, but the flavors will improve with time. Bring the dish to room temperature (about 20 to 30 minutes) before serving. Yields: 6 servings
Serve with crostini, crackers of pieces of sliced crusty bread
Crostini
Recipe from Nutritious Eats

INGREDIENTS:
1-2 loafs of baguette or wheat bread (I fit about 30 slices on my cookie sheet)
2 Tablespoons olive oil
DIRECTIONS:
1. Preheat oven to 375 degrees. Slice bread into slices 1/4″ to 1/2″ thick. Place in one layer on cooking sheet. Drizzle with olive oil.
2. Bake for 15-20 minutes, turning at least once, until light brown and crisp.
Yield: 30 crostini
NOTES: This dish can be made a day ahead of time. If you are feeding a large crowd, you could purchase the larger goat cheese log from somewhere like Costco and double the recipe of the marinade. The Crostini can also be made a day or two ahead and stored in an air tight container.
Nutritious Eats Benefits: Copper, vitamin E, vitamin K