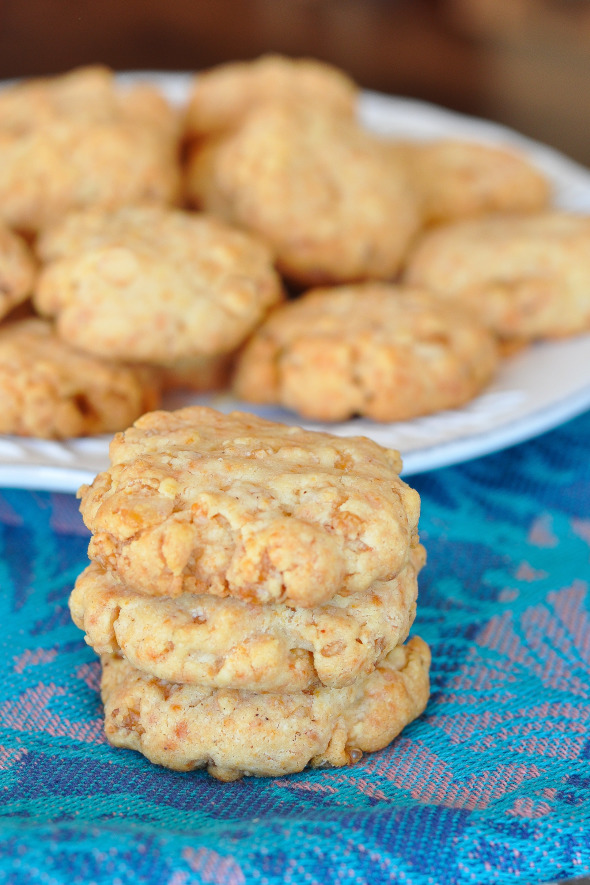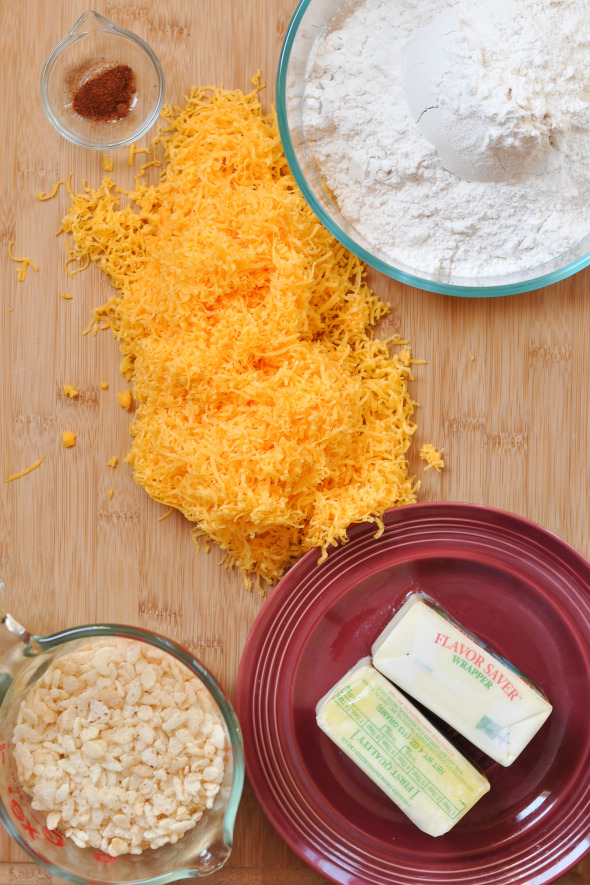 My kids are constantly hungry. It would be odd if more than a couple hours go by that they don't ask for a snack. While fruit is one of their number one favorite snacks, they love almost anything crunchy or cheesy.
Yes, I realize that these are made with butter and cheese and are not the most healthy snack ever…but they are homemade and don't have a lot of preservatives like other snack food and I am happy to feed them on occasion to my kiddos. Plus cheese is on my approved list and these have no sugar. The cereal adds a nice crunch factor.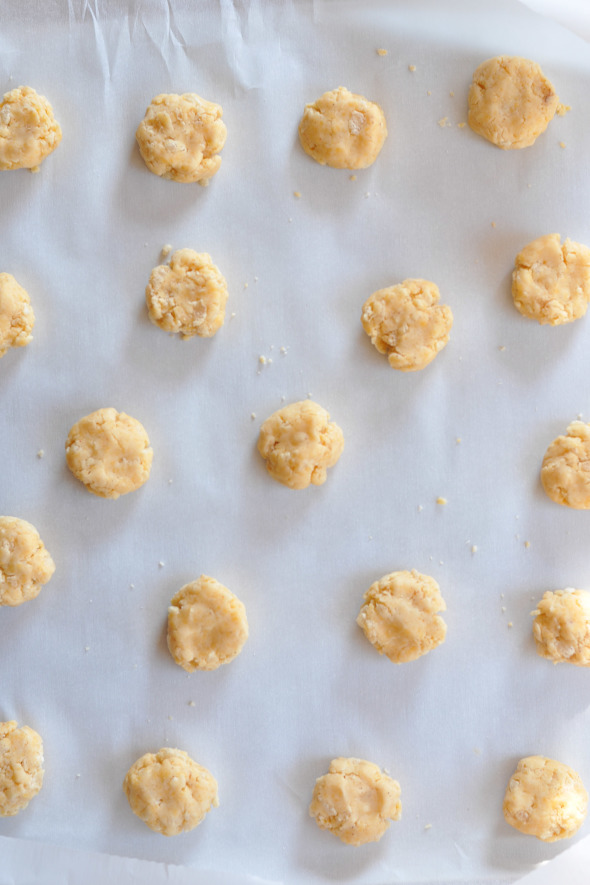 School is approaching soon- my oldest starts kindergarten, eek! and that means we need a house full of snacks ready for him when he gets home from school. He actually requested that I make these.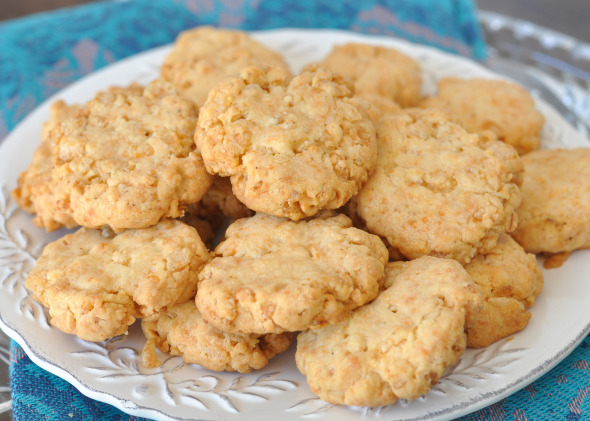 These are also great with a glass of wine or other adult beverages. Make them ahead of time for your next party or get-together and you can set them out with a bowl of nuts for some nice homemade munchies!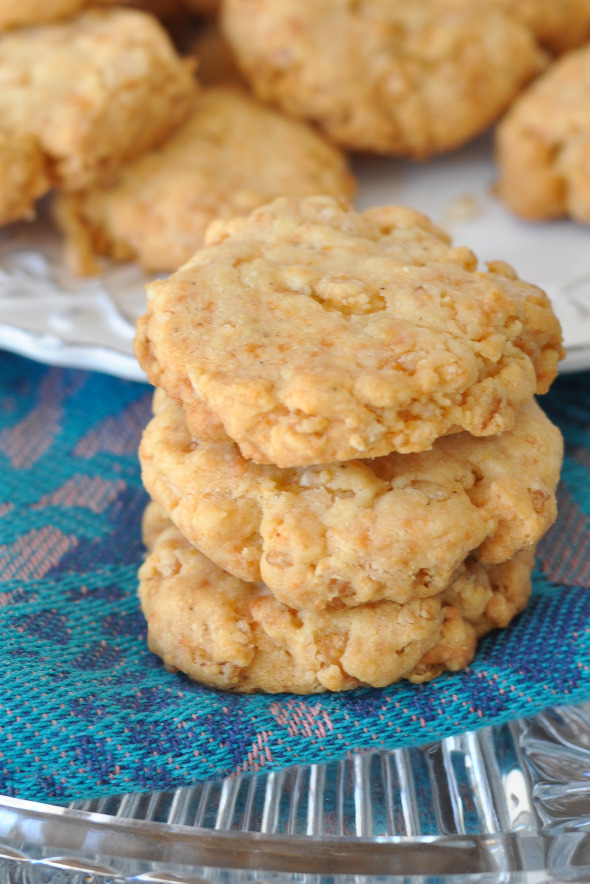 Homemade Cheese Crackers
Ingredients
2 sticks salted butter, softened
2 cups sharp cheddar cheese (8 ounce block)
2 cups Rice Crispies
2⅓ cups all-purpose flour
Pinch or two of cayenne
Instructions
Line baking sheet(s) with parchment paper and pre-heat oven to 350 degrees.
With an electric mixer on low to medium speed, mix softened butter and cheese in a large bowl. Once well blended, slowly add in flour and cayenne.
Add in rice crispies and stir by hand until incorporated. Dough will be firm yet slightly crumbly. Using hands kneed dough together in bowl a few times. Pinch off some dough- the size of a heaping Tablespoon full and form into a ball. Slightly flatten with your fingertips to about ¼ to ⅓ inch thickness. Diameter of cracker should be 1½ to 2 inches wide. Place 1½ inches apart on prepared cookie sheet. Bake for 18 to 20 minutes or until crisp. Remove to wire rack until cooled.
Notes
If possible buy the block of cheese and grate it yourself. Be careful not to overwork the dough. Store in air-tight container for up to 2 months. Can also freeze a portion of them.
Now on to meal planning!
I actually stuck to the majority of my meal plan last week. My mom cooked a yummy lemony pasta that I will have to re-make one of these days. Since my mom is visiting this week we will enjoy a little more dining out than usual. Hope you all have a fantastic week!
Sunday
Appetizers Night- Bruschetta, Veggie & Cheese Tray
Monday
Grilled Salmon, Sweet Potatoes, Cabbage Salad
Tuesday
Shredded Pork Sandwiches, Potato and Vegetable Salad
Wednesday
Out to Dinner
Thursday
Tortellini with Pesto, Mixed Green Salad
Friday
Out to Dinner
Saturday
Out to Dinner
Question: What is on your meal plan for the week? What are your kid's favorite snacks?