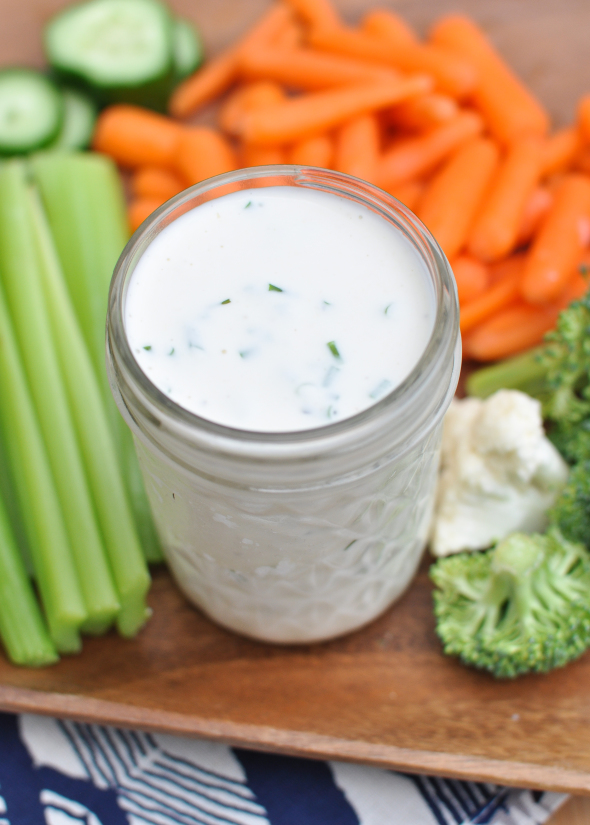 Hi friends! I just wanted to post a quick update on my pregnancy since I have been a bad blogger since the morning sickness hit. I am 11 weeks and feeling better each day, nausea is a lot better but not completely gone. I got to see the little nugget for the first time this week which always makes me giddy. I even got a few waves from my baby.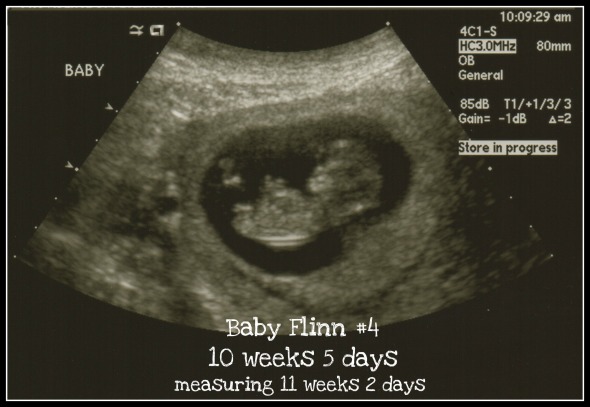 I am always in complete shock at how well developed they are at such an early time in pregnancy. They fact that there are arms and legs, hands and feet. It's truly a miracle and it doesn't get old even for a 4th time!
I still don't have much interest in food but I am able to cook a little without getting sick. Yay for progress! Don't be expecting too much greatness yet…baby steps here.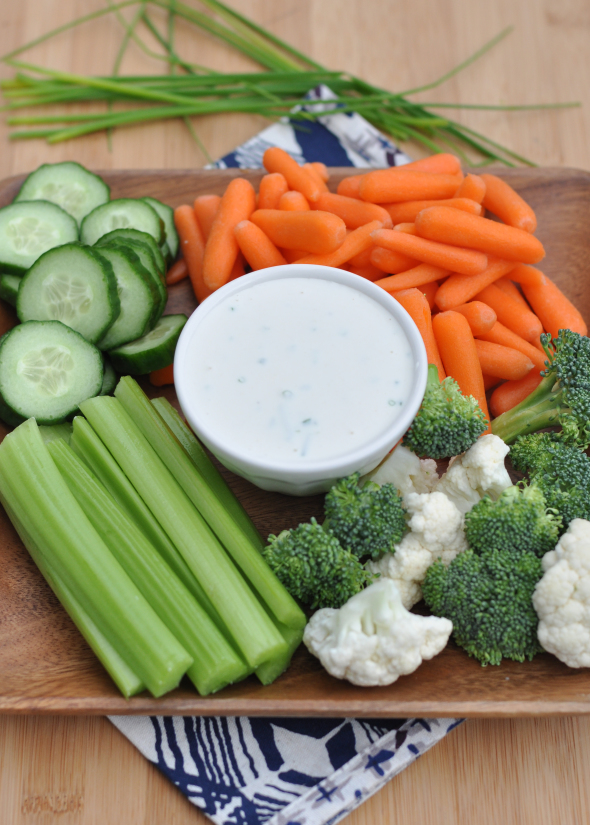 My oldest kiddo just finished kindergarten this week and he came home with a book of a small collection of recipes that they had made in class over the year. One of the recipes was a homemade ranch dressing that he raved about back when they first made it. My kids love ranch with their veggies and I try to buy the no preservative bottles found in the fresh produce section. I have made ranch dressing from scratch before but honestly it was not that great so I never tried it again.
I have to say this ranch dressing/dip is AWESOME. I don't know if it really just hit the spot that day or what but I was licking the bowl. I was very pleased with it. I will definitely be making this on a regular basis and couldn't wait to share with you. Whether you like ranch on a salad, as a dip or on your sandwich, this one is a keeper.
I tried, as always, to get some nice shots but the kids would only put up with my photography for about 2 minutes then they couldn't help themselves.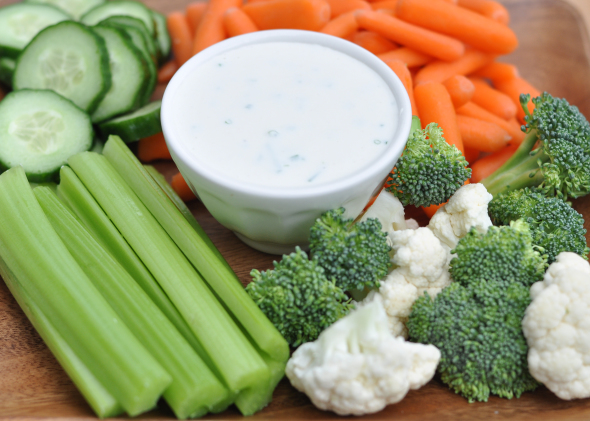 Dig in!!   They destroyed the platter in a matter of minutes. Haha.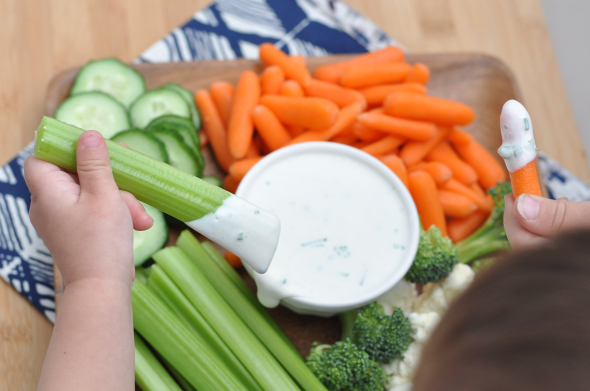 and they got  a big kick out of little brother dropping all sorts of veggies into the bowl to watch them swim.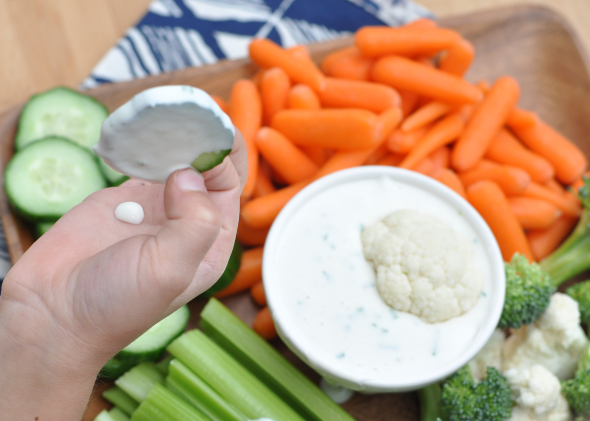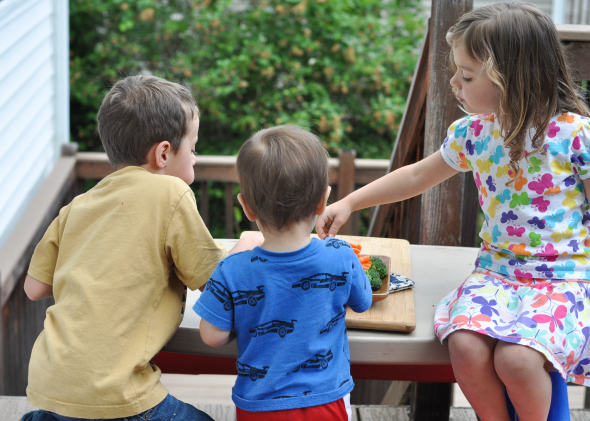 There goes mommy's photo shoot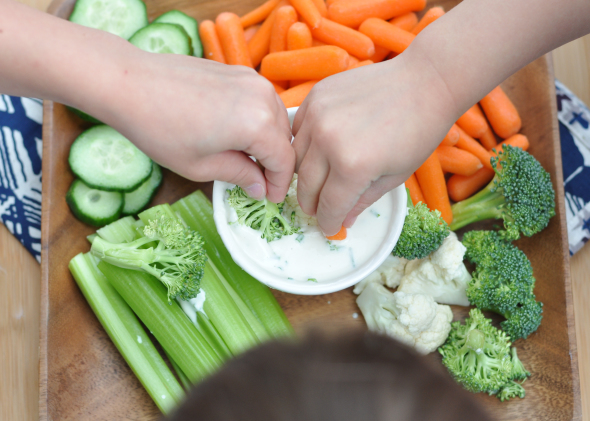 oh and if you are like me and don't buy chives very often, you can substitute dried basil. So good. Enjoy!! I know we will!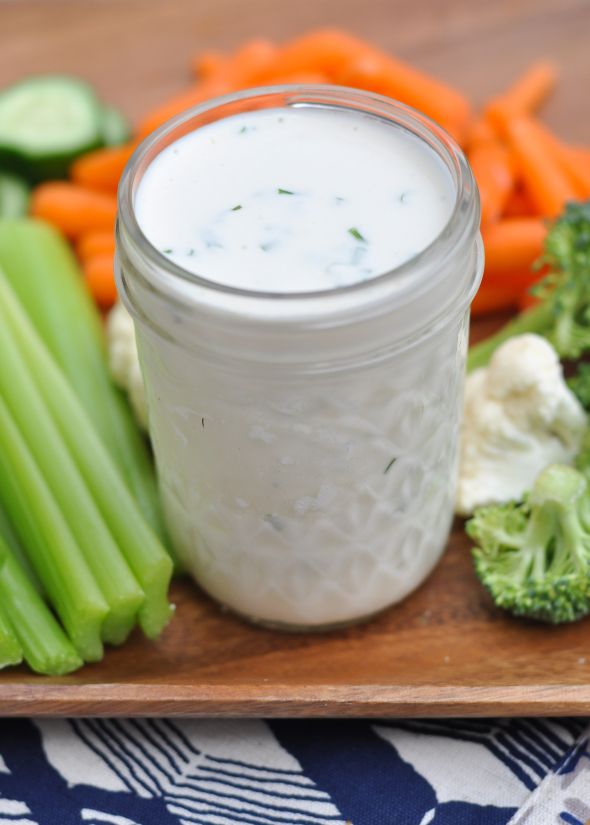 Homemade Ranch Dressing
homemade ranch without all the preservatives!
Author:
Melanie F. | Nutritious Eats
Ingredients
½ cup plain Greek yogurt
3 Tablespoons mayonaise
⅓ cup low fat buttermilk
1 teaspoon Dijon mustard
1½ teaspoon fresh lemon juice
½ teaspoon onion powder
¼ teaspoon garlic powder
½ teaspoon salt
1 Tablespoon fresh chives, minced (or you can substitute two pinches of dried basil)
Instructions
Mix all ingredients in a bowl and whisk well until dressing is smooth.
Refrigerate to let flavors combine. Serve as a dip or dressing.
Question: Do you make homemade dressings or do you like store-bought? Any favorite recipes?