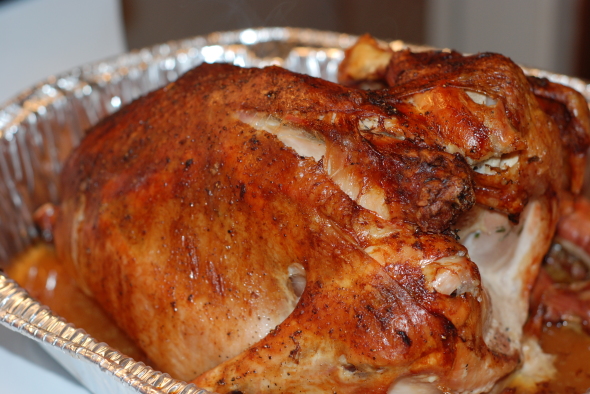 I was a bit unrealistic this year in my attempt to plan a grand Thanksgiving for my family and a couple friends. Then it dawned on me….who am I kidding? My newborn son will be 3 weeks on Thanksgiving and I am already getting overwhelmed at the thought of all the dishes that need to be prepared. However, I won't settle for less than a complete Thanksgiving meal.
After giving it some thought,I decided that this was a perfect time to accept a little help from the store and modify when I can. I am a big fan of home-made, from scratch food, but something's gotta give. Here is what I came up with to make it doable (I hope) for little ol' me to pull of a Thanksgiving feast. I won't be applying  all these tips to my prep this year but several of them. Bring it on!
By the way, I got a lovely offer from one of neighbors to go to her house for a potluck. Unfortunately I had already spent a lot of money on all of our T-day food otherwise it sounded like the perfect thing to do. Contribute a dish and enjoy friend's company.
Tips on How to Simplify Thanksgiving:
Shopping can be done over a week ahead of the Holiday (leaving one quick trip a few days prior for the vegetable, fresh herbs and anything else with a shorter shelf-life).
Brine your turkey- you'll get it out of the package, prepped and trimmed of fat the day before and all you need to do on the big day is stuff (i.e. onion, apples, garlic, oranges, lemons, etc. or stuffing) it and rub it with herbs and butter.
If you have a small crowd, think about roasting a chicken or turkey breast for an easier, quicker (and smaller) main dish.
Sweet potato casserole can be made the day ahead. Hold off on the marshmallow/pecan topping until you bake it. One big dish crossed off the list.
You can't beat a good stuffing from scratch but this year I will use the help of Pepperidge Farms and combine their breadcrumbs with fresh apple, onion, celery and/or sausage/bacon, mushrooms, etc. This will be a big time saver from cutting and baking bread crumbs and cornbread.
Take a little help from the store- frozen dinner rolls, store bought pies and/or prepared pie crusts will save you time.
Keep appetizers simple. Thanksgiving is really all about the big feast. Nuts, crudite, grapes, cheese and crackers are easy, no prep items that can be set out hours before. You just need a little something in your stomach so you're not famished, but don't need to overeat.
Getting everything hot and ready at the same time can be stressful. Stuffing and sweet potato casseroles can bake at the same time as the turkey (the last half hour or so). Rolls can go in when turkey comes out to rest. Mashed potatoes can be prepared as the casseroles warm up and turkey finishes.
Delegate! I am the cook of the house but I will be assigning turkey duty to my husband which means he will be in charge or monitoring, basting and taking temperature of the bird. Once the turkey goes in the oven I will no longer have to worry about it.
If you aren't hosting or the one person in charge if cooking for your family, accept the help of guests. Assign them a dish (or two) to contribute.
Do what you can ahead of time. Cranberry sauce can be done the week prior. Homemade pie crusts can be made early and frozen until ready to bake. If you are really pressed for time, consider cooking and freezing some dishes the week before, such as pies, stuffing, dinner rolls.
Don't forget to count your blessings and give thanks. If things don't turn out perfectly, be thankful you have a home to cook in, hands to cook with and a family and/or friends to celebrate .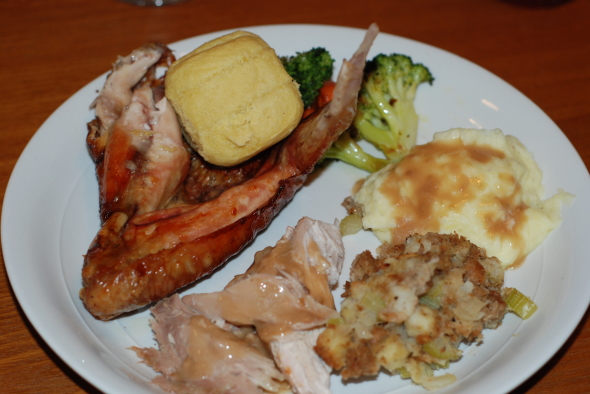 Have a blessed Thanksgiving with your friends and family!!