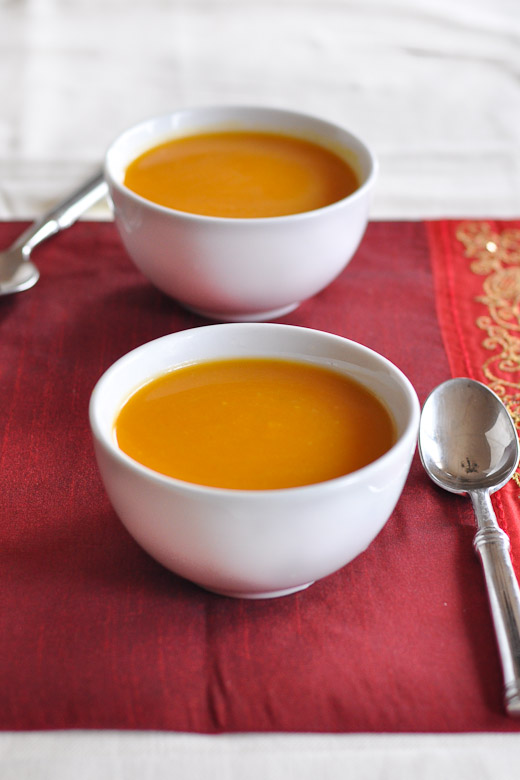 If you missed my last post, make sure to check out my Apple Pie Baked Oatmeal and pretty please VOTE for my recipe. It literally takes a few seconds and you will be entered to win $1,000 gift card! Wouldn't that be perfect for the Holidays? If my recipe wins I will be featured in Quakers newsletter which would be pretty cool (maybe not as cool as $1,000 though!). You can vote up to 25 times to increase your chances of winning but it ends Monday night. Let's do it!
Before I get to today's recipe I am excited to share a brand new feature on my blog. All my recipes will now have a blue "save recipe" button which allows you to save all your favorite recipes from Nutritious Eats onto your own personal, online recipe box. Look up at the top menu to access your "Recipe Box" along with links to create a meal plan, find online grocery deals and create a shopping list. I am thrilled to be partnering with ZipList who are the stars behind creating these awesome tools that you see on some of the biggest cooking sites including Martha Stewart!
So here is how the Recipe Box works: once you create your free online recipe box, you can start saving any recipes to it and start creating shopping lists, etc. The shopping list actually pulls from the recipe ingredient list so you don't have to hand type anything in! It also puts items it thinks you might have in a separate list (such as flour, salt, oil) so that they are not on your shopping list but you can easily click an item if you need to add it. Any time you see the ZipList powered "save recipe" box on a recipe (even if from a different blog or website) it will be saved to the SAME recipe box. You can access your recipe box from my blog, from ZipList.com or from their mobile app. By adding their app to your phone, you will have easy access to those recipes and lists when you are out shopping!  Please note some of my older recipes haven't been changed over to the new format but I am working on that so you will soon be able to save any recipe from my blog into your recipe box.
Now about this soup.  I originally thought it just looked ok. I had a butternut squash that I was tired of looking so I put it on the meal plan, but I wasn't all that excited about it. However after making it, I thought it was DELICIOUS. It has a perfect balance of sweet and spicy. I also loved it because it's super healthy yet very flavorful and doesn't include a ton of ingredients. My kind of recipe! It can easily be made vegan by switching the chicken stock for vegetable stock and it a pretty affordable meal. When I first tasted it out of the blender I thought substituting coconut milk for the water would make it ever more flavorful but in the end after simmering for about 10-15 minutes I thought it was pretty close to perfect (just using half stock-half water). Since I am watching my food spending I figured why buy anything else?! Water is free!
I decreased the salt from 1 Tablespoon in the original recipe to a heaping 1/2 teaspoon! I seriously can not believe it called for so much salt! Anyway, if you feel like it needs more, add more but using half stock gives in a lot of depth and enough sodium along with that half teaspoon.
Penny Pinching meal planning continues. I am so proud of myself- we are going on week 4 and I am totally staying in budget (well I went over by $7 but that is totally acceptable). I can't wait to get our credit card bill next month.
I am definitely putting soup on the menu this week- it's rainy this week with highs in the 50s and I love either soup or chili on Halloween! What will you be having?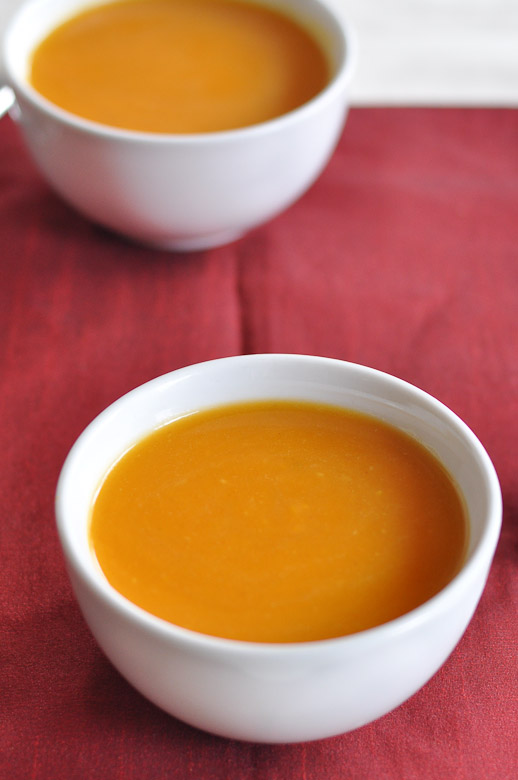 Sunday
Chicken and Black Bean Enchiladas, Mexican Rice
Monday
Butternut Squash Soup (recipe below), Crusty Bread and Spinach Dip
Tuesday
Leftovers 
Wednesday
Halloween! Simple Chicken Tortilla Soup, Chips and Guacamole
Thursday
Leftovers, plus Hot Beans & Cheese
Friday
My youngest turns ONE! In complete denial. I might switch it up from pizza and make a pasta dish since he loves pasta.
Saturday
Company- not sure what I making yet!
Jalapeno-Ginger Butternut Squash Soup
Ingredients
2 Tablespoons olive oil
6 cloves garlic, chopped
2 Tablespoons finely chopped (or grated) ginger
1 jalapeno, seeded and chopped
heaping ½ teaspoon salt
¼ teaspoon cayenne
4 pounds butternut squash, peeled and cut into 2-inch cubes
3 cups chicken stock
3 cups water
1 Tablespoon light brown sugar
Instructions
Heat olive oil in a 4 to 5 quart soup pot over medium heat. Add garlic, ginger, jalapeno and salt. Cook for 1-2 minute, stirring constantly, until fragrant but not brown. Add cayenne and cook for 30 seconds, stirring.
Add squash, stock, water and brown sugar and bring to a boil. Then reduce heat to a simmer and cook, stirring occasionally, until squash is tender, about 20 minutes.
Pour soup into blender (might have to do this in batches depending on size of your blender) and process until smooth.
Return pureed soup to pot and keep on low for ~10 minutes to allow flavors to come together and soup to thicken a little.
Notes
If desired drizzle each bowl with cream or crème fraîche before serving. I personally thought it did not need a thing! To make vegan, just substitute vegetable stock for chicken stock.
Recipe adapted from
Sunset Magazine
Question: What are you having this week? Do you have a typical Halloween meal that you make?