This Lemon and Walnut Angel Hair Pasta makes a super quick weeknight side, ready in less than 15 minutes!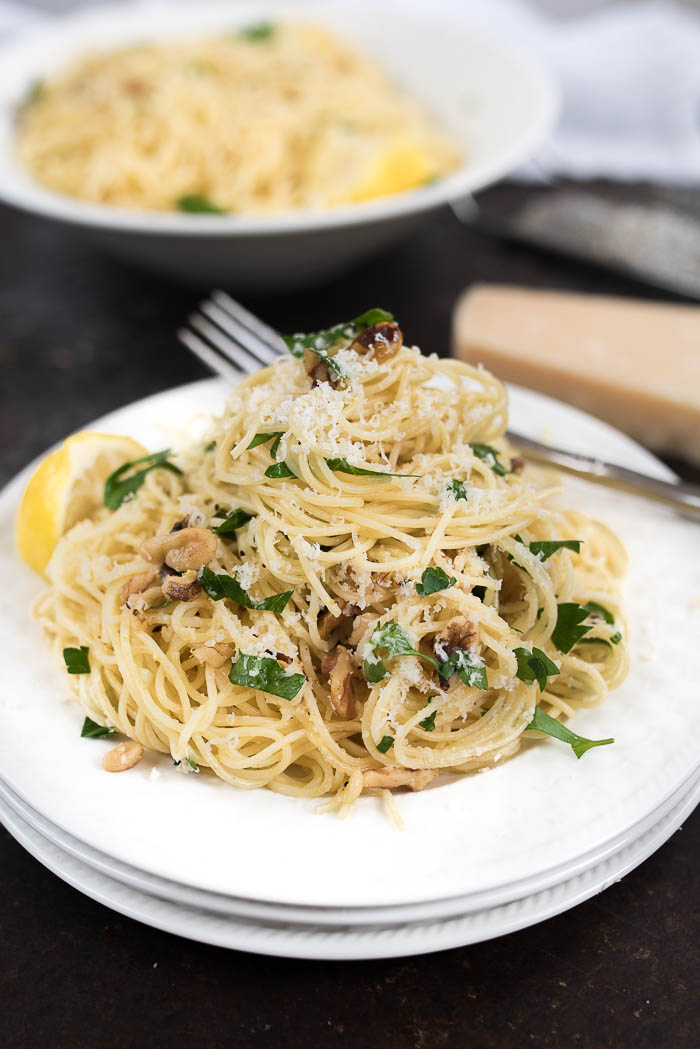 Every once in a while I like to play a game where I challenge myself to spend a certain amount at the store. The previous week I spent over $400 on groceries so I wanted to cut back significantly this week and use up some of the things we had on hand.
Therefore, I challenged myself to spend $20 for the entire week which I knew would be tight. I discussed it with the family and we listed some things that we thought would be best. So I bought: a loaf of bread (I knew we could have PB or tuna sandwiches), tortillas, 6 apples, 4 oranges, 1 cantaloupe, 1 1/2 dozen eggs, 1/2 gallon soy milk, carrots.
Not bad, but as a result I didn't have any extra funds for dinner foods. I figured we'd use the eggs and bread for a breakfast for dinner one night. In addition, I had some leftover salad ingredients. The rest was up in the air.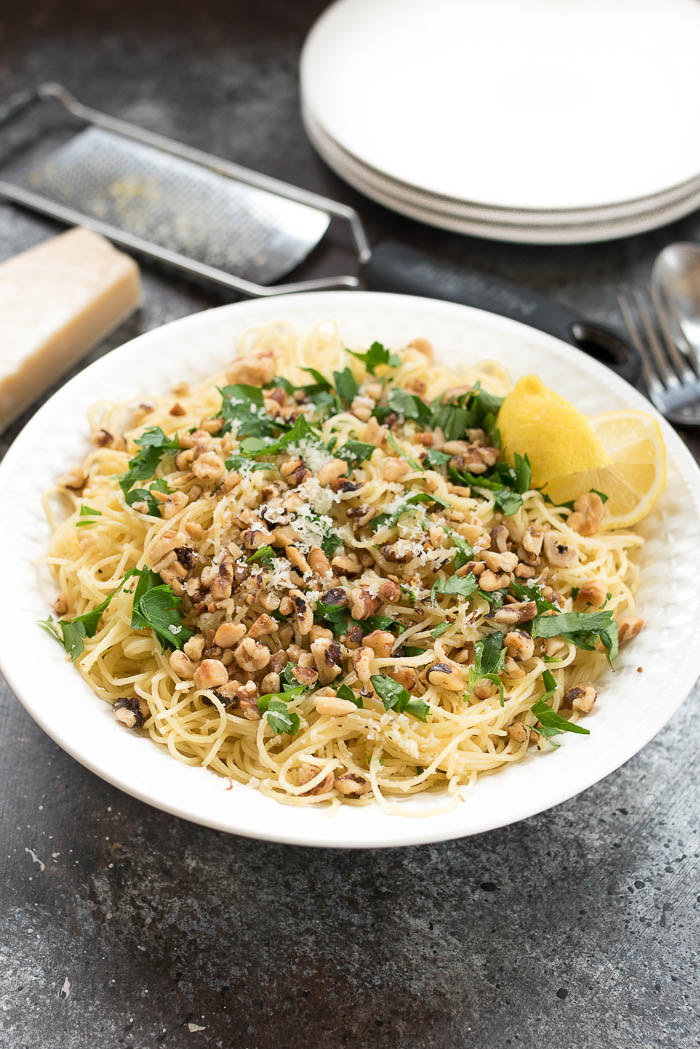 I scrounged the pantry and found some ingredients to make this simple side dish, lemon and walnut angel hair pasta. I love angel hair pasta because it cooks in ~4-5 minutes and the rest and it's dressed so simply here that all you really need to do is sauté the garlic and heat everything up. Perfect for the weeknight rush!
Pasta is a family favorite, but we don't eat it very often. However, when I do make it, I like to use it as a side dish instead of a main entrée which helps to minimize my carbohydrate intake. I love my carbs, but like to keep them to around 1-2 servings per meal.
Since I always aim to have a good portion of protein at each meal, sometimes I have to be creative. I made major shopping budget cuts this week so I couldn't buy any extra meat, poultry, fish, etc. As a result I was left with some cans of wild salmon and tuna in the pantry, nuts and always hard boiled eggs. Sometimes dinner doesn't have to make perfect sense.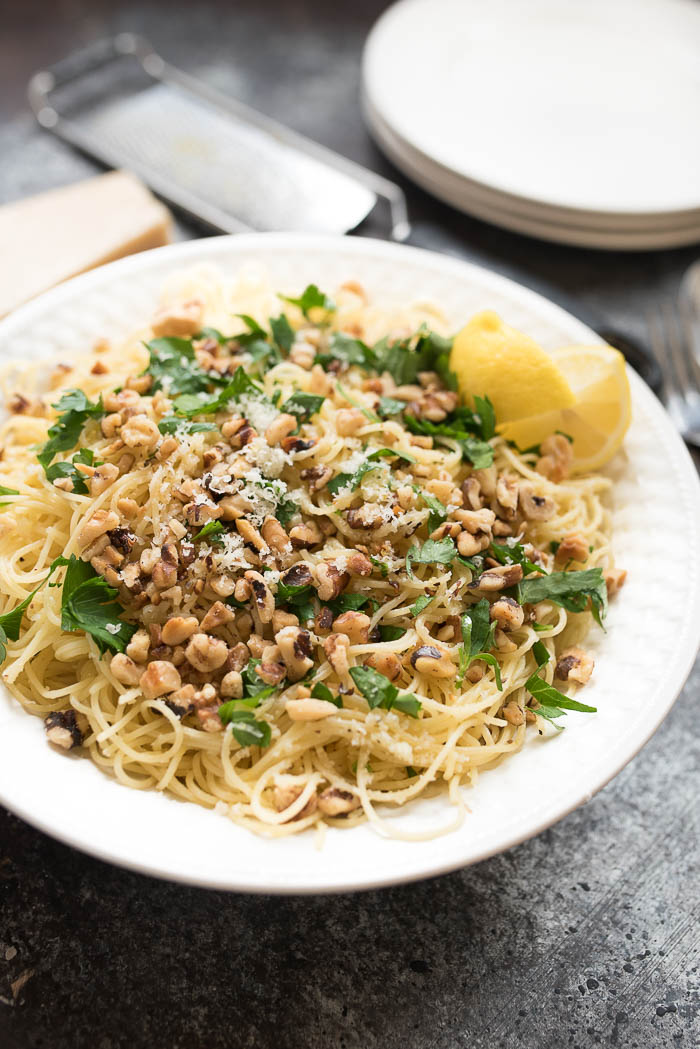 The walnuts are super nutritious- packed with heart-healthy monounsaturated fats, protein, fiber plus powerful antioxidants great for reducing inflammation. Studies have shown that even though they are high in fat, they do not contribute to weight gain when substituting for other foods. Furthermore, they add a little hearty crunch to this vegetarian dish. You could also sub pine nuts if you'd like.
However, if you are thinking of skimping on the lemon, don't! It needs every bit of the amount listed, even more wouldn't hurt.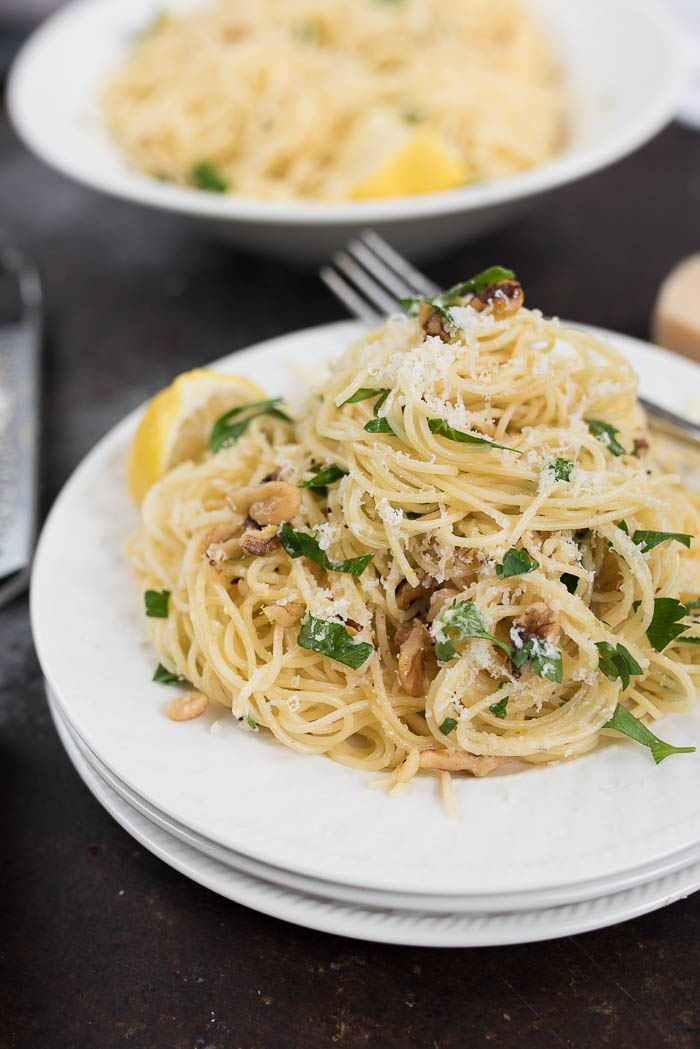 Not a fan of lemon and walnuts? Try this Fettuccine with Seared Tomatoes, Spinach and Goat Cheese  or if you're not vegetarian this Chicken Sausage, Pepper and Onion Pasta.

Angel Hair with Lemon and Walnuts
Author:
Melanie F. | Nutritious Eats
Ingredients
½ pound angel hair pasta, gluten free if needed
¼ cup fresh lemon juice
2 teaspoons lemon zest
3 tablespoons olive oil
1 tablespoon butter, vegan butter is fine too
2 garlic cloves, minced
⅔ cup vegetable broth
½ cup fresh parsley, minced
½ cup toasted walnuts
½ cup freshly grated parmesan cheese, preferably a good one like Parmisiano Regiano
¼ teaspoon ground black pepper, plus more to taste
¼ teaspoon salt, plus more to taste
Instructions
Boil pasta according to package directions. While the water comes to a boil, toast the walnuts in a small skillet over medium heat for about 8-10 minutes or until lightly toasted and fragrant.
Heat a large skillet over medium heat and add 3 tablespoons of oil, 1 butter and the minced garlic for 1-2 minutes (do not burn garlic). Stir in fresh lemon juice, lemon zest, broth and simmer on medium low for a 4-5 minutes to let broth reduce a little. Add drained pasta, along with parmesan cheese, salt and pepper and toss to combine. Transfer to a serving dish and top with parsley, toasted walnuts and additional cheese and salt to taste.