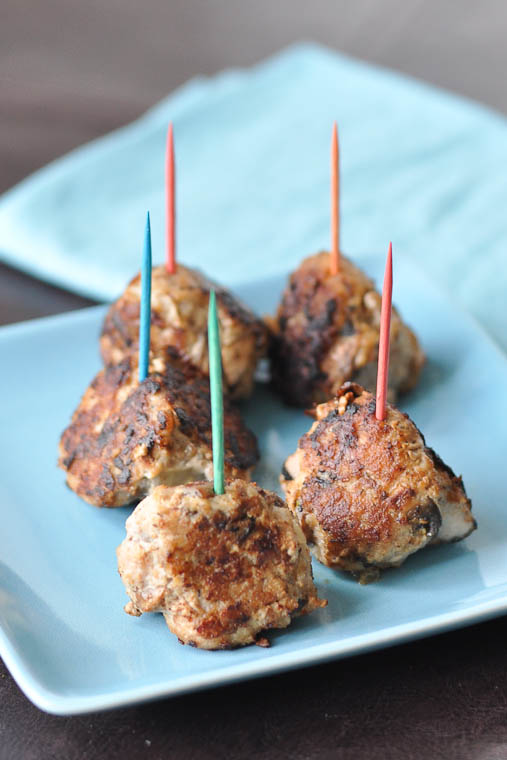 I am back on a kick to get my kids to eat more veggies. Boy they can be soooo picky! Today I share a healthier meatball with you. How is a meatball related to veggies you ask? Well you add the veggies into the meat, duh!
I love meatballs, I really do. I make them several different ways and usually use lean turkey to lighten them up. Some of the recipes I make are a little richer with parmesan cheese, but this most recent version really caught my eye because it had the addition of lots of mushrooms and onions. I thought maybe it would get my kids to like mushrooms a little more.
Ok so fast forward to after dinner. It wasn't exactly a hit with them. My 5 year old ate one big meatball but sure enough detected the mushrooms and said "I don't like mushrooms". My 3 year old nibbled on it. My husband and I really liked them. They were a lighter version than my typical turkey meatball and I felt good about the addition of veggies. I'd make them again and who knows, maybe they'll pass the kid test the second go around.
If you are looking for a high protein, lower sodium, more nutritious meatball recipe, give this a try. Meatballs are excellent to freeze so you can pull out a few to defrost for meals- add to a sandwich, pasta or use for appetizers. I made a pasta bake to go along with these, but they'd be great simmered in some marinara sauce.
Look at all these mushrooms going into the dish. Now I used regular ol' button mushrooms, but I am writing the recipe with baby portobellos (aka crimini mushrooms). I prefer their flavor, but the others work just fine too.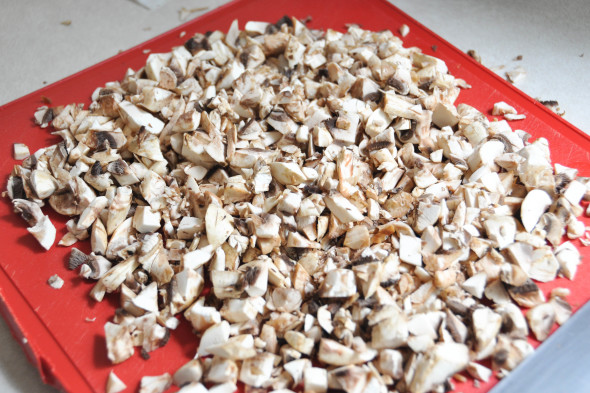 Mushrooms cooked down with the onions and garlic. The mixture helps keep the turkey meat nice and moist.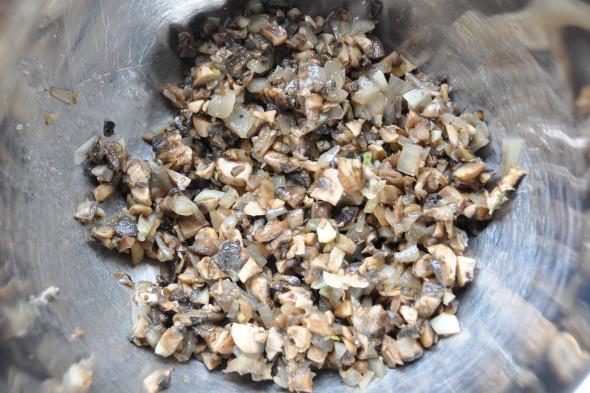 You can use store-bought breadcrumbs but they are higher in sodium. If you have a mini food processor it only takes a couple seconds to get fresh bread crumbs!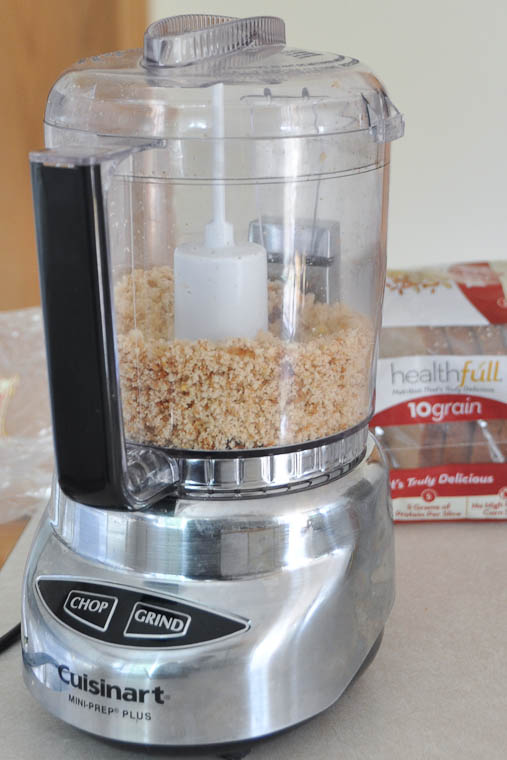 I am sorry but when cooking meatballs in the skillet versus the oven, there is no way I can make them round. Sure I could constantly turn them so they don't have a chance to get flattened, but I have 3 kids that all seem to need me as soon as I turn the stove top on.
See how I focused on the pretty round one in front? Who cares though- they taste great, they just look a little funny.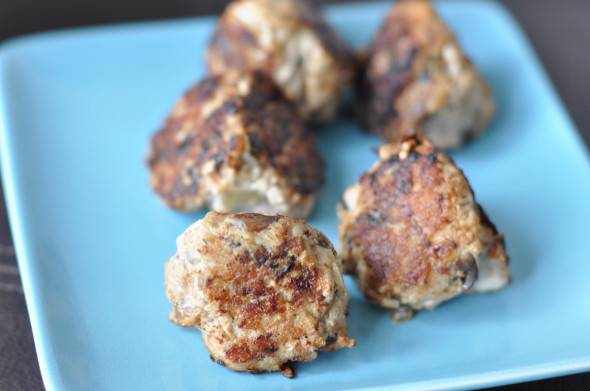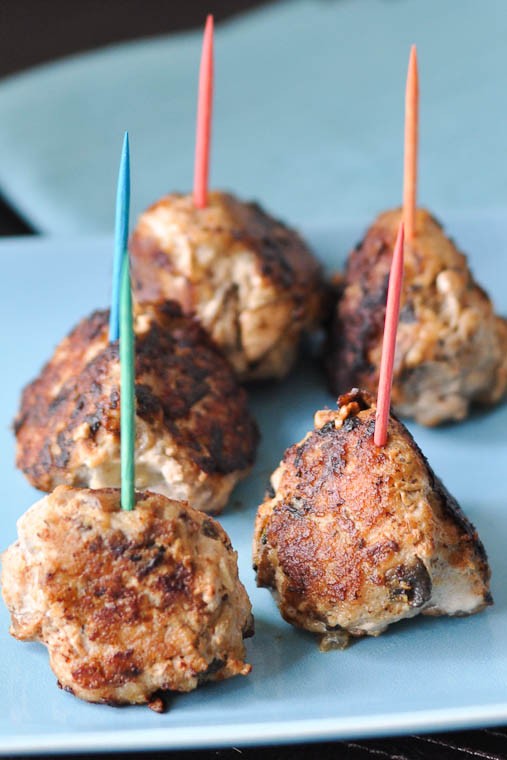 Lightened-Up Turkey Meatballs
Ingredients
2 Tablespoons olive oil, divided
1¼ lb ground lean turkey breast
1 (8 ounce) package crimini mushrooms (can sub regular mushrooms), finely diced
½ cup finely diced onion
2 garlic cloves, minced
½ teaspoon Italian seasoning
½ teaspoon salt, plus more for seasoning veggies
½ cup freshly ground whole wheat bread crumbs (one large slice provided more than enough)
1 egg, lightly beaten
Instructions
Heat 1 Tablespoon olive oil in a large non-stick skillet, add mushrooms, onion and saute for 3 minutes, add minced garlic and saute additional 2 minutes or until vegetables are tender. Season with a little salt & pepper and remove from heat.
In a large bowl, combine turkey, salt, breadcrumbs, egg and mushroom mixture. Stir until well combined. Using a spoon or ice cream scooper, form equal size meatballs.
Return nonstick skillet to stove-top over medium high heat. Add 1 Tablespoon olive oil to skillet, saute meatballs for 10 minutes or until done.
Question: Do you have any tricks for getting your kids to eat new vegetables?