Greek salad, seasoned chicken and a layer of hummus make up this tasty wrap.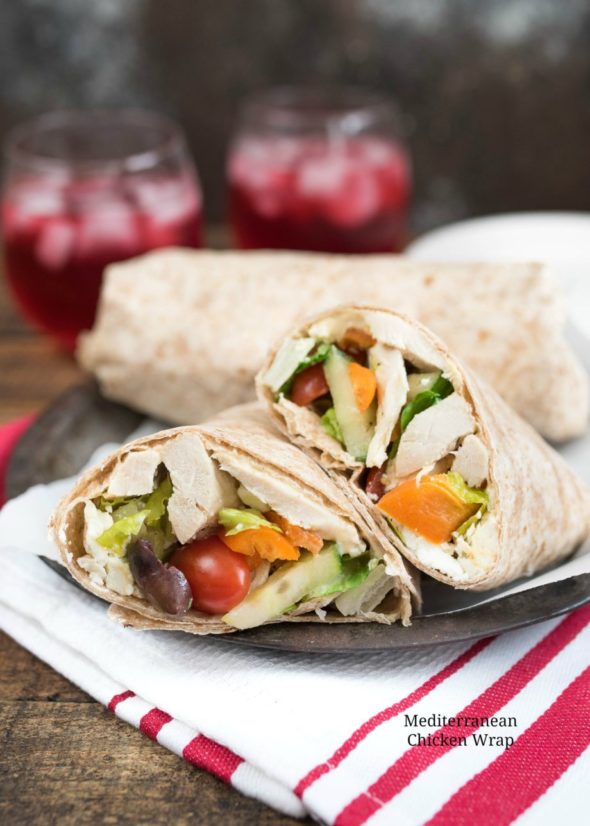 I forgot to tell you about the weekend's yard sale, as I sit here looking at the pile that didn't sell. I basically set out a bunch of junk, but the real fun was for the kids. They had a profitable bake sale/drink stand, their very first actually, and we made a delicious homemade lemonade that was a huge hit, inspired by these amazing recipes. It was the first thing to sell out!
While I was making it, I ended up with my new favorite summer drink which I will have to share with you soon!
But now that we are already mid-week and my kids get out of school tomorrow! For the summer! Yes I am excited! I have to introduce you to my new obsession. THIS Mediterranean Chicken Wrap which I really wanted to call a Greek salad wrap, but google keywords told me not to.
Greek salad + chicken + hummus = deliciousness. This is a great wrap to make ahead of time if you need dinner ready when you get home or if you are running out that door to soccer practice. I also love that you're getting almost all of your food groups in one place.
For recipe development I suppose this is a no-no, but because I can't handle measuring things all the time, I didn't measure everything here, but I promise you won't mess it up. The Greek salad should look like this, but it's not going to wrong if you have 1/2 cup of tomatoes or 1/3 cup. Just add in the salad ingredients to your liking.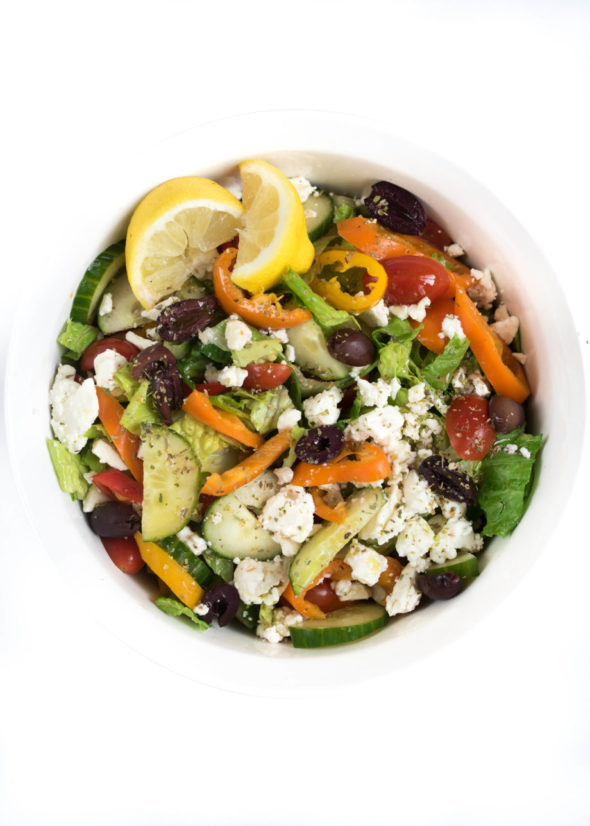 I basically like to make sure I get a good ratio of lettuce to other veggies and plenty of dried oregano and feta cheese. I just eyeballed it to give you some guidelines.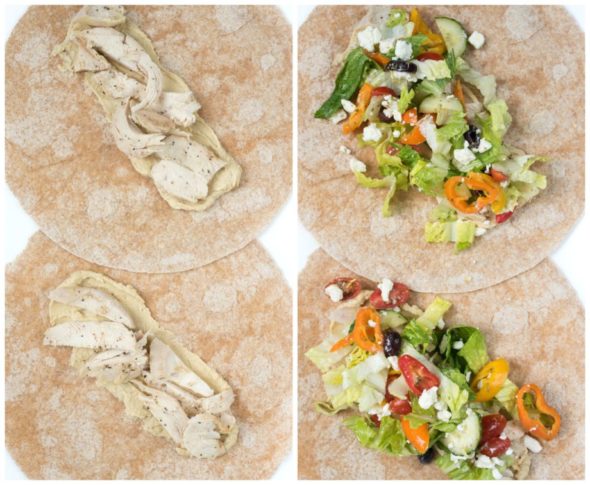 Same with the chicken. I season until it's nicely covered with spices, but you can also use any other grilled or baked chicken or even a rotisserie. I would probably just add a few extra shakes of dried oregano on it. Again, you won't mess it up. It's all going to come together.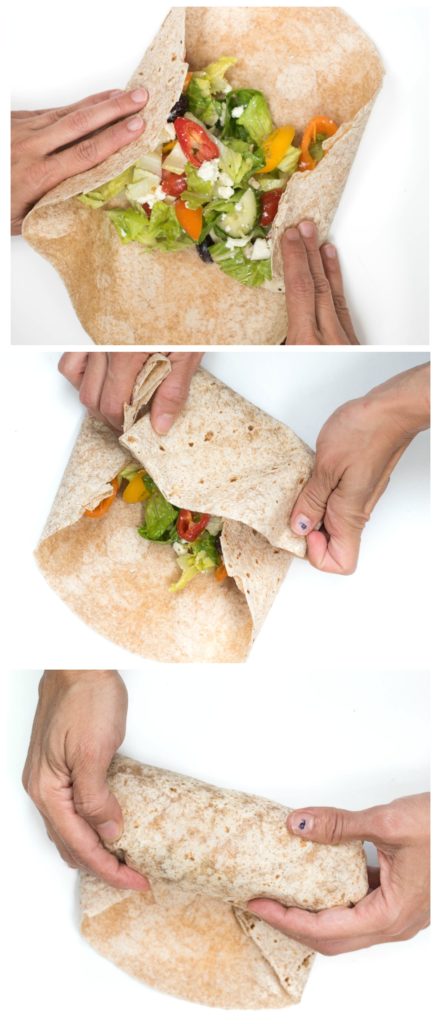 Now the wrap itself is a giant whole wheat wrap I find in the deli. They have minimal ingredients, but at ~48 grams of carbs I'd watch your sides. The chicken, salad and hummus don't add many additional carbs, so it's totally doable to fit into your macros, although I personally always eat half of it and have extra salad on the side. Then I save the other half for lunch the next day. It is great leftovers!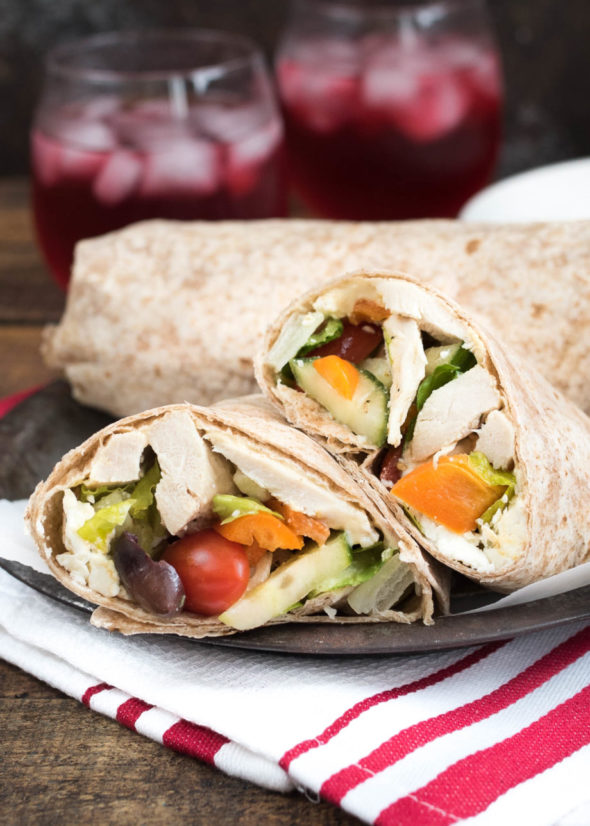 Now for my gluten free friends. You know I post a lot of gluten free recipes here, so I need to watch out for you guys. I would recommend a large gluten free tortilla. Udi's brand and Rudi's bakery both make one. It won't be as big as this wrap, but that's fine! Just layer everything in just the same, wrap it up and enjoy!
Vegan? This would be great with just hummus, maybe some chickpeas for texture and more Greek salad, minus the cheese.
I could eat this weekly for sure.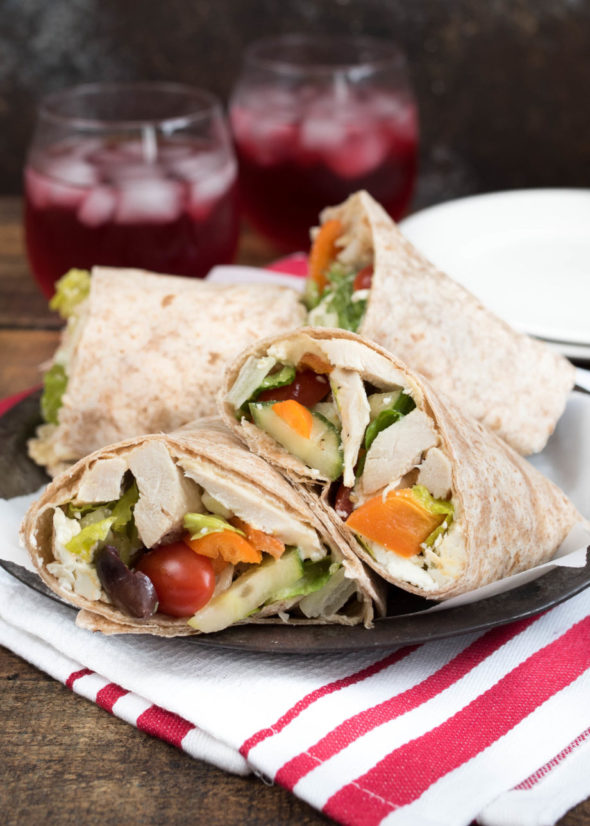 Greek Salad Chicken Wrap
Greek salad, seasoned chicken and a layer of hummus make up this tasty wrap.
Author:
Melanie F. | Nutritious Eats
Ingredients
For the chicken:
2 bone-in chicken breasts
1 tablespoon olive oil
few shakes of the following per chicken breast:
dried oregano
garlic powder
lemon pepper
For the Greek salad (for 2 large wraps- make more or less as needed):
4 cups romaine, chopped
⅓ cup cherry tomatoes, sliced
¼ cup red onion
½ cup cucumber slices, sliced, then halved
2 tablespoons kalamata olives
⅓ cup feta cheese
red wine vinegar
olive oil
fresh lemon wedges (optional)
whole wheat or gluten free wraps
2 tablespoons hummus per wrap
Instructions
For the chicken: preheat oven to 375 degrees. Line a baking sheet with foil and drizzle with ½ tablespoon of oil. Place 2 bone-in chicken breasts on top, season with salt, pepper, dried oregano and lemon pepper. Drizzle with a another ½ tablespoon of olive oil and bake for 35-40 minutes or until chicken is cooked through. Use immediately or as leftovers for this wrap. This will be enough chicken for 4 large wraps.
To make the salad: place chopped romaine in a bowl. Top with cherry tomatoes, red onion, cucumbers, olives and feta cheese. Sprinkle with a few shakes of dried oregano. To dress, take the vinegar and go two turns around the bowl. Go once around with the olive oil. Squeeze fresh lemon juice over it all (1 large wedge is fine). Stir and adjust seasonings if necessary.
To make wrap: spread 2 tablespoons of hummus onto your wrap of choice. Top with slices of chicken, a heaping portion of Greek salad. Roll, wrap and devour!