High in fiber, protein and healthy fat, this Overnight Chocolate Chia Seed Pudding will become a quick favorite!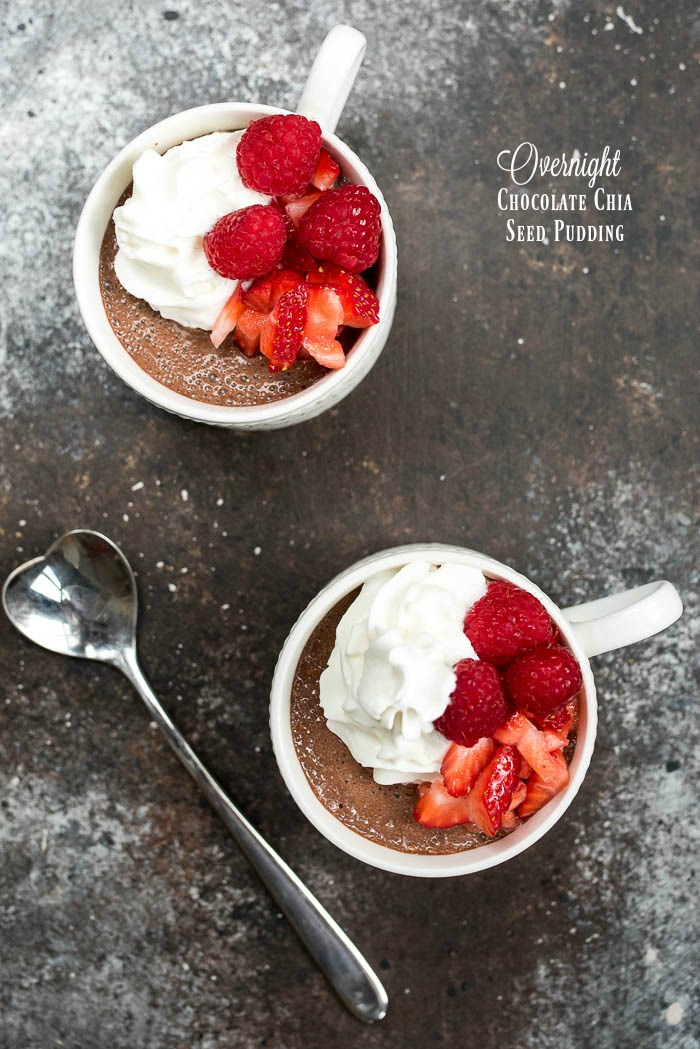 I am the queen of quick and easy these days. With the kids back in school I was hoping for more time, but it looks like there is just more going on!
The kids have been great about getting up early with ease and sitting down to a quick breakfast before the wait for the bus…all while it's still dark out. However, cereal seems to happen too often since it's so convenient. I have been making a conscious effort to offer them other breakfast foods.
So I was excited when they tried my overnight chocolate chia seed pudding and loved it. They requested it for breakfast and I was happy to oblige. I am a fan of overnight breakfast lilt this oatmeal here and here. It's such a fun healthy pudding made with milk (I use vanilla soy) and chia seeds. We are talking four simple ingredients folks! Love that.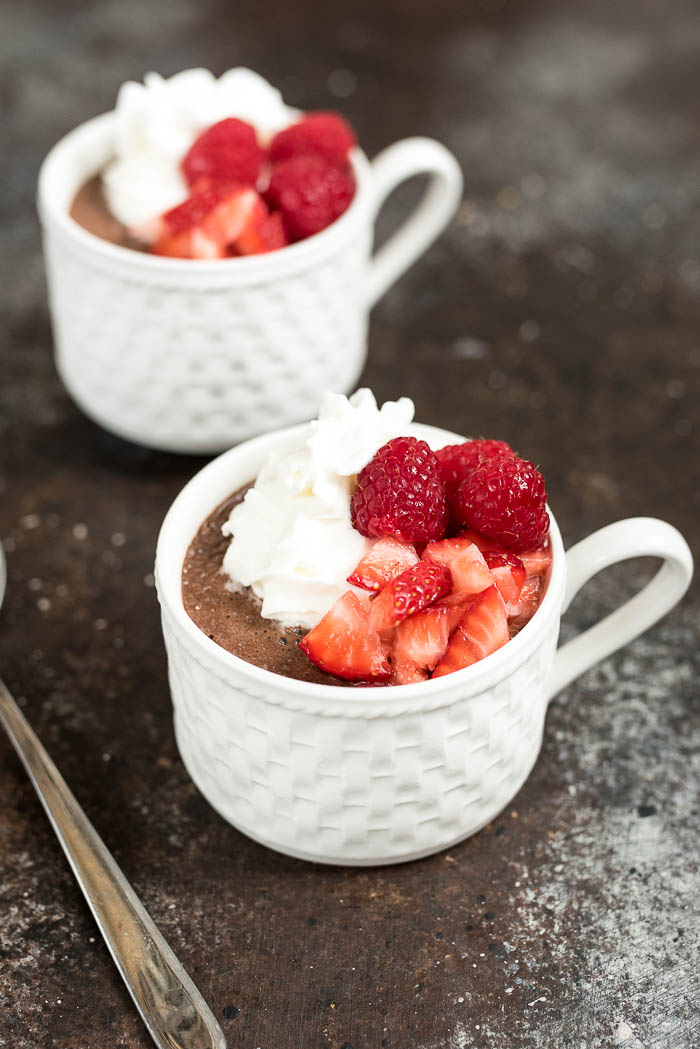 The seeds swell and bind with the milk overnight and create a pudding, much like the texture of tapioca pudding (one of my childhood favorites). By the second day the seeds break down even more making it extra smooth. If your child might have an issue with the texture, serve this on morning two or give it a whirl in the blender before letting it sit overnight.
I like a dollop of whipped cream and some fresh fruit and bam, breakfast is served. Balance out the breakfast with a piece of toast if needed.
Benefits of Chocolate Chia Seed Pudding
Thousands of years ago, chia seeds were a staple in the the Ancient Mayans and Aztecs' diets. Chia seeds are naturally gluten free and packed with fiber, healthy fat like those omega 3 fatty acids, protein (3 grams per tablespoon) and various micronutrients.
Because of all the fiber, the chia seeds absorb so much water and become gel-like which helps to promote fullness. They are also great for blood sugar regulation and aiding in cholesterol reduction.
Combined with the milk (or non dairy milk in this case) this chocolate chia seed pudding a pretty nutrient dense meal/snack- one serving provides you 260 calories, 14 grams of healthy fat, 12 grams of vegetarian protein, 10 grams of sugar and 14 grams of fiber. You could  probably stretch this into 3 servings if it's for the little ones.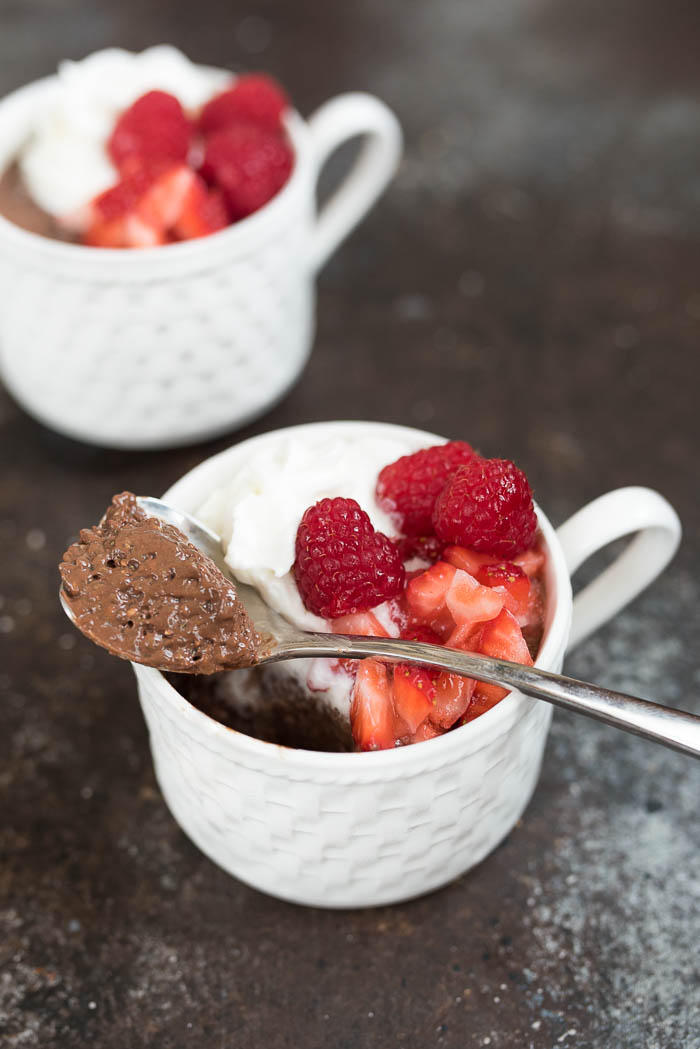 Also, cocoa powder adds depth, chocolatey flavor without added sugar plus those amazing antioxidants. I adore cocoa powder.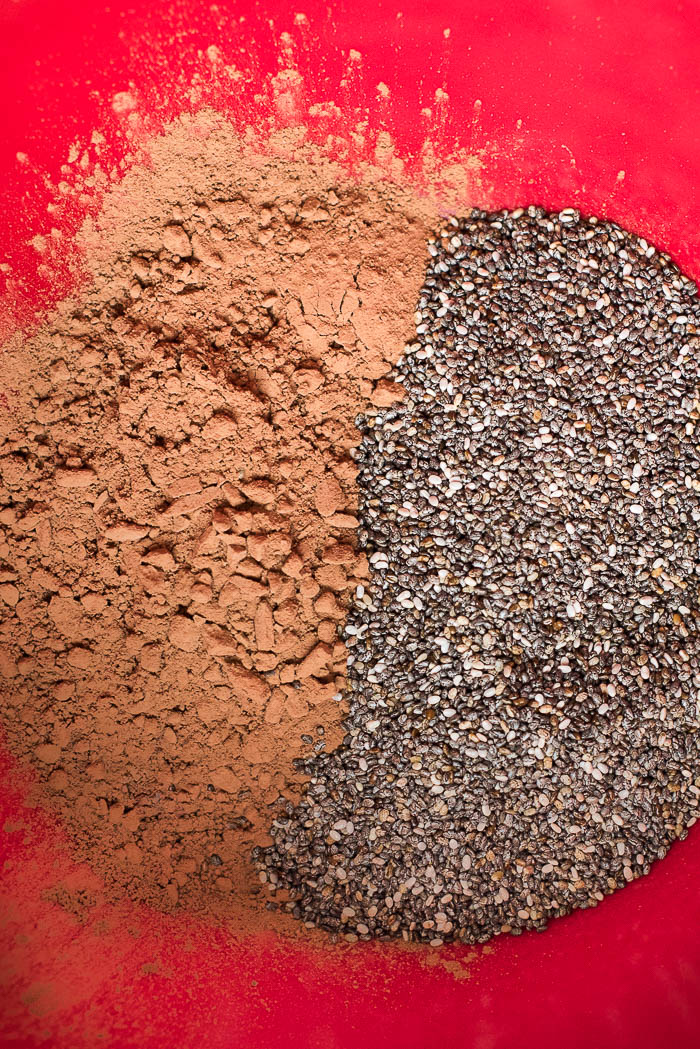 Super nutritious yet it still tastes like chocolate pudding with triple the nutrition and half the sugar.
Hope you give it a try and tag me on Instagram at @nutritiouseats if you make it or let me know here.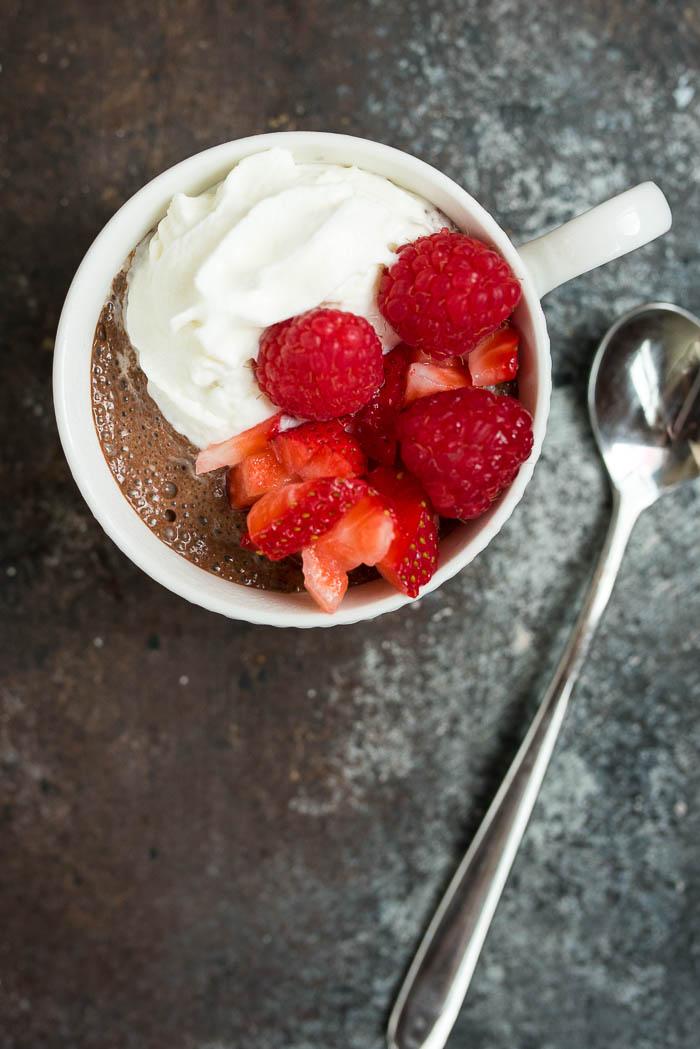 Overnight Chocolate Chia Seed Pudding
Overnight Chocolate Chia Seed Pudding Author: Melanie F. | Nutritious Eats
Author:
Melanie F. | Nutritious Eats
Ingredients
1⅓ cup vanilla soy milk
⅓ cup chia seeds
¼ cup cocoa powder
½ tablespoon honey (agave for vegan version) up to 2 tablespoons if using unsweetened or plain milk (see notes)
Top with whipped cream and fresh fruit (coconut whipped cream for vegan version)
Instructions
Whisk all ingredients in a medium bowl until cocoa powder has dissolved into milk all everything is well combined. Divide mixture into 2 serving cups, bowls or jars. Cover with plastic wrap and chill overnight. In the morning enjoy your healthy chocolate pudding, topped with fruit and/or whipped cream. This will last for a couple days in the fridge, but I prefer it best during the first 2 days.
Notes
Adjust the honey/agave to your liking. If you use a plain milk you will likely need a more as the vanilla soy milk has more sugar in it. You can taste it after mixing to get an idea if it will be sweet enough before letting it set. You can always add an extra spoon of whipped cream.

Due to the high fiber content, if serving little kids you might want to start with half of a serving.