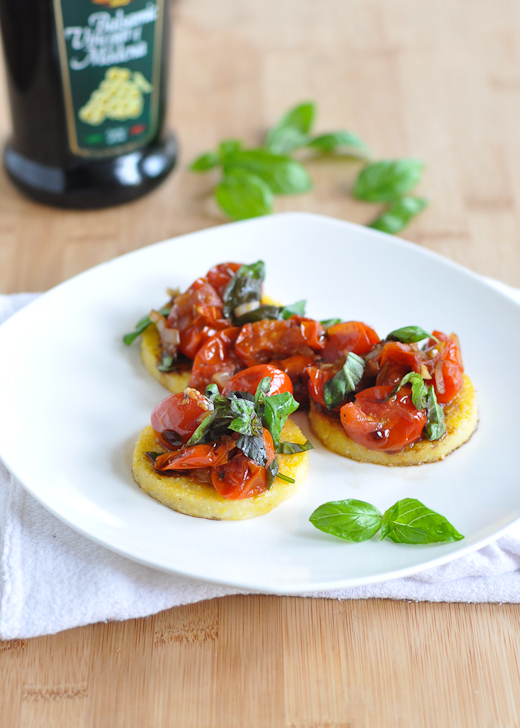 I hope you all had a great weekend! I know after my last post you are all waiting in suspense to find out the results of my foot's xray and I am happy to say that I do not have a fracture and am half way through my rest period!  It was actually a good weekend to skip the long group run as it was chilly, rainy and the kids had early soccer games. I am so curious if I will feel ready to run at the end of this week. I guess we will see!?
So the recipe for today- polenta bruschetta. I'll have to admit I am pretty indifferent about polenta. I have had it before where I loved it, but more times than not it just doesn't do much for me. I tend to always keep a tube of it in the pantry even though I don't cook with it often.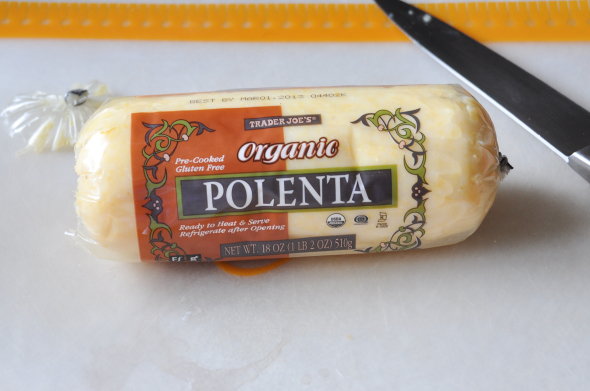 I thought a bruschetta-type topping would be great on the polenta rounds.  Nothing too crazy, just good simple clean flavors. It was great. I would totally make this again. This vegan, gluten-free dish could be served alongside a big salad for a vegetarian meal or as a side along some grilled chicken. It's a lower carbohydrate choice for a side dish as it has 15 grams per serving (approximately 3-4 round pieces).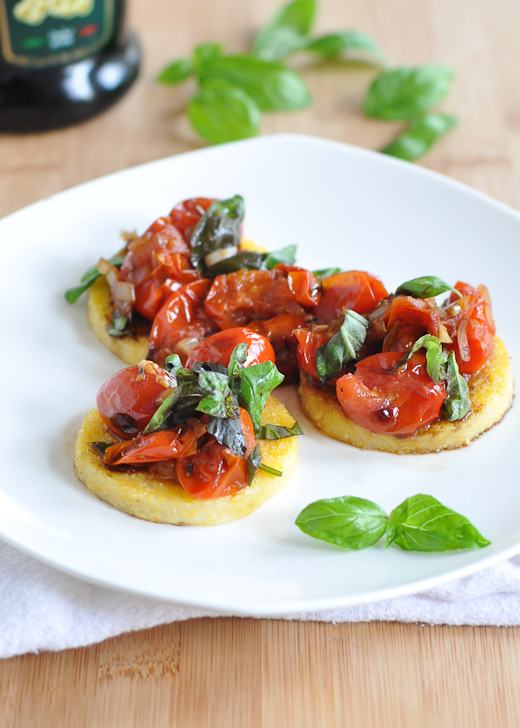 I just pan fried the polenta rounds in a little olive oil, then made the tomato topping afterwards in the same skillet. Easy and yummy!
I am back to meal planning. I have to laugh at myself because I basically can't go grocery shopping without a meal plan. My husband always suggests we "run in" after church to get groceries and I explain to him that if the meal plan is not done, I will not go shopping. It's just a mess if I do.
Sunday 
Giant Salad with assorted veggies, roasted chicken and gorgonzola
Monday
Pesto Veggie Paninis, Baked Butternut Squash Fries
Tuesday
Chicken Fajitas, Crockpot Black Beans
Wednesday
Leftovers
Thursday
Chicken Lettuce Wraps (knock-off PF Changs recipe)
Friday or Saturday
Taco Salad
I might switch days around but this is the plan for now! I'd love to hear what YOU'RE having. Just leave your plan in the comment section!
Hope you all have a great week and you have until 12pm central standard time today to enter the giveaway for a Bestowed Box!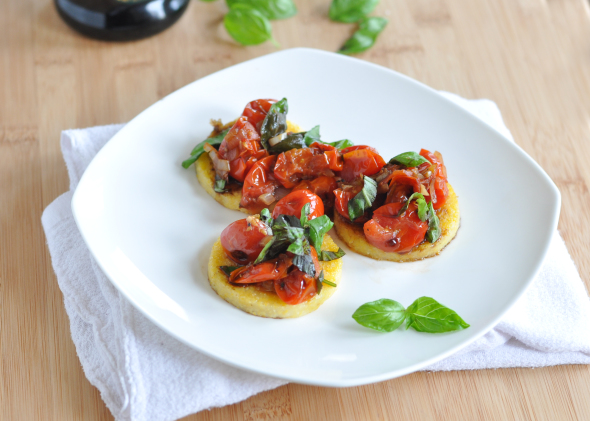 Polenta Bruschetta
Serves:
2-4 servings (~7-8 pieces)
Ingredients
½ tube (18 ounce) pre-cooked organic polenta, cut into ¼ to ½ inch thick slices
4 teaspoons olive oil, divided
1½ cup grape tomatoes
2 cloves garlic, minced
2 Tablespoons minced shallot
salt and pepper
⅓ cup fresh basil leaves
balsamic vinegar
Instructions
Heat nonstick skillet on medium-low. Add 1 teaspoon olive oil. Add polenta to pan and cook for 5 minutes on one side, flip and cook additional 4-5 minutes.
Remove polenta to a paper towel-lined plate. Place skillet back on the burner, add another teaspoon of oil, turn skillet down to low heat, add whole grape tomatoes and saute for ~5-6 minutes or until tomatoes start to soften.
Add minced shallots and garlic and saute an additional 2 minutes. Season lightly with salt and pepper. Remove from heat and let tomatoes sit in hot pan for another couple minutes until most have softened and lost their firm shape.
Transfer tomato mixture to a bowl, stir in 2 teaspoons olive oil and chopped basil. Spoon tomato mixture evenly over polenta rounds. Drizzle with balsamic vinegar to finish and serve warm.
Notes
Double the recipe to use the whole package of polenta. Whole package yields 14-16 slices of polenta.
Question: Are you a fan of polenta? What's your favorite way to prepare it? What's on your meal plan this week?