These gluten free quinoa veggie burger patties are a healthy vegetarian alternative to a hamburger. Load them with the traditional burger fixings and enjoy!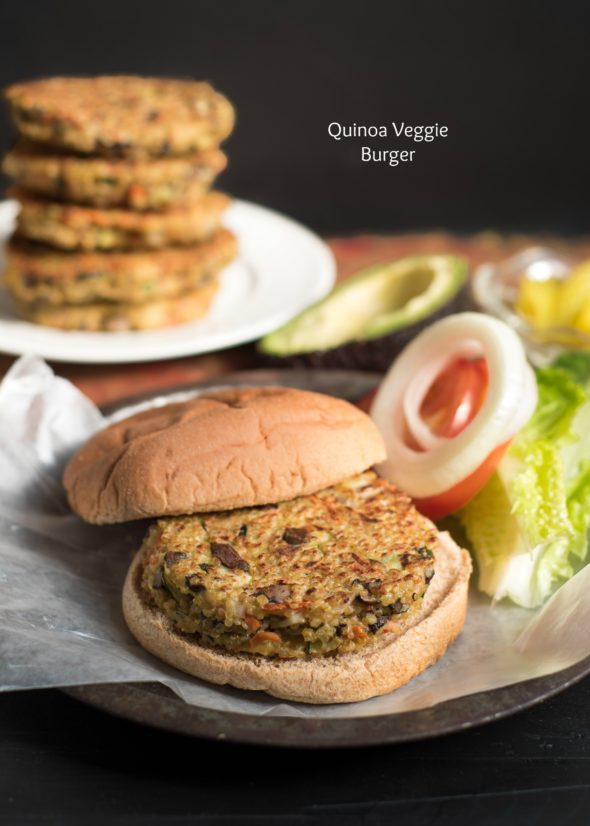 I love a good veggie burger. I stopped buying them because I was having a hard time finding a good quality one ever since we moved away from all the stores (i.e. Trader Joe's and Costco), but I miss them!
I had a serious obsession with them for a while. One of my favorites was from Subway. Did you even know there was a time that they served a veggie burger? It was so good!! But I think I was the only weirdo ordering it because of course they took it off the menu. Another amazing one came from the hospital cafeteria I used to work at. It was pretty much the highlight of my day back then.
What makes a good veggie burger in my opinion? They have to be a well balanced mix of veggies and grains and must have enough flavor. They must be cooked until crisp on the outside yet a little tender on the inside and no falling apart!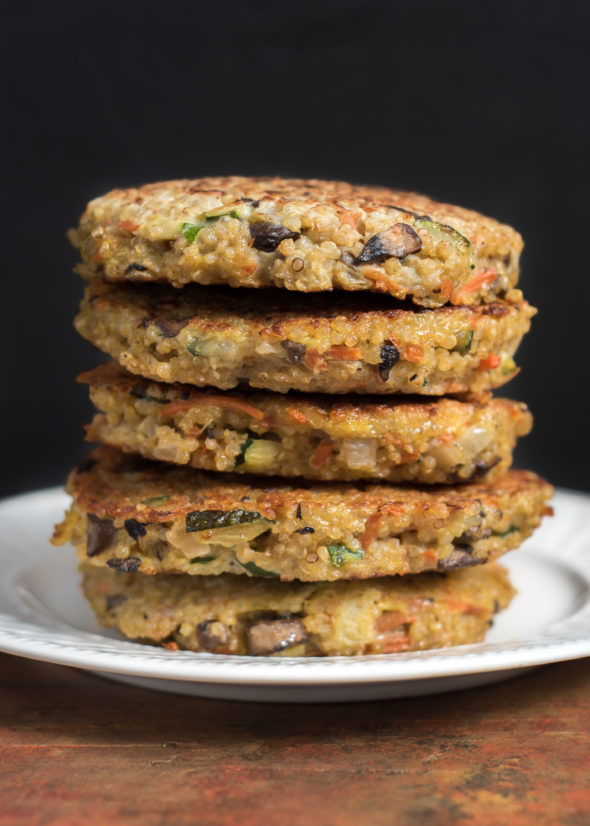 I have a couple on the blog, like these and these, but thought it was time to experiment more.
Here's the thing, I've been cooking and creating recipes using quinoa a lot, but I can't eat it plain like rice as a side dish. I either need it to be transformed into something or paired with a flavorful topping or dressing. Therefore blending it into a veggie burger is basically a perfect way to enjoy it for me!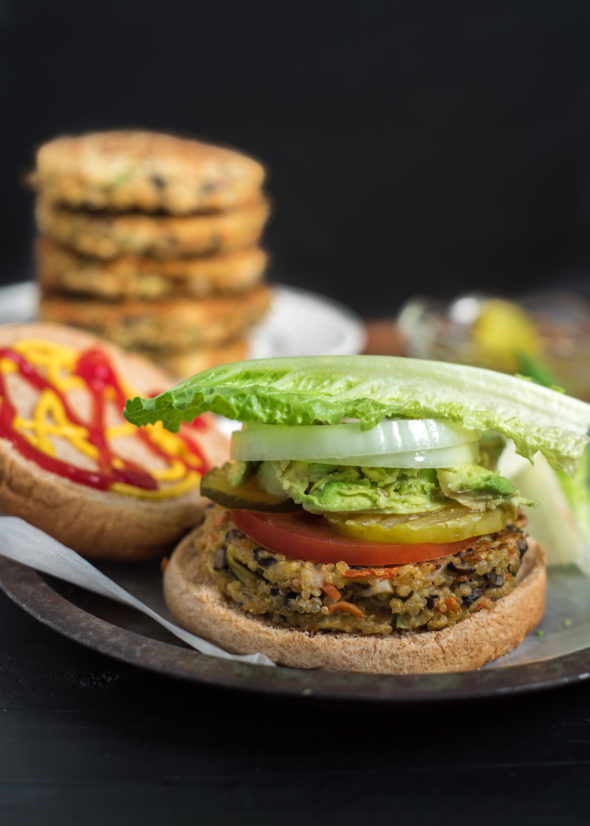 I played around with the proportions and ultimately ended up with 2 cups of quinoa and 4 cups of veggies- the mushrooms are a must in order to provide that meaty texture and flavor while keeping the fat down and fiber up.
You can enjoy these patties with or without the bun…..wrap them in some lettuce if you want, but make sure to load them with all your favorite burger fixins'. I have decided that if you put traditional burger fixins on a bun, it will basically taste like a burger despite what patty you're using. Try it and let me know!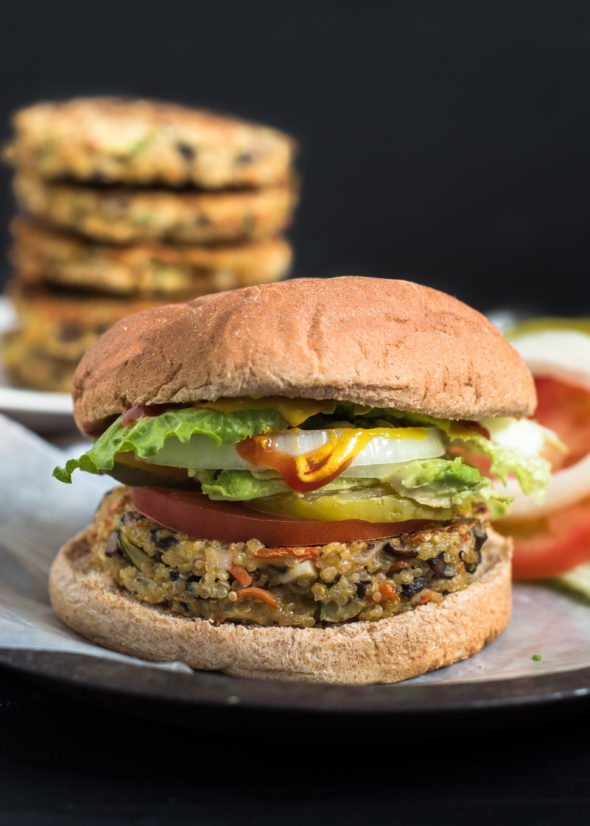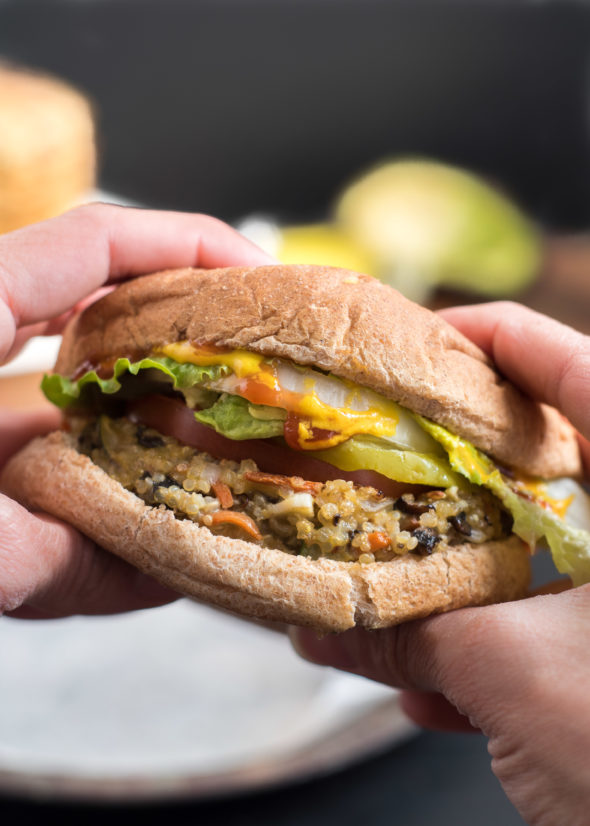 Veggie Burger
Author:
Melanie F. | Nutritious Eats
Ingredients
1 tablespoon olive oil
½ cup diced onions
1 cup diced zucchini
1 cup shredded carrots, chopped
1½ cups chopped mushrooms
2 garlic cloves minced
2 cups cooked quinoa
1 teaspoon Worcestershire
½ teaspoon salt
¼ teaspoon pepper
2 eggs, beaten
2 tablespoons corn starch
Instructions
In a large non stick skillet, heat 1½ teaspoons of olive oil on medium heat. Add onions, zucchini, carrots, mushrooms and garlic. Sauté for ~7-8 minutes. Transfer to a large bowl. Stir in 2 cups cooked quinoa, 1 teaspoon Worcestershire sauce, salt, pepper, eggs and corn starch and stir well to combine.
Wipe skillet clean and add 1½ teaspoons olive oil and heat on medium heat. Divide quinoa/veggie mixture into 6 equal portions. Using your hand form a patty, Carefully place patty in skillet. Using a rubber spatula or spoon, pat veggie burger around the sides and on top to pack all the ingredients in. This will help them stick together when flipping. After ~4 minutes, lift slightly to check the underside of the patty, if it feels like it will hold together and has a nice brown crust, flip it over and cook the other side for ~4 minutes or until done. Serve on a bun (gluten free if needed) or wrapped in lettuce.