Giveaway winner! First off, I want to congratulate Georgina, the winner of the NatureBox giveaway.
Georgina says:
I love hummus and crackers to snack on!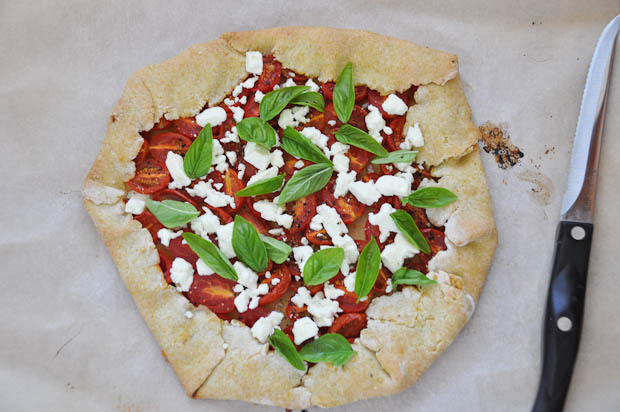 Need a nice side dish for your spring/summer menu? This tomato basil galette is perfect- it's easy to make, it incorporates seasonal tomatoes and fresh herbs. Pair this with grilled chicken or fish. I enjoyed it right out of the oven and cold as leftovers. This was my first time making a Galette and it was super easy. Don't you love when something so fancy looking is so easy to make?
What is a galette you might ask? From the web "Galette is a general term used in French to designate various types of flat, round or freeform crusty cake or tart". It can be sweet or savory. I just adore tomato and basil together- you could definitely change up the cheese and toppings for this recipe. Just make sure to use what's in season!
The packers are here so I will make this a quick post before they take my computer away from me! Have a great week!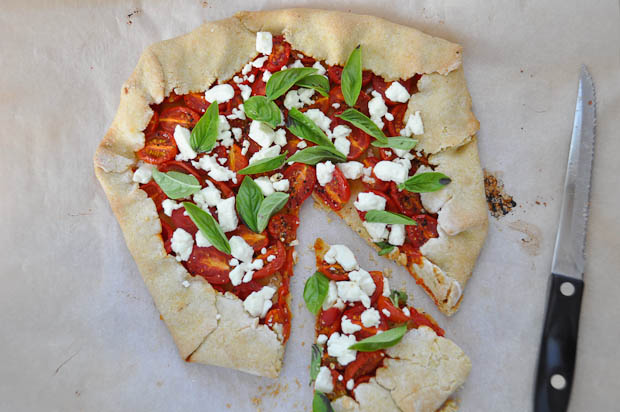 Tomato, Feta and Basil Galette
Ingredients
INGREDIENTS:
¾ cup all-purpose flour (about ¾ cup)
¼ cup yellow cornmeal
3½ Tablespoons chilled unsalted butter, cut into small pieces
¾ teaspoon salt, divided
3 tablespoons ice water
1 pint jewel box tomatoes or multicolored pear tomatoes, halved lengthwise
¼ teaspoon freshly ground black pepper
½ cup (2 ounces) crumbled feta cheese
¼ cup small basil leaves
Instructions
Weigh or lightly spoon flour into a dry measuring cup, and level with a knife. Combine flour, cornmeal, butter, and ½ teaspoon salt in a food processor; process until the mixture resembles coarse meal. With processor on, slowly add ice water through food chute, and process just until combined (do not form a ball). Gently press the mixture into a 4-inch circle on heavy-duty plastic wrap. Cover and chill for 30 minutes.
Preheat oven to 425°. Unwrap dough, and roll dough into a 10-inch circle on a lightly floured surface. Place dough on a baking sheet lined with parchment paper.
Arrange tomatoes, cut sides up, on top of dough, leaving a 1½-inch border. Sprinkle with the remaining ¼ teaspoon salt and pepper. Fold edges of dough over tomatoes to partially cover. Bake at 425° for 25 minutes or until golden brown. Sprinkle evenly with cheese. Bake an additional 5 minutes. Cool for 5 minutes, and sprinkle with basil. Cut into 8 wedges.
Notes





Recipe from Cooking Light, very slightly modified
Question: Have you ever made a Galette?