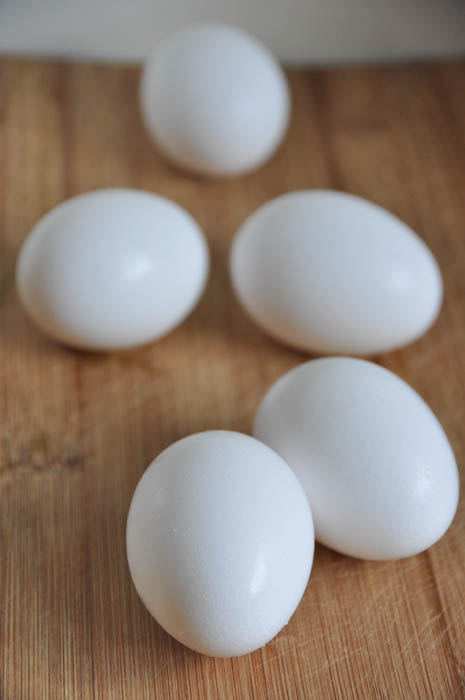 Do you like eggs for breakfast but hate to get out the frying pan to cook a small amount? This is the perfect method for cooking an egg when only one person in the family wants one. I love it for a post-workout snack which is when I had it in this case. When else can you have an egg cooked (that looks like this) in under a minute?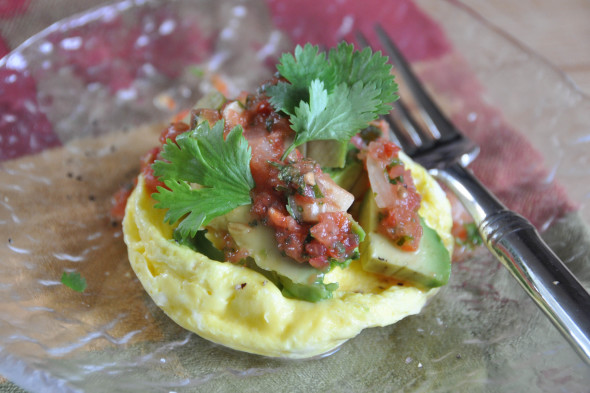 Steps to a 2 minute Egg Breakfast:
*Get a small microwave safe bowl and spray it with cooking spray. Don't forget this step or else you're egg will stick to bowl! If you are making two eggs at a time you can do a larger cereal bowl. Then just crack your egg directly into the bowl and beat well with a fork or whisk, adding a splash of water or milk (about ~1/2 teaspoon).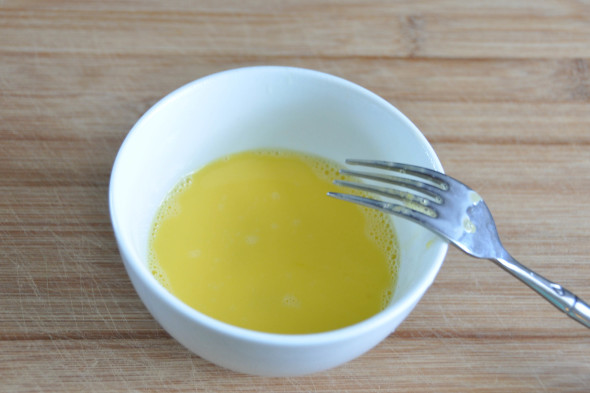 *Place bowl in microwave and cook for 40 seconds to 1 minute. My microwave is SLOW and my egg was perfect in 1 minute. Obviously if you are making two eggs then you will have to cook it a little longer. If you have a powerful microwave, you might want to check it at 30 seconds. What you're looking for: the pool of egg liquid will be gone, but the egg will still be fluffy (note: it does sink after it rests it just shouldn't look dry). You can just lift up the egg patty slightly with a fork to check if there is any runny egg left. If it's not completely cooked, pop it back in the microwave for 5-10 seconds at a time. The eggs cook quick so and if you overcook it, it will be rubbery. Not good.
Here is your perfectly cooked egg patty.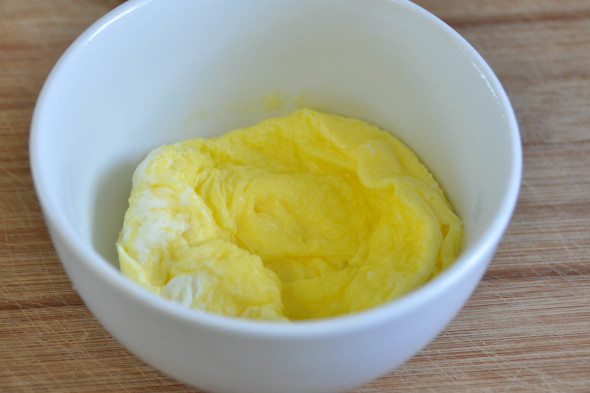 *Then I usually just sprinkle it with salt, pepper, hot sauce, chopped avocado if I have it and I have a quick egg breakfast in less then 2 minutes. 1 minute for the egg, 1 minute to add the additional toppings. For presentation purposes I transferred it to a plate, but normally I just eat it out of the bowl or put it on a piece of toast. I'm lazy like that. There are tons of options for toppings- cheese, herbs, veggies, ham. Have fun with it- keep it simple or go crazy. Your choice.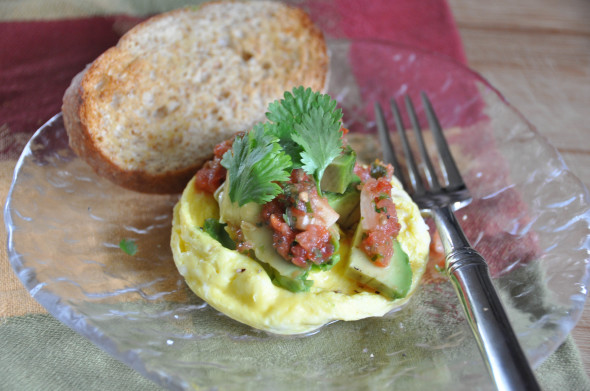 Have you cooked your eggs this way before? Try it, it's too easy!
Ok, moving on to Meal Planning Monday. My meal planning is not as thorough this week because my mother-in-law is visiting and we'll probably just figure out what we're having last minute. I can run to the store easily with her watching the kids. I am also leaving it open in case she feels like cooking. Aren't I considerate?
Menu for the Week of July 17th
Sunday
Pesto Turkey Burger on Whole Wheat Bun, Salad, Pesto Pasta Salad
Monday
BBQ Brisket (leftover in freezer from July 4th), Beans, Coleslaw, Watermelon
Tuesday
Lemon & Dill Salmon, Orzo-Feta Salad, Asparagus (I know you're thinking…again!? However my MIL loves dill so I think she'll like this meal)
Wednesday
?
Thursday
Date night with hubby after our hospital tour!!
Friday
? Maybe Pork Baby Back Ribs (my Dad made these while he was here and we loved them)
Saturday
?
Have a great week!
[print_this]
Two Minute Egg Breakfast
INGREDIENTS:
Egg(s)
Toppings- salsa, avocado, veggies, beans

DIRECTIONS:
1. Spray small microwave-safe bowl with cooking spray. For one egg, the bowl I use measures 3-4 inches in diameter. Add a splash of egg or water to egg. Beat well with whisk.
2. Place in microwave for 40 seconds to a 1 minute until all liquid is gone and egg is cooked through, light and puffy. Do not overcook. Season with salt, pepper and toppings of choice.
[/print_this]