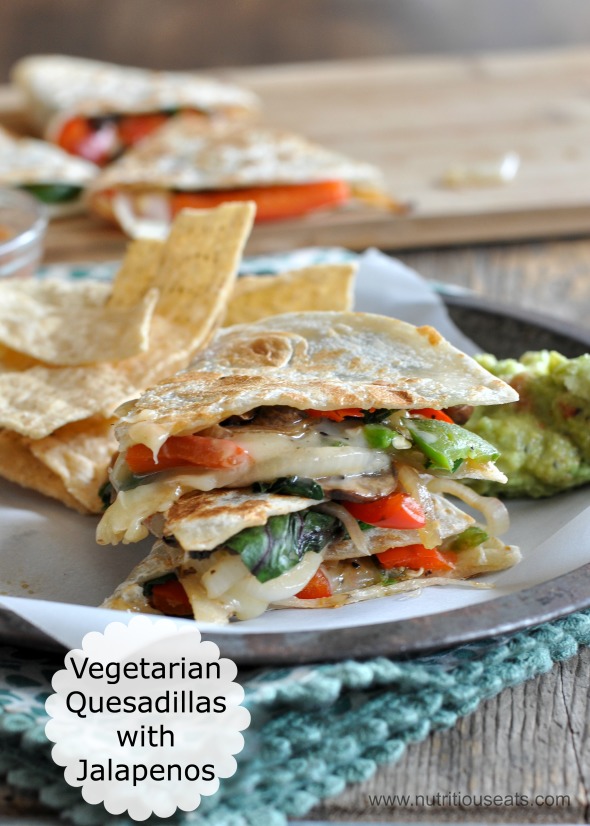 I hope you're hungry for quesadillas, because you're about to see a million pictures of these delicious vegetarian quesadillas (I didn't have time to obsess and narrow it down).
It's meals like this where I could easily be a vegetarian. Quesadillas are one of my many favorite Mexican meals, but I'll never let any of my kids order them at a restaurant. They are far too easy to make at home!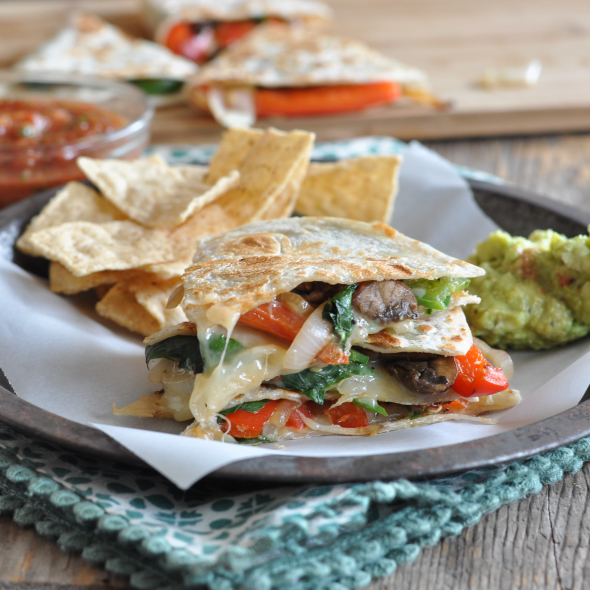 First things first, the tortilla. You must use good tortillas when making Mexican food at home and I'll let you in on a secret- Tortilla Land brand tortillas. They are as close to homemade you are going to get from a grocery store because they are made with no preservatives. You know that off flavor that store-bought tortillas have? Yeah, it's those preservatives. Tortilla Land tortillas are uncooked tortillas found in the refridgerated section and you cook them fresh at home. They only take a minute or so per side on a hot griddle and are sooooo good. Their corn tortillas are also amazing.
This is the ingredient list in their flour tortillas: Wheat Flour, Water, Canola Oil, Salt, Sugar. Now go look up some store-bought flour tortillas to compare.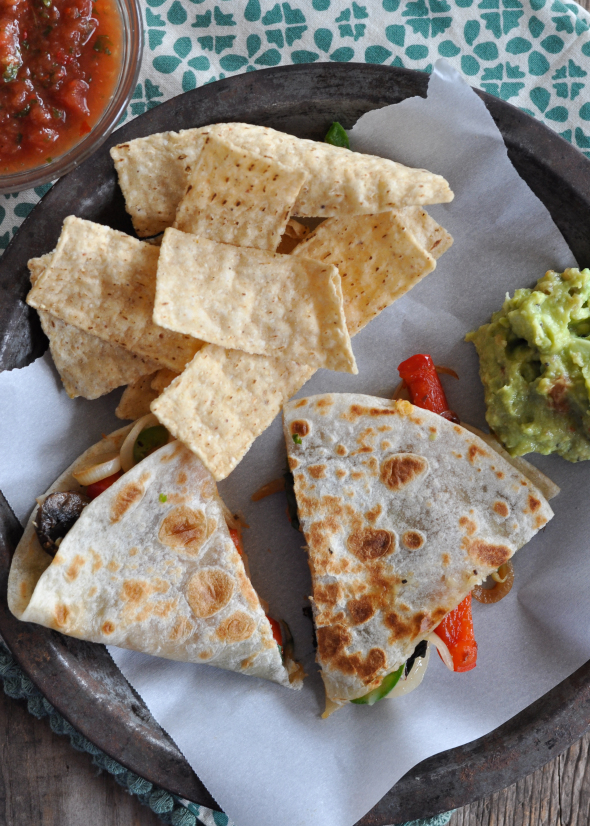 I was first introduced to the company when they sent me samples about 2 years ago. Ever since then I have been buying them in bulk from Costco and spreading the word. I can't tell you how many friends I have that are now hooked.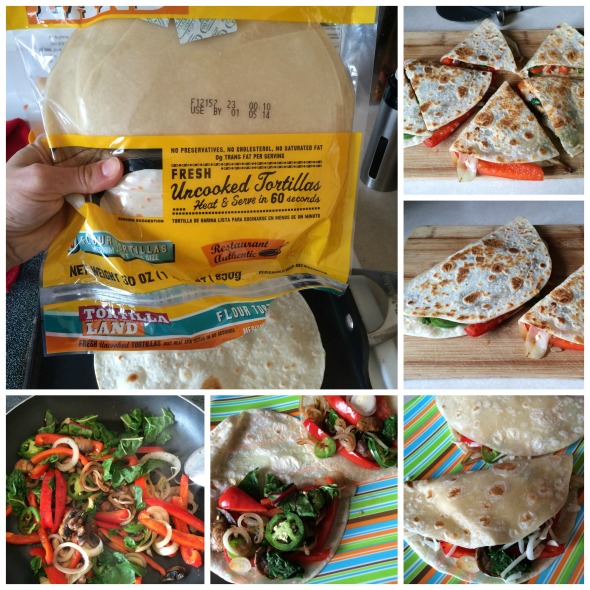 Ok now that we covered the tortilla, I always change up the filling but this recent veggie version is one of my favorites- swiss chard (you could sub spinach), onions, red bell pepper, mushrooms and fresh jalapenos with monterrey jack cheese. Topped with lots of salsa and guacamole- doesn't get much better! And you have to use monterrey jack. Typically I use cheddar with my bean and chicken quesadillas but there is something about the flavor of monterrey jack with the veggies. Trust me. Of course you could use pepper jack or cheddar or whatever you like, but I strongly encourage monterrey jack.
Ok, enough about that.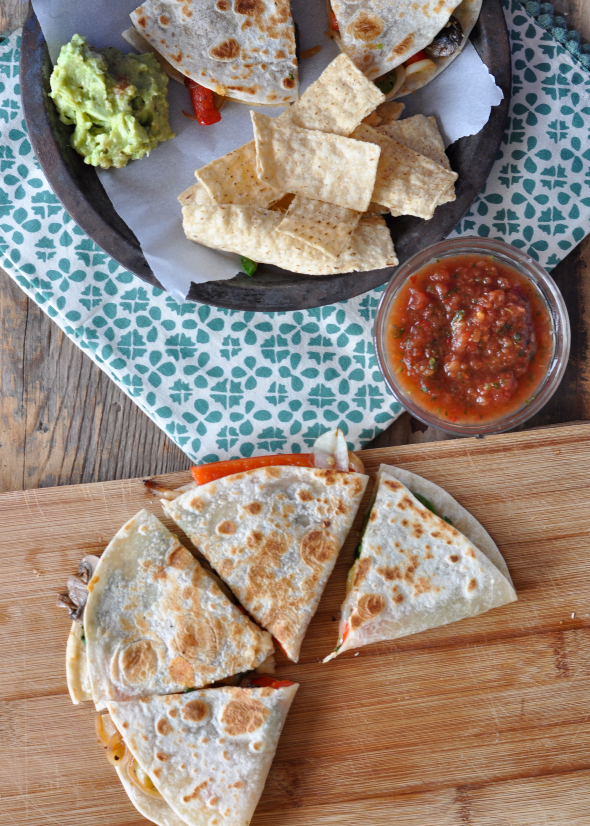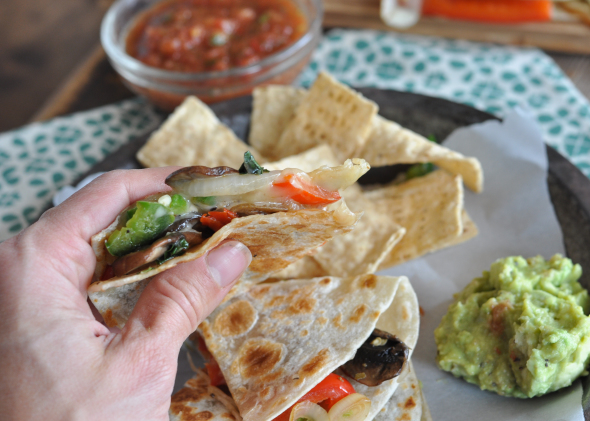 This is truly one of my favorite go-to quick-fix meals- betweens beans, vegetables and/or chicken, I could live off quesadillas. Enjoy this version!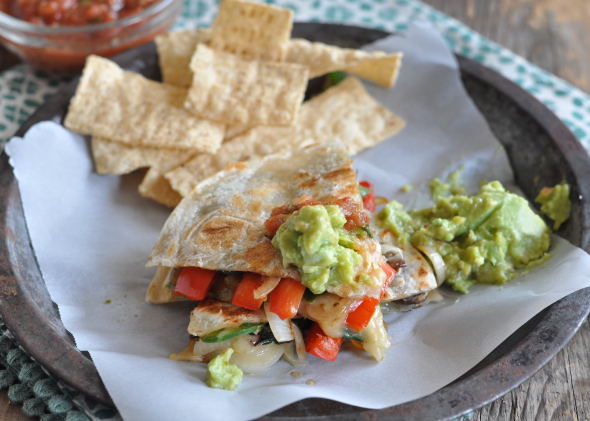 Vegetarian Quesadillas with Jalapenos
you will quickly become addicted to these vegetarian quesadillas filled with fresh veggies and jalapeños for a little heat.
Ingredients
1-2 teaspoons olive oil
1 cup sliced mushrooms
1 cup onion slices (1 small onion)
1 cup red bell pepper slices (1 red bell pepper)
2 heaping cup swiss chard, kale or spinach
1 fresh jalapeno sliced
¼ teaspoon dried oregano
salt and pepper
1⅓ cup shredded monterrey jack cheese
Instructions
In a large skillet on medium heat, add olive oil, mushrooms, onion, bell peppers and cook for ~5 minutes. Add swiss chard and jalapeno and cook 1-2 more minutes. Season with dried oregano, a pinch of salt and pepper. Remove from heat.
Divide vegetable mixture among 4 tortillas, top each with ⅓ cup monterrey jack cheese. Fold tortilla over. Place on hot griddle and cook for 1 minute per side or until tortilla is lightly browned and cheese is melted. Serve with salsa and guacamole.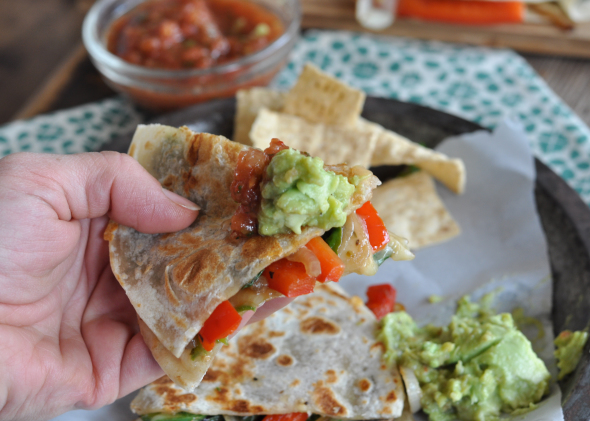 Tortilla Land sent me tortillas to sample, as they do from time to time, but no other compensation was provided and all opinions are 100% my own. I am truly in love with their tortillas.