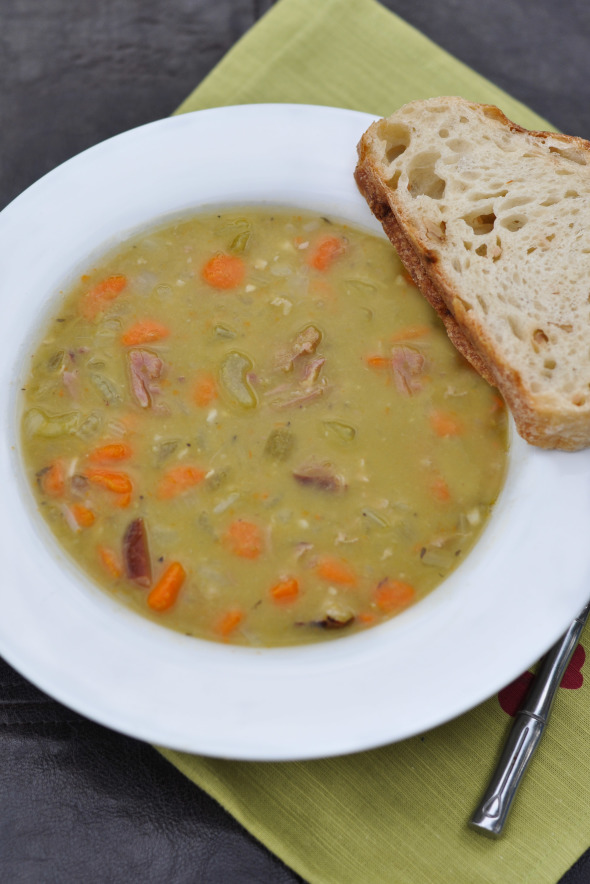 This soup won't earn many accolades on it's appearance and since we eat with our eyes it's shocking that anyone has ever tried it! It is hard to make this soup look delcious but it sure is delicious tasting. If you aren't a fan or have never tried it, trust me…it's thick, smokey, garlicy, hearty, warm and full of flavor. Bonus: it's so easy to make!
I never would have thought that I liked split pea soup but when I made it using this recipe for the first time years ago I was hooked. I'll be honest, the smell just after you simmer the plain split peas isn't the most appealing; it's when it all comes together, sauteed veggies with the smoked ham and the peas start to thicken up and take on all the delicious flavors, that you will want to dive right in and eat.
I make it at least once a year, usually after Easter, but then I bought a spiral ham a few months ago to make my pinto beans and I knew I wanted to save the bone and leftover meat for this soup. Of course if you have made it you'll know that it thickens up a ton by the second day, just an fyi.
If you have leftover ham during the Holidays you must try this recipe. My 5 year old LOVED it which was a surprise to me. He really loves "Easter ham" so I think that got him excited. He ate it for 3 dinners in a row! Seriously shocked us all.
Regarding nutrition, you are obviously getting a lot of veggies with the six cups of vegetables that go into the soup, plus the peas are extremely nutritious- high in soluble fiber and a good source of protein and other vitamins/minerals. In my opinion the only negative is the sodium in the spiral ham, but this is your one pot meal and it makes a ton. I cut the salt in half from the original recipe (that called for 1 teaspoon) but feel free to try it with less depending on much ham you use. I also make this seasonally since we don't often have spiral ham in the house.
I can't vouch for the flavor without the ham because honestly it's one of my favorite parts of the soup 😉
Split Pea and Ham Soup
Ingredients
1 (16 ounce) package dried green split peas, sorted and rinsed
2 quarts water
3 tablespoons olive oil
2 cups chopped onion
2 cups chopped celery
2 cups chopped carrots
4 garlic cloves, minced
1 spiral sliced ham bone with leftover meat
3-4 cups cubed ham (or remaining leftovers)
2 quarts water
½ teaspoon Kosher salt
½ teaspoon pepper
¾ teaspoon dried thyme
Instructions
Place 2 quarts of water and split peas in a large saucepan. Bring to a boil over medium-high heat; reduce heat and simmer for 1 hour. Drain.
Heat oil in a large soup pot. Saute onions, celery, carrots and garlic in oil over medium-low heat until tender, about 10 minutes.
Add split peas to soup pot. Then add ham bone, cubed ham, 2 quarts water, salt, pepper and thyme. Cover and bring to a boil over medium heat, stirring occasionally. Reduce heat and simmer 1 hour. Remove lid and continue simmering until desired thickness.
Using a spoon scrape off any remaining meat from ham bone and remove ham bone from pot. If too much meat remains just remove bone to cutting board to chop meat. Serve with crusty bread for dipping.
Notes
This soup freezes wonderfully. Just make sure to cool first in refrigerator.

Nutrition Information
Serving size:
6-8 servings
For more delicious fall soups check out my other soup posts
I got a workout coming your way and a fun Halloween treat. Come back and visit soon!
Question: Are you a fan of split pea soup? What is your favorite soup?
I love hearing from you! Please leave a comment, ask a question or just say hi. And if you've enjoyed this post, please pin, share, tweet or stumble away so that others can enjoy eating healthy with us! Thanks for reading!