Hi friends! I hope you all had a restful, rejuvenating weekend. We had a lot going on at church this weekend, spent Friday making homemade deep dish pizza and Saturday night tried out a new Greek restaurant which unfortunately ended up being very average. We had a brief period of warmer temps (mid 40s with no rain) so the kids rode bikes and took lots of wagon rides. The rain is back today but luckily I have a lovely view of the beautiful evergreens to keep my spirit high even when it's gloomy out.
Today in addition to meal planning, I will share a sample of my iphone food photos of things I've eaten over the past few weeks. Some people post what they eat weekly but I think maybe once a month is good enough for me. I'll try to do this more often! For those of you who follow me on instagram , you've probably seen a lot of these (my user name is nutritiouseats if you are on IG). Some of the pics make their way to my facebook fan page (are you following me there? Hint hint), but not all of them.
I always love to see what other people eat because it gives me ideas and that is why I am sharing.
And really I am feeling a bit lazy today and didn't want to take any real photos. You'll forgive me, right?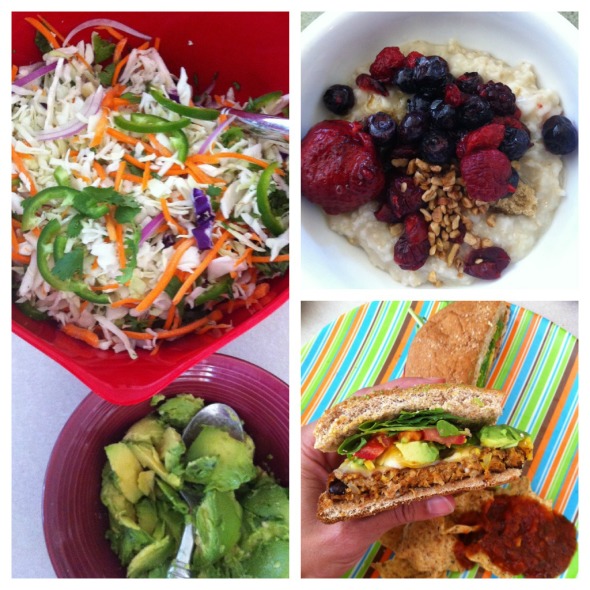 My spicy lime-jalapeno slaw with avocado (dressing not pictured). I could eat this everyday.
An easy healthy breakfast of oatmeal made with water, topped with defrosted frozen berries, chopped almonds & a touch of brown sugar and cinnamon.
Veggie burger on whole wheat bun with lettuce, tomato, onion and avocado. Love veggie burgers!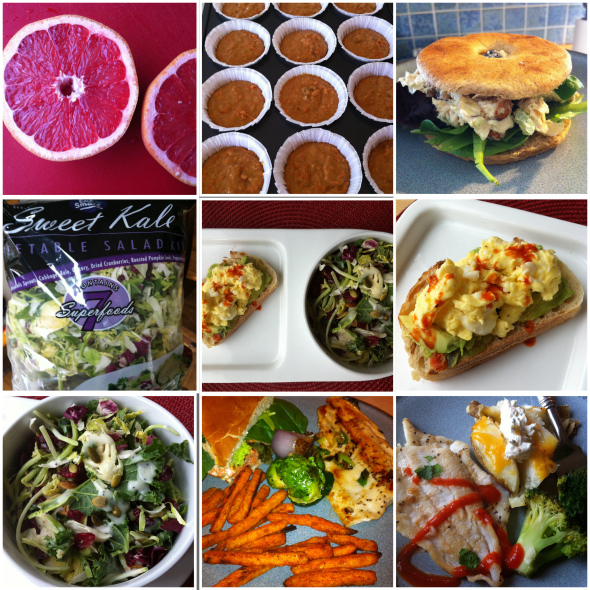 Grapefruit has been my snack everyday for the last week and a half. I bought a huge bag from Costco and shocked myself by finishing it in week (the kids and the hubs had a few but I had one daily). I never knew I liked grapefruit so much but these were particularly delicious. They are also from Texas. LOVE 'em.
Carrot spice muffins going into the oven (for snacks) recipe here.
Homemade chicken salad (made with Greek yogurt, mayo, apple cider vinegar, chopped almonds, dried cherries, pepper and dash of curry powder) on a whole wheat thin bagel.
This new amazing salad mix I found at Costco- finely chopped brussels sprouts, kale, cabbage and broccoli. It comes with a poppy seed dressing that is really yummy (and I usually don't like store bought dressing) and a bag of dried cranberries mixed with pumpkin seeds. I LOVE it and plan to buy it weekly. Makes a great addition to your lunch or dinner. YUM!
I ate the salad for lunch one day with a slice of Artisan garlic bread (also from Costco) topped with smashed avocado, 1 scrambled egg and hot sauce.
Another picture of the delicious salad.
Random dinner one night- half a spinach feta salmon burger (hubs and I shared it because I only bought one from the grocery store to try- it was from the fresh seafood counter), sweet potato fries, roasted veggies and Asian prepared Rainbow Trout (which the kids caught fresh last weekend!)
Leftover dinner for lunch- pan fried fillet of sol topped with Sriracha, 1/4 baked potato with garlic sour cream & a little cheese and broccoli.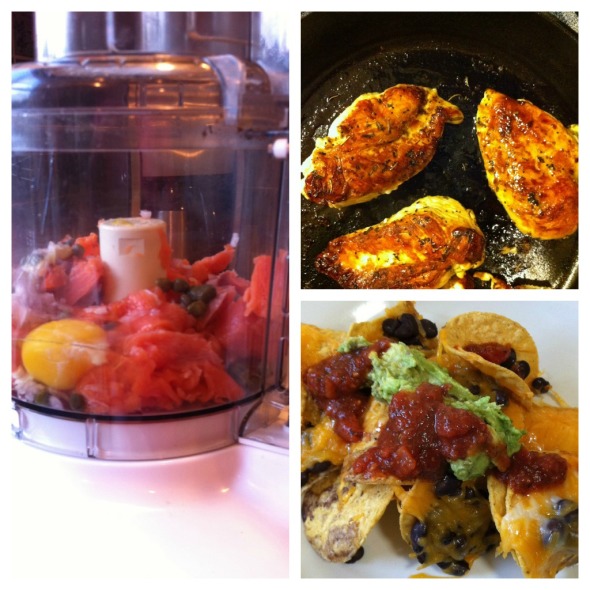 Here we have salmon burgers being made (fresh salmon, cut in chunks, chopped shallots, capers, 1 egg, squirt of dijon, seasoning of choice (lemon pepper, herbs, etc) , salt & pepper. Process in food processor, form patties and grill inside or outside ~3-4 minutes per side.
Chicken breasts in cast iron- I usually marinade them in olive oil, lemon juice, salt, pepper and fresh or dried herbs. Cook 4-5 minutes per side or until cooked through.
Easy nacho lunch (yes, even tortilla chips can fit into your diet on occasion): black beans, shredded cheese, put chips under broiler, then top with guacamole and salsa. Can you tell I love avocado?
And that concludes a few snapshots of some of the meals I've eaten over the last few weeks. This was fun for me because it's not easy to get recipes up on the blog but at least this might give you some ideas if you need them!
For meal planning this week we finally hit a point where I ran out of so many staples that I had to ignore the budge and just restock. I spent well over twice as much as the new budget. I did have fun at Costco just throwing all sorts of goodies into my cart (which I usually try to avoid doing). I told my husband that if we were rich,  I wouldn't spend my money on fancy cars, expensive clothes and jewelry, I'd just go crazy at Costco. Buy a couple extra freezers and try one of everything! Wouldn't that be awesome? I am such a foodie dork, I know.
Alright here is my meal plan for the week. I have been finding that I am pretty consistent about skipping about one day of planning. It seems like I will either transform the leftovers into something else or make a quick fix meal instead….or sometimes I just don't feel like cooking what I have planned. Guess what? That is totally fine. Meal planning is not meant to be restricting. It is a guide for you and if you finding yourself changing your own plan, no problem! If I hit 3 or 4 days out of the week I am pleased and things run much smoother in my kitchen.
I feel like splurging this week so I am going to lighten up a few "bar food" items like buffalo wings and nachos.
Sunday
Baked Buffalo Chicken Wings, Greek Salad
Monday
Stuffed Portobellos, Side Salad, Crusty Bread
Tuesday
Loaded "Healthier" Nachos
Wednesday
Turkey/Lamb burgers (got bumped from last week), Greek Salad
Thursday
leftovers 
Friday
Homemade Pizza night!
How about you my friends? What are you meal planning this week? Leave me a comment and share!