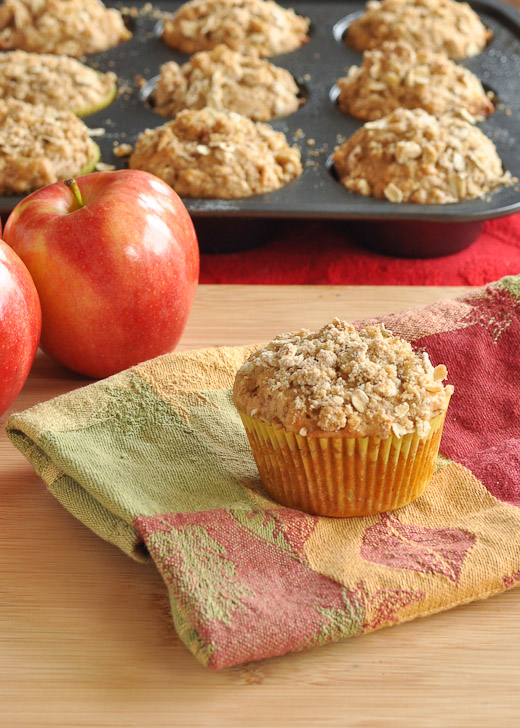 Apple oat muffins. Sooooo good. I have been wanting to make this recipe forever. I kept seeing the little recipe card on the loose in one of my kitchen drawers and I just knew the kids would love these muffins.
Also on my list of things to do has been making egg-free baked goods for my 15 month old who is allergic to eggs. Since he loves apples I knew this recipe would be perfect for him. Who doesn't love apple and oats together?
A friend recommended ground flaxseed meal as a replacement for the egg and sure enough on the back of the package of my Bob's Red Mill ground flaxseed are the instructions (For 1 egg, substitute 1 Tablespoon flaxseed meal mixed with 3 tablespoons of water which you let sit for 2 minutes and then use just like you would an egg in your baked goods). This is so good to know when baking for friends or children with egg allergies.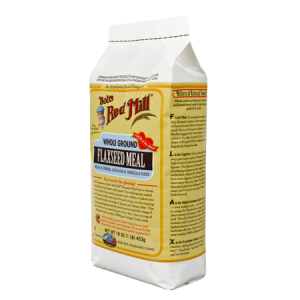 I was so curious how they would turn out using the flaxseed meal in lieu of an egg.  The result….no way you could tell there wasn't an egg in there. I thought they were great and soooo moist from the apple.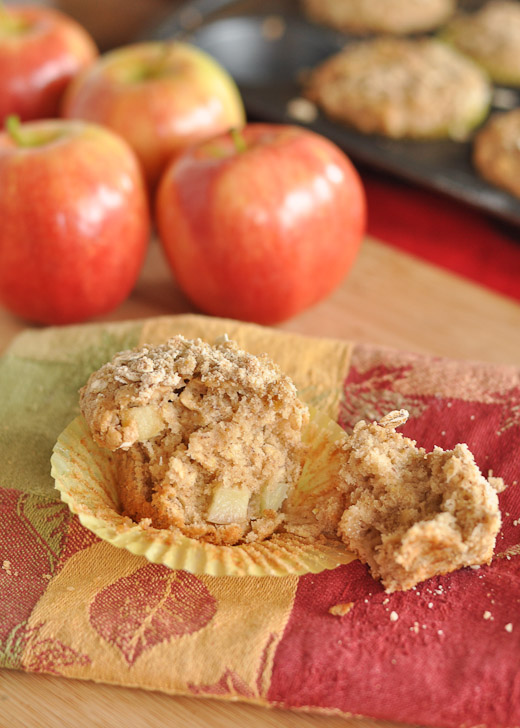 Before I go, here is a round-up of food I ate this month. Honestly I forgot to take a lot of pictures so this isn't the best representation but we eat such a variety of food that there isn't too much "typical" going on.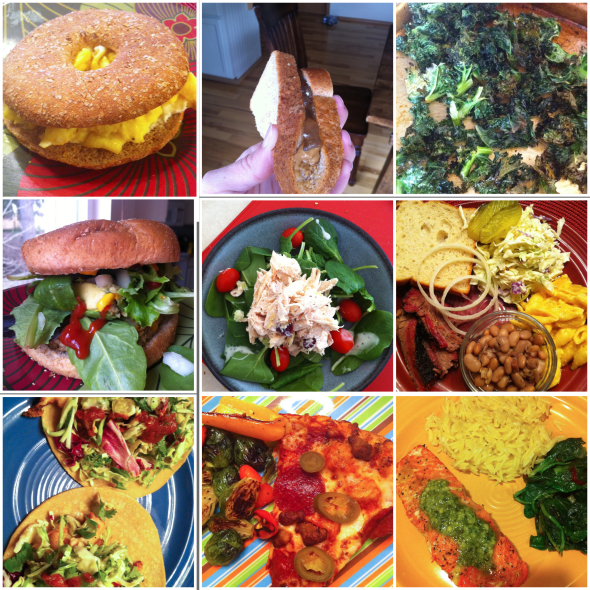 From left to right (top to bottom): 1) A simple scrambled egg and thin bagel sandwich 2) my "go-to" snack or lunch- peanut butter on wheat bread folded in a hurry with preserves (in this case homemade low sugar pear jam), 3) Kale Chips- got my kids to eat them! 4) Loaded veggie burger 5) Chicken salad on top fresh spinach 6) Smoked brisket that my husband cooked when his mom was visiting (I did all the traditional BBQ sides) 7) Trout Fish Tacos loaded with slaw and hot sauce (made with local rainbow trout that my kids and husband caught) 8) Weekend Pizza with a side of roasted veggies (we weren't able to go to our favorite pizzeria so we ordered Domino's which is the closest pizza to us (not a typical occurrence but I want to show that I am not perfect!) 9) Wild Caught Salmon with pesto, orzo and sauteed chard, bok choy & spinach.
And for me, where there is food, there are workouts. I am a good eater but thankfully I love to exercise. I am [kind of] training for a half marathon but I haven't quite decided which one to do. There is one in May but I'd rather do one sooner. I really want to see how I feel since it's been 2 years since I ran one and over 6 years since I ran a marathon. If I feel strong I might train for the Seattle full marathon this summer. Decisions, decisions.
Whatever the case, I am moving along with my milage and I am just waiting if for it to warm up a tad. This Texas girl prefers the heat.
Starting left (clockwise): after my 9 mile Sat. morning community run, sporting my Lululemon gloves and fleece headband as I went for an early morning run (my mother in law was in town so I went at 7:30am and it was too cold for me), my favorite Adidas with the neon laces, my new running group shirt- Wear Blue: Run to Remember (where we run to honor the fallen serviceman).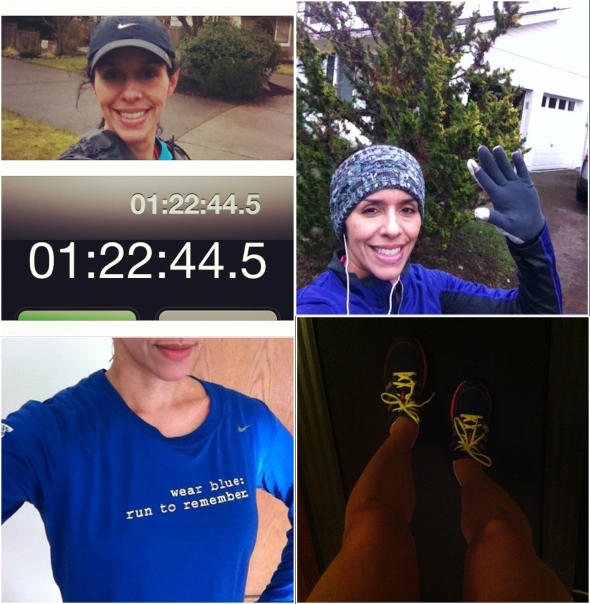 Here is the recipe to those yummy Apple Oat Muffins!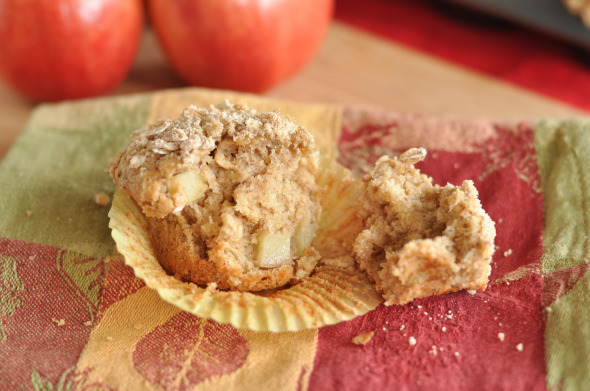 Apple Oat Muffins
A delicious egg-free muffin with the fantastic combo of apple, oats and cinnamon- great for breakfast or snacks!
Ingredients
1½ cups all-purpose or whole wheat pastry flour
1 cup rolled oats
¾ cup packed brown sugar
1 Tablespoon baking powder
1 teaspoon cinnamon
¼ teaspoon salt
1 cup chopped apple (1 apple)
1 cup low fat milk (or non-dairy milk of choice)
1 Tablespoon flaxseed meal mixed with 3 Tablespoon water (or substitute 1 egg, lightly beaten)
4 Tablespoons butter, melted
For crumb topping:
2 heaping tablespoons flour
2 heaping tablespoons packed brown sugar
2 heaping tablespoons rolled oats
2 Tablespoons butter, melted
Instructions
Preheat oven to 350 degrees. Spray muffin tin with cooking spray or line with paper muffin cups; set aside.
To make crumb topping: In a small bowl combine flour, brown sugar and oats, stir together. Add butter and mix together with a spoon or fork working the butter into the dry ingredients.
To make muffins: In a large bowl, add flour, oats, brown sugar, baking powder, ground cinnamon, salt; mix well. Stir in chopped apple. Add milk, ground flaxseed meal mixture, 4 tablespoons melted butter and stir until well combined.
Divide batter among 12 muffin cups, sprinkle crumb topping evenly over each muffin, ~1 teaspoon per muffin, pressing down gently. Bake 18-20 minutes or until toothpick comes out clean. Remove pan from oven onto cooling rack for 5 minutes. Remove muffins from pan and continue to cool. Store in airtight container.
Notes
To make these muffins vegan: substitute almond or soy milk for the regular milk and oil for the butter.


Recipe adapted from Pampered Chef
Want another apple-oat combo? Try my apple pie baked oatmeal!
Questions: How have your workouts been? Eat anything really yummy lately?