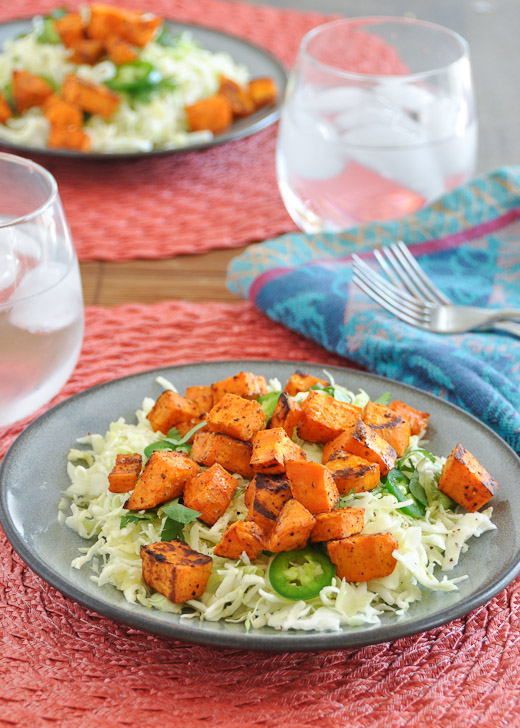 I am so happy to be sharing this delicious Chipotle Roasted Sweet Potato and Cabbage Salad recipe today. I had envisioned making this all weekend and really meant to get a post up on Sunday but it was just one of those days that I literally ran out of time. We got home from mass around 11:30am, the weather was gorgeous- a warm 50 degrees with blue skies and the kids thought it was so warm that they decided to play with the water hose in their swim suits! No joke. My Texas born children now think 50 degrees is swim suit weather.
I baked some breakfast cookies that I had hoped to post but they weren't quite blog-worthy (need more experimenting) so by the time I cleaned up that mess, tidied up the house and did laundry there wasn't much time for testing out new recipes (insert sad face). I am a firm believer if you don't have anything worth blogging, don't clog up your reader's inboxes with a post about nothing. So that's my story. Luckily Monday I was motivated to try out a few new recipes and thankfully they were successful!
So let's get to the recipe for today. I have been imagining this combination for some time now and it will definitely be making many more appearances in our meal plan.  So yummy and healthy! I was inspired to make chipotle roasted sweet potatoes after eating Alexia brand spicy sweet potato fries. Have you had those before? They are so good.
I made a super simple lime dressing which I think brings a great acidity to the dish. The spice from the jalapenos and smokiness from the chipotle seasoning really compliment the sweetness from the sweet potatoes. A dish like this definitely makes me want to be a full-time vegan. You can adjust the measurements to feed more people if needed. I used the pre-shredded bag of cabbage because I really like how fine it is, but feel free to chop up your own.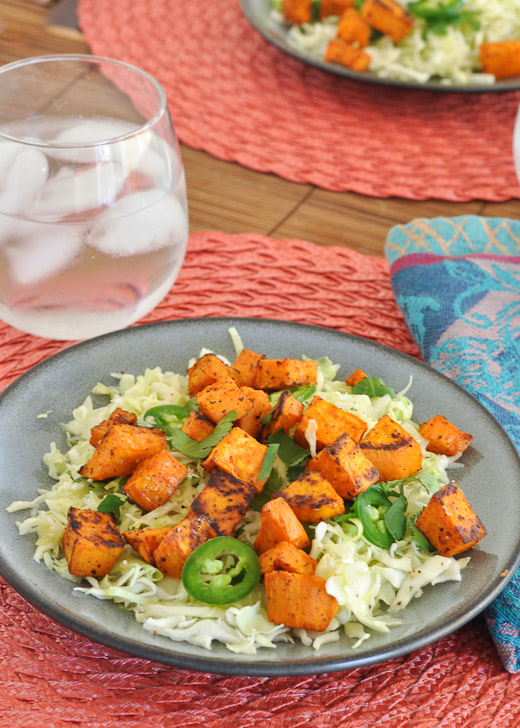 Here is our meal plan for the week even though it's already mid week (I still did it on Sunday as usual). The two day a week soccer practices are really going smoothly all because of meal planning and food prepping early in the day. No need to go through the drive-thru as long as you plan!
We have been taking a break on lent Fridays to enjoy fish at home rather than go out for pizza. I will share my recent simple salmon recipe with you soon! Stay tuned!
Sunday
BBQ Chicken Quesadillas, Raw Veggies, Chips & Guacamole
Monday
Creamy Tomato Soup, Caprese Grilled Cheese Sandwiches
Tuesday
Leftover soup, Kale, Cabbage & Broccoli salad with cranberries, pumpkin seeds  & Poppyseed dressing
Wednesday
Butternut Squash-Kale Lasagna, Salad
Thursday
Leftovers
Friday
Easy Dijon Salmon, Roasted potatoes, Sauteed greens
Saturday
Out for pizza!
For those of you that missed my last post, we are day six of my Eat Right challenge in honor of National Nutrition Month. Join me and put a little focus on your nutrition for the month of March! You can go out of order, double up days if you decide to start late, it's ok to break the rules! I enjoy seeing what my challenge is each day and if you like a particular challenge a lot, feel free to continue doing it.
Add this chipotle roasted sweet potato salad recipe to your meal plan soon!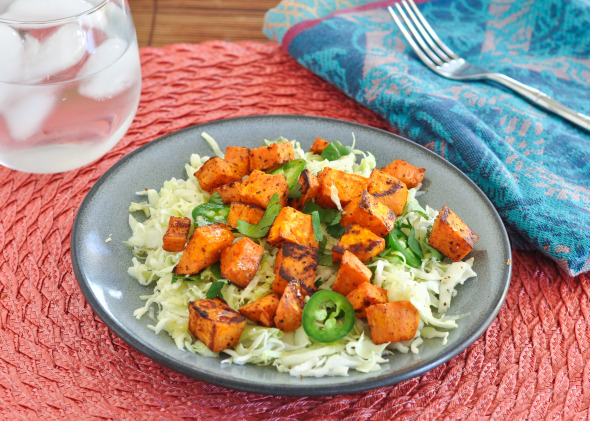 Chipotle Roasted Sweet Potato and Cabbage Salad with Lime Dressing
Ingredients
1 sweet potato, peeled and cut into ½" to 1 inch dice
2 teaspoons olive oil
¼ teaspoon garlic powder
¼ teaspoon chipotle powder
⅛ teaspoon cayenne red pepper
Dash of salt and black pepper
4 cups finely shredded green cabbage
2 Tablespoons chopped cilantro
1 fresh jalapeno, thinly sliced
For the lime dressing:
¼ cup fresh lime juice
2 Tablespoons extra vigin olive oil
1 Tablespoon water
¾ teaspoon sugar
½ teaspoon salt
¼ teaspoon pepper
Instructions
Preheat oven to 400 degrees. Spray baking sheet with cooking spray. Place cubed sweet potatoes in a medium bowl, drizzle with 2 teaspoons olive oil, sprinkle with spices, salt and pepper, toss with hands until well coated.
Transfer to prepared baking sheet and bake for 15-18 minutes until browned and tender.
Toss 4 cups shredded cabbage with ~3 Tablespoons of dressing, divide amongst 2 plates, top each plate with half of roasted sweet potatoes, 1 Tablespoons chopped cilantro and a few sliced jalapenos. Drizzle additional ½ tablespoon of dressing over sweet potatoes.
Notes
There will be enough dressing for ~4 servings. To make this come together even faster you can use a 10-oz pre-shredded package of green cabbage.
Questions:
Do you like the spicy-sweet combo? Have any awesome meals this week?
Are you doing anything to work on your nutrition for National Nutrition Month?