These big, soft, chewy chocolate chip cookies are packed with flavor from the coconut oil, walnuts and shredded coconut. Make sure to share with a friend!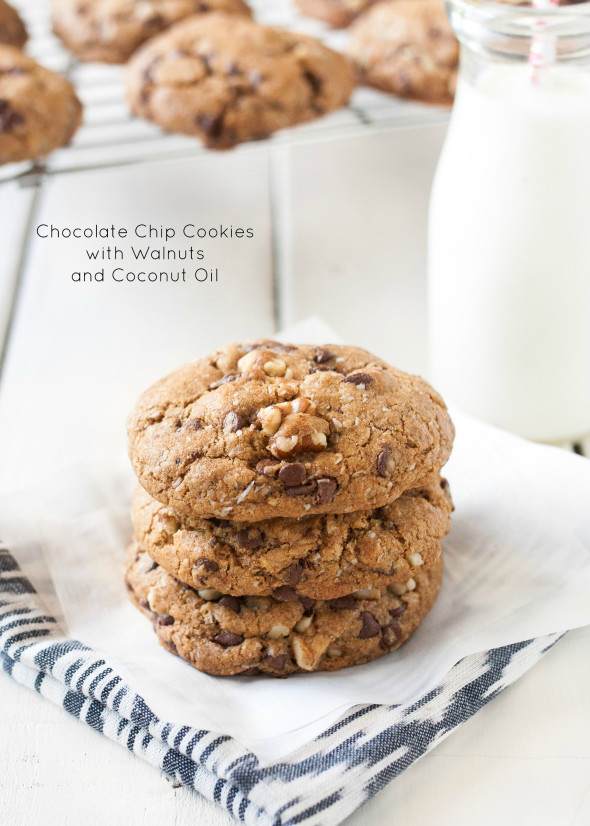 One of the things I love about food, besides eating it, is that it evokes such powerful memories. Memories that stand the test of time.
Like when I ate a delicious, yet insanely overpriced slice of pizza in Rome or had the most amazing seven-course meal at a restaurant in Seattle full of fresh, creative dishes and impeccable service.
We all have those memories…..meals we ate as children, smells that conjure up particular events or people in our lives. I love hearing stories tied to food.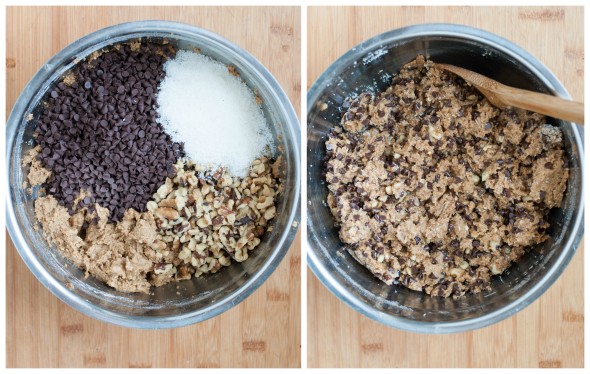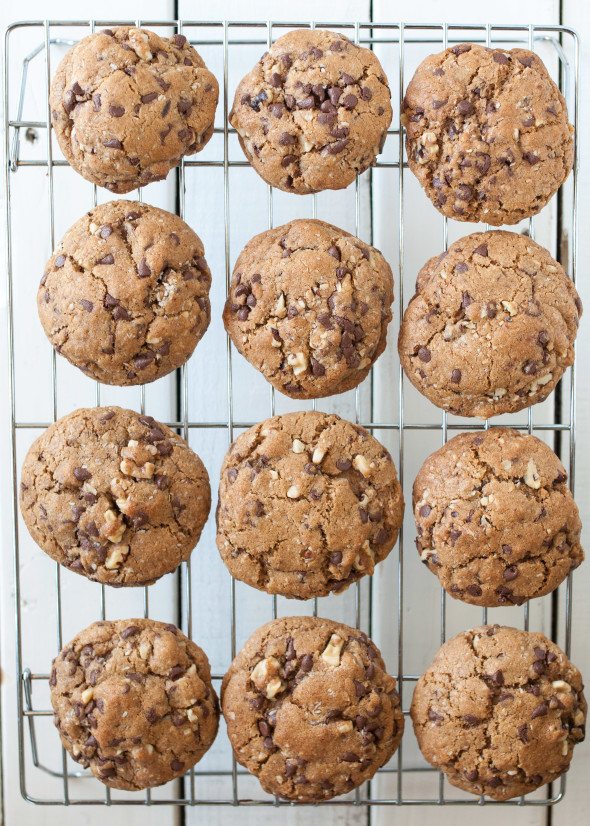 One such memory I have from my childhood is of staying at this hotel when I was traveling with my family. There was something magical about this hotel and I'll tell you what that little something special was…..a big complimentary chocolate chip cookie upon check-in.
Ahhhhh, those people are geniuses. Do you realize the impact that a warm chocolate chip cookie pulled out from the receptionist as she hands over your room keys, has on a person? Or rather a young person? It is a memory that has always stuck with me.
When people are given that little something extra or are treated with excellent service, people get excited. These things matter. They stand out to us and make us happy.
You can carry out these small acts in any situation in your life really. Sharing good food and being thoughtful really impacts others; even something simple like bringing food to a neighbor.
When I think back to the hotel, which still carries out the tradition of handing out fresh cookies to guests, and I can vividly remember holding the bag and thinking, wow this is amazing! And if we want to be frank, it's just a cookie, but it was unexpected and it was a really good cookie, which showed they cared.
The cookies were a little different than your standard chocolate chip cookie recipe and perhaps that something unique also made them so memorable.
I'll be honest, it wasn't until writing this post that I ever thought of looking for the real cookie recipe from the hotel, but this recipe is inspired by my memory of that cookie. I tried something different and used coconut oil instead of butter (so good), walnuts, lots of chocolate chips and the secret ingredient, finely shredded coconut- a winning combination in my book.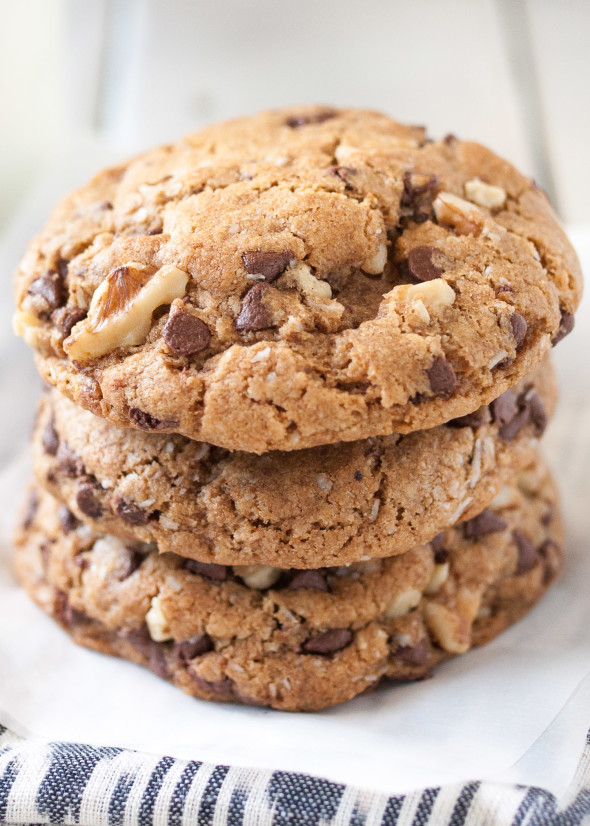 I think about those freshly baked cookies at that hotel and ponder how I can incorporate that magical touch into my everyday life. There are so many ways to do it; it's just taking the extra step to bring a little joy to others. And for me at least, food always plays the starring role.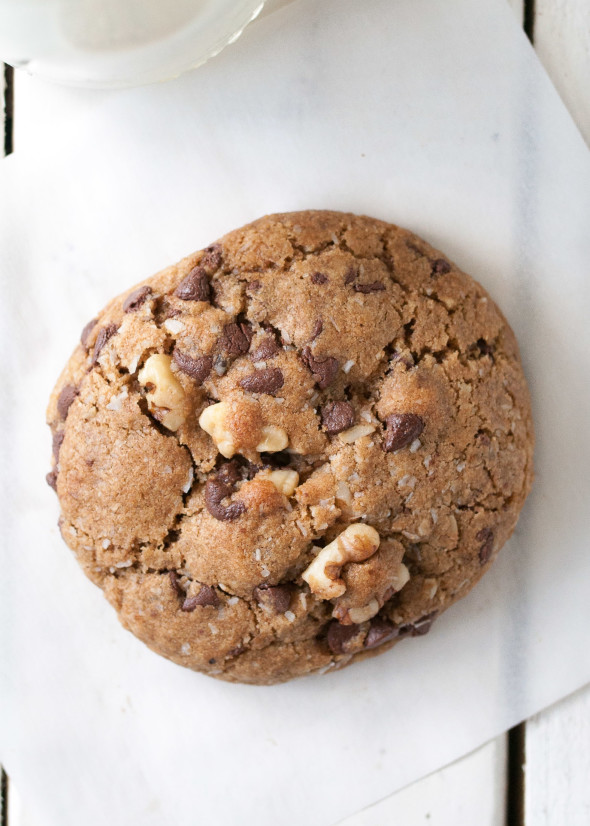 Whether or not these cookies taste like original from that hotel isn't really the point, they are delicious and worthy of being handed out to any neighbor, teacher, garbage truck worker or friend.
Want to meet purveyors who are making a difference with their customers? Check out BonAppetit.com's "Out of the Kitchen", an ongoing exploration of the relationships that build and sustain the food industry. See how hyper-local food markets operate and how their focus on quality and service keep customers coming back for more. #epicurious #outofthekitchen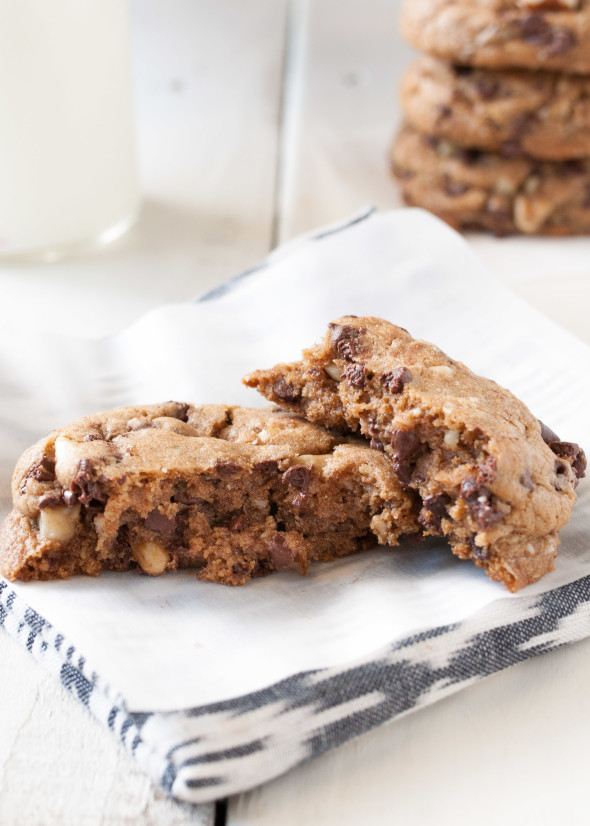 Chocolate Chip Walnut Cookies With Coconut Oil
a hearty, chewy, nutty and chocolately cookie loaded with chocolate chips, walnuts and shredded coconut. These stay soft for days!
Author:
Melanie F. | Nutritious Eats
Ingredients
2¼ cup white whole wheat flour
½ cup rolled oats, ground semi fine to fine in a mini food processor
2 teaspoons cornstarch
2 teaspoons baking soda
1 teaspoon salt
¼ teaspoon cinnamon
1 cup coconut oil, softened
¾ cup organic coconut sugar (can sub regular sugar)
¾ cup brown sugar
2 teaspoons vanilla
½ teaspoon lemon juice
2 eggs
12 ounces (~2 cups) mini bitter sweet chocolate chips
1 cup chopped walnuts
½ cup unsweetened finely shredded coconut
Instructions
Preheat oven to 350 degrees. In a bowl, mix the dry ingredients (flour through cinnamon). In a larger bowl, beat coconut oil with sugars, vanilla and lemon juice until well combined. Stir in eggs and whisk for a minute or two until light and fluffy. Stir dry ingredients into wet ingredients and whisk slowly until combined. Using a large spoon stir in chocolate chips, walnuts and shredded coconut by hand. Cover and refrigerate for at least 1 hour.
When ready to bake, scoop ¼ cup rounded portions onto an cookie sheet lined with parchment paper at least 1½" to 2" apart. Bake for 12 to 14 minutes. Centers will still be slightly soft. Let cool on cookie sheet for ~5 minutes. Remove to wire rack to continue to cool and store in an air tight container.
Looking for more cookie recipes?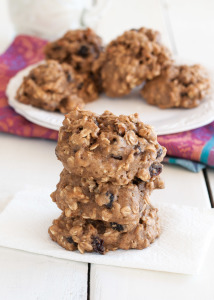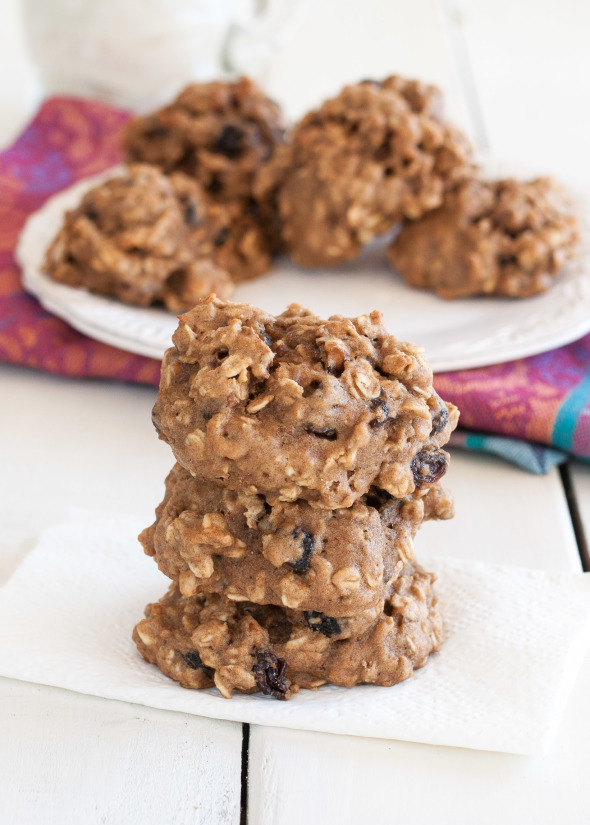 Soft and Chewy Peanut Butter Chocolate Chip Cookies