Fruit Salad with Lime Yogurt Dressing packs a tangy sweet punch and is a perfect gluten-free dish for a light breakfast, potluck or brunch.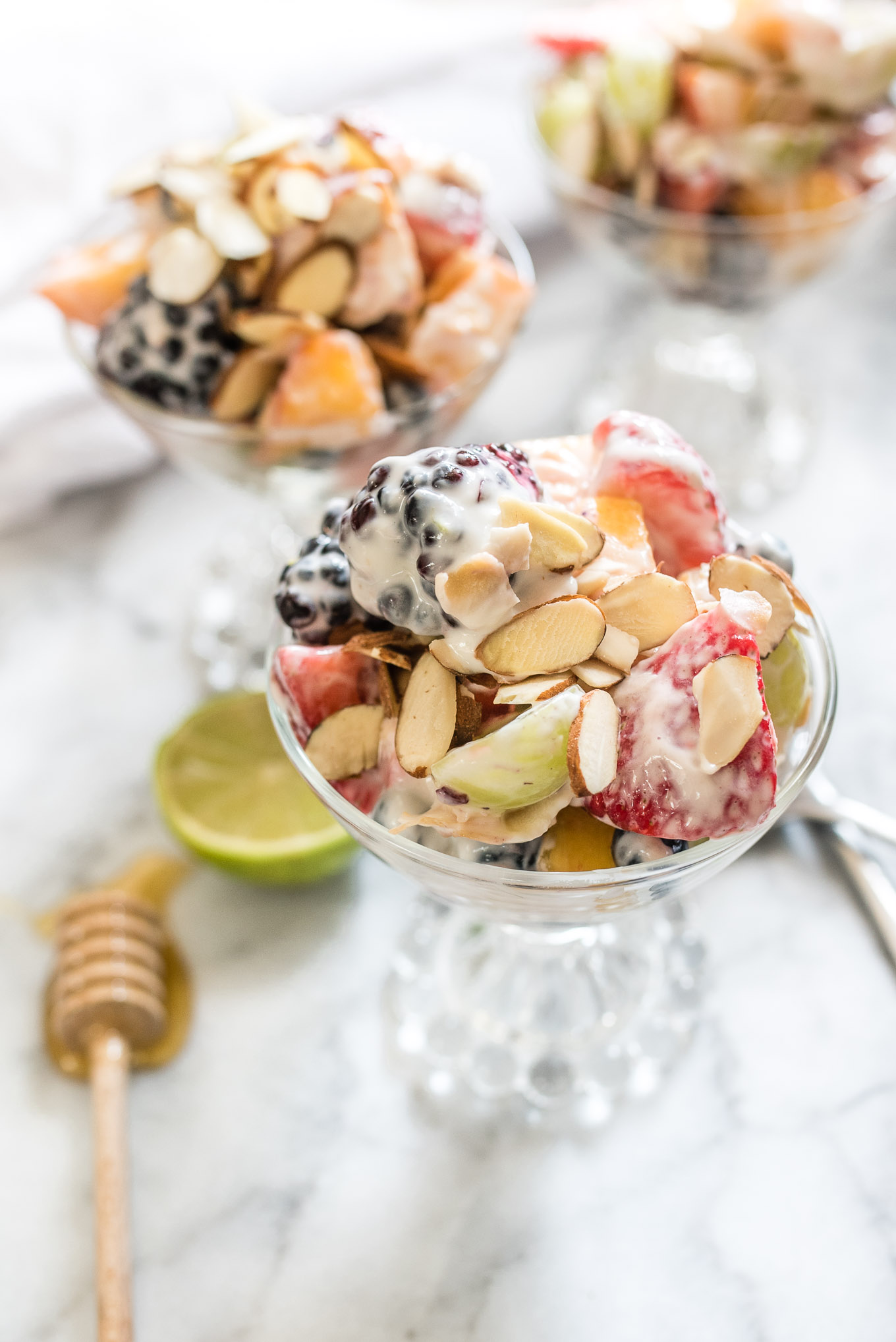 Fruit Salad with Lime Yogurt Dressing will remind you of a Waldorf salad only healthier using Greek yogurt instead of mayonnaise. You can change the type of fruits depending on what you have or what's in season.
My kids love all types of fruit, all the time. It's nice because I can offer them a variety and they never grow tired of it- between frozen berries, fresh whole fruit like plums and apples, a handful of berries, fruit salad, etc they are easy to please.
I made a little yogurt sauce to toss with this fruit salad- one of their other favorite foods, by mixing vanilla Greek yogurt with some honey and lime juice and zest.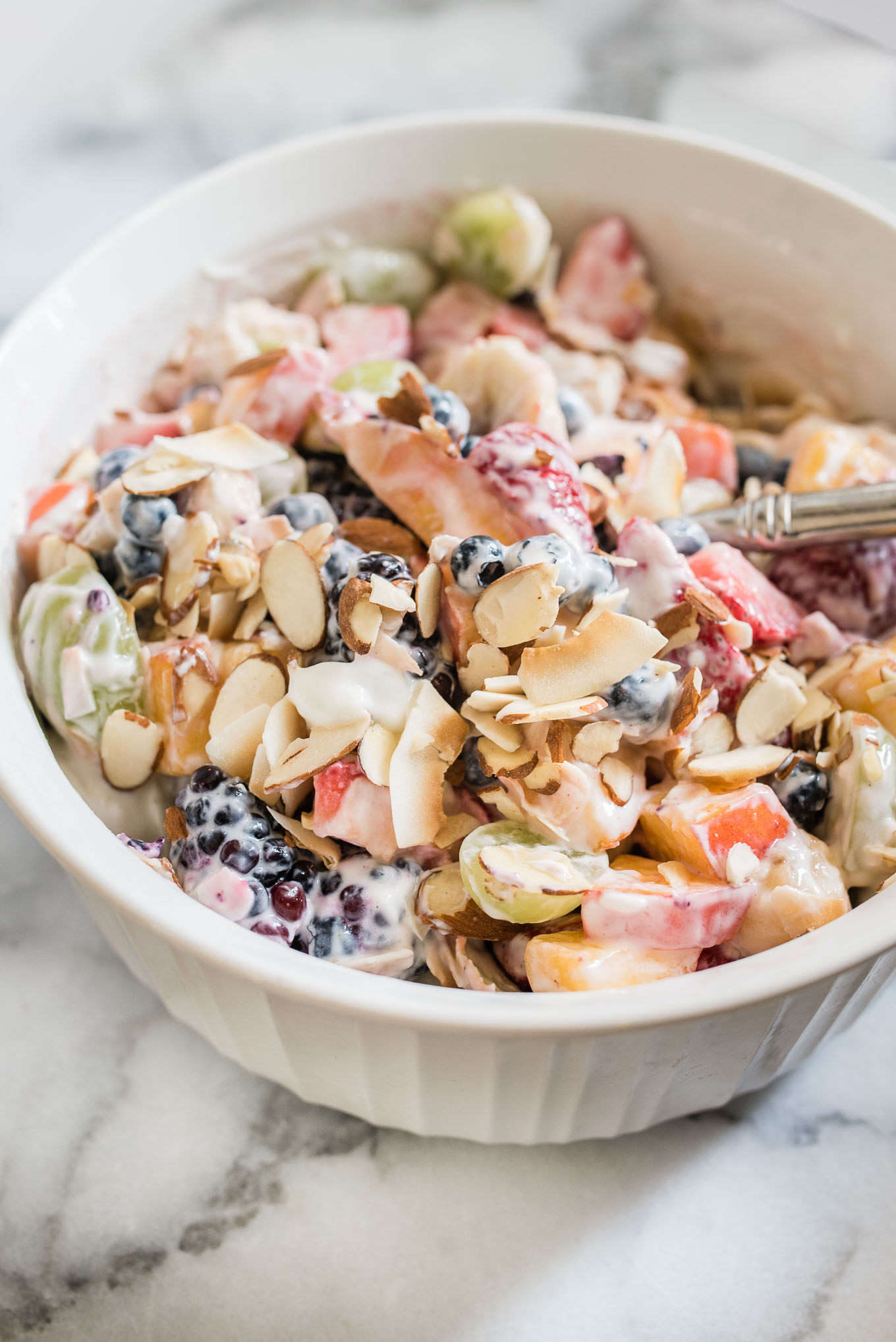 Use whatever fruit you have on hand. I had berries, peaches, oranges and bananas. You can mix the coconut right into the fruit salad. Then you can top with with the yogurt sauce and almonds if you like. If texture is an issue, just keep out the coconut too and leave it for topping only.
If you are a light breakfast eater, a bowl of this would be all you need to start your day. However, it would also be great to go along with your brunch or to your next potluck.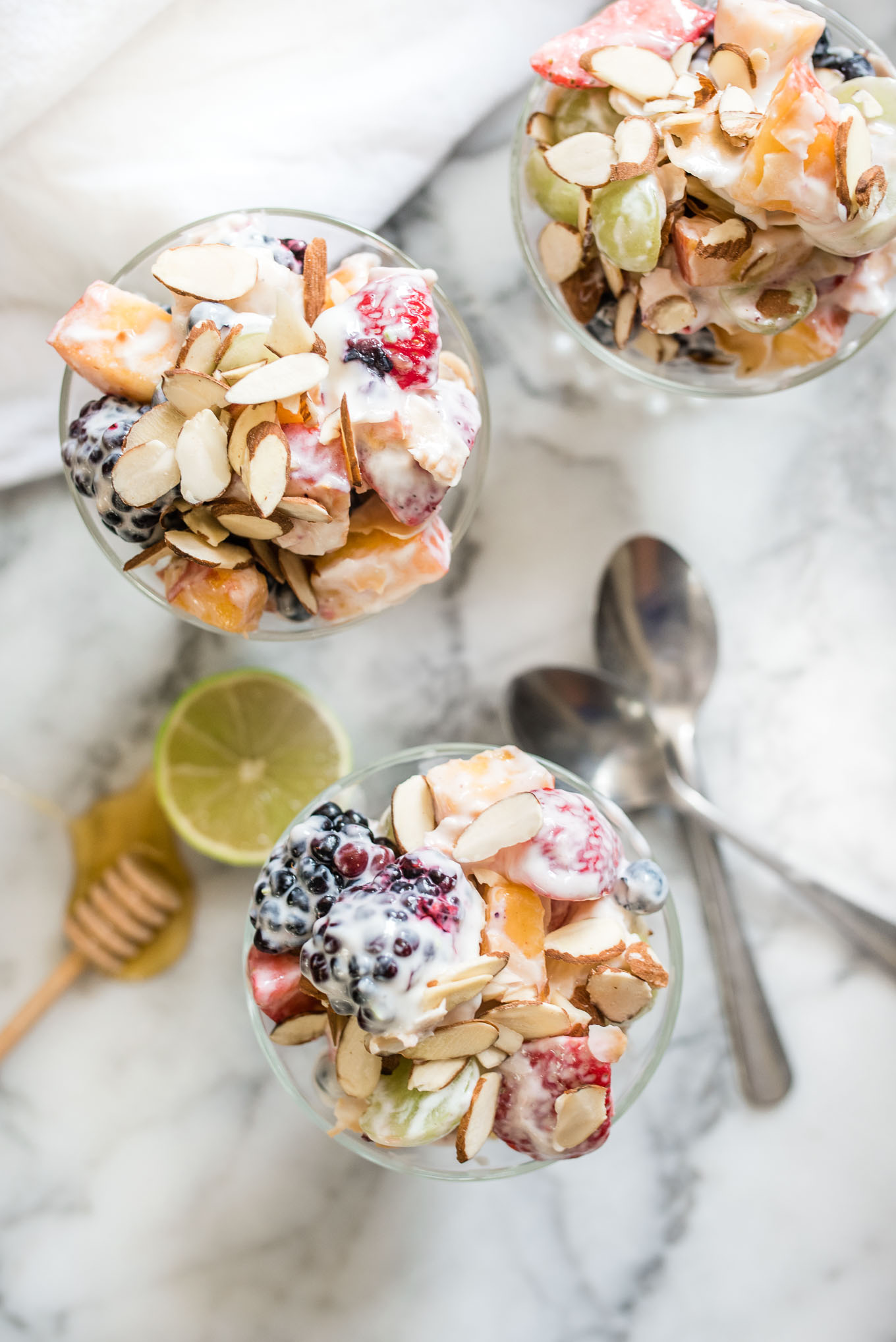 Over the days, it doesn't get any prettier, but the coconut softens yet still adds a little texture I like.
Looking for other brunch recipes?
HELPFUL TOOLS USED IN MAKING THIS DISH AND RELATED LINKS:
Good ol' white Corningware bowls are my go to… even for entertaining. They're just the right size, easy to store and make a nice uniform appearance.
All you really need is a good knife and I love my silicone whisk.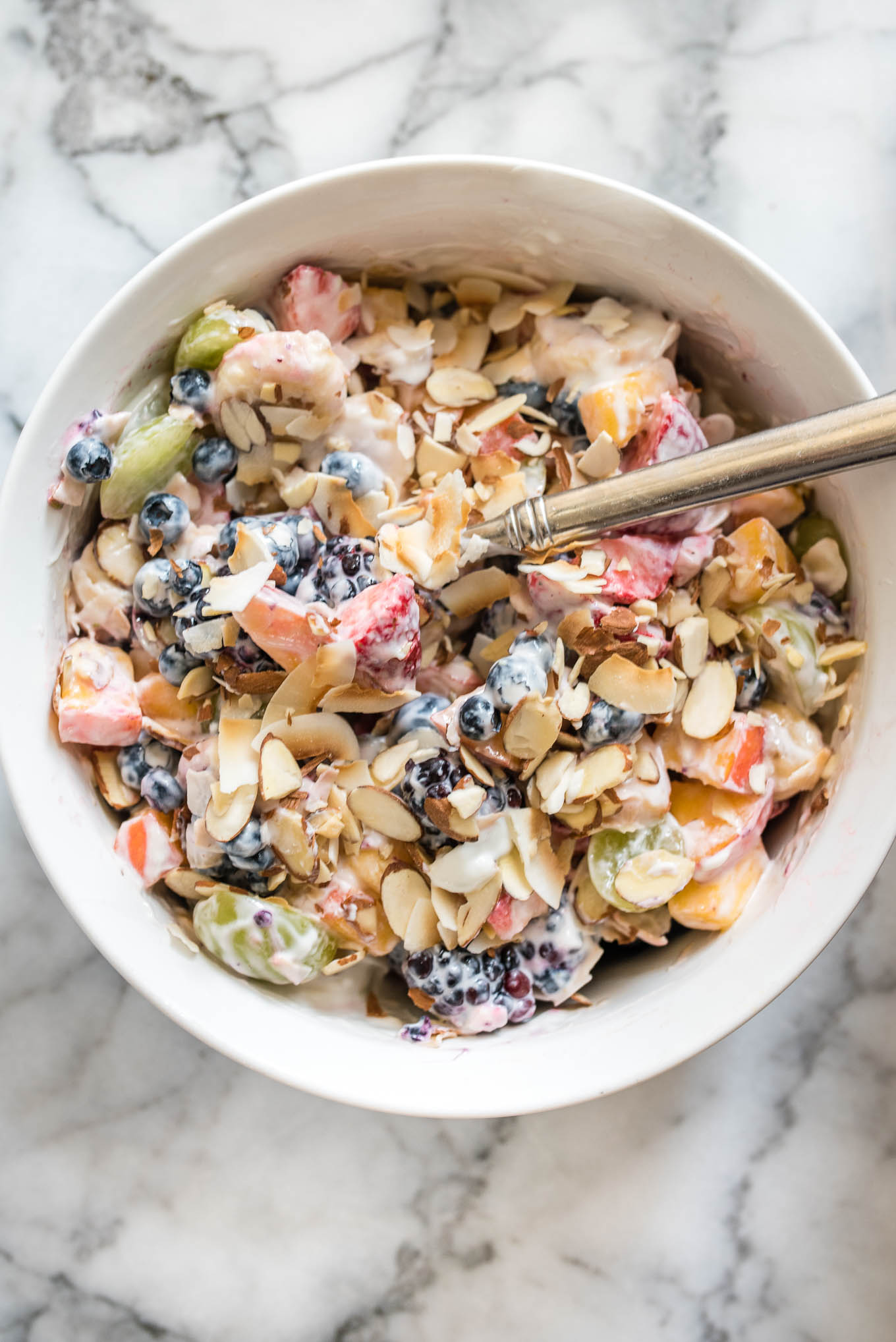 Fruit Salad With Lime Yogurt Dressing
Author:
Melanie F. | Nutritious Eats
Ingredients
1½ cup sliced grapes
1½ cup sliced strawberries
2 cup peaches (1 large peach)
1 cup sliced banana (1 large banana)
1 cup blueberries
1 cup blackberries
1 cup vanilla Greek yogurt
2 teaspoons honey
zest of one lime
2 tablespoons of lime juice (~1 juicy lime)
½ cup unsweetened toasted coconut flakes (you can buy them toasted)
⅓ cup slivered almonds
Instructions
Mix all fruit together in a large bowl. Stir in shredded coconut (or leave out if you want them for topping instead). To make the dressing: combine yogurt, lime zest, lime juice and honey and whisk together until smooth. Drizzle dressing over fruit, toss to combine. Top with slivered almonds.
Notes
I prefer this right after tossing with the yogurt so you could make the fruit salad ahead and make the dressing separate and top before serving. Also, if you have guests that might not like the add-ins, just use the coconut and almonds for toppings.

This post contains affiliate links (which means I make a tiny profit on anything you purchase via Amazon using my links).