Plain Greek yogurt adds a richness to these Chocolate Chip Greek Yogurt muffins, that can be perfect for breakfast, snack or dessert.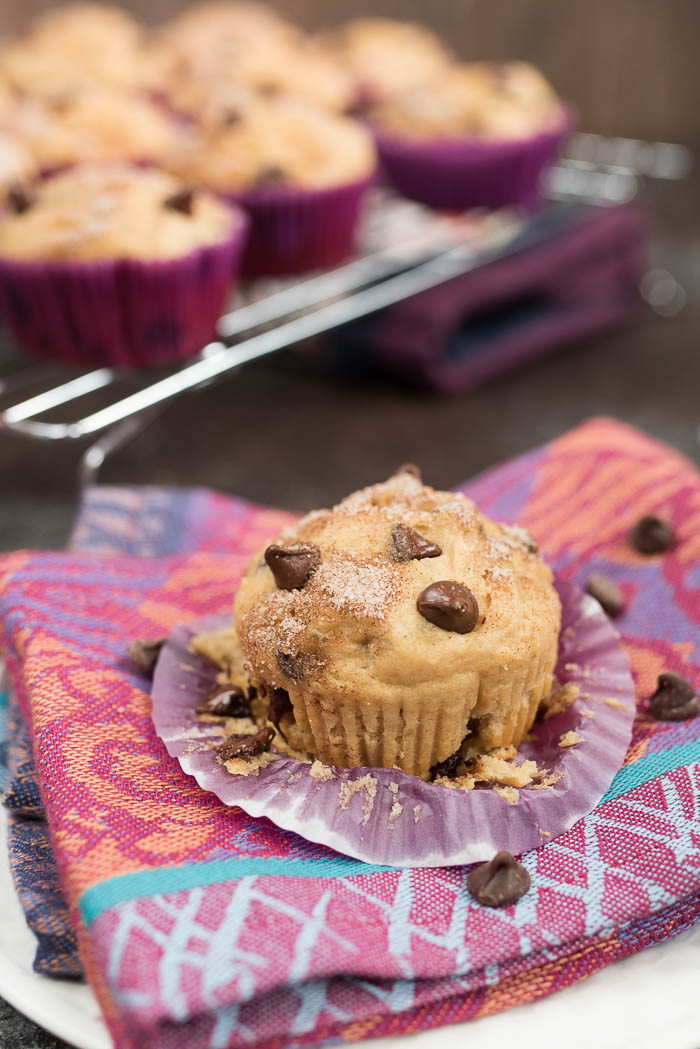 This is a sponsored post written by me on behalf of Chobani. All opinions are entirely my own.  
School is in full swing and if you're a parent, you might be struggling with what to feed your child. Today I am going to talk about ways to get more Greek yogurt in your child's diet. It makes a great addition to those busy mornings, school lunches or afternoon snacks.
However if you're not a parent, you will still love these Chocolate Chip Greek Yogurt Muffins with a Cinnamon topping. So it's a win win situation here. My kids love many things, but Greek yogurt and chocolate chip cookies top the list. I'll show you how they get to enjoy both.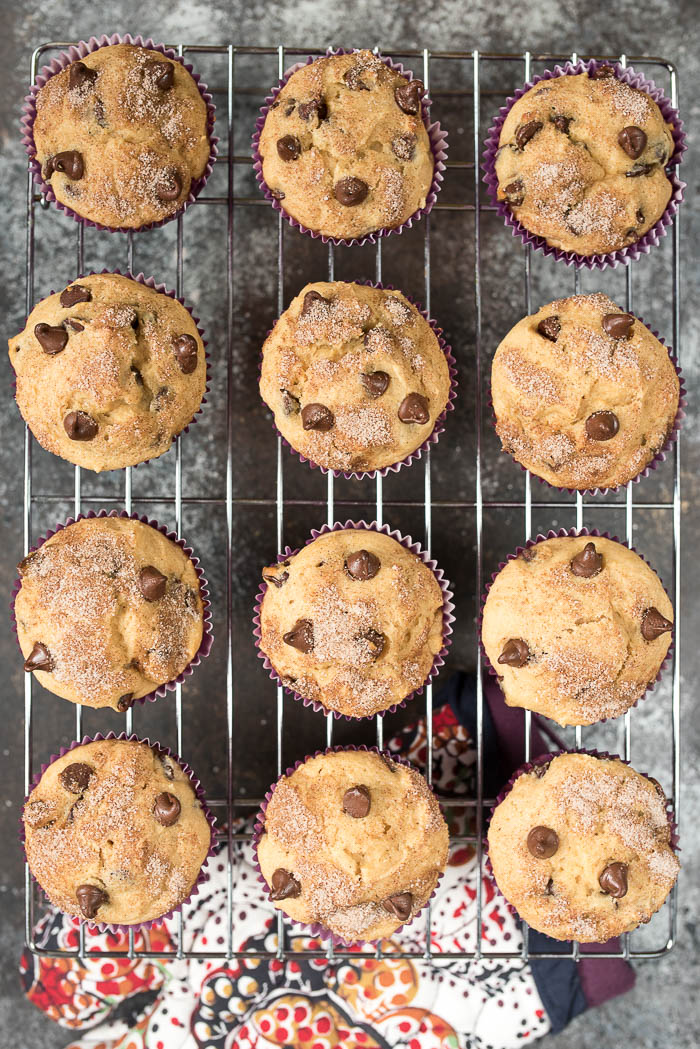 I am so glad Greek yogurt has become such a staple in so many people's diet. With the increasing variety, there are so many ways to enjoy it. But before I show you how easy it is to incorporate Greek yogurt into your child's diet, let me tell you why it's a good idea.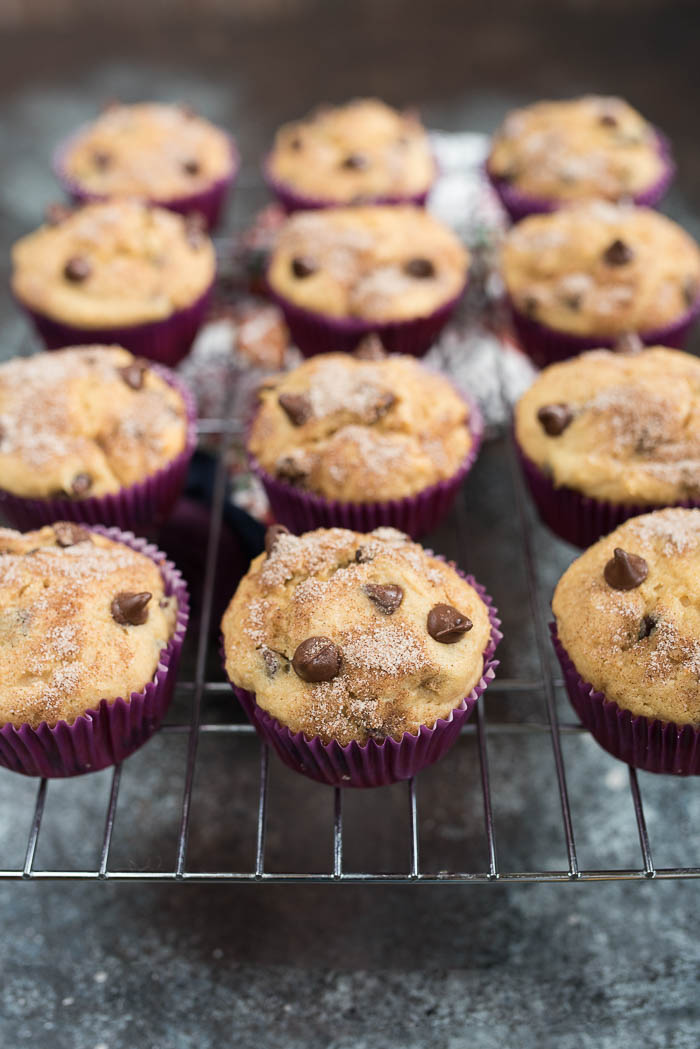 Why Greek Yogurt?
Greek yogurt is a good source of calcium which is a super important nutrient for our kids as it supports bone health. Also, it's high in protein which helps maintain and build tissues and muscles, along with increasing satiety. This is important if you've got kiddos in school or even daycare and aren't able to snack when ever they want!
I know there are a lot of brands to choose from in the diary aisle, which can make it a little confusing when shopping. I am going to help you out right now.
Chobani Greek yogurt is made with only natural, non-GMO ingredients that you can feel good about feeding your kids. That means no artificial preservatives, flavors or sweeteners. Their Greek yogurt products are our go-to addition to any meal. But is your child resistant to Greek yogurt? If so, try these tips!
5 Ways to Get More Greek Yogurt Into Your Child's Diet
Try a variety of convenient Chobani Kids Greek yogurt tubes and pouches. There is a plethora of flavors such as strawberry, apple, chocolate, watermelon, mixed berry. I love that Chobani's Greek yogurt tubes are made with real fruit and only have 6 grams of sugar per container, which is 25% lower than other brands. They even use fruit and vegetable juices for coloring instead of artificial food coloring. Greek yogurt tubes also make great frozen treat so keep a stash in the freezer (also great for slowly defrosting in your child's lunch making them perfectly chilled by lunchtime).In addition to the yogurt tubes, kids of all ages will love the Chobani Tot Greek yogurt pouches, but they are the perfect convenient food for babies and toddlers. Pack one in your bag, no mess, no fuss. Did you know yogurt is a great "first food" for babies, typically recommended to start around 7-8 months of age? The Chobani Tots pouches offer protein and calcium for development along with that DHA for brain health and probiotics for a healthy gut.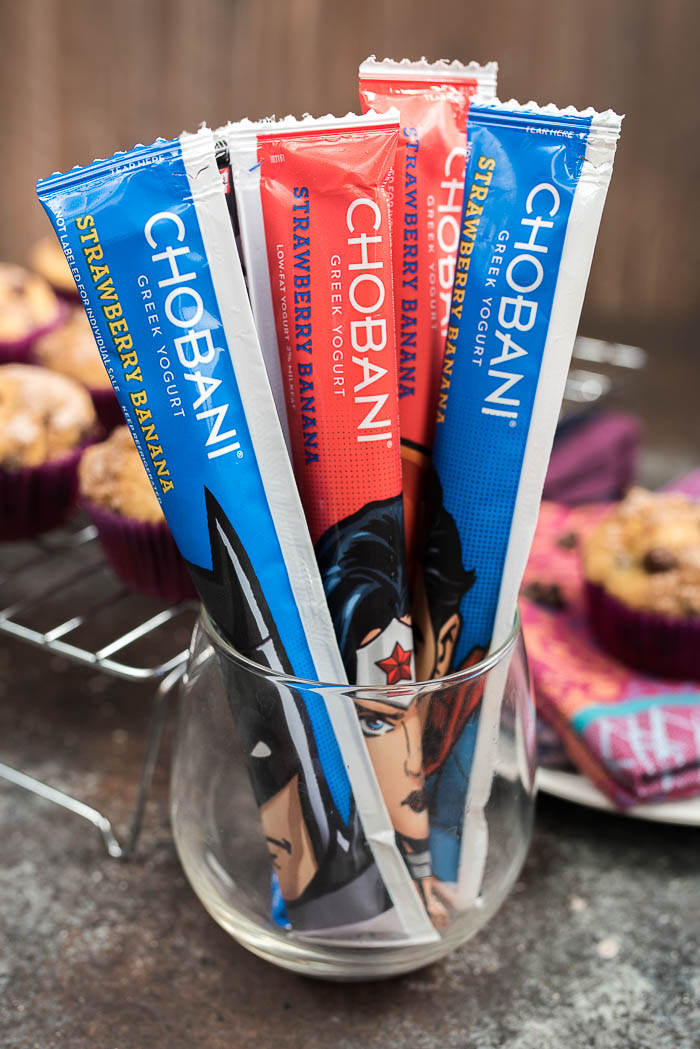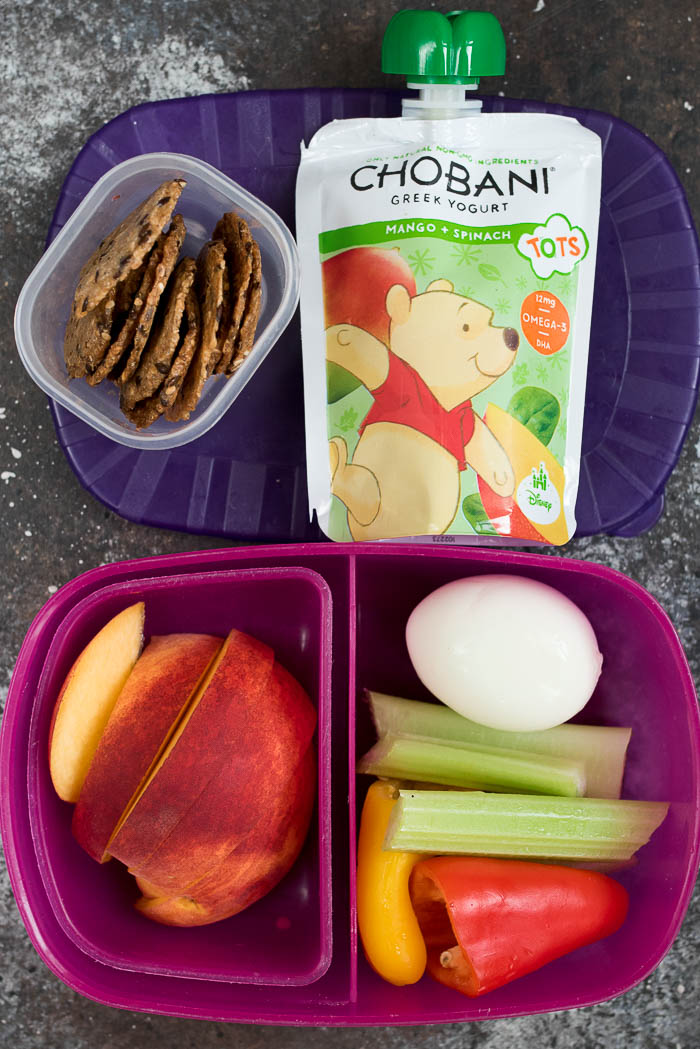 Incorporate plain Greek yogurt into your meals. Add a scoop into smoothies for breakfast, make ranch dip or chicken salad for lunch, top your baked potato or quesadillas with it for dinner.  Look to replace plain Greek yogurt for sour cream or mayonnaise in any recipe (or start with half and half). You'd be surprised how many foods, sweet or savory, it goes well in- mac and cheese, baked goods, the list goes on. These Chocolate Chip Greek yogurt muffins (recipe below), for example, come together quickly and make a great after school snack or breakfast.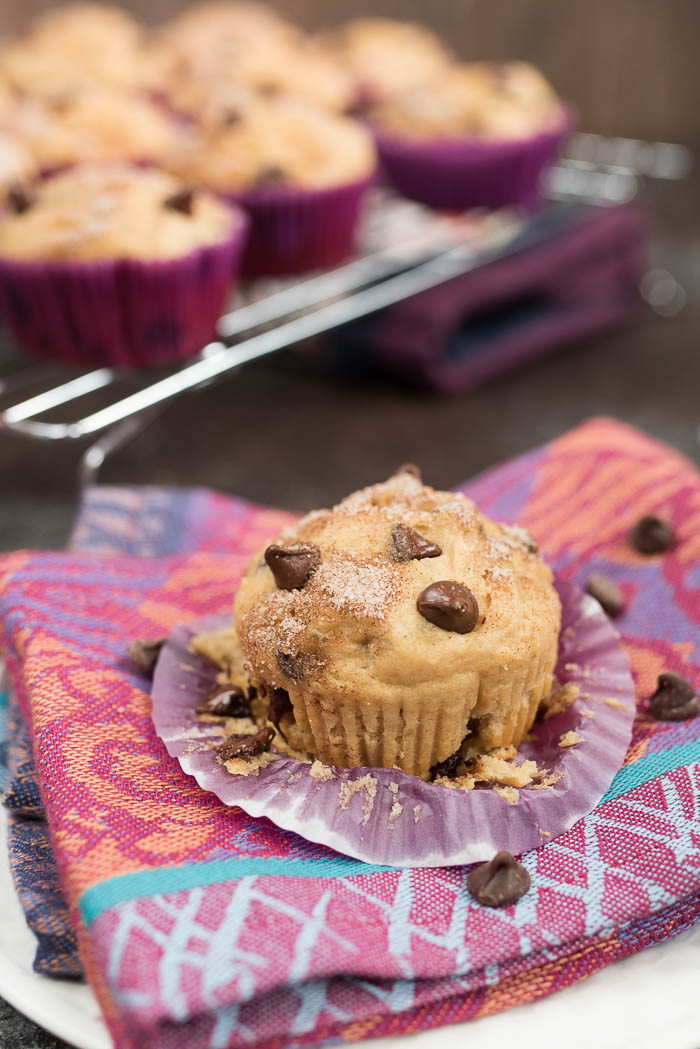 Make parfaits for breakfast or snacks. You can change up the flavors of the Greek yogurt, fruit and granola and get the kids involved in making their own. How could you ever get bored with this breakfast?
Try homemade popsicles using Greek yogurt and fresh fruit. It makes a creamy, healthy treat the kids will love. The simple non-recipe is to make a smoothie using Greek yogurt, fruit, a little fruit juice and freeze in a popsicle mold.
Pack convenient yogurt drinks to take when transporting kids from school, to activities, such as these new Chobani Greek yogurt drinks. They are similar to smoothies, but not quite as thick and are a good source of potassium, calcium and are packed with 14 grams of protein.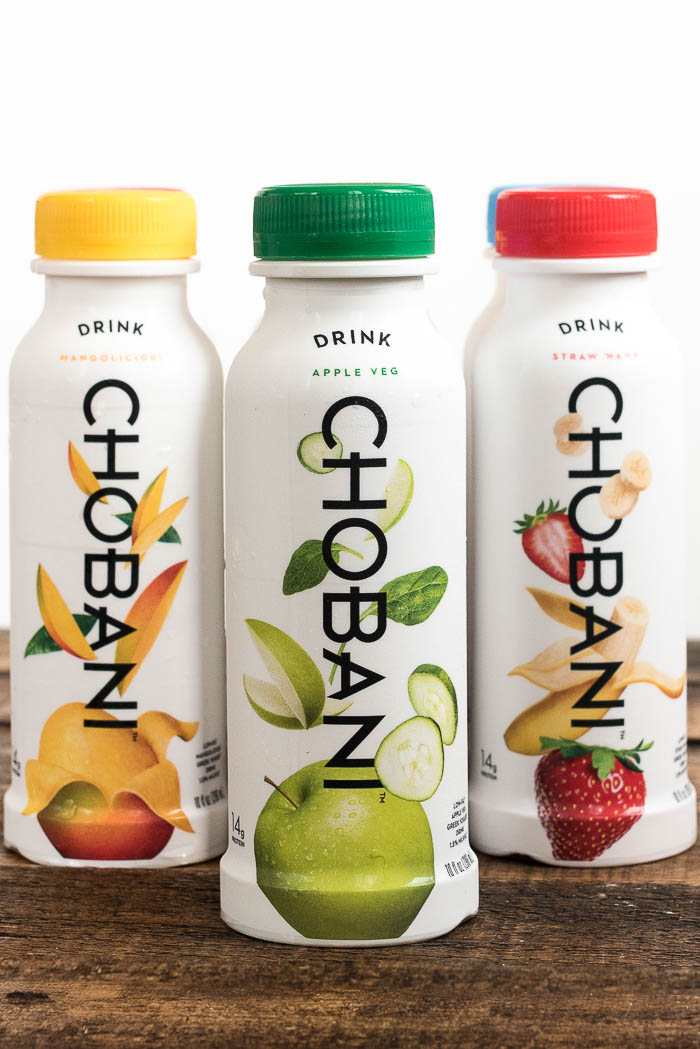 As you can see, there are lots of ways to get more Greek yogurt in your child's diet other than just popping off the lid (although there is absolutely nothing wrong with that!).My kids love the variety of Greek yogurt products that Chobani carries and we incorporate it in all the ways listed above! I love that I can count on a healthy component of a meal or snack that offers quality nutrition. Now for that recipe!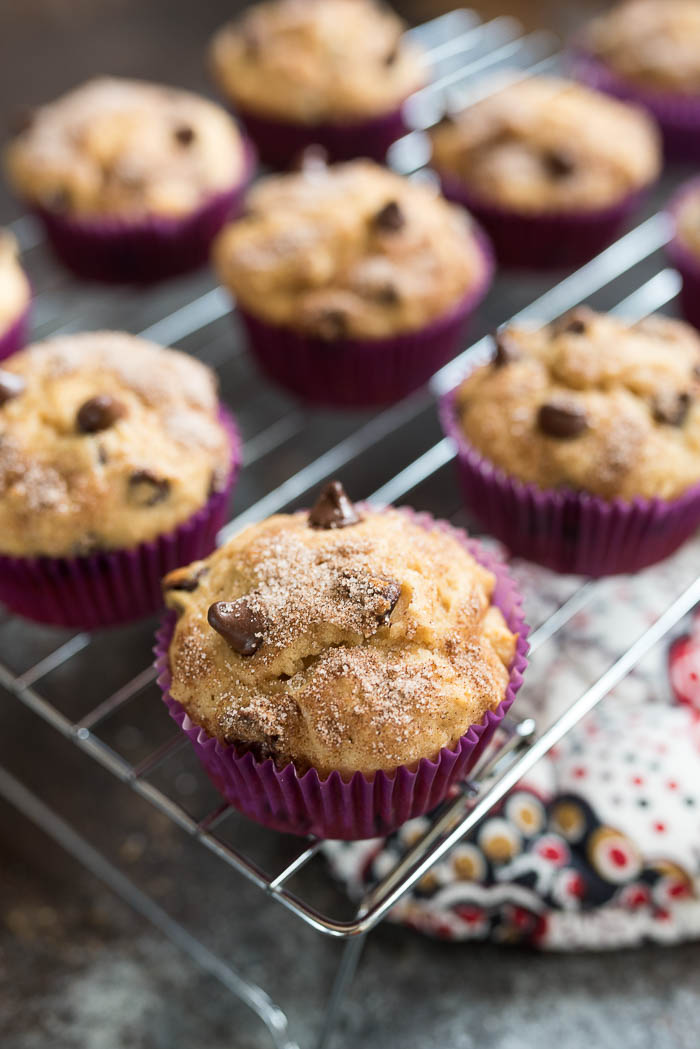 Chocolate Chip Greek Yogurt Muffins
perfect for breakfast, snack or dessert, these gluten free Chocolate Chip Greek Yogurt muffins are great for the kids!
Author:
Melanie F. | Nutritious Eats
Ingredients
2 cup all-purpose gluten free flour mix
2 teaspoons baking powder
½ teaspoon baking soda
½ teaspoon salt
½ cup packed light brown sugar
½ cup vegan butter (can sub regular)
1 teaspoon vanilla
2 large eggs
1 cup plain Chobani fat free Greek yogurt
1 cup semi or bitter sweet chocolate chips
For the topping:
¼ teaspoon cinnamon
½ tablespoon sugar
Instructions
Preheat oven to 375 degrees and prepare a muffin tin with paper liners. To make cinnamon sugar topping, mix together cinnamon and half tablespoon of sugar and set aside.
In a medium size mixing bowl, combine dry ingredients- flour, baking powder, baking soda and salt. In another large bowl, beat brown sugar and butter together until combined. Add eggs and beat until smooth. Stir in vanilla and yogurt. Pour dry ingredients into wet ingredients and stir gently until combined. Do not over-mix. Top each muffin with a sprinkle of the cinnamon sugar. Bake for 16-17 minutes or until toothpick comes out clean.
Notes
For a light texture do not pack flour into measuring cup, rather lightly spoon it in and level it off with a knife. You may sub regular all purpose flour or a mix of whole wheat pastry flour.
Muffins are best on the first or second day. To soften them up like they are fresh out of the oven, microwave them for 5-10 seconds.