This Cumin Chicken Salad has all your favorite chicken salad add-ins- cereal, apple and onion, plus the delicious flavor of cumin.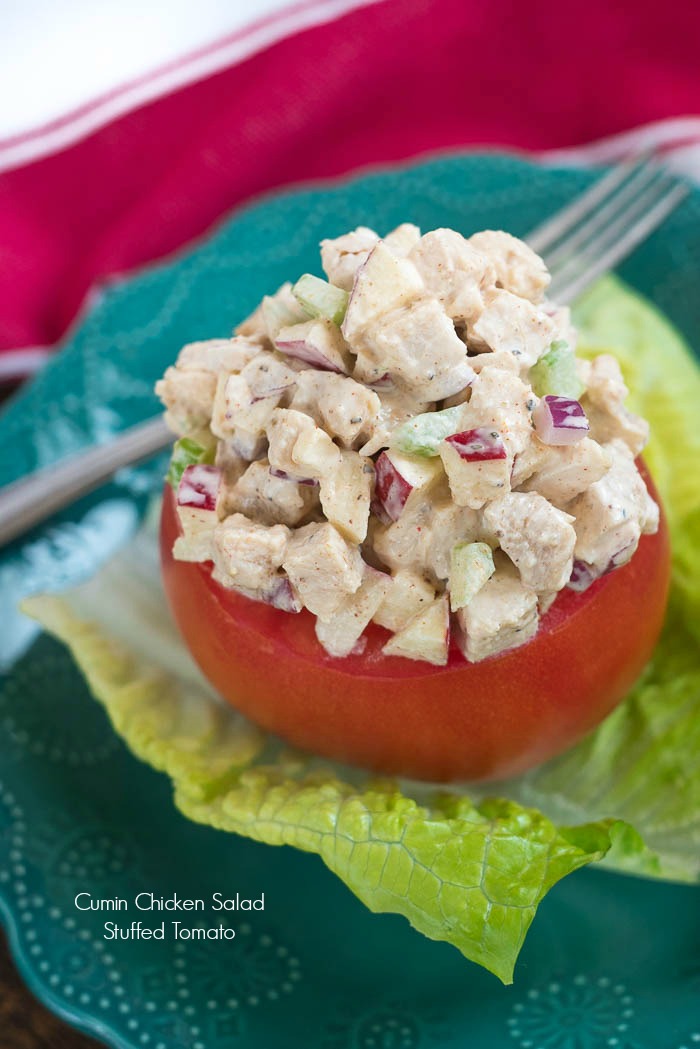 When we were in Hawaii this summer on vacation, we did an amazing job at cooking our food for the majority of the meals. We grilled out quite a bit and ate almost all the leftovers.
Towards the end of the trip we had some chicken tenders we needed to cook up. My sister-in-law did a simple spice rub and we grilled them, but my favorite part came with the leftovers which my other sister-in-law turned into this delicious chicken salad that we took to the beach.
I replicated that recipe for you because maybe you will love it as much as I do!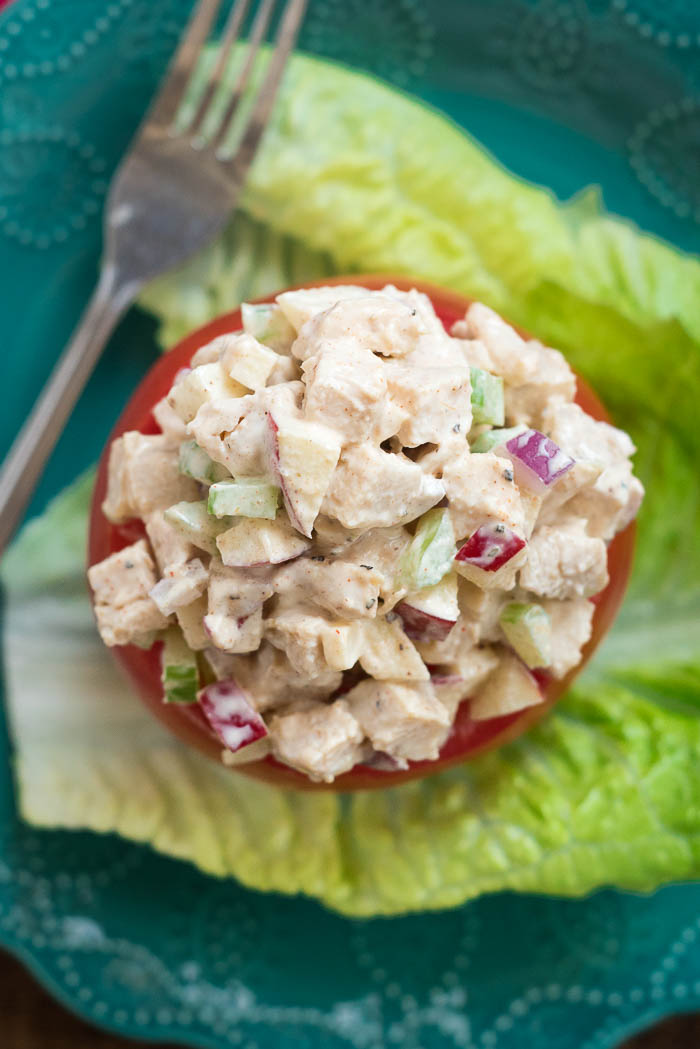 Whenever I taste red onion in a dish I think of the judge from the show Chopped. He basically "chops" anyone that puts too much red onion in a dish. I personally love it raw, but understand that it can be overpowering. However, if you think this might be too much for you, then just start with a couple of tablespoons.
Firing up the grill isn't really worth it just for chicken salad so I recommend making  double batch of the grilled chicken- use some in tacos and the leftovers for this chicken salad. Or just sauté it in a skillet with the same dry season. It really is what gives this chicken salad so much flavor.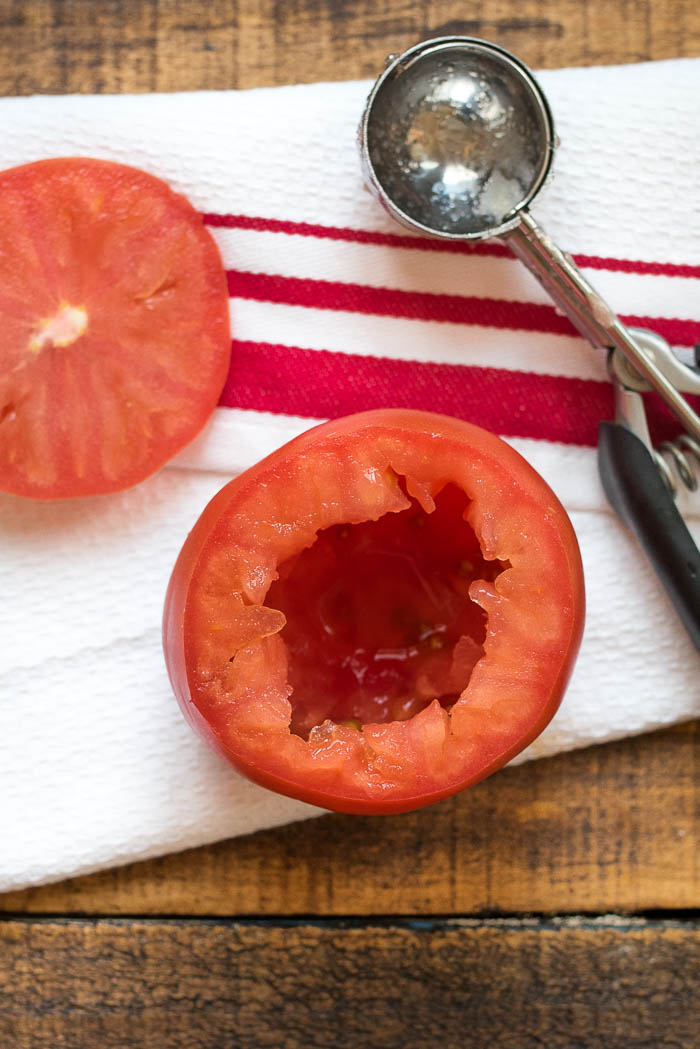 Also, chicken salad can be chunky, shredded or mashed up but there is a fine dice on everything which makes it a little unique. For this particular recipe, you are chopping everything pretty small; even when you think you have chopped it in a small dice, go even smaller. It's perfect for scooping onto crackers!
I love to use half Greek yogurt to cut back on some of the fat from the mayo.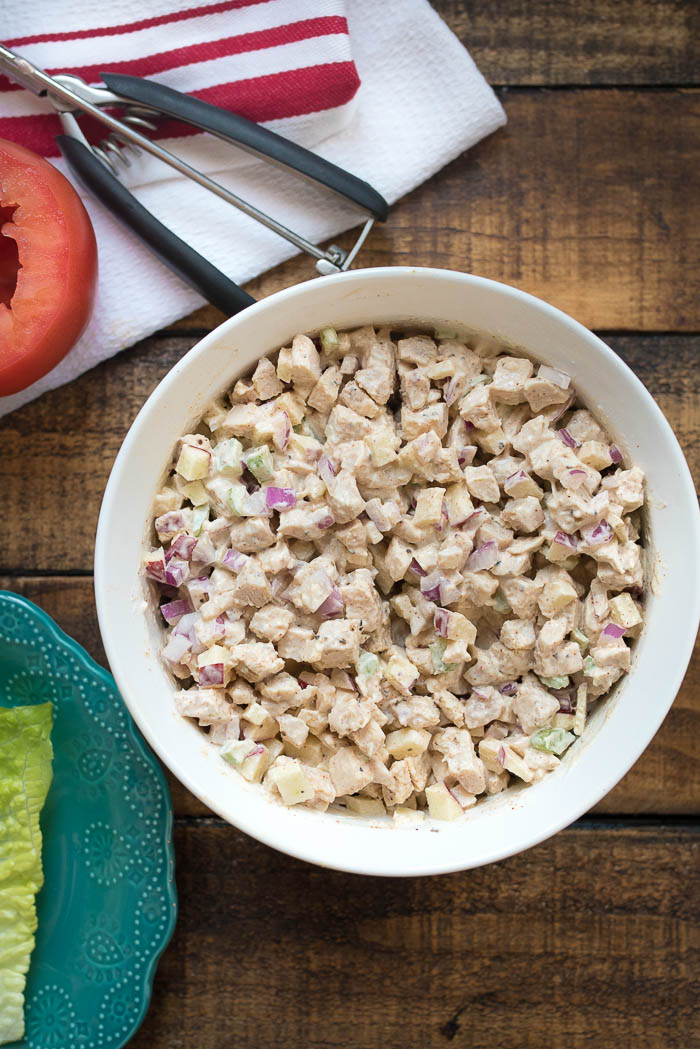 Best Ways To Enjoy Chicken Salad
Chicken salad is a great meal prep item if you like to plan for the week and it's a versatile dish for lunch or dinner. Cold food is great for dinner because it's ready to eat right from the refrigerator. Add a green salad or a pasta salad, an antipasto tray with cheese, olives, crackers and you're set.
Of course this goes great on whole grain bread or crackers, but if you are watching your carbs this is delicious piled in a avocado, large tomato or my favorite, stuffed in some romaine leaves and eaten like a taco. High protein, very satisfying and always best when homemade.
Leftovers keep well for days and it's a great protein fix when needed.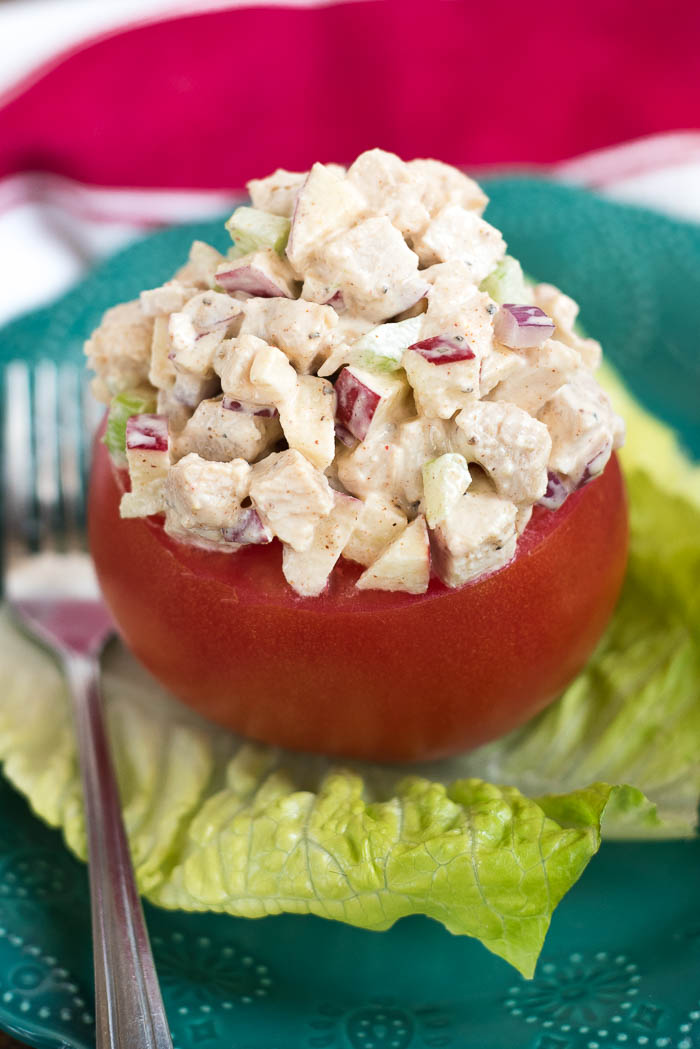 Let me know if you try this! And if you don't love the spices in here, try this chicken salad recipe or this one.
Cumin Chicken Salad
Author:
Melanie F. | Nutritious Eats
Recipe type:
Chicken Salad
Ingredients
1.5 lb chicken tenders
½ teaspoon cumin
¼ teaspoon chili powder
¼ teaspoon garlic powder
¼ teaspoon onion powder
¼ teaspoon paprika
¼ teaspoon salt
¼ teaspoon black pepper
1 crisp apple, small dice
¼ red onion, small dice
1 celery stick, small dice
⅓ cup mayo
⅓ cup non fat plain Greek yogurt
Pinch of salt and black pepper to taste
Instructions
In a small bowl combine cumin and the next 6 ingredients (through black pepper). Season chicken and grill outdoors or on indoor grill pan for ~8 minutes or until cooked through (can also use a skillet if no grill pan). Once cool, cut into a very small cubed dice.
In a large bowl, mix chicken, diced apple, onion, celery, Greek yogurt and mayonnaise. Stir. Season to taste with a pinch of salt and pepper. Enjoy on a sandwich, with crackers or stuffed in a tomato or avocado.
Notes
Chicken tenders or thinly sliced chicken breasts work best for this recipe so you can get a small dice on the chicken and a good coating of the spice mixture.