My oldest son's birthday is 2 weeks before Halloween so I could not resist throwing a Halloween themed birthday party for his 5th birthday. I had a hard time narrowing down the treats to make because there are so many fun ideas for Halloween goodies. I also wanted to make sure it wasn't just sweets so I including some lunch food such as the mummy dogs and ghost, cat, bat and moon sandwiches.
The great thing about this party is  lot of the food can be done ahead of time such as: bake and freeze the cupcakes and pumpkin cookies, make the peanut butter eyeballs, assemble the ghost pops, color and refrigerate frosting. Since I was 9 months pregnant when doing this I made sure to space out the work. I probably don't need to tell you that this party was a HUGE hit! Who doesn't love a Halloween party?!
Up first some very simple Ghosts that I put in the party favor gift bag.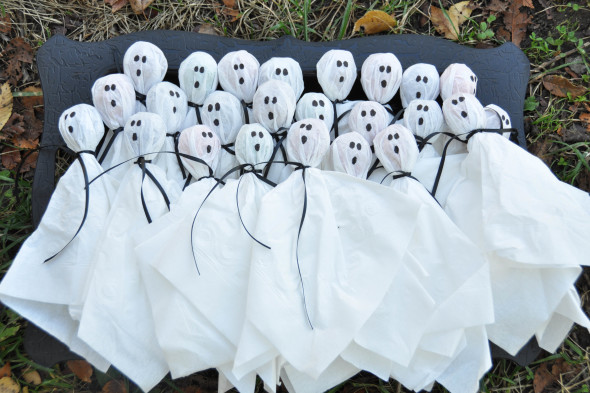 How To:
Take a tootsie roll pop and wrap in a kleenex or napkin. Tie with black ribbon and use black marker for the faces. So cute. I made extra to hand out on Halloween.
Pumpkins on a Stick-

these were quite yummy and the kids had fun eating them too.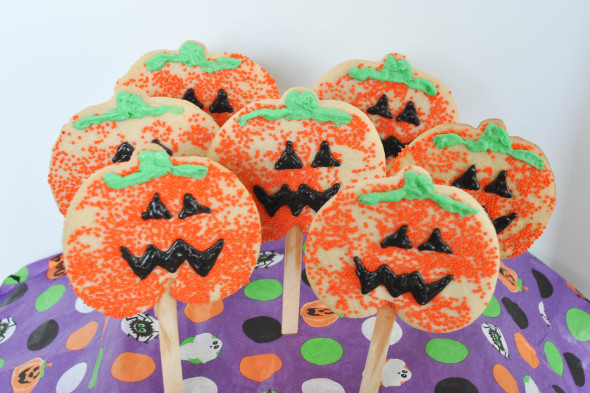 How to:
Using your favorite sugar cookie recipe, roll-out the dough to 1/8″ inch thickness. Using your large pumpkin cookie cutter, cut out cookies, dip in orange non-pareils, set on parchment paper-lined baking sheet, then carefully place popsicle stick in the middle of cookie. Bake per recipe instructions. Cool and decorate faces or freeze if not needed right away. When ready to serve, defrost and decorate with faces: I colored vanilla frosting black and green and used a small tip with a pastry bag. I also got this idea from a Pillsbury Halloween book but they suggested using the Pillsbury refrigerated sugar cookies to cut round slices from instead of having to roll out dough and using a cookie cutter. Proceed with instructions. I just love homemade sugar cookies so was happy to make them.
Frankenstine Cupcakes– these were my favorite and my son's favorite too. I was determined to make these despite not being able to find the right item to color the marshmallow. I got this idea from Halloween magazine I was flipping through at the store.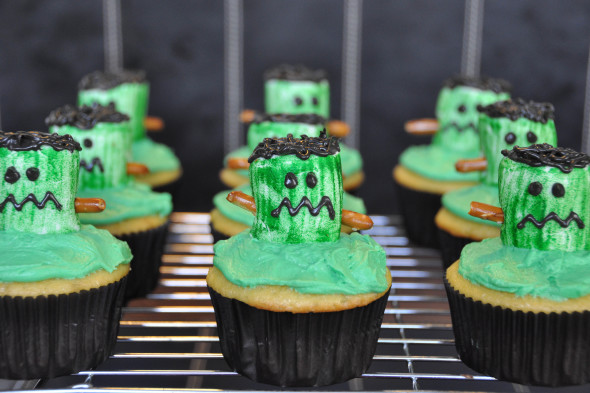 How to:
Bake or purchase yellow cupcakes. Color your vanilla frosting with green food dye. Using Wilton Green Mist, spray a large marshmallow green or in my case use an edible colored marker to color it green (if you can't find the green mist). Use pretzel sticks for the bolts and black frosting for face (I used a small tip and frosting bag with vanilla frosting that I colored black).
Spider Cupcakes- I found this idea in a Pillsbury Halloween book. I knew I had to make them. They looked so simple and fun for a boy's party.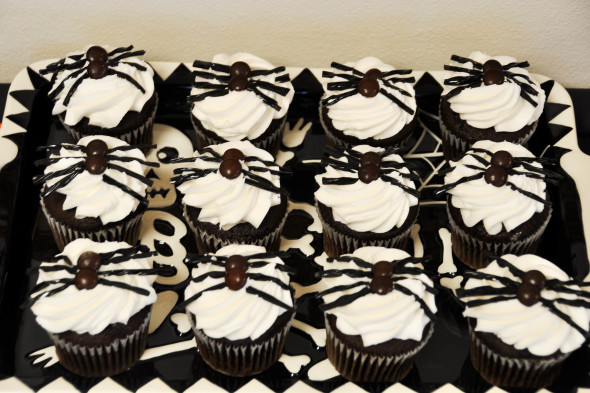 How to:
Bake or buy chocolate cupcakes with vanilla frosting. Using brown m&ms for eyes and twizzlers for legs (black licorice cut into 1 inch pieces), decorate spider on cupcake (the pull n peel twizzlers would work best but I looked high and low and could not find these in black- just cherry. I bought regular black twizzlers and cut them in thin strips- more time consuming but it worked). You'll need 2 m&ms and 8 1-inch piece of licorice per cupcake.
Pumpkin Cupcakes-

love that these capture Halloween just by the colorful sprinkles and pumpkin candy.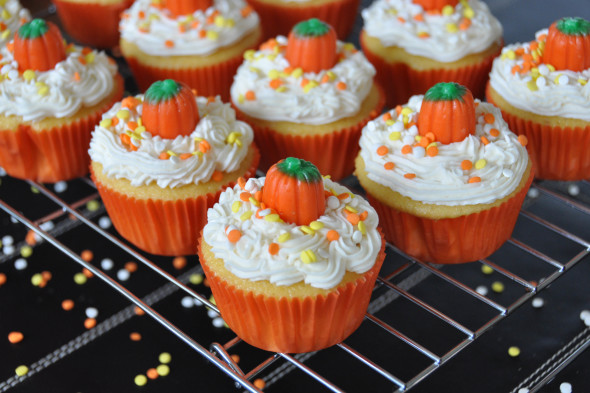 How to:
Bake or purchase yellow cupcakes with vanilla frosting. Decorate with Halloween sprinkles and a candied pumpkin.
Bat Rice Crispy Treats-

who doesn't like rice crispy treats?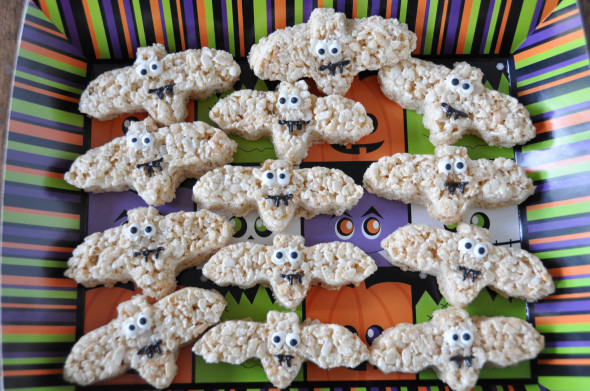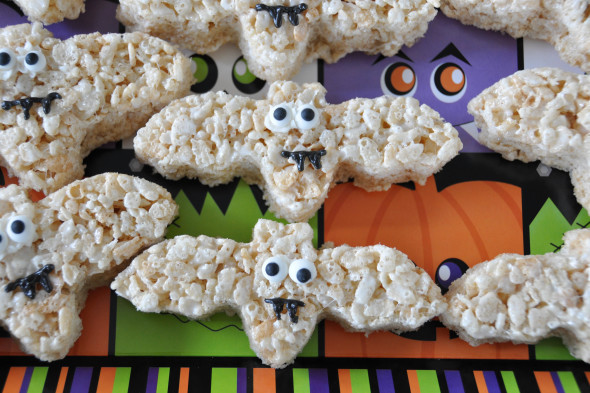 How to:
Make a 13×9 pan of rice crispy treats per directions on marshmallows (or cereal box). Make sure to line with foil coated in cooking spray. Cut out treats using cookie cutter of choice. Decorate using black/white icing. I found the candy eyes online, but you could always just use icing.
Yummy Mummies- I make these every year and I love them. Plus kids love hot dogs (most kids).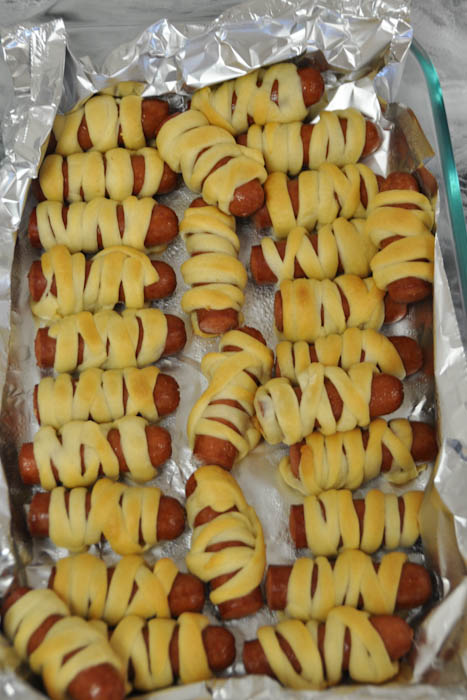 How to:
Cut hotdog of choice in half (I used the longer thiner kind). Pat each piece dry with a kitchen towel or paper towel. Take a container of Pillsbury crescent dough and roll out to large rectangle. Try to roll those seams together so it's one big piece. Cut in half so you have two rectangles. Then cut crosswise thin strips out of each rectangle. Wrap 1 thin strip over each hotdog half. Place mummies on 2 parchment paper-lined baking sheets. Bake for 15 minutes at 375 degrees. Yields: 16 pieces. I meant to use ketchup for eyes on the mummies but ran out of time! Still cute and tasty.
Icky Eyeballs- Peanut butter balls turned into disgusting eyeballs.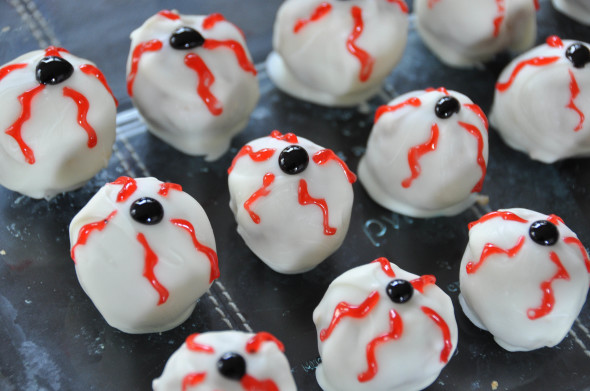 How to:
Make peanut butter balls using my peanut butter ball recipe (I made 1.5 times the recipe and rolled them a little smaller so got about 24 balls total). I did this step a couple days in advance and kept balls in refrigerator. When ready to decorate, melt a bag of white chocolate chips in double broiler or microwave (decorations on package). Roll each peanut butter ball in white chocolate and set to dry on wax paper-lined baking sheet. Once all balls are dipped in white, use black and red decorating gel for the eyes and bloody veins. I stored mine carefully in a large baking dish with cover. Avoid plastic wrap from touching the gel.
Ghost, Cat, Bat & Moon Sandwiches–

so simple yet so appealing.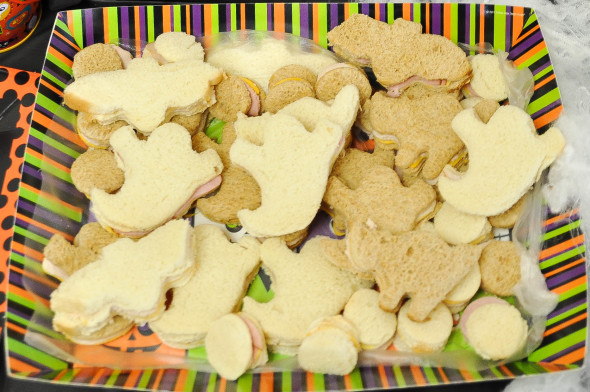 How to:
Make turkey or ham and cheese sandwiches. Using Halloween cookie cutters, cut out sandwiches. With a small round 1.5 inch cookie cutter, cut small "moons" out of extra sandwich pieces.
Here are a few shots of the party table. I also had a bowl of huge grapes, a plate of carrots and hummus and a snack mix made of goldfish, raisins, pretzels and candied pumpkins (you could add snack item to this combo- peanuts, popcorn, mini oreos, etc.).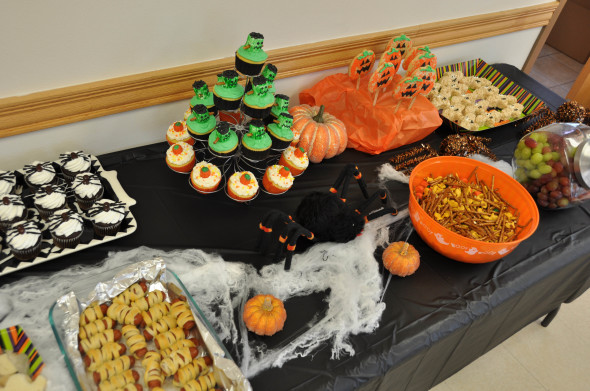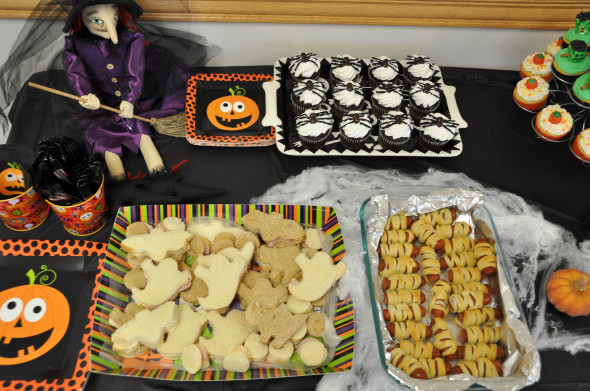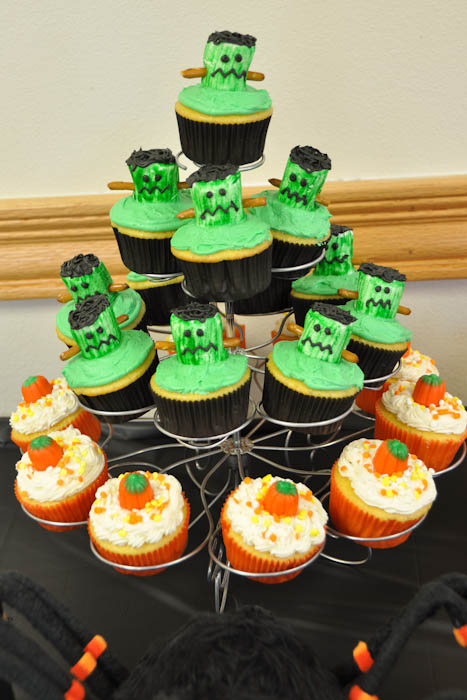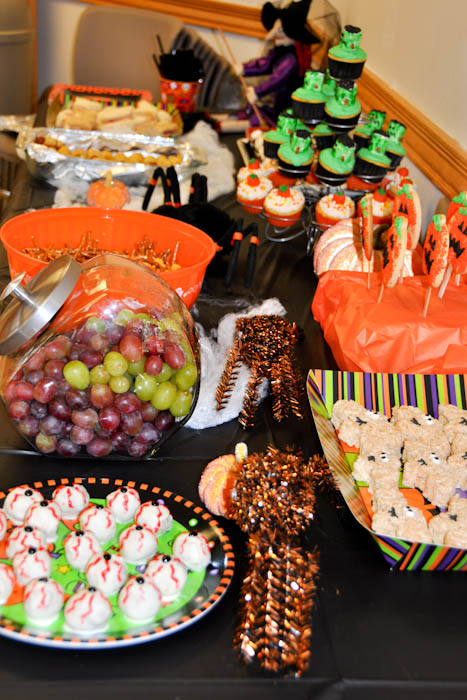 Oh and here is one more idea- my Monster Apples from last year which you can find  here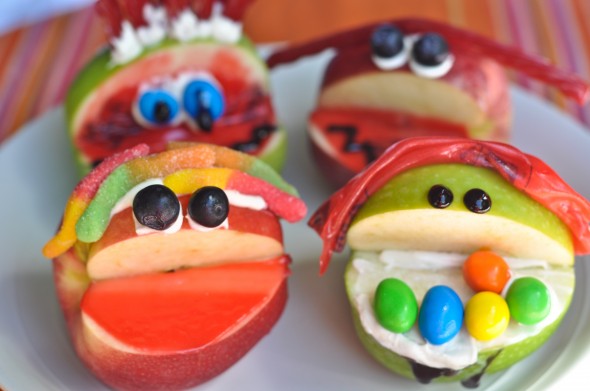 A lot of love and time went into this post. If you like it, please share with your friends, become a Nutritious Eats email subscriber or facebook fan. Don't forget to pin any recipes you like to pinterest! Thank you following Nutritious Eats!