Forget take-out, make this tasty orange beef with a citrusy ginger-garlic sauce, perfect to serve with noodles or rice.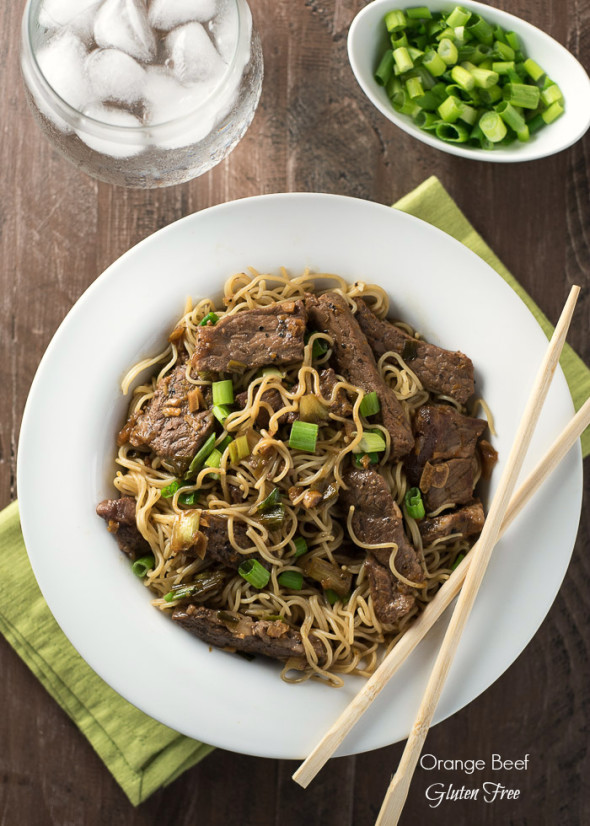 Guys, I think this might be my first beef recipe on the blog! I don't buy red meat on a regular basis because I am just not drawn to it. I do appreciate a good hamburger, but again, it's not part of my usual intake. However, my parents were visiting and dad made this dish and I really liked it so if you like beef, you might like this one too!
Dad got the original recipe from the New York Times Food section but changed it quite a bit, and really simplified it. Overall it was a hit with everyone, including the kids!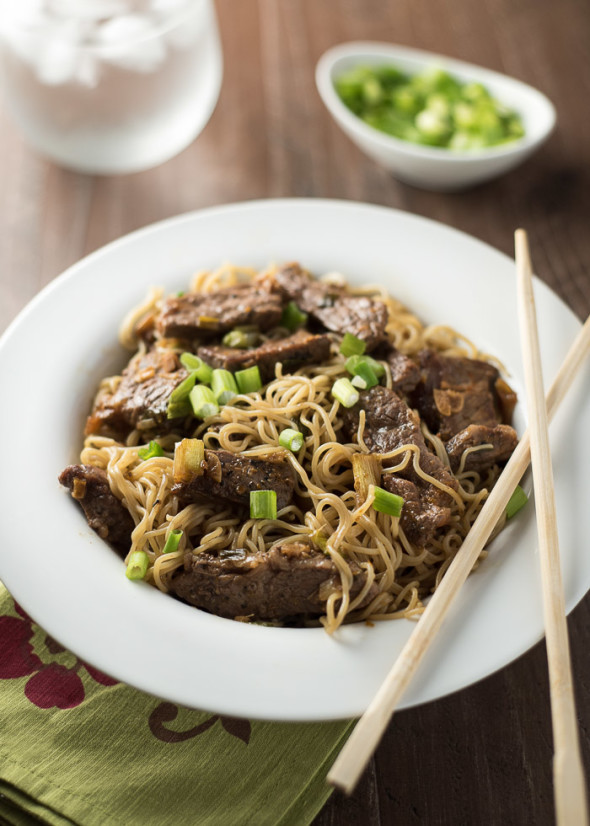 And my mom found these noodles at Costco- and they are so great. They are basically just like plain Ramen noodles with out any seasoning so you need to add them to a sauce or a flavorful broth. I love that they are made with brown rice flour and millet. They are very nutritious, being high fiber and protein. Plus they cook in just 4 minutes!
Even though the front of the package looks like it's a soup, they are just plain, sodium-free, gluten-free noodles that you can do whatever you want with. Look for them at your local store.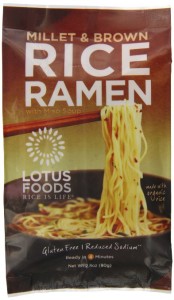 If you don't find anything similar you can just omit adding the noodles and make a batch of rice instead. Either way the sauce is the main star here. You just need a little portion of carbs to go along with it to sop up the sauce- so so good. Not into beef? You can use shrimp or tofu too! I honestly think any protein would be good.
I love Asian inspired dishes so much that I wonder if I should just learn to cook more Asian food at home. Thai, Chinese, Vietnamese….all amazing cuisines packed with flavor!
Looking for other Asian inspired dishes?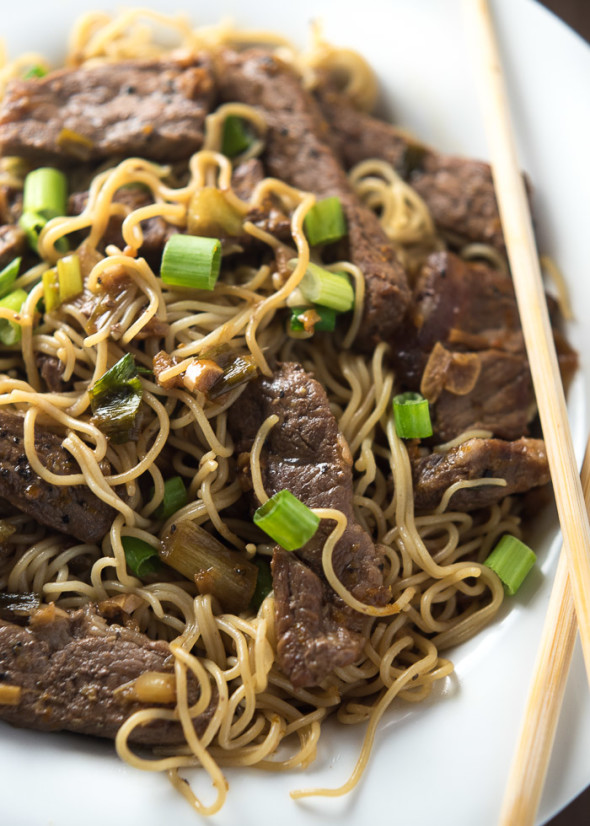 Do you have a favorite Asian recipe? If so, drop the link in the comments. I'd love to experiment with more Asian cooking at home.

Orange Beef
who needs take-out when you can make this at home? Orange beef with noodles (or rice) is loaded with citrusy gingery flavor.
Author:
Melanie F. | Nutritious Eats
Ingredients
INGREDIENTS
2 pinches of salt and pepper
1 boneless rib-eye steak, approximately 1 to 1½ pounds, cut into 1-inch pieces
2 tablespoons neutral oil
6 scallions, white and green parts cut into inchlong pieces and separated
For the sauce:
1 tablespoon neutral oil
1 1½-inch piece fresh ginger, peeled and minced
2 tablespoons orange zest, plus the juice of one orange
3 garlic cloves, peeled and minced
½ tablespoon light brown sugar
¼ cup rice vinegar (do not use seasoned rice vinegar)
¼ cup soy sauce (gluten free soy sauce for gluten free)
Instructions
Make the sauce: Heat 1 tablespoon oil in a small sauce pan set over medium-high heat. When it begins to shimmer, add ginger, orange zest and stir to combine. Sauté mixture until ingredients soften, approximately 2 to 3 minutes, then add garlic and continue cooking until it softens, approximately 1 to 2 minutes longer.
Add orange juice, brown sugar, rice vinegar, soy sauce to pan and stir to combine. Allow mixture to come to a boil, then lower the heat and cook, stirring occasionally, until it thickens and reduces by half, approximately 10 to 15 minutes.
Season meat lightly with salt and pepper. In a second large skillet or wok set over high heat, heat oil until it shimmers and is about to smoke. Add beef to the pan or wok in a single layer and cook without stirring until the bottoms of the pieces are crisp and golden, approximately 1½ to 2 minutes. Add white pieces of scallion to the pan, then turn the beef pieces over and cook the other sides, stirring occasionally, about 3 minutes more for medium-rare.
Pour orange sauce into the hot pan or wok, let it coat the meat. Add 3 packages of cooked brown rice/buckwheat ramen noodles (or omit this step and serve with rice).