Enjoy these 10 nutritious, well-balanced, kid (and adult) friendly lunch box ideas that will inspire you to get packing! Plus a fun Pancake Sandwich recipe that your kids will love.
This post is sponsored by H-E-B, however all opinions are 100% my own. Thank you for supporting the brands that support Nutritious Eats.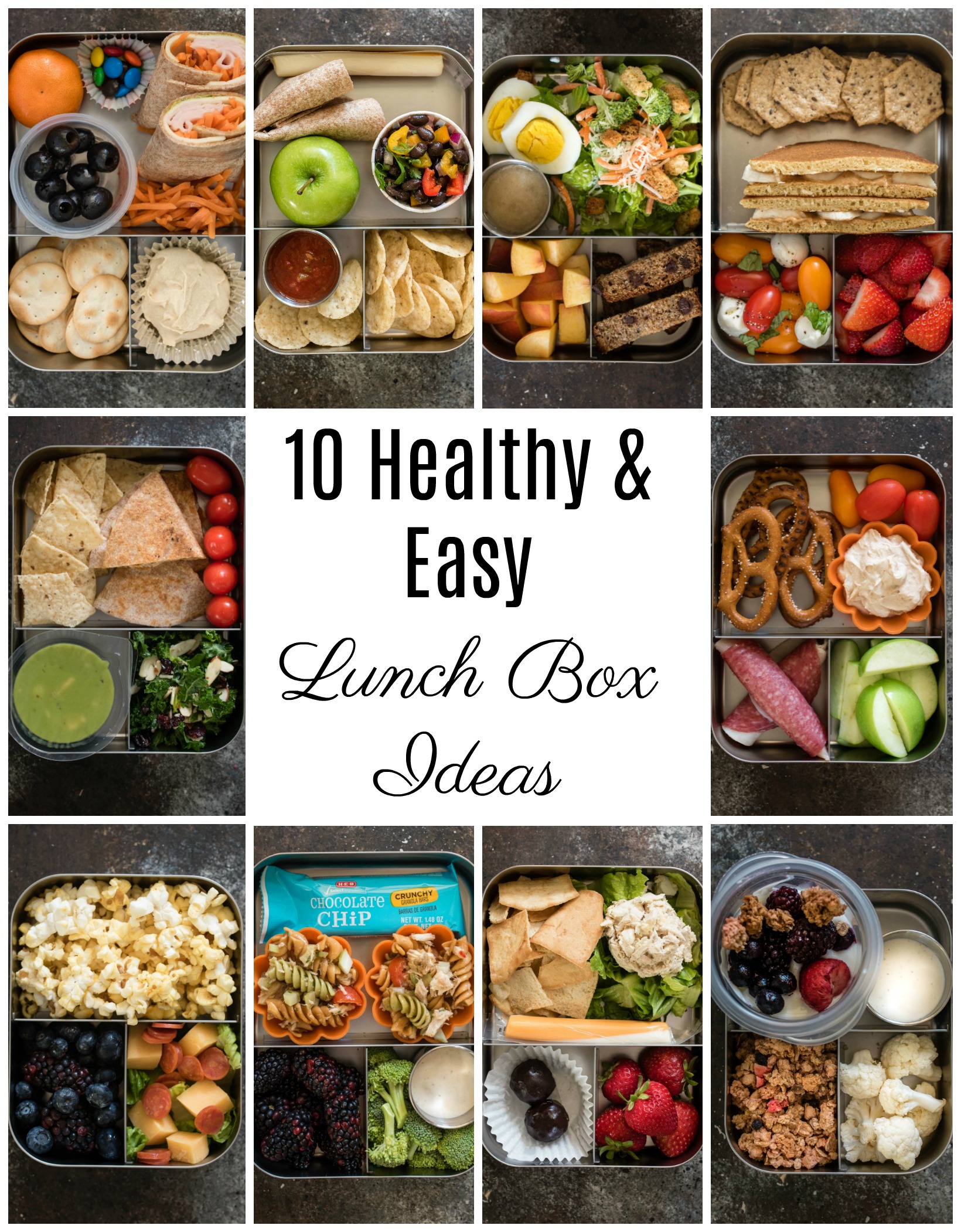 It's back to school season and I know parents are looking for lunch ideas that are both fun and healthy. Let's be honest, the monotony of packing lunches can get real boring, real fast.
Kids of all ages need a nutritious lunch to provide them with energy, nourish their bellies and sustain them through the rest of the day. If our kid's lunches are high in sugar and not very nutritious, then they will likely feel sluggish later on and have difficulty concentrating.
I like to balance healthy carbs, with protein, fruits and veggies. A bento box with little compartments help organize your packing and makes it easier to mentally figure out what to pack.
Thankfully I live in a great city with fabulous grocery stores, like H-E-B. I grew up living about a mile from an H-E-B so needless to say that was all I knew and loved. Even when I moved to college, then traveled the United States with a military husband, I dearly missed my H-E-B. None can compare to their amazing products, affordable prices, friendly staff and great customer service.
H-E-B has a great variety of organic, gluten free and locally sourced products which makes packing healthy lunches even easier.  Products labeled "Select Ingredients" are free from artificial colors and fillers, several of which I included in these lunches.
H-E-B is also a great resource for healthy living, check out their website here>> Healthy Living at H-E-B.
You can find everything you need to pack a healthy lunch that will make your child smile! I know everyone is different so I am hoping your family will enjoy at least one of these ideas.
Sandwiches are always a popular choice, but I wanted to change it up a little and these coconut pancakes are the perfect thing. They can be enjoyed plain, with a drizzle of maple syrup, or used as bread in this yummy peanut butter banana sandwiches (if you are in a nut free school, just use sunbutter.)
In addition to this recipe, try one of these 10 lunch box combos to get you back to packing this school year. Hopefully you will find some inspiration!
Coconut Butter and Banana Sandwich, Strawberries, Tomato with fresh Mozzarella and Basil, Rice Crackers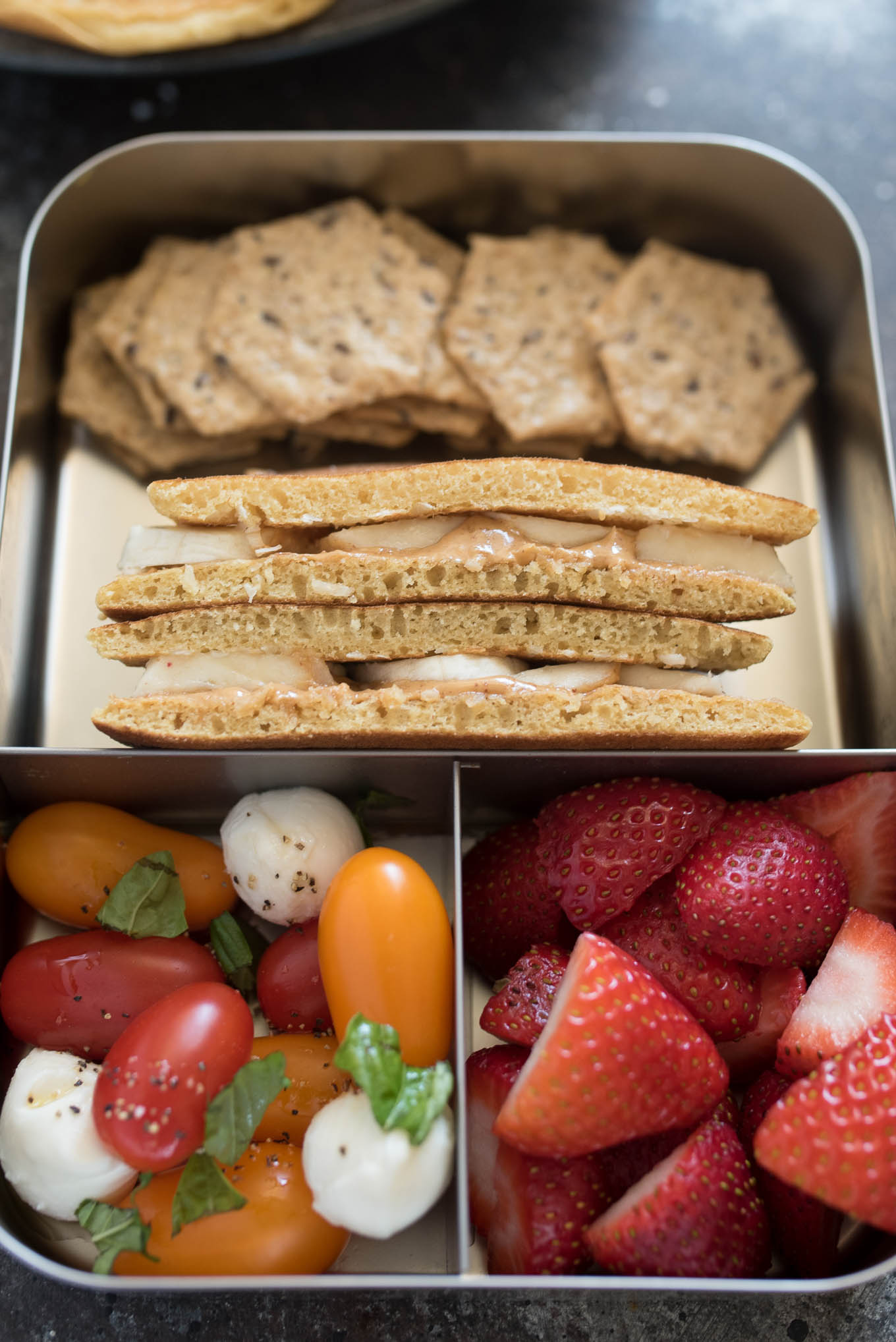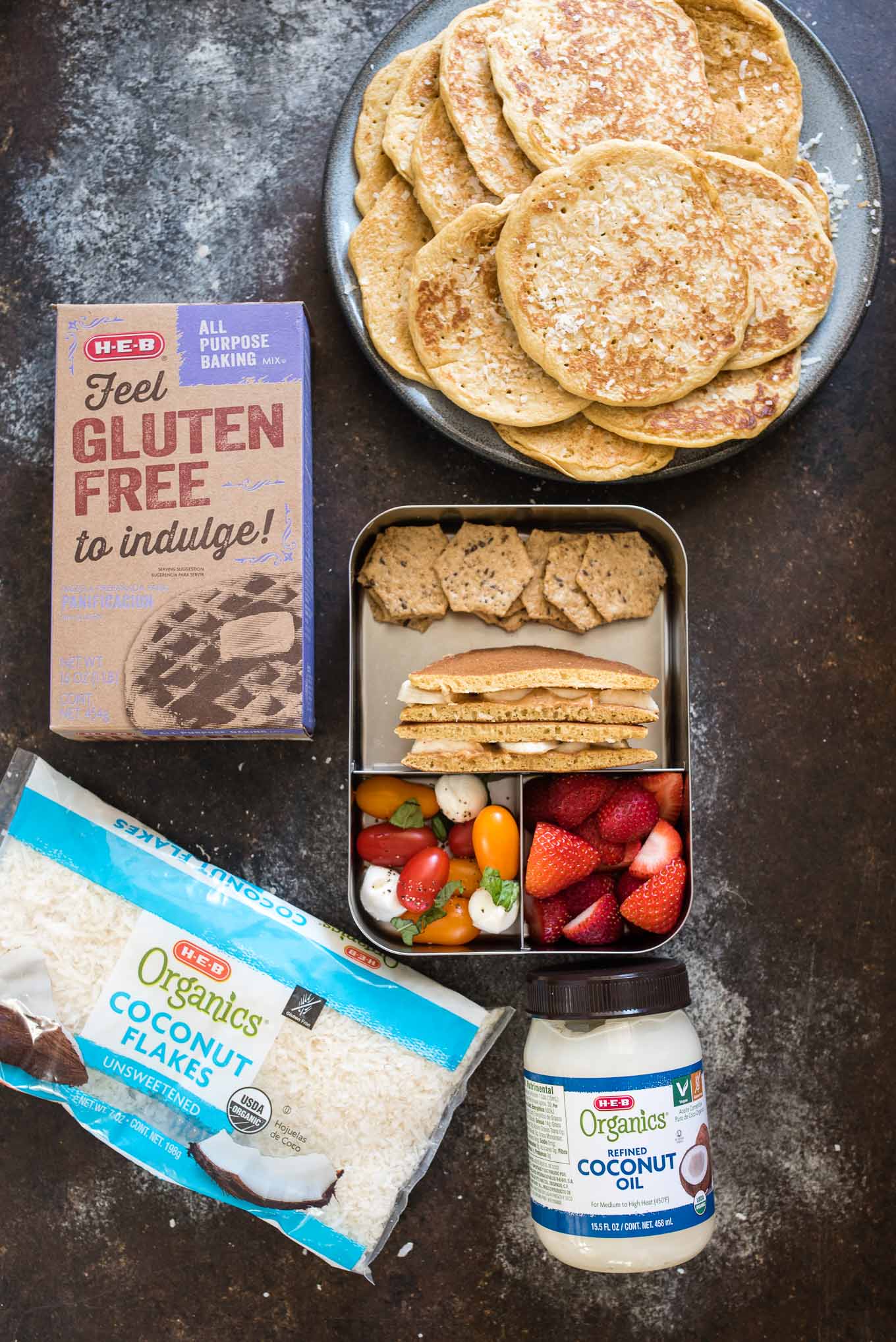 Black Bean Salad, Salsa, Tortilla Chips, Tortilla, Cheese stick, Apple
Mix one can of drained H-E-B black beans with a couple tablespoons of chopped bell peppers, tomatoes, cilantro, a pinch of salt and pepper and a drizzle of olive oil. Serve with H-E-B bite size round tortilla chips, H-E-B restaurant style salsa (both from the Select Ingredients line).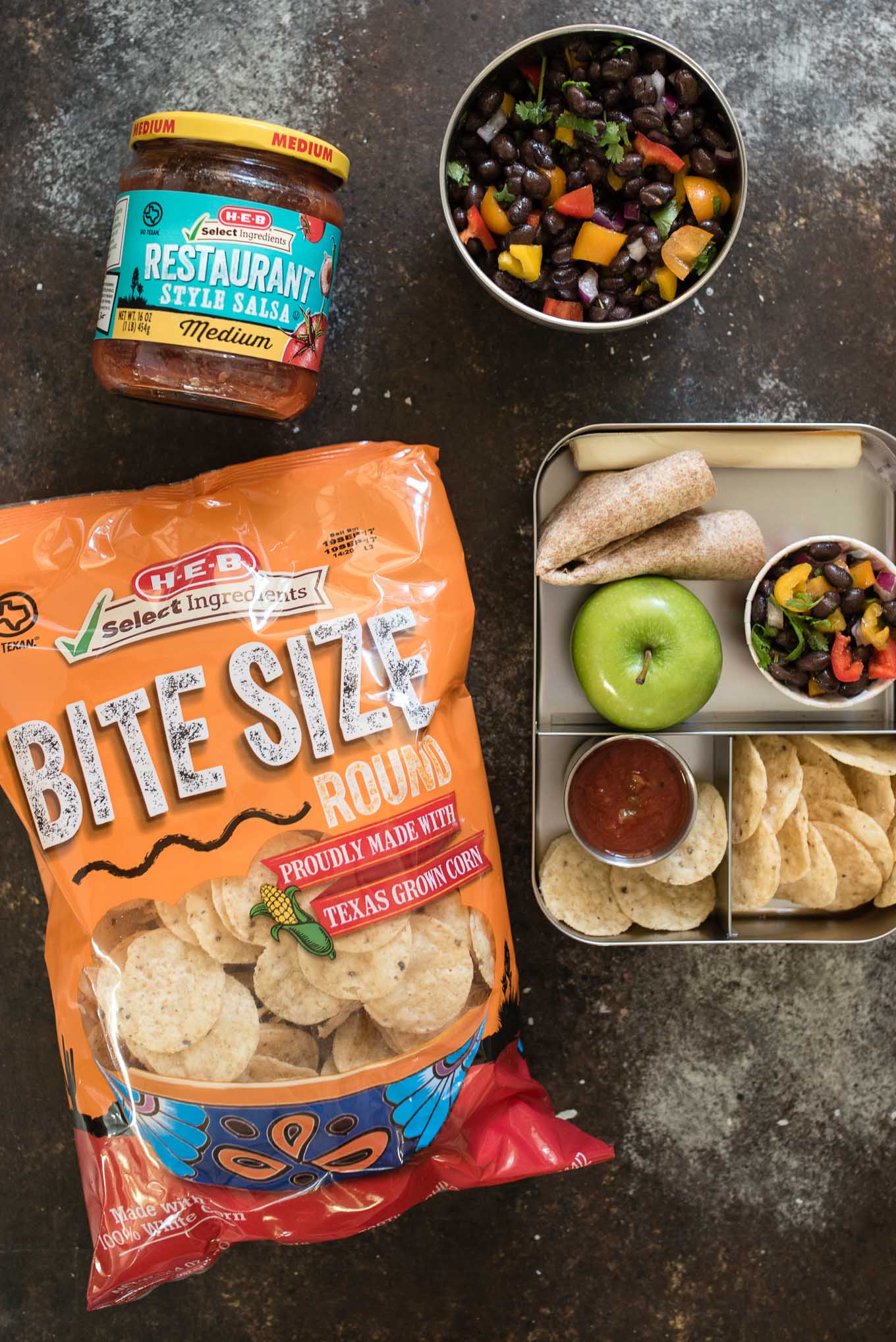 Turkey Havarti and Pesto Roll up, Black Olives, Cutie, Carrots and Hummus with Water Crackers, Chocolate candies for dessert
Spread store-bought pesto over a whole wheat or gluten free tortilla. Top with cheese, turkey slices and shredded carrots (or lettuce), roll up and cut. H-E-B brand traditional hummus is a great dip for both the wrap and the water crackers (also from the select ingredients line).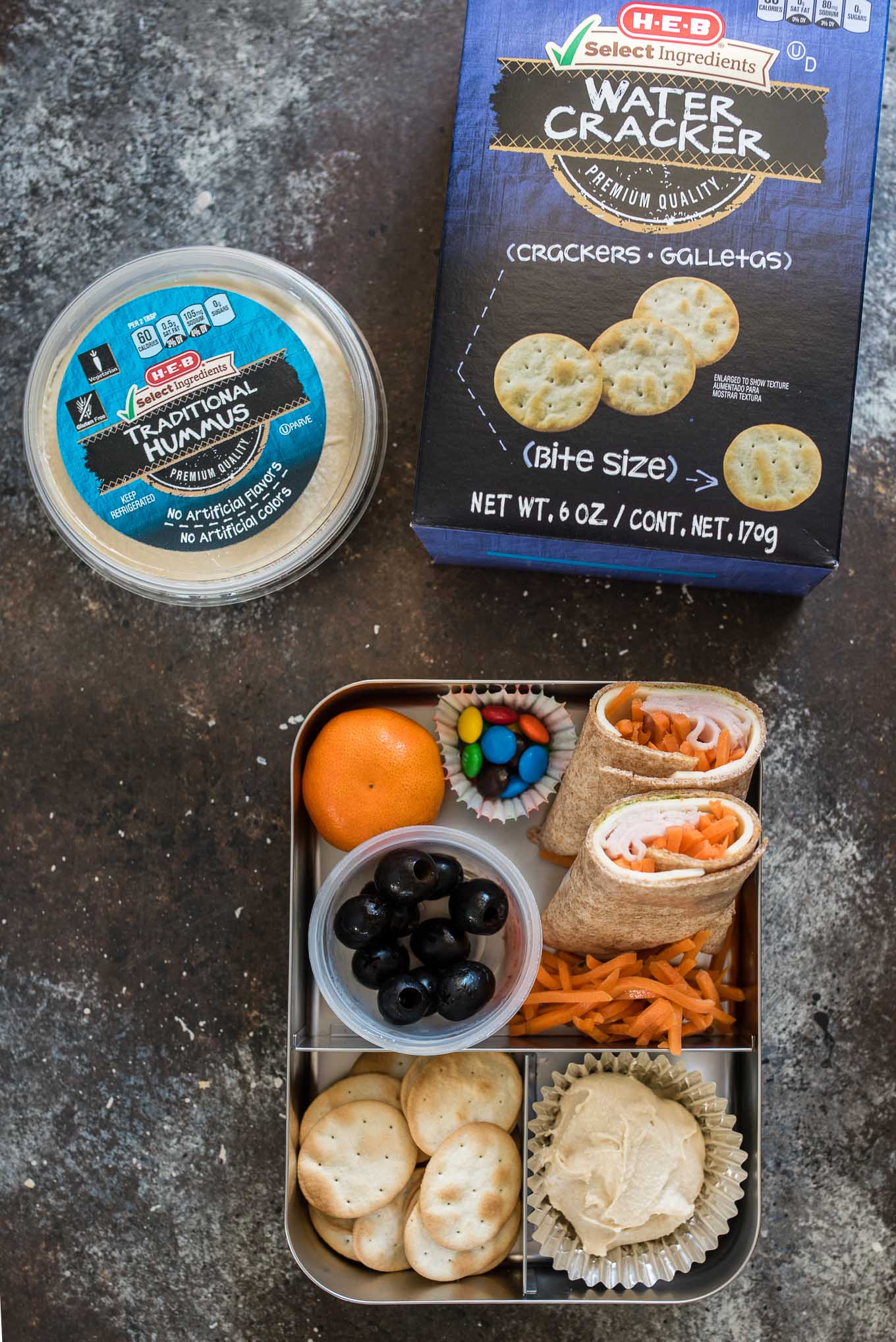 Pasta Salad, Hummus, Broccoli with ranch, Blackberries, Chocolate Chip Granola Bars
Combine cooked pasta with canned tuna, celery, chopped tomatoes and Italian dressing (or olive oil and balsamic). Try H-E-B chocolate chip granola bars for a treat that isn't filled with additives or high fructose corn syrup.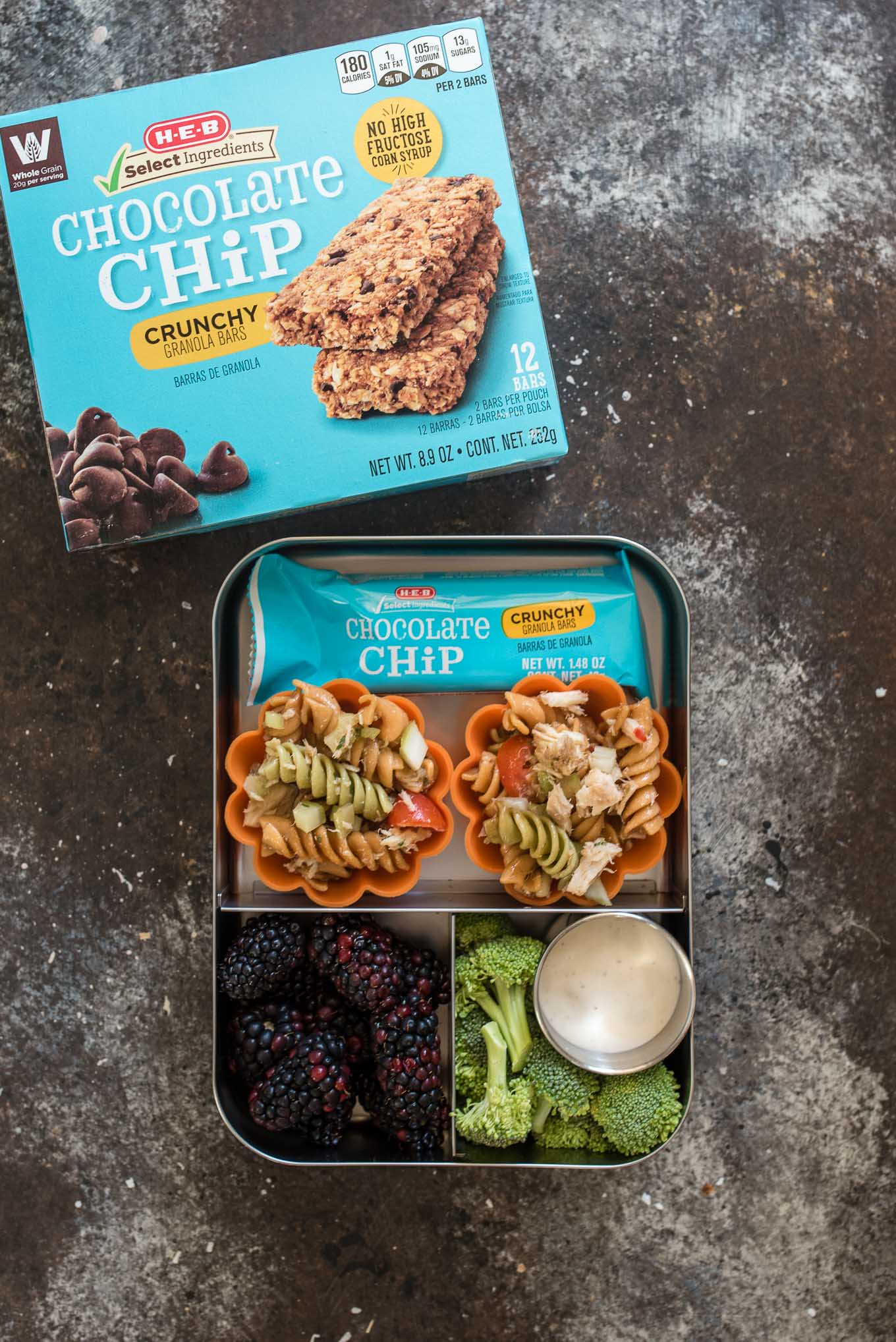 Berry Vanilla Parfait, Cauliflower with Ranch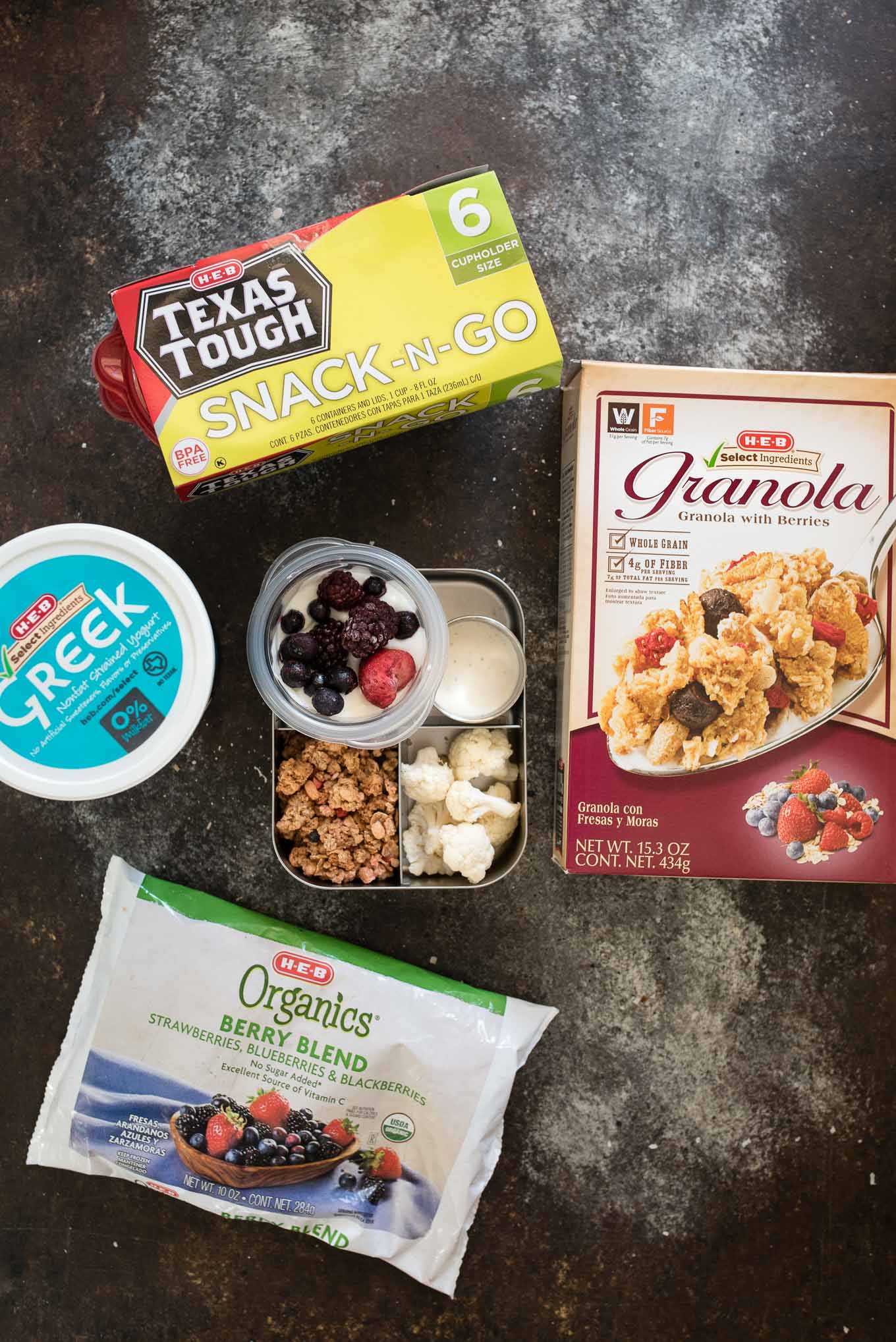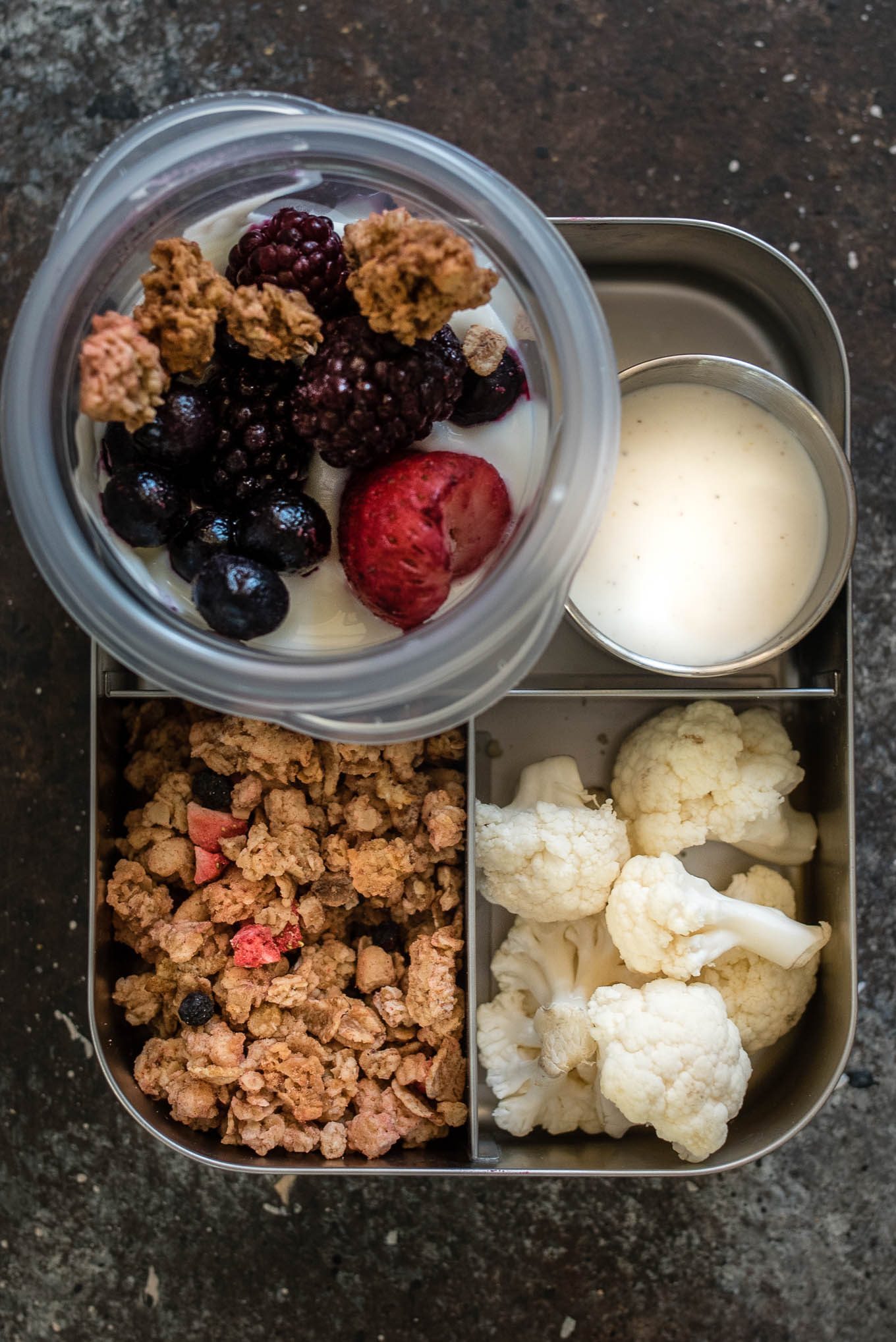 Greens with pepperoni and cheese cubes, Berries, Popcorn
Combine lettuce of choice with mini pepperoni and cheese cubes, berries and whole grain H-E-B organic popcorn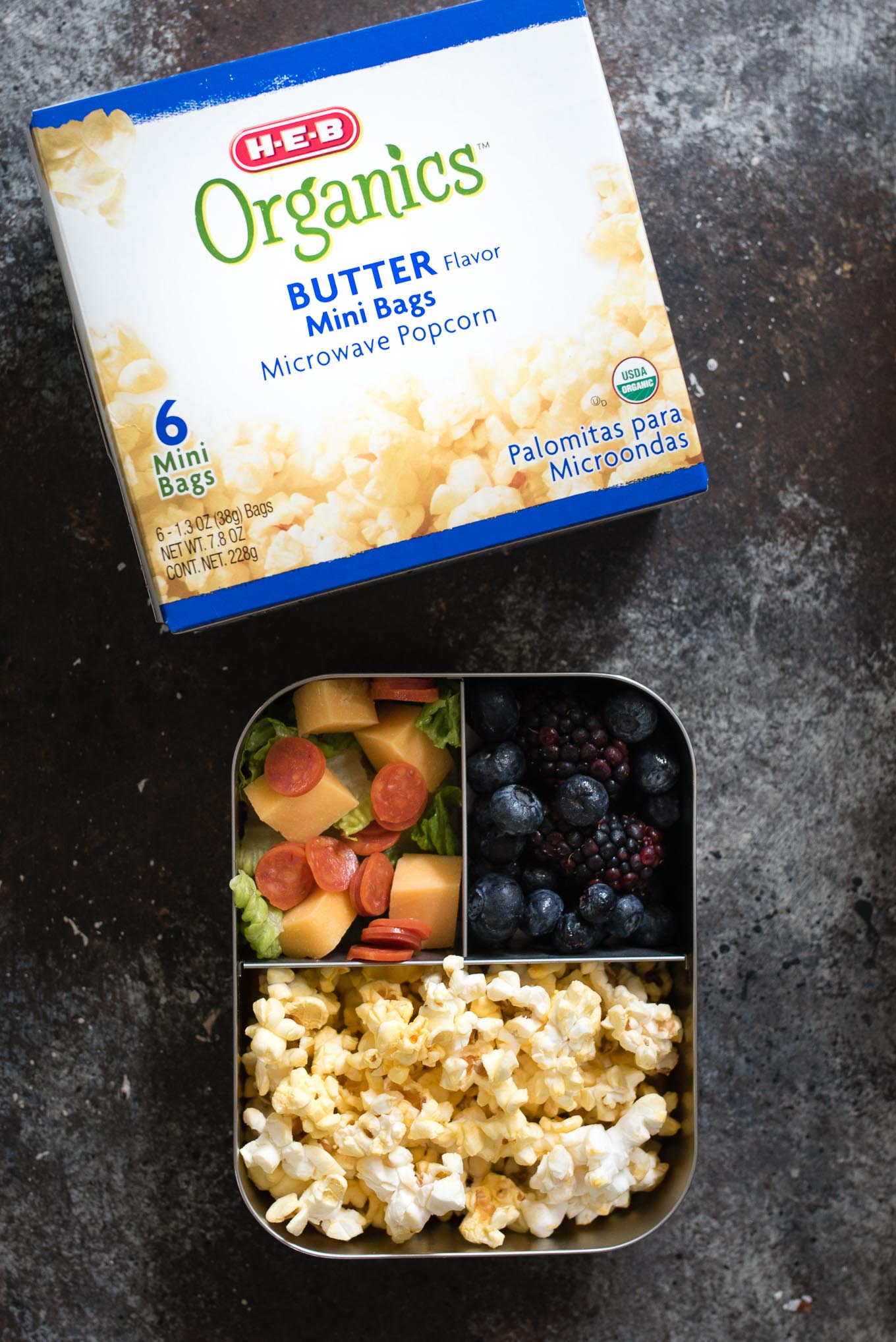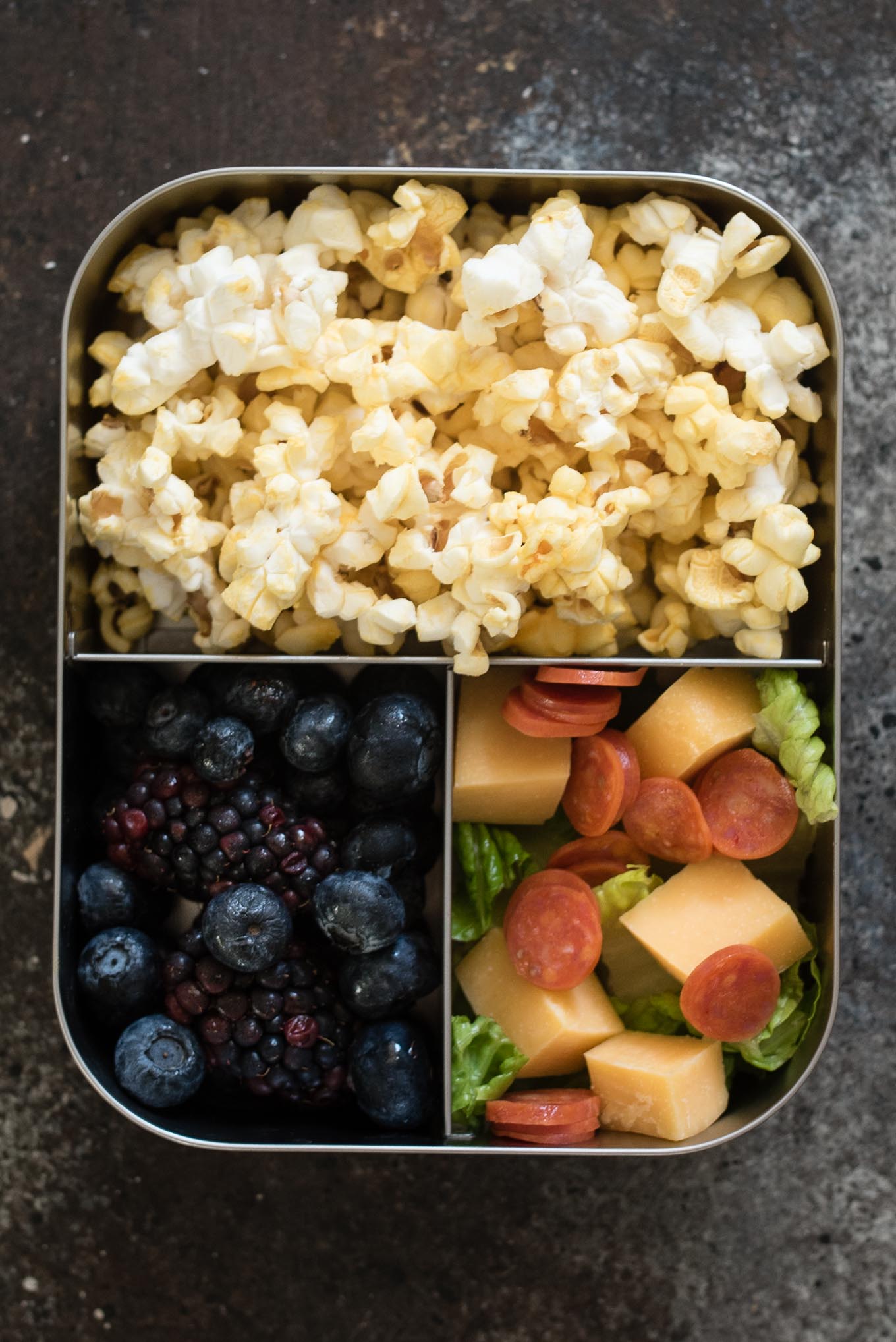 Tuna Salad over greens, Pita Chips, Strawberries, Cheese stick and Chocolate Covered Nut Butter Bites
Combine canned tuna with a combo of mayonnaise, Greek yogurt and mustard, chopped dill pickle, chopped egg and pepper.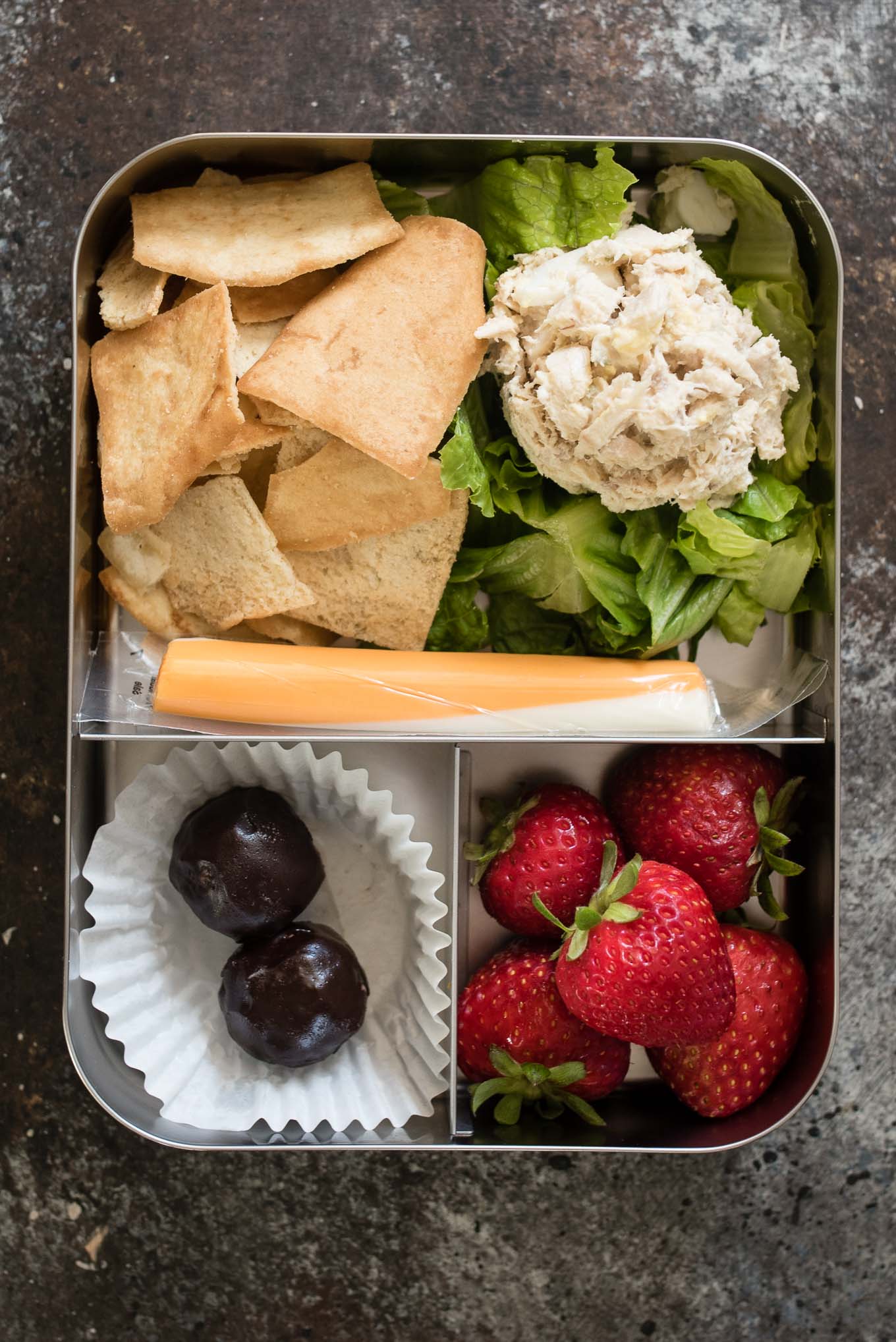 Sourdough Pretzels, Peanut butter Yogurt Dip, Salami turkey Roll-ups, Cherry Tomatoes, Apple Slices
Try jumbo size H-E-B sourdough pretzels. For the dip, combine 1/4 cup of vanilla or plain Greek yogurt, one tablespoon of peanut butter and a drizzle of honey or agave to taste.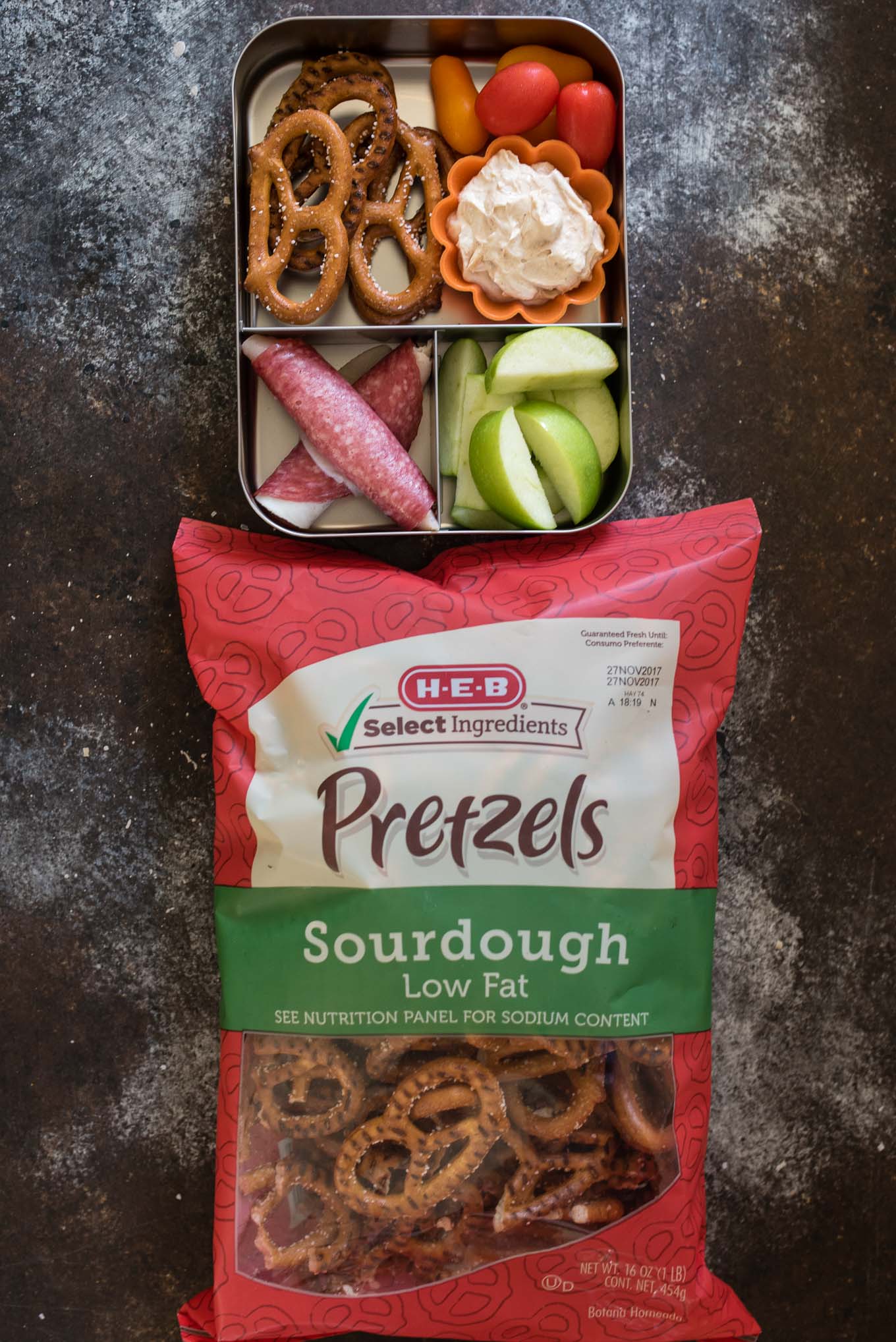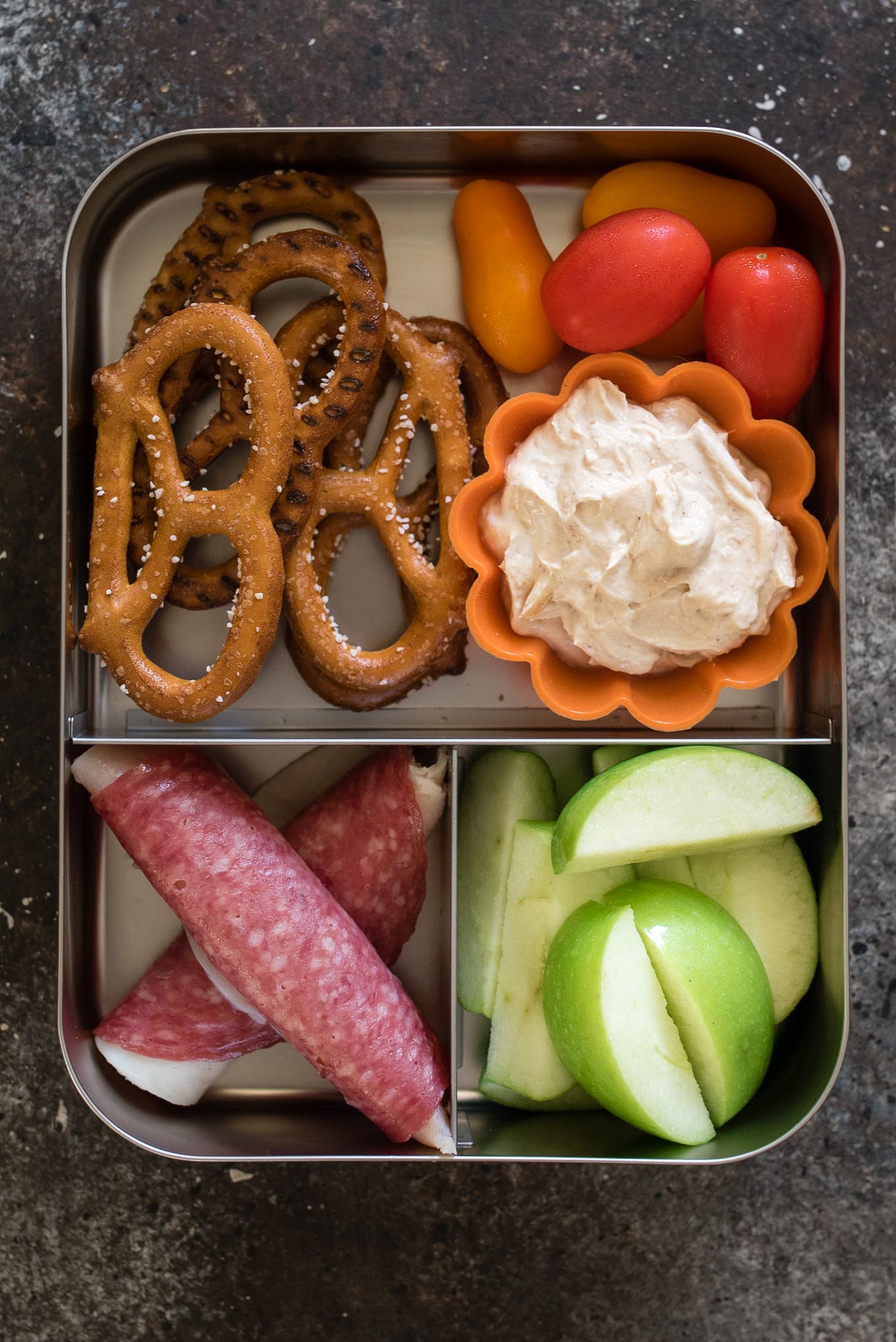 Salad with Italian Dressing, Hard Boiled Egg, Peaches, Banana Bread Sticks
Combine salad ingredients of choice- lettuce, carrots, broccoli, parmesan cheese and croutons pictured. Cut a slice of homemade banana bread into sticks for easy eating (could also substitute a muffin).

Cheese Quesadilla with Pico, Tortilla chips, Cherry Tomatoes, Guacamole, Kale salad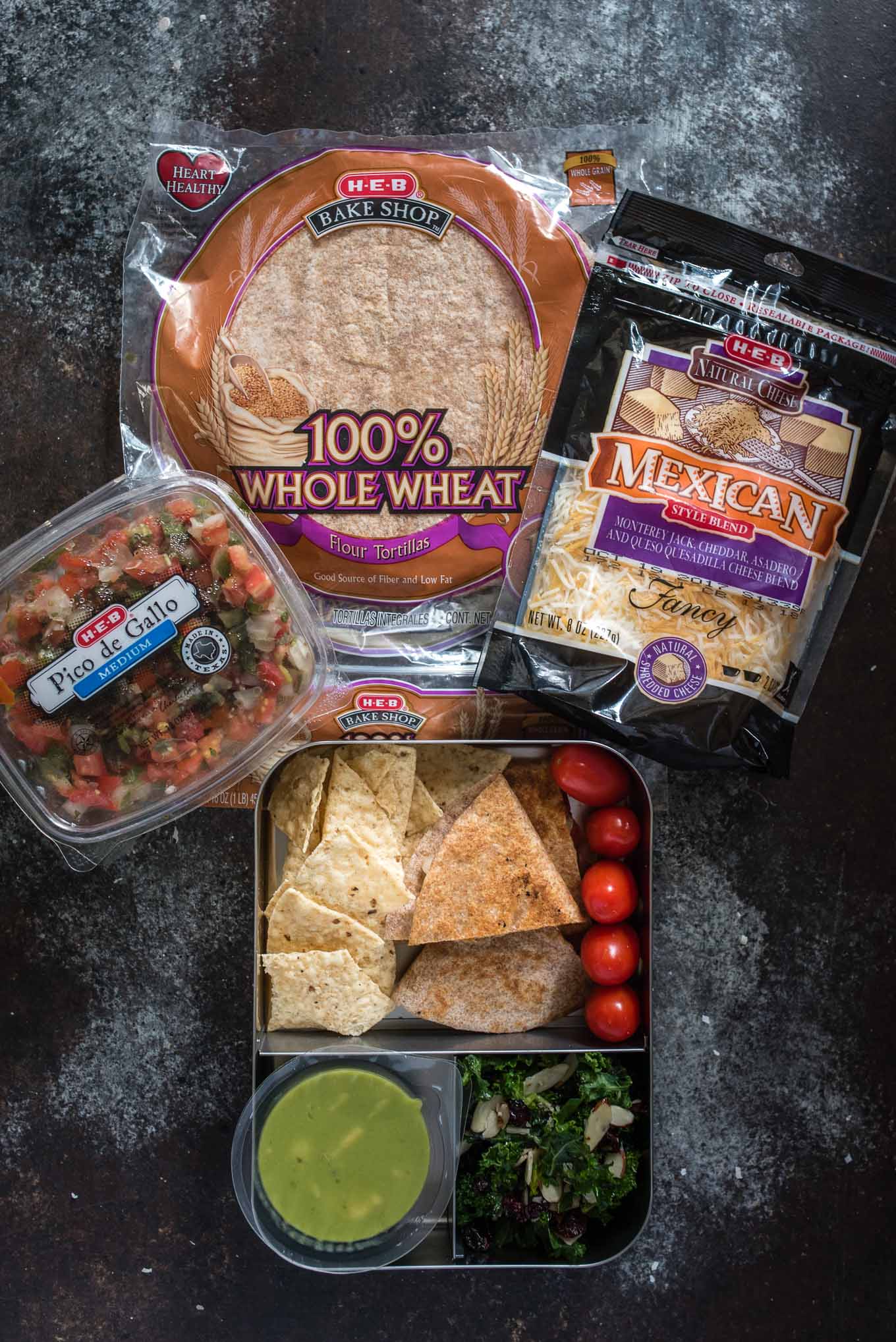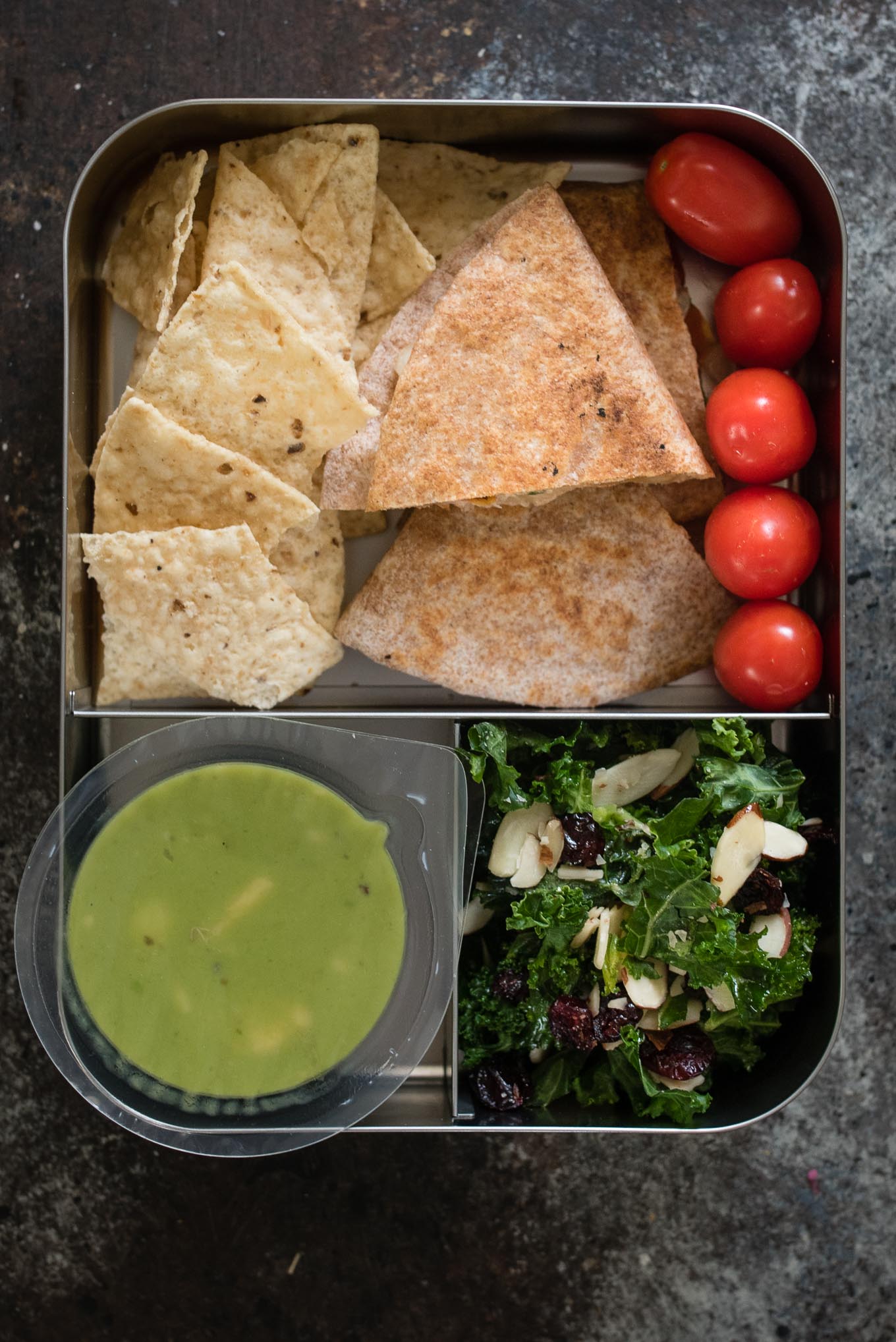 My kids went crazy over this trail run of school lunches and it was helpful for me to give a little thought to easy to assemble combos. Print a photo of the collage of lunches and hang it on your fridge to help inspire you!
For more inspiration, healthy products, curbside delivery (my new favorite way to shop) and more, visit www.heb.com.
Don't forget to save this pancake recipe and enjoy for breakfast and lunch! Pancakes are easy to freeze so you can pull them out and defrost before using like sandwich bread.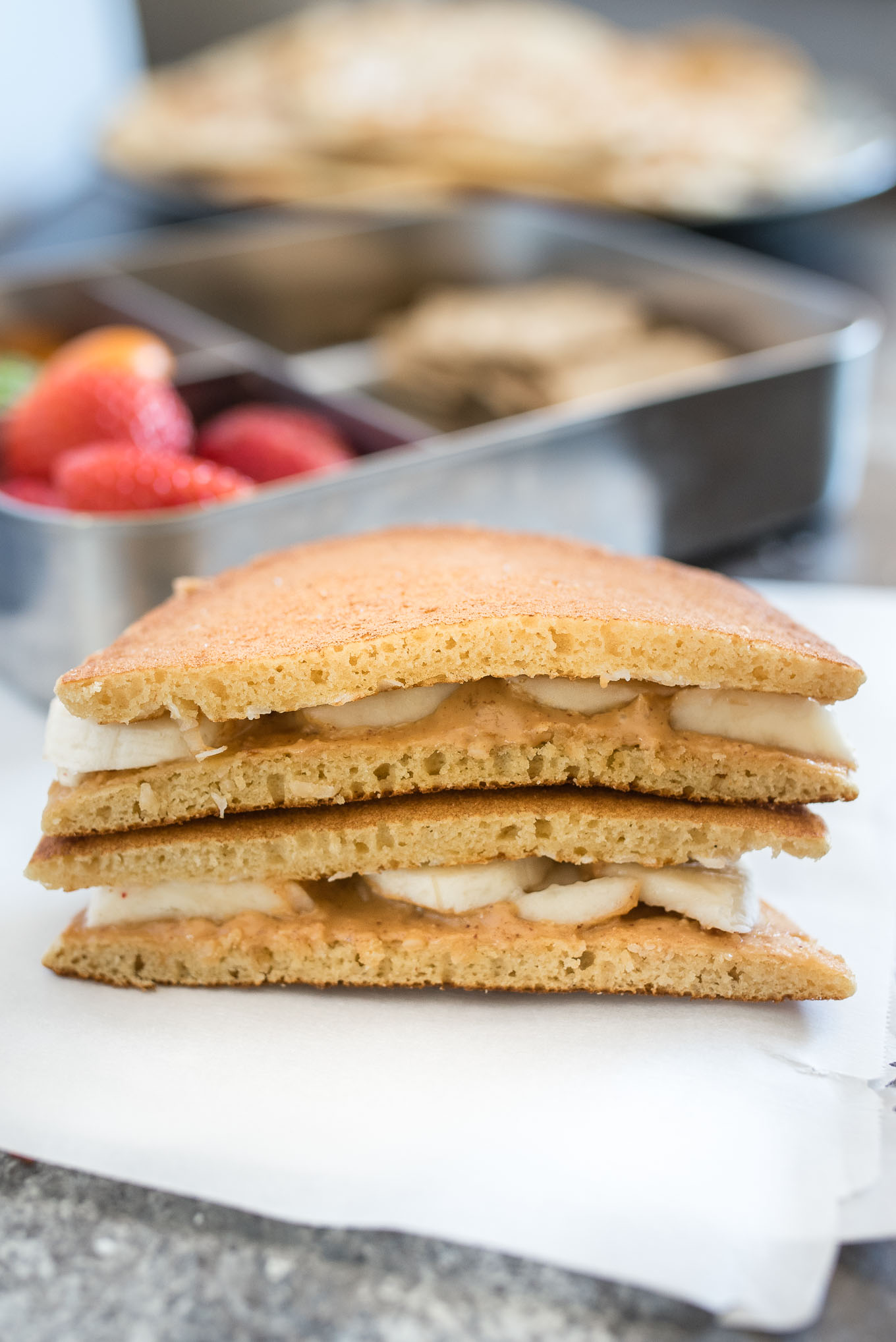 Pancake Sandwich and Healthy LunchBoxes
Author:
Melanie F. | Nutritious Eats
Ingredients
1½ cup HEB gluten free all-purpose baking mix
¼ teaspoon salt
½ teaspoon baking soda
2 teaspoons baking powder
1¼ cup milk or dairy free milk
2 eggs
2 tablespoons coconut oil, melted and cooled (use refined for the most coconut flavor)
2 tablespoons coconut sugar
¼ teaspoon coconut extract
½ cup unsweetened coconut
Instructions
Combine dry ingredients in a bowl. In a separate bowl whisk together milk, eggs, coconut oil, sugar and coconut extract. Pour wet ingredients into dry ingredients. Use coconut oil to grease a griddle over medium heat. Add 2-3 tablespoons of pancake batter (it will be slightly runny). Sprinkle 1-2 teaspoons of shredded coconut on top. Cook until bubbles form and underside is light brown. Flip and cook for another minute. Transfer to a plate, continue until all batter is gone.
Notes
Feel free to substitute regular all-purpose flour.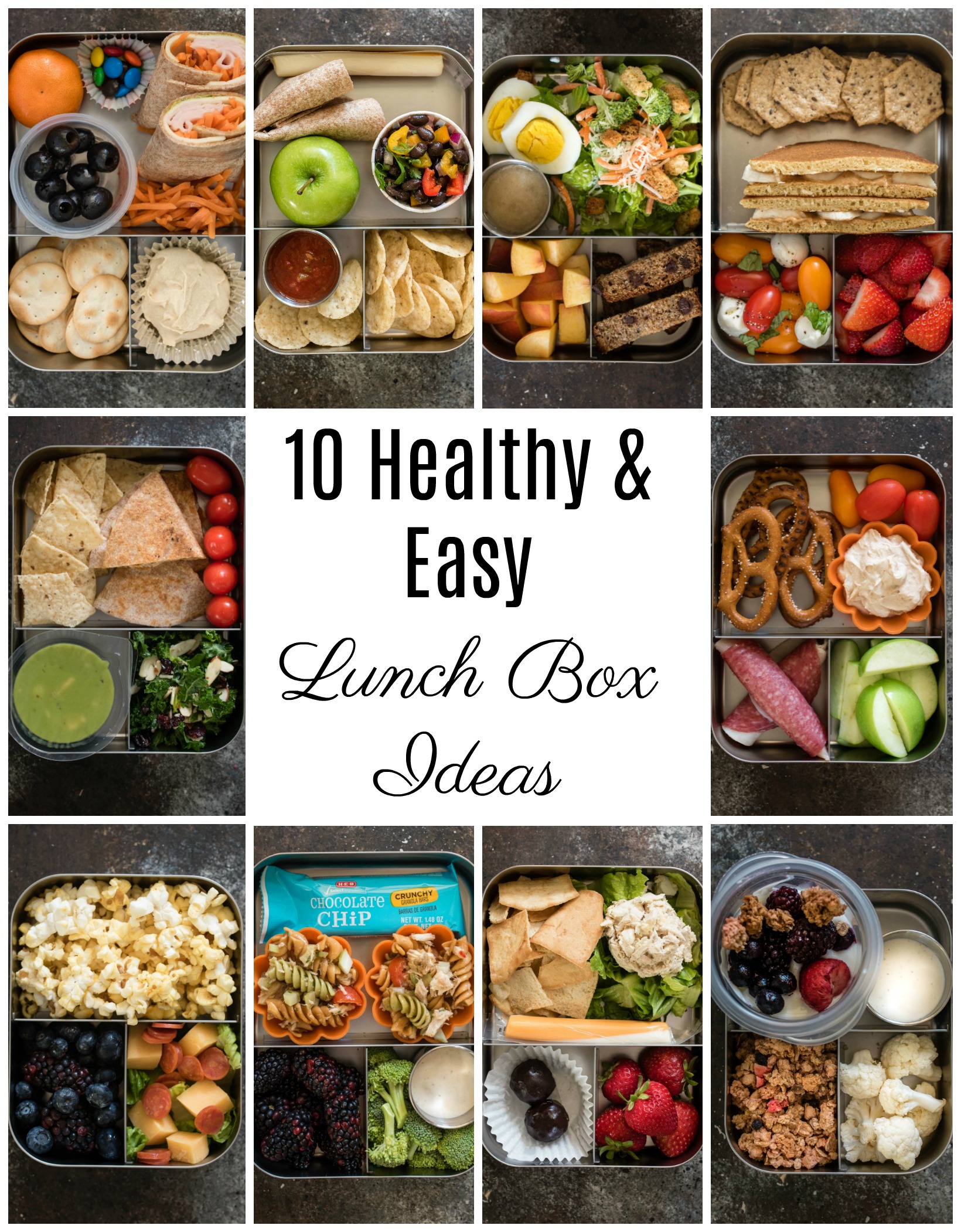 This is a sponsored conversation written by me on behalf of H-E-B. The opinions and text are all mine.