This Roasted Acorn Squash is not only easy to make, but will be the highlight of your meal!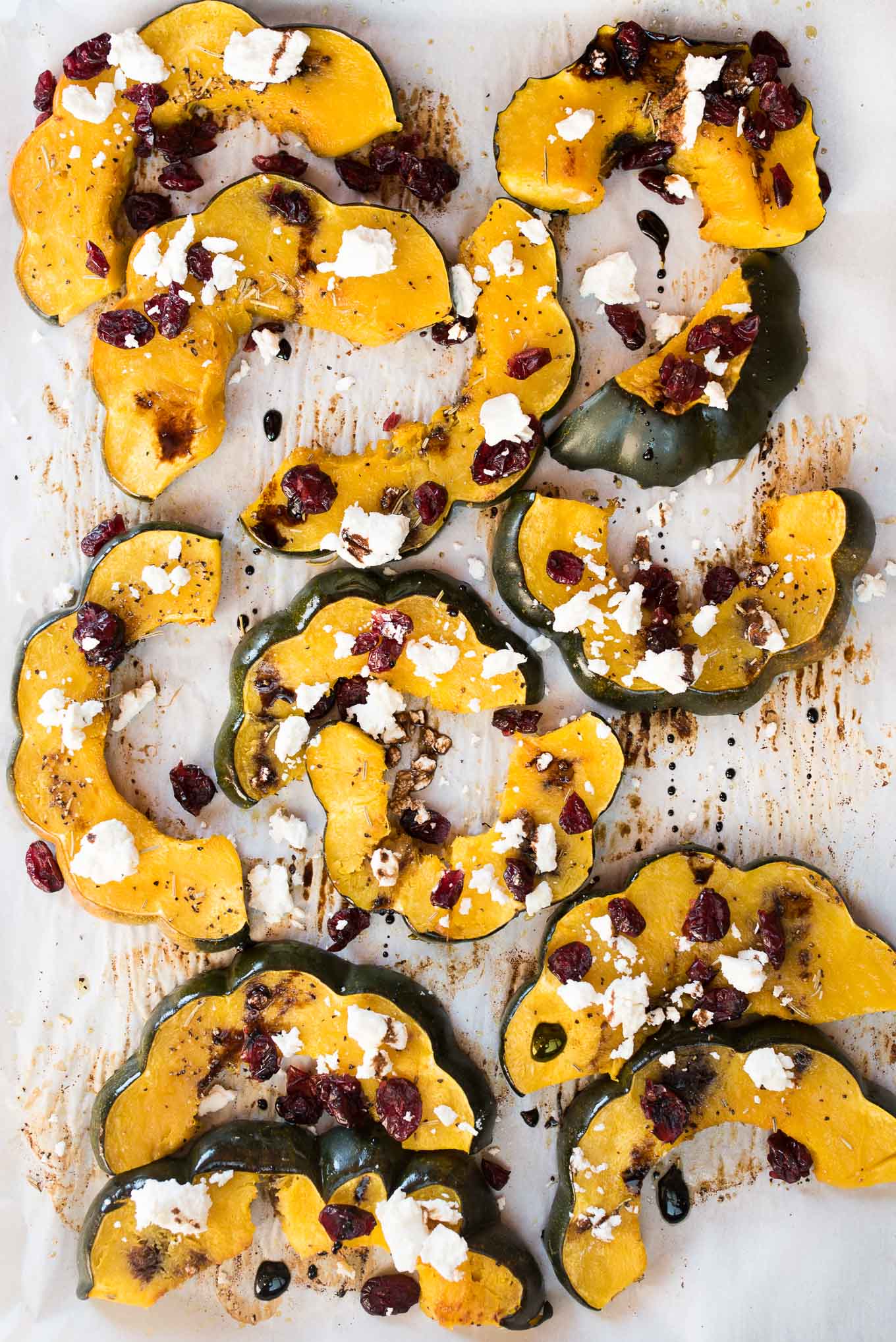 I've been eager to share this simple, yet delicious fall and holiday side dish with you! I literally crave different foods in the different seasons and some of my favorites for fall are squash, brussels sprouts, apples and pumpkin. Are ya with me?
This is super simple and oh so tasty. Plus it's packed with nutrients- you can't feel bad about putting this delicious food on your plate. You'll get fiber, Vitamin C and A, potassium, plus those super powerful antioxidants. And we need all the help we can get during this time of year!
The hardest part of making this is cutting through the hard squash so I made that step a little easier by microwaving it for a few minutes first. One of my most popular blog posts, go figure, is about How to Roast Kabocha Squash and I've received all sorts of comments on how other people make cutting squash easier….from using a small hand saw (yikes!) to a rubber mallet and sharp knife.
Squash can be dangerous if you know what I mean. Those thick skins are hard to get though and the last thing you want to happen is to lose a limb over this dish, you hear me? Please be careful. I still think a few minutes in the microwave works best, and no you aren't losing all the nutrients with that short of a cooking time.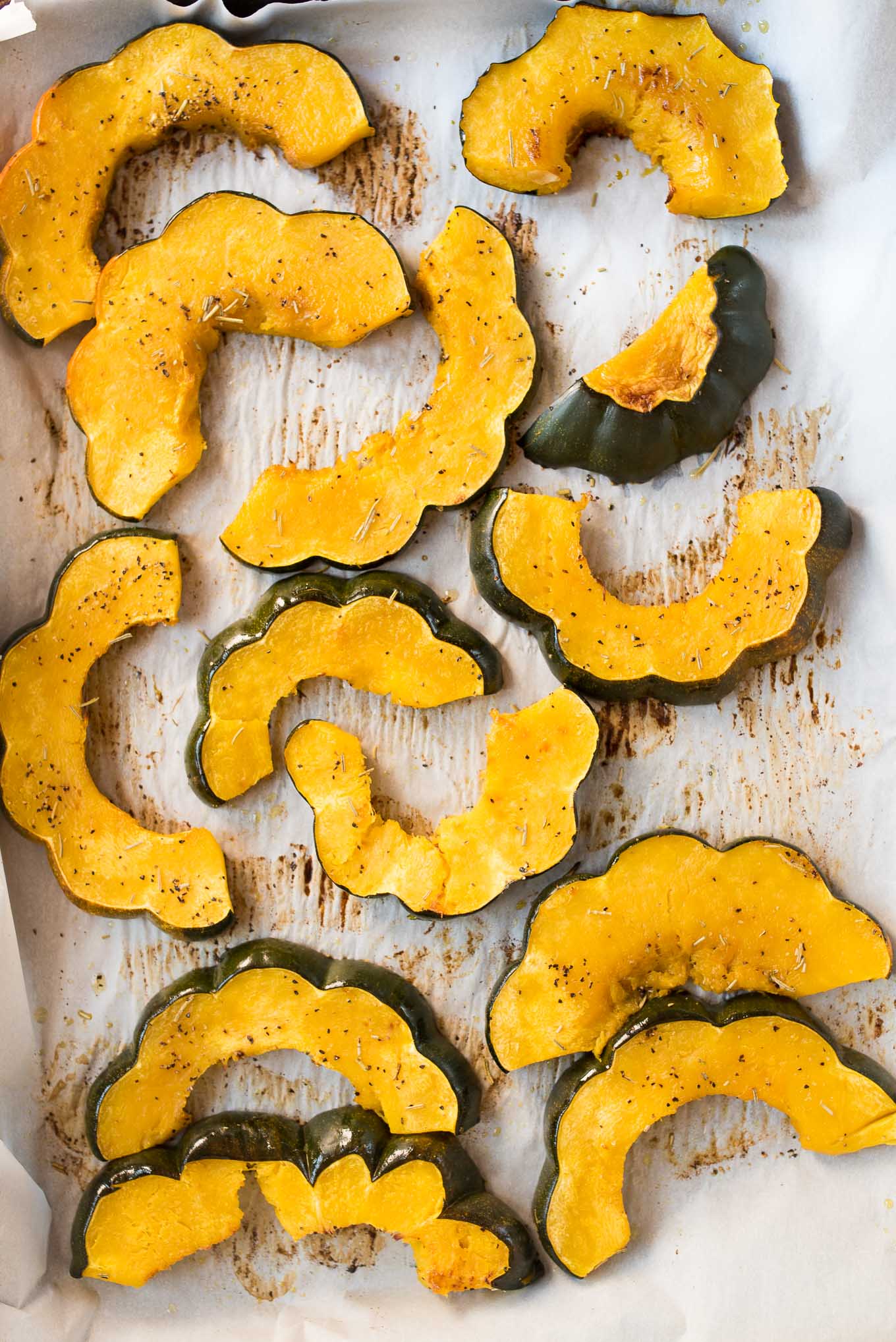 If you have kids in the family who might not like these flavors, just leave a few slices of roasted squash plain. It's still delicious on it's own! For your dairy free friends and family, just omit the goat cheese.
Once cooked, the squash is so tender you can cut right through and eat the skin, although that is totally optional. But the icing on the cake is the balsamic glaze, my secret weapon for so many dishes that I want to jazz up a bit. It is a beautiful match with the sweet cranberries and tangy goat cheese.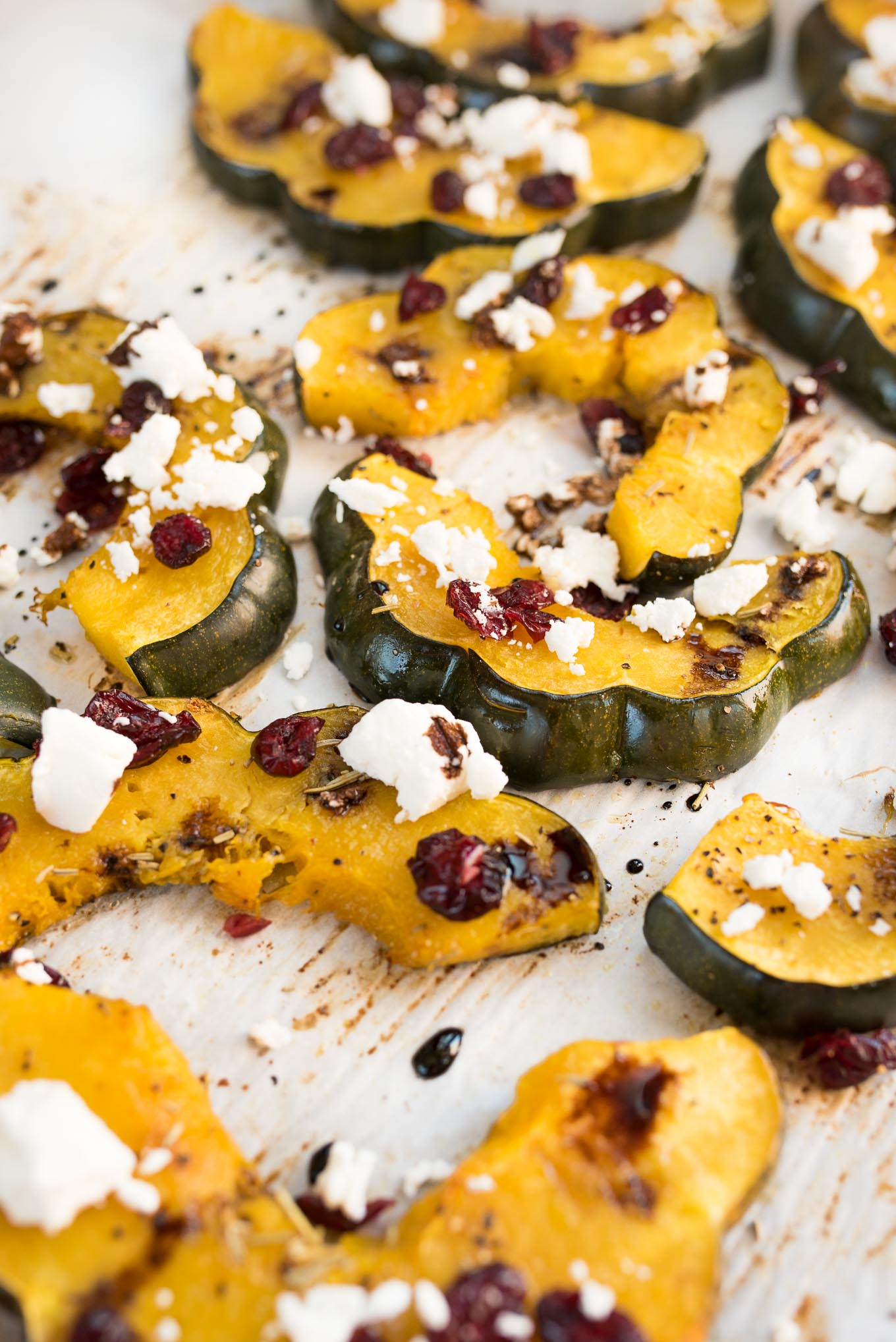 If you made this for a Holiday dinner, it could feed 6 since you will likely have many other dishes, but I went ahead and marked the yield to 4 servings (which is about 3 slices per person).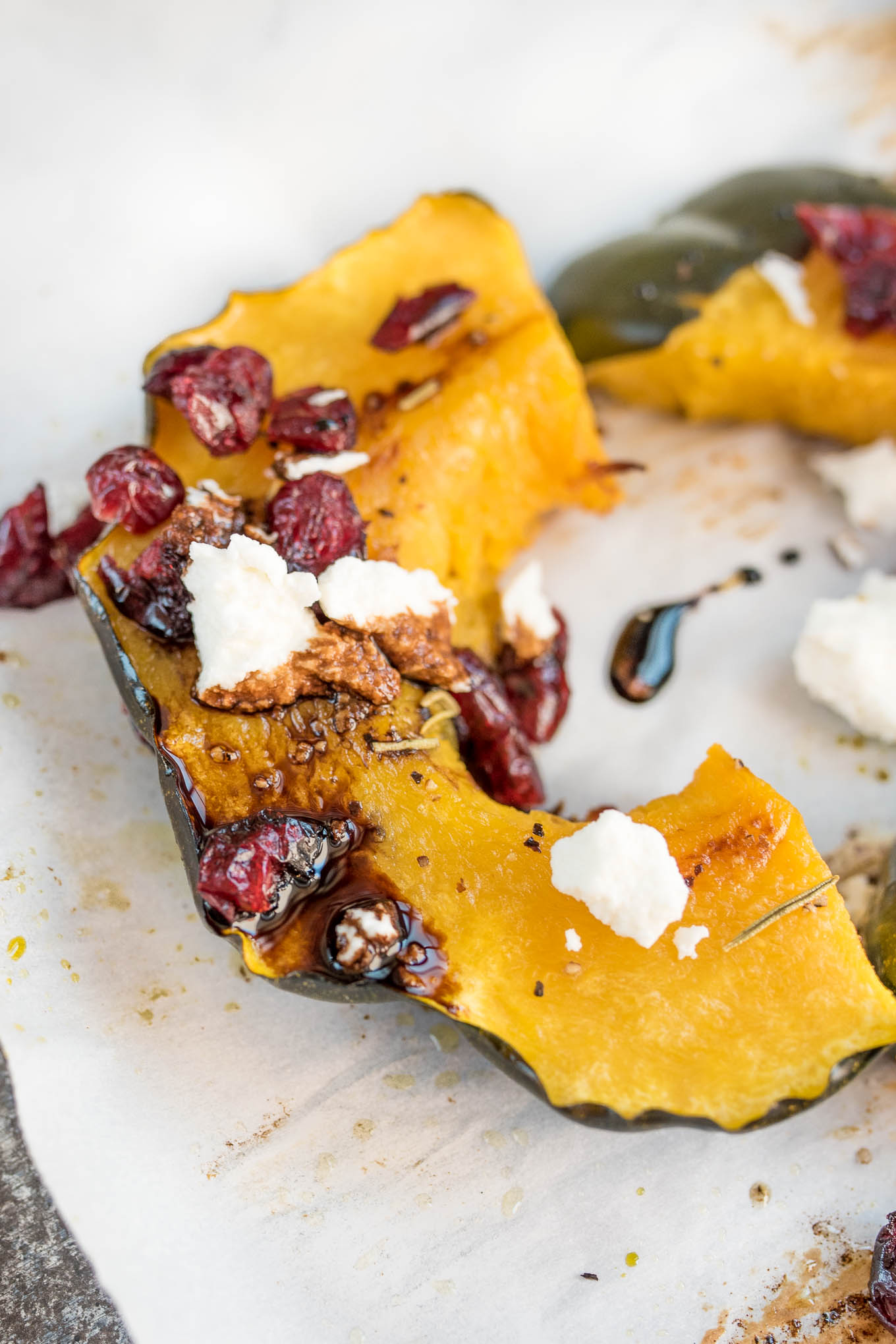 Roasted Acorn Squash with Cranberries, Goat Cheese and Balsamic Glaze
Author:
Melanie F. | Nutritious Eats
Recipe type:
Vegetable Side
Ingredients
1 acorn squash (~3 lb)
1½ tablespoons olive oil
½ teaspoon dried rosemary
¼ teaspoon black pepper
⅛ teaspoon salt
⅓ cup dried cranberries (lower sugar if you can find)
1½ to 2 ounces crumbled goat cheese
½ cup balsamic vinegar, reduced to ~1 tablespoon
Instructions
Preheat oven to 375 degrees. Meanwhile, microwave whole acorn squash for ~4 minutes so that its easier to cut. Slice off top and bottom. Cut in half lengthwise and then slice into ½-3/4 inch slices. Line a baking sheet with parchment or foil. Place squash slices. Drizzle with olive oil and season with salt, pepper and rosemary. Bake for 20-25 minutes or until tender (will depend on how long you microwaved).
When squash comes out of oven let it cool for a few minutes. Top with dried cranberries, crumbled goat cheese and balsamic glaze.
Notes
If you are not paying attention, the balsamic dressing will reduce down to nothing so set a timer. I would start with 5 minutes, then a few minutes at a time and keep checking!