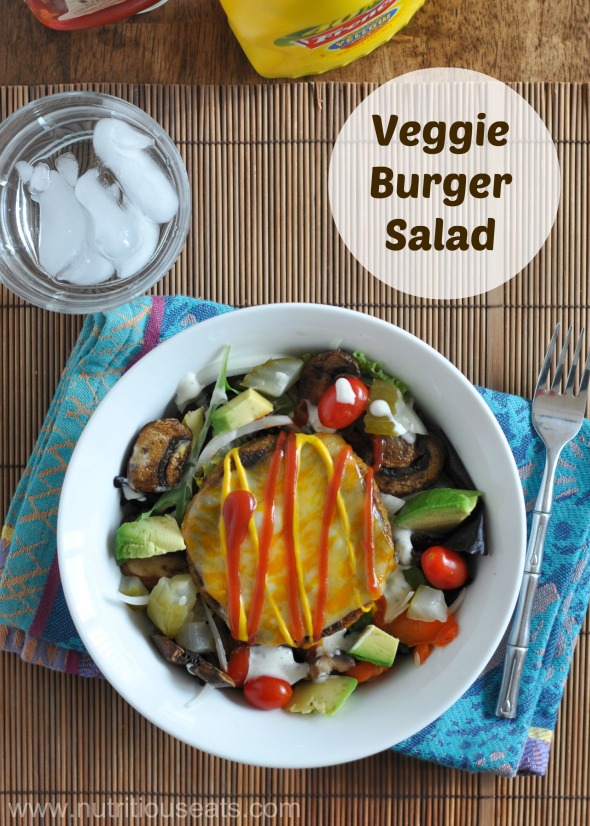 Hi friends. Happy Hump Day! It's a going to be a fabulous rest of the week because my mother in law is coming in for a visit. It will be great to have her company and some help with the children. Plus she likes to cook so it will be awesome to have help in the kitchen too!
Sunday night meal planning had burgers on the menu so I decided to go with a veggie burger salad. It's been awhile since I've made this and I forgot how satisfying and good it is!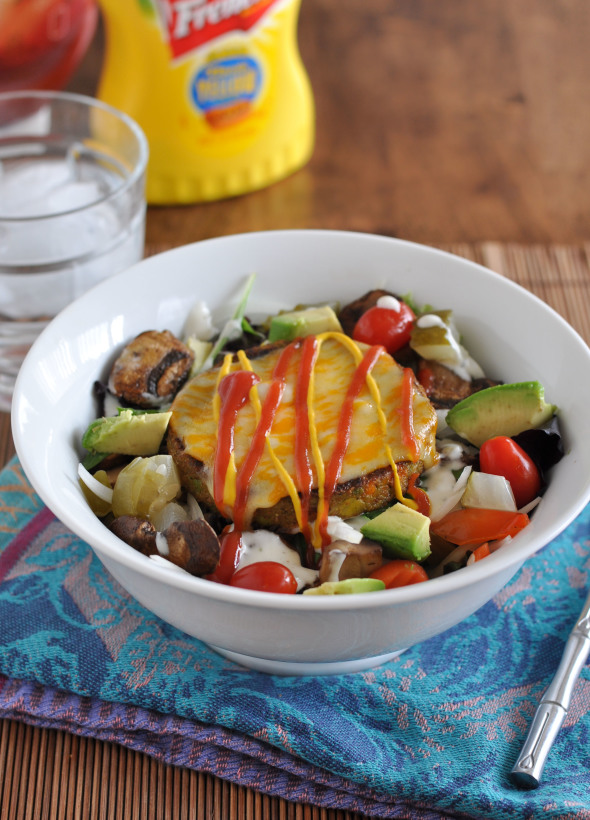 Some veggie burgers can be full of junk so make sure to read those labels and chose ones with ingredients you know, that are real and that you can pronounce! It's sad because you would assume all pre-made veggie burgers would be healthy. Definitely not the case.
The most recent one I tried and liked is from Trader Joe's, Dr. Praeger's. Has anyone tried this one? I appreciate the simple ingredient list and the fact that they were heavy of the veggies- carrots, zucchini, broccoli, string beans, peas, etc. They are also vegan which is kind of hard to find (often they contain eggs).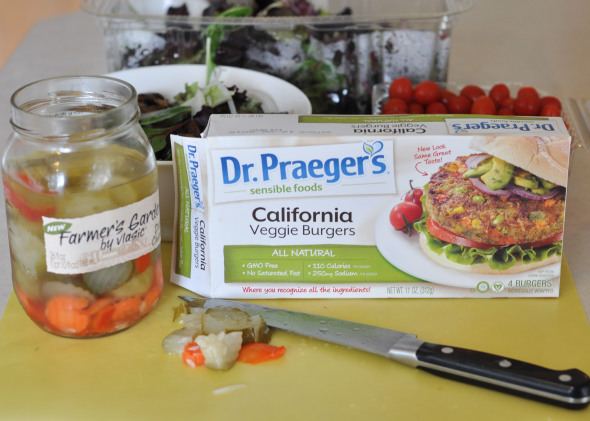 In less than 10 minutes you can cook the veggie burger, I prefer the oven and stovetop methods as that results a nice brown crust on the burger. While you are cooking that just chop up your veggies and dinner is done. The first time I made this I had it with a side of garlic baked fries. Sooooo yummy!
Now you could easily make this vegan by omitting the cheese and ranch dressing. I don't usually eat my salads with ranch but it sure went well on this beauty.
Of course if you're not into veggie burgers feel free to top the salad with your burger choice- beef, turkey, salmon, etc. It's all about the add-ins that make this taste just like bitting into a delicious burger. For me I am all about the condiments on my burgers- everything is a go- lettuce, tomato, onion, pickles, ketchup, mustard and what ever else I can fit on it. In this case I went with avocado and sauteed mushrooms. Sooooo good that I had it two nights in a row!
I have really been working on getting lots of vegetables into my diet. I've found the most helpful thing to do is to prep some of the veggies once or twice a week. Here are some things I have been doing to help:
Tips for Increasing Your Vegetable Consumption
Make a huge salad and divide it into tupperware for future lunches or dinners. Hold off on dressing it until you are ready to eat.
Roast a bunch of vegetables which you can then incorporate into your meals or snacks over the next several days. Enjoy them as a side dish, add them to a whole grain salad or add them as toppings to your pizza.
Wash and/or chop broccoli, celery, carrots, cherry tomatoes and store in tupperware.
Wash salad greens like romaine and store in a plastic bag with a paper towel.
Buy pre-washed veggies like kale and spinach that are ready to eat out of the bag.
Make a veggie soup such as this Hearty Vegetable Soup, this Tomato Kale Soup or this Jalapeno-Ginger Butternut Squash Soup. Enjoy it throughout the week.
Stock your freezer with frozen veggies for last minute meal prep.
Always add at least one vegetable to your smoothies.
Last tip, make this delicious, simple non-recipe "recipe" for my Veggie Burger Salad! Enjoy!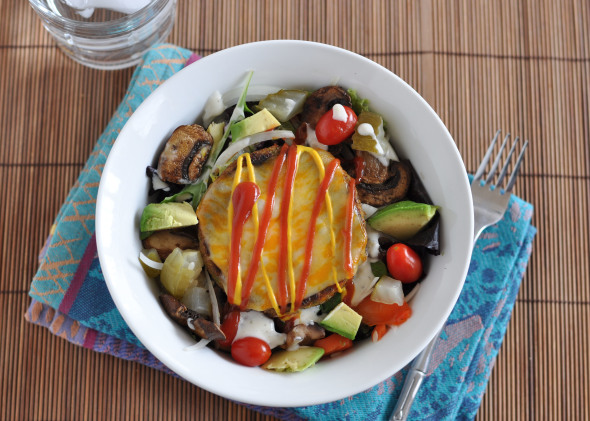 Veggie Burger Salad
Ingredients
1 cooked veggie burger patty
1 slice cheese of choice
mixed salad greens
grape tomatoes
¼ cup sliced onions
½ small avocado, diced
2 Tablespoons chopped pickles
½ cup chopped raw mushrooms
mustard, ketchup and dressing of choice
Instructions
In a small nonstick skillet, heat a drizzle of oil. Add mushrooms and saute until tender 5-6 minutes. Season with a pinch of salt and pepper (can double this amount if you want leftovers).
Bake or cook veggie burger patty on stove top per package instructions. In the last minute add a slice of cheese to melt.
Meanwhile place all salad ingredients in a large serving bowl (salad greens through pickles). Drizzle with dressing of choice. Top with veggie burger patty, mustard and ketchup.
Questions: Do you prep your veggies? What do you do to incorporate vegetables in your diet? Are you a fan of veggie burgers?