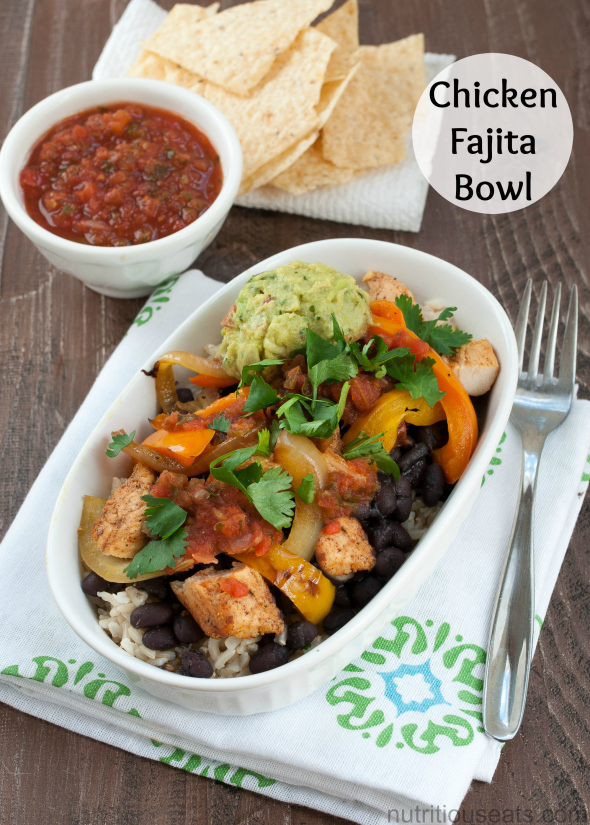 Hi friends! How is your weekend going? I don't usually post on Sunday but it's a Recipe Redux day! Here is the theme:
Two for One
We're all about cooking once and eating twice. In short, double dinners are better. Show us how you take a favorite recipe already on your blog – and ReDux the leftovers into a new dish. Or, whip up a new healthy recipe and give suggestions on how to make it a second meal. For example, slow cooker pot roast could become shredded beef tacos; or grilled chicken breasts might morph into chicken salad.
When I really like a meal I could eat it for days in a row without problem. But not everybody is like that.
One of my favorite meals EVER is chicken fajitas. Growing up in Texas, we ate a lot of Mexican food and I actually used to buy pre-marinated meat from the store. Oh the shame! That was a long time ago and now I make my own marinade which is always going to be the healthier choice.
I like to make a double batch so that we have plenty to enjoy as leftovers and let me tell you…chicken fajitas make awesome leftovers.
But after two nights of tacos you might want to change it up and that is where this fajita bowl fits in. I take the leftover fajita meat, peppers and onions and chop it up into a smaller bite size piece. Cook some fresh rice and hopefully you'll have some leftover beans from your original chicken fajita dinner.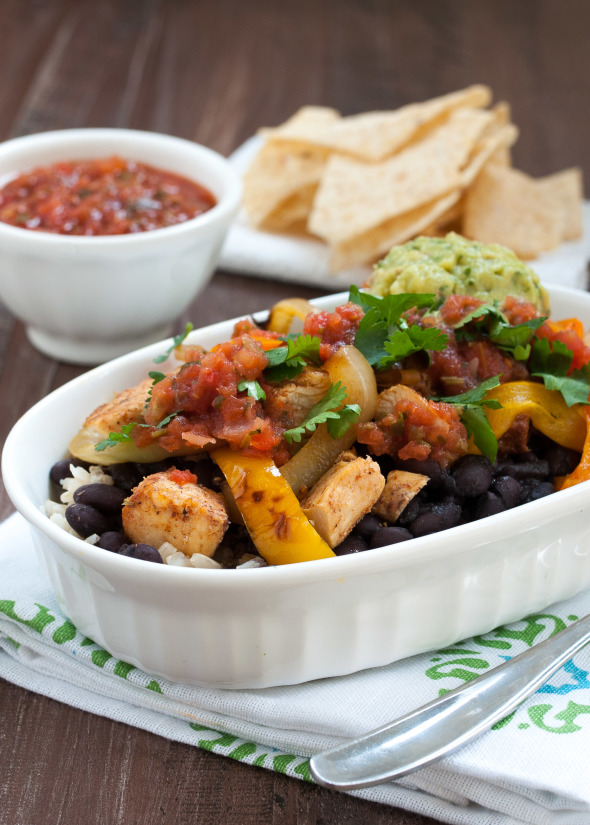 Sometimes all you need to do to make your food more appetizing the next day is turn it into a different meal. So you're utilizing those leftovers but making it feel new.
You just layer the rice, the black beans, the diced chicken and peppers. Then load on those toppings….guacamole, lettuce, sour cream, cheese and salsa. Pretend you're at Chipotle!
You could even turn it into a third meal by making a chicken fajita salad…using all the same ingredients but layering on top of a bed of lettuce (romaine, spinach, baby greens). Then use lime juice and salsa as your dressing! I love doing that too.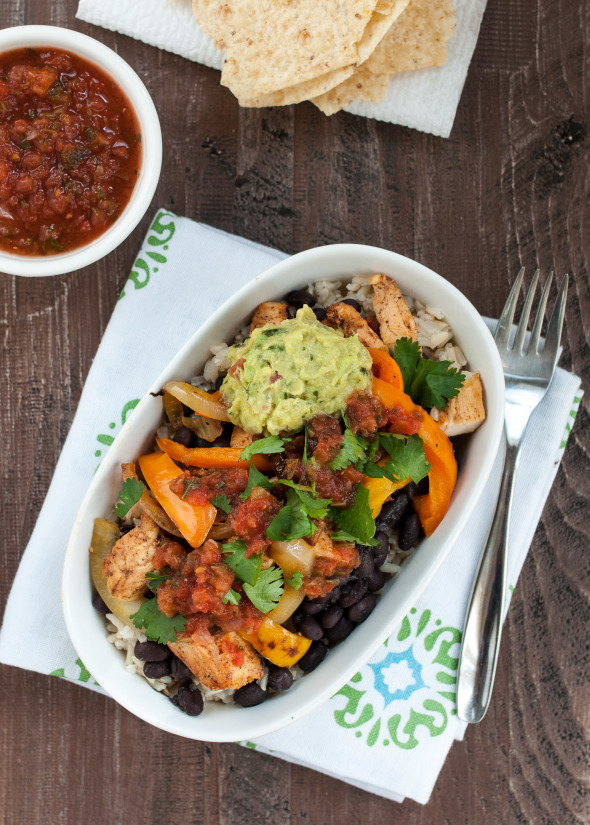 You could also do the same thing with my shredded pork recipe– that one is done in the crock pot and is perfect for burritos bowls the next day.
This is my kind of food. Enjoy those leftovers!
Chicken Fajita Bowl
make a double batch of chicken fajitas and use the leftovers to make these burrito bowls.
Author:
Melanie F. | Nutritious Eats
Ingredients
2-3 cups cooked brown rice
2 cups cooked black beans
guacamole
salsa
fresh chopped cilantro
Sour cream, shredded cheese, lettuce (optional)
For the Beans:
1 lb dry black beans, soaked in water the night before, rinsed, damaged ones removed
½ cup chopped onion
½ teaspoon coriander
½ teaspoon garlic powder
½ teaspoon onion powder
½ teaspoon black pepper
1 teaspoon cumin
1 teaspoon salt
Instructions
Double the recipe for chicken fajitas, with peppers and onions. Make stove tops black beans (recipe to follow). Layer ½ cup to ¾ cup brown rice in a bowl. Top with ½ cup black beans, a scoop of reheated fajita chicken with peppers and onions. Top with salsa, guacamole, chopped cilantro, sour cream, cheese, lettuce (all optional).
Fill a large pot with water about 1 to 1½ inches above the beans. Turn the beans on high and bring to boil. Add chopped onion, reduce heat to low and simmer with the lid half on until tender (about 1 hour 15 minutes to 1½ hours, give or take). 30 minutes before they are done (set the timer) add the seasoning: coriander, garlic and onion powder, cumin, salt and pepper.
I can't wait to see what everyone else did with their leftovers!