Easy Banh Mi sandwiches are a little spicy, packed with flavor and comes together in no time!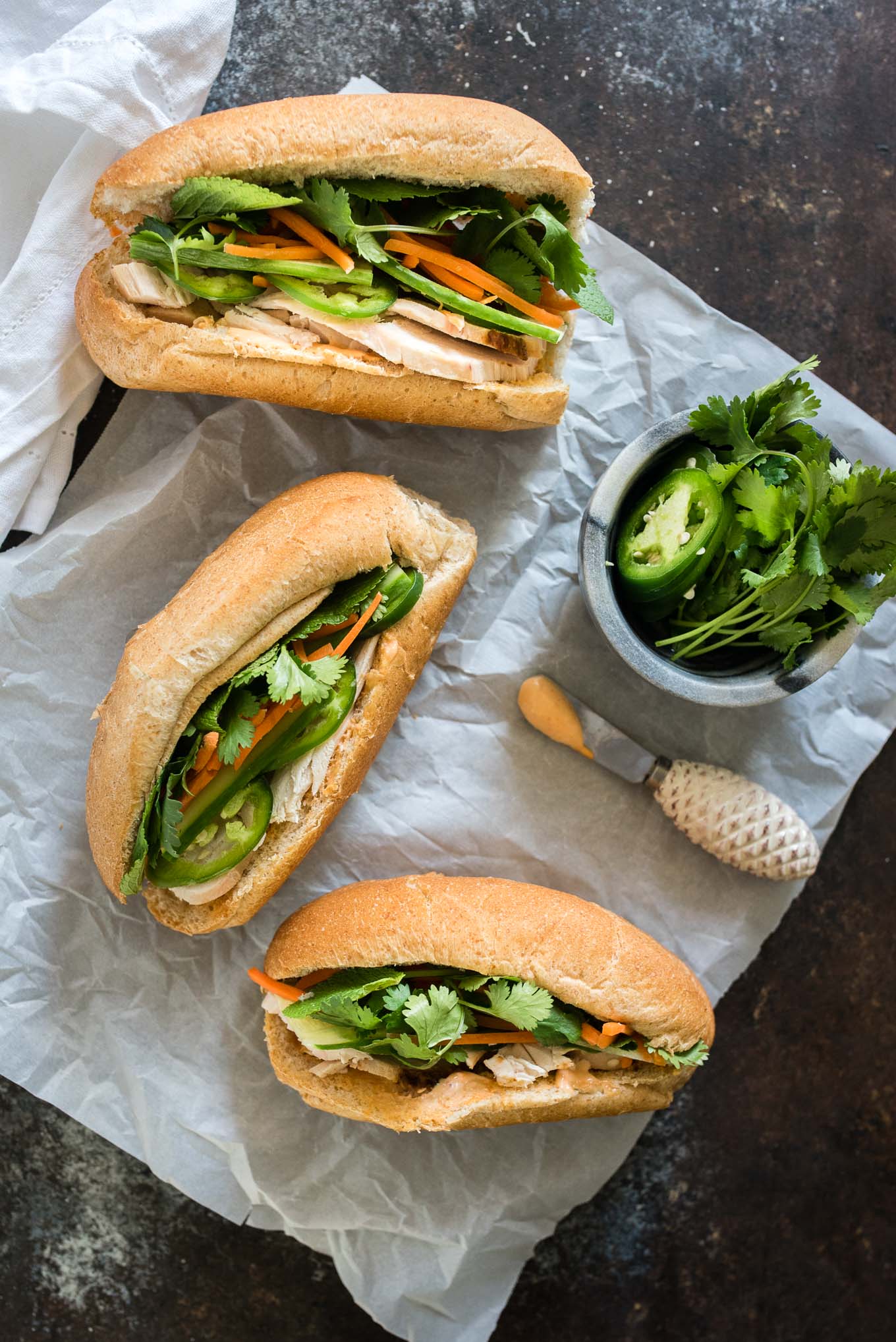 Easy Banh Mi sandwiches are a classic Vietnamese sandwich that can be enjoyed with slow roasted pork or simplified with rotisserie chicken. I have even had one with tofu because here's a little secret, the Banh Mi is all about the crunchy veggie combo and spicy mayo. These sandwiches hold up great so make a few and enjoy throughout the week.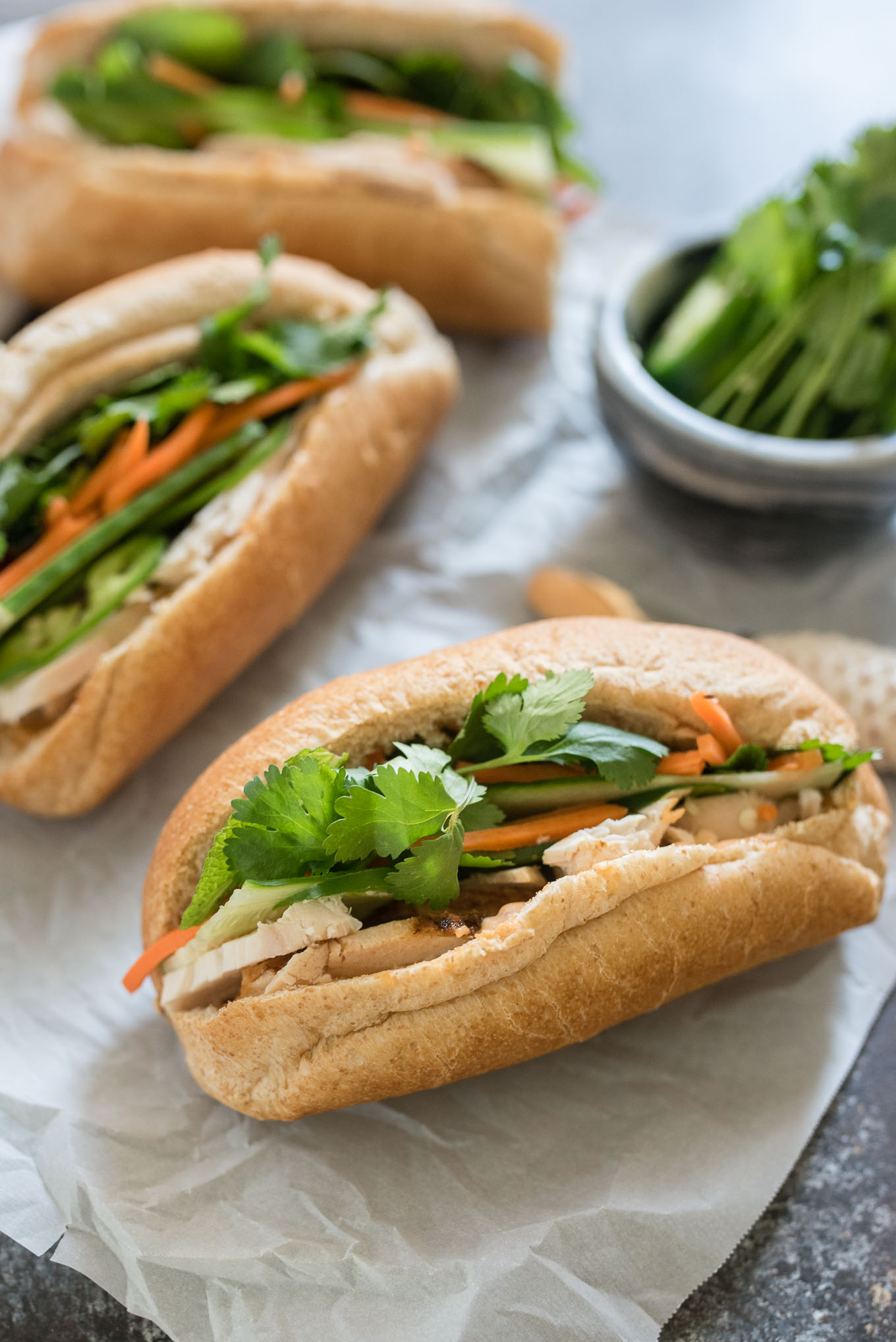 I know it's been quiet around here but remodeling is SO time consuming (picking paint colors, counter tops, new appliances, furniture, so many decisions!). We are finally seeing the light at the end of the tunnel though! Stay tuned and hopefully by the beginning of the year I can officially say we are moved in.
But these sandwiches. You can make these flavor packed sandwiches in 5 minutes using fresh veggies, herbs and rotisserie chicken.
I used to walk to a Vietnamese restaurant around the corner from my work (more like a shack) when I lived in San Diego and would order these $4 Banh Mi sandwiches. They served them on this delicious crusty bread and I was amazed at the flavor that came from this little package. I have only recreated them a handful of times, but when I do I remember how much I love the flavor combo.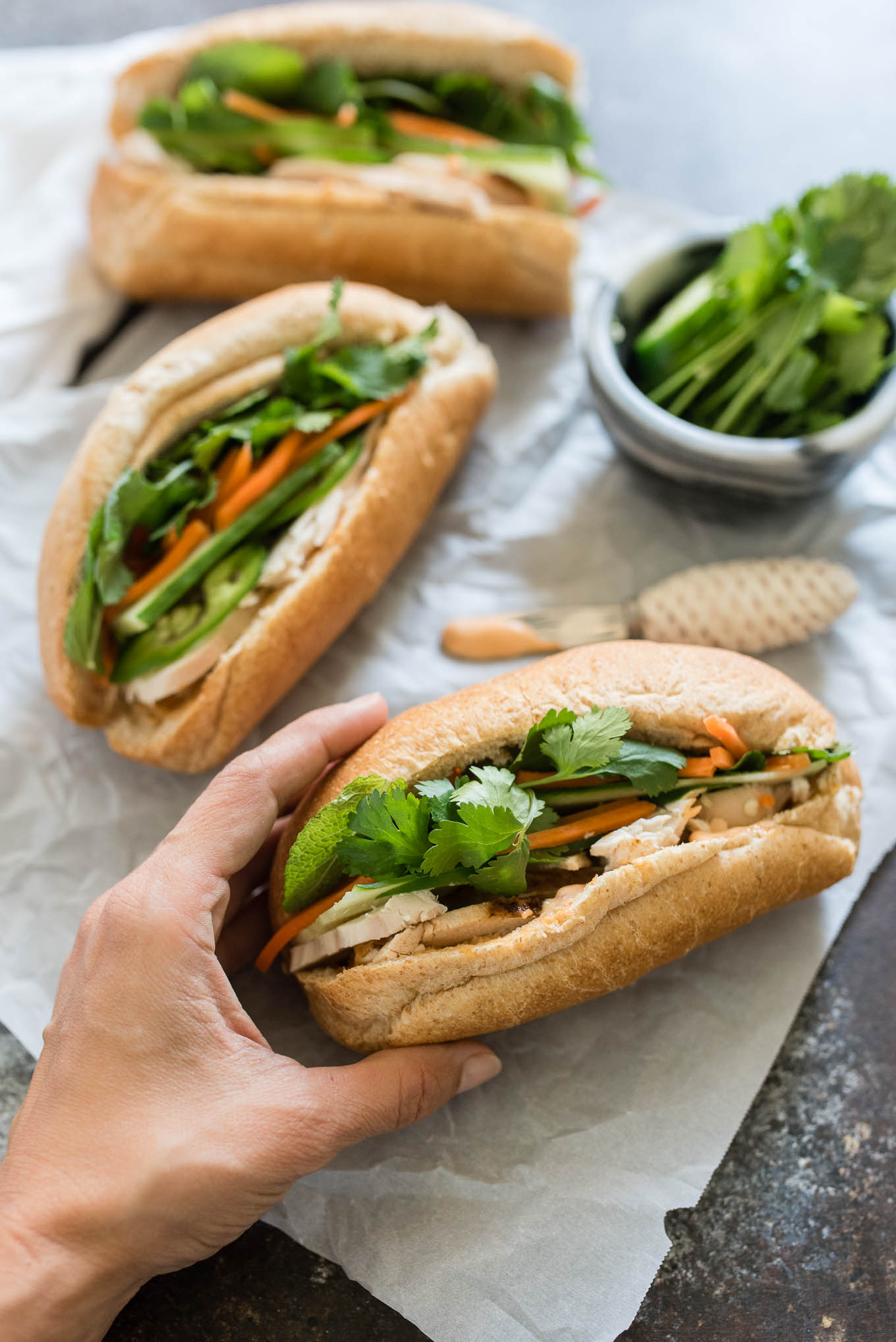 The great thing about it though, is that it is the easiest sandwich to replicate. And they are so darn tasty.
I made 4 of them and the hubby and I enjoyed them for lunch for a couple days. Want them vegetarian? Just fry up some seasoned tofu and they'll be great!
Looking for other sandwich recipes?
Easy Banh Mi Sandwich
Author:
Melanie F. | Nutritious Eats
Ingredients
4 baguette or Bolillo rolls, sliced lengthwise
1 rotisserie chicken breast, cut into slices
1 jalapeño, thinly sliced
¼ of an English cucumber, sliced into strips lengthwise
1 cup shredded carrots
½ cup fresh mint (~4 mint leaves per sandwich)
1 cup fresh cilantro leaves (~1/4 cup per sandwich)
Sriracha mayo:
3 tablespoons mayonaise
1½ teaspoon Sriracha
Instructions
Prepare ingredients. Mix together mayo with Sriracha sauce. Cut lengthwise into baguette or roll, spread desired amount of mayo, a layer of chicken, a few jalapeño slices, a couple cucumber slices, ¼ cup shredded carrots, top with mint leaves and cilantro. Place top half of bread on top and enjoy!
Notes
I used a large rotisserie, but if yours is smaller, use the second breast as well.