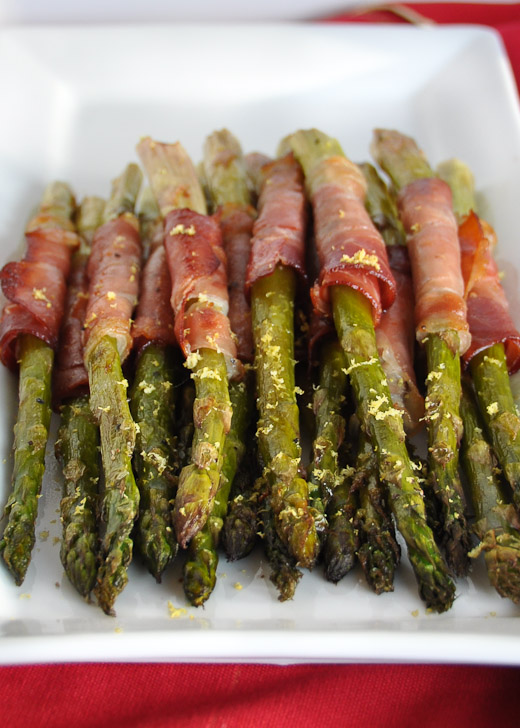 I have mentioned before that I love serving vegetables for appetizers. They fill you up on less calories plus it's just nice to get extra veggies into the meal. These are a little more sinful than regular roasted veggies because of the addition of the salty crispy prosciutto. They've got the red and green going on which makes them perfect for a Christmas party.
I love that they are so simple to make and require very few ingredients which is something I look for when planning an appetizer spread. Some prosciutto can be extremely salty so make sure to compare the packages at the store (there are usually more than one brand) and buy the one lower in sodium.
I have asked my facebook fans what they'd like to see more of this month and the vote was for healthier holiday food and also holiday party suggestions. I will warn you and this might come as a surprise but I don't do uber healthy food during the holidays because I believe in eating the real thing on special occasions rather than cooking with a bunch of processed ingredients to create "healthier" dishes. On the other hand I don't usually make things loaded in fat and calories anyway because that is just the way I grew up eating. I make simple substitutes like using low fat milk and I almost alway cut the butter and sugar of what typical recipes recommend.  In a nutshell, what you shouldn't expect to see from me are dishes made with fake ingredients just so I can label something as vegan or gluten free for label sake.
With that being said, I am up for the challenge and hopefully I can share some lighter holiday favorites with you!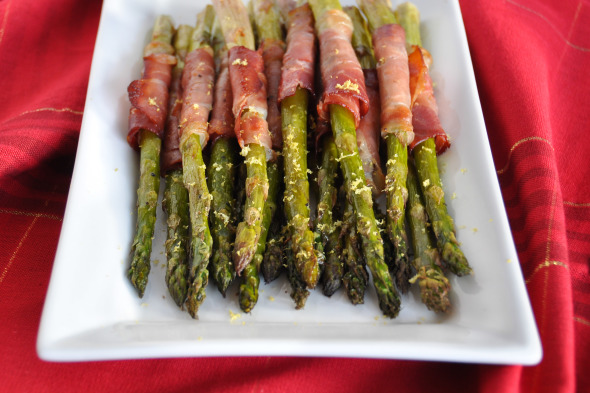 I only have a partial meal plan this week because I am off to San Diego for vacation! That also means that I am trying to use up some of the food in the house so some of these combos are a bit random! Hopefully I will be all connected and able to post from Cali.
Sunday
Chicken Tortilla Soup, Roasted Brussels Sprouts
Monday
Bun-less Turkey Pesto Burgers (will wrap mine in lettuce), Creamy Tomato Soup , sweet potato fries 
Tuesday
Leftover Soup, Lentil Wrap 
Wednesday
Quesadillas
Thursday-Saturday
? Not sure yet
Don't forget to use the "save recipe" function (see blue box on recipe) so that you can save your favorite recipes from my site (and others) to your own personal recipe box which can be accessed from my blog (just click on the "Recipe Box" in the top menu bar to see what you've saved). It is a fabulous tool powered by ZipList and keeps all your recipes and shopping lists saved in one easy to access place. You can also download their app to your smartphone so that you will always have access to your saved recipes.
Proscuitto Wrapped Asparagus
Ingredients
~20 asparagus (3/4 lb), ends trimmed
5 ounce package prosciutto, each slice cut in half
olive oil
zest of 1 lemon
black pepper
Instructions
Preheat oven to 400 degrees. Place asparagus on a cookie sheet and drizzle with olive oil, roll around to coat. Sprinkle with black pepper.
Wrap half slice of prosciutto around each asparagus. Place seam side down on cookie sheet with space in between each asparagus. Roast for 15 minutes or until tender; using tongs flip asparagus half way through cooking time. Remove to a serving tray, zest lemon over asparagus and serve warm.
Notes
If you are using very thick asparagus, use a vegetable peeler to remove a little off the sides of the bottom of the stalk to ensure a tender result.
Look for the lowest sodium prosciutto available as it is a very salty product.
This is another one of my favorite Holiday appetizers- roasted veggies with herbs served with marinated olives. YUM!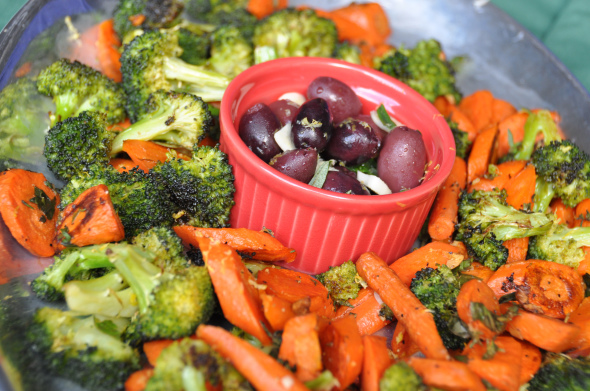 Question: What does your meal plan look like this week? What are your must-have foods during the Holiday months? I'd love specific dishes in case there are some that I might want to make-over!