Slow Cooker Tex-Mex Quinoa is a gluten free, vegetarian meal that is a breeze to throw together and is packed with long lasting plant protein.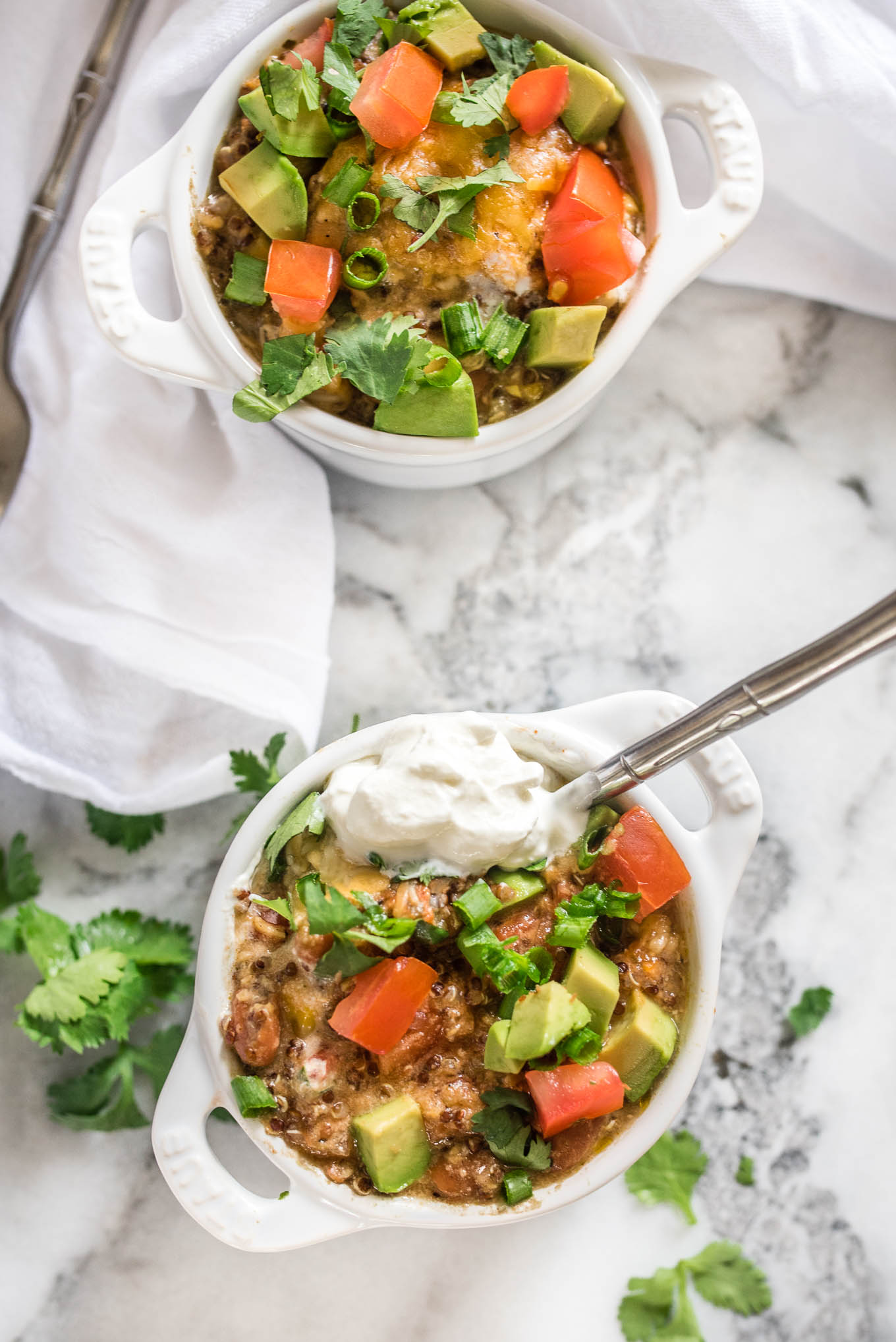 Slow cooker Tex-Mex Quinoa is one of my favorite vegetarian meals because it's flavorful, filling and oh so simple! It's a "dump and stir" recipe and I use a delicious store bought pouch of enchilada verde sauce. It is by far a better quality and flavor that the canned version. Look for it in your store (all the info below)!
Growing up in Texas means everything is Tex-Mexified. Just add avocado, salsa, cilantro, etc. and you're good to go (in my humble opinion).
And since it's Recipe Redux time and we are sharing slow cooker/pressure cooker recipes to beat the heat, I wanted to share this Slow Cooker Tex-Mex Quinoa. Our kitchen remodel is still underway and turning on the oven (without all of our walls up for insulation) really heats up the place in a hurry. The slow cooker has been saving me!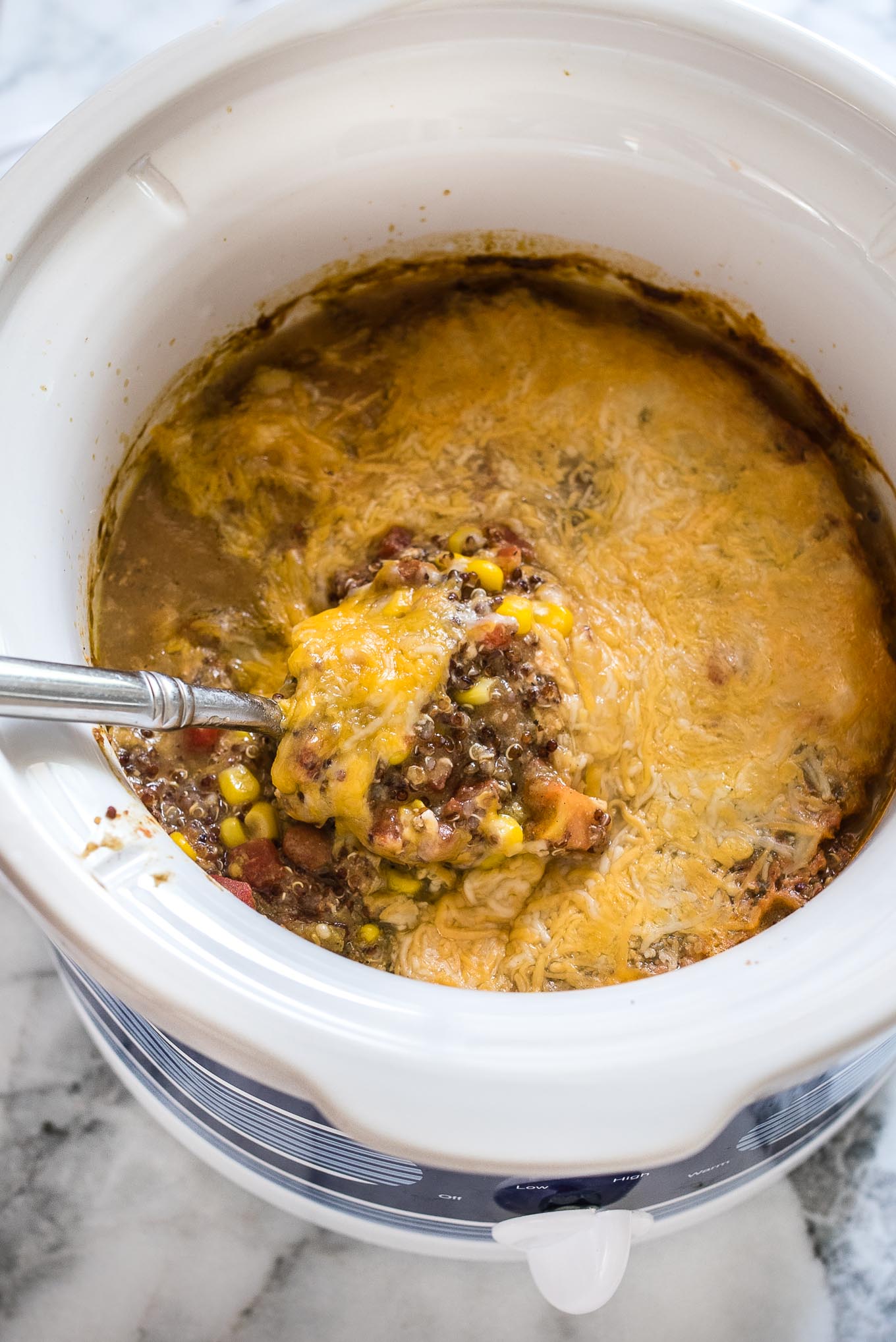 Quinoa while eaten alone is not my favorite, but paired together with the right foods and flavors is one of the most versatile gluten free, high protein grains.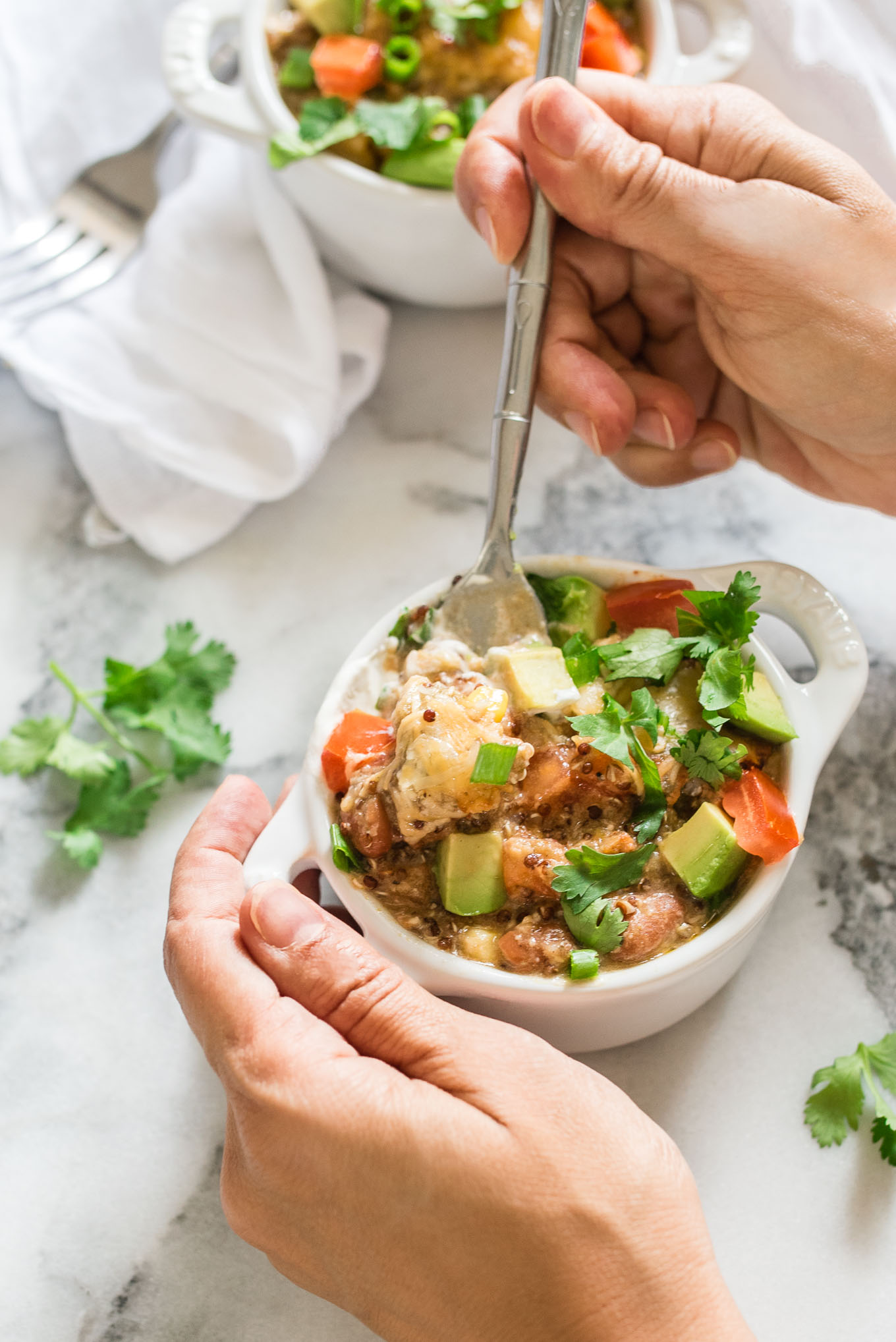 This casserole can be used as a burrito filling, or is yummy scooped up with some tortilla chips. I just like it loaded with all the toppings! It makes a great meatless meal and will not leave you hungry, I promise!
As much as I love this dish though, I can't get all my kids to eat it. Just an honest fact!
Looking for other quinoa dishes?
HELPFUL TOOLS USED IN MAKING THIS DISH AND RELATED LINKS:
Good enchilada sauce– this is the exact one I used and I thought it was great. So much more flavor that the canned version. I couldn't make it homemade any better.
Slow Cooker– a 4 1/2 to 5 qt works well. I have also used my larger oval slow cooker and it's been fine.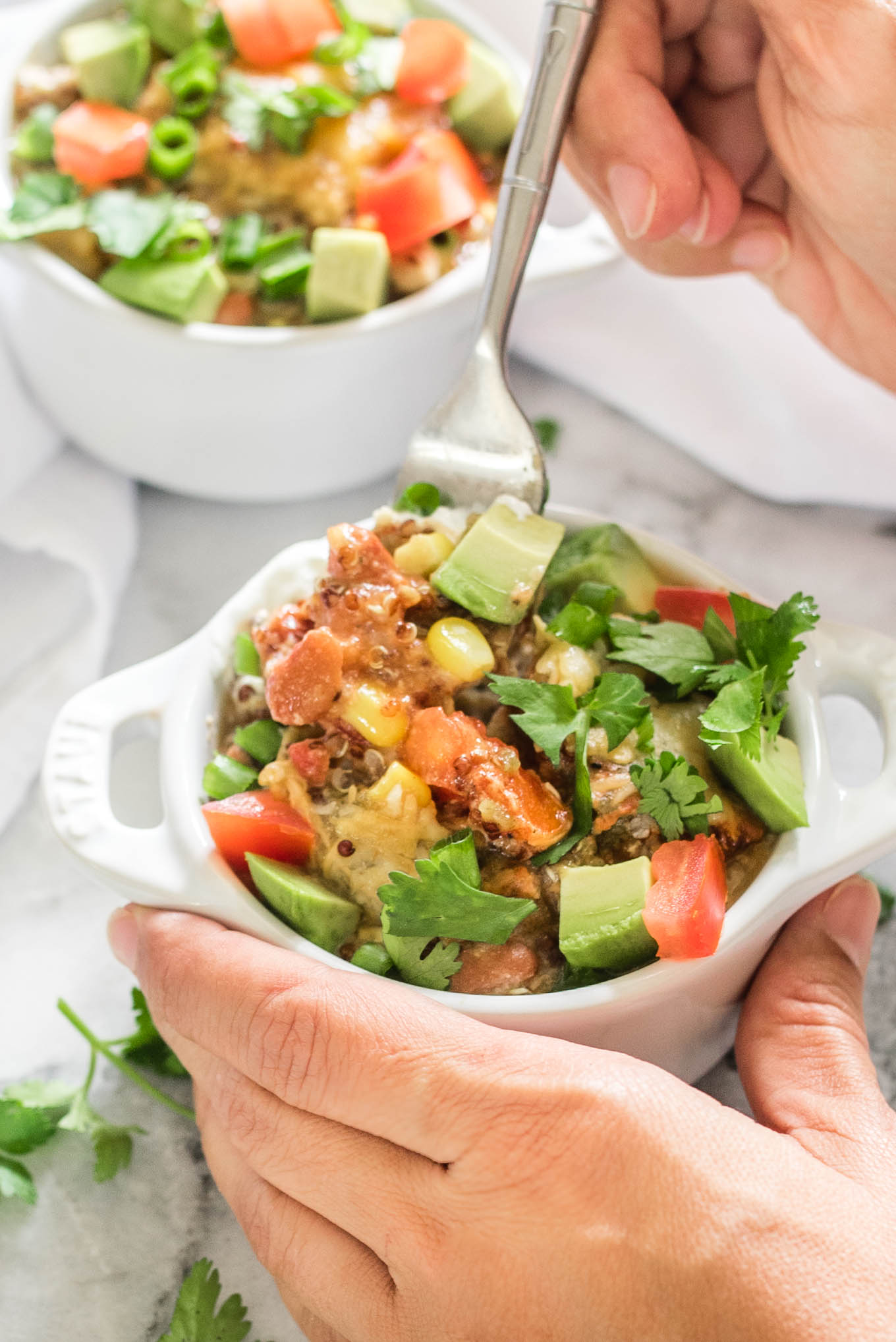 This post contains affiliate links. 

Slow Cooker Tex-Mex Quinoa
Author:
Melanie F. | Nutritious Eats
Ingredients
1 cup dry quinoa (I used red), plus ¼ cup water
1 (14.5 ounce) can chili beans, lightly drained (these are mild pinto beans in a sauce)
1 can diced tomato with green chili, slightly drained
1½ cup frozen corn
1½ cup diced fresh tomato
¼ cup plain Greek yogurt
16 ounces green enchilada sauce (I use 2 pouches), reserve half
1½ cup Mexican style shredded cheese
¼ teaspoon salt
¼ teaspoon pepper
For the toppings: fresh chopped cilantro, sliced green onions, avocado, sour cream, salsa (optional)
Instructions
Stir all ingredients together in the slow cooker, except one package of the enchilada sauce. Top the mixture with the remaining sauce (some will sink and that's okay).
Next top with the cheese. High for 4 hours or low on 7-8. Towards the end of cooking time, If some liquid pools on top just use a large ladle or spoon to remove it. Also, I uncover it for the last 20 to 30 minutes until the majority of the liquid has been absorbed.

Check out some other slow cooker or pressure cooker recipes!