Skip the fried wings and make some easy and tasty Buffalo Turkey Burgers. For a low carb version serve them in lettuce wraps instead of on a bun!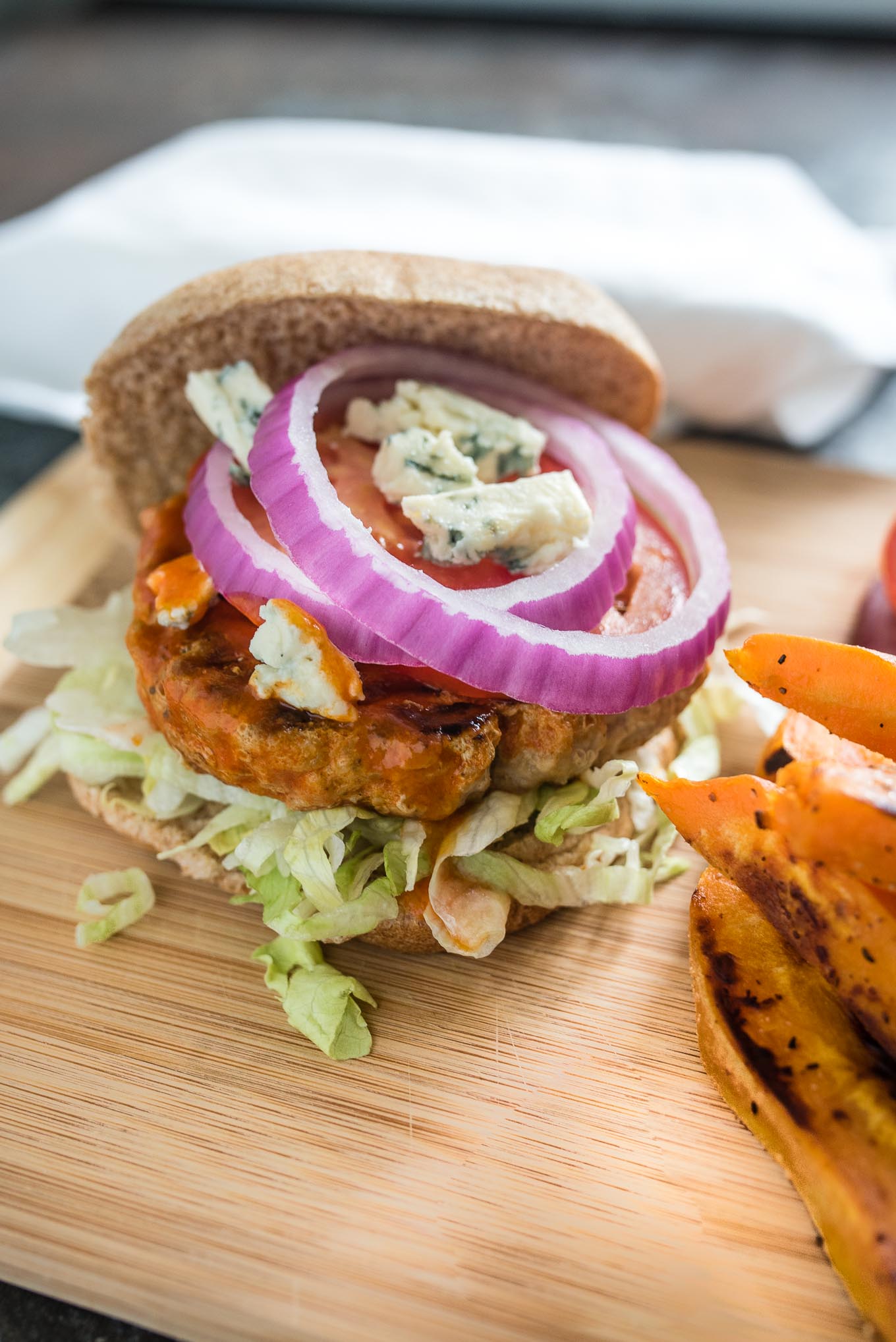 Craving buffalo wings? Try these Buffalo Turkey burgers for a leaner option. Looking to shave off more calories? Serve them wrapped in lettuce and skip that the bun!
There is something super satisfying about a burger. And am not just talking beef burgers. I feel the same satisfaction with veggie burgers, turkey burgers, fish burgers, etc. and boy have I been on a major burger kick lately. It must be the well balanced package of bread + protein + veggies + condiments, plus the pleasure of sinking your teeth into something, which is one teeny thing I miss when eating a salad.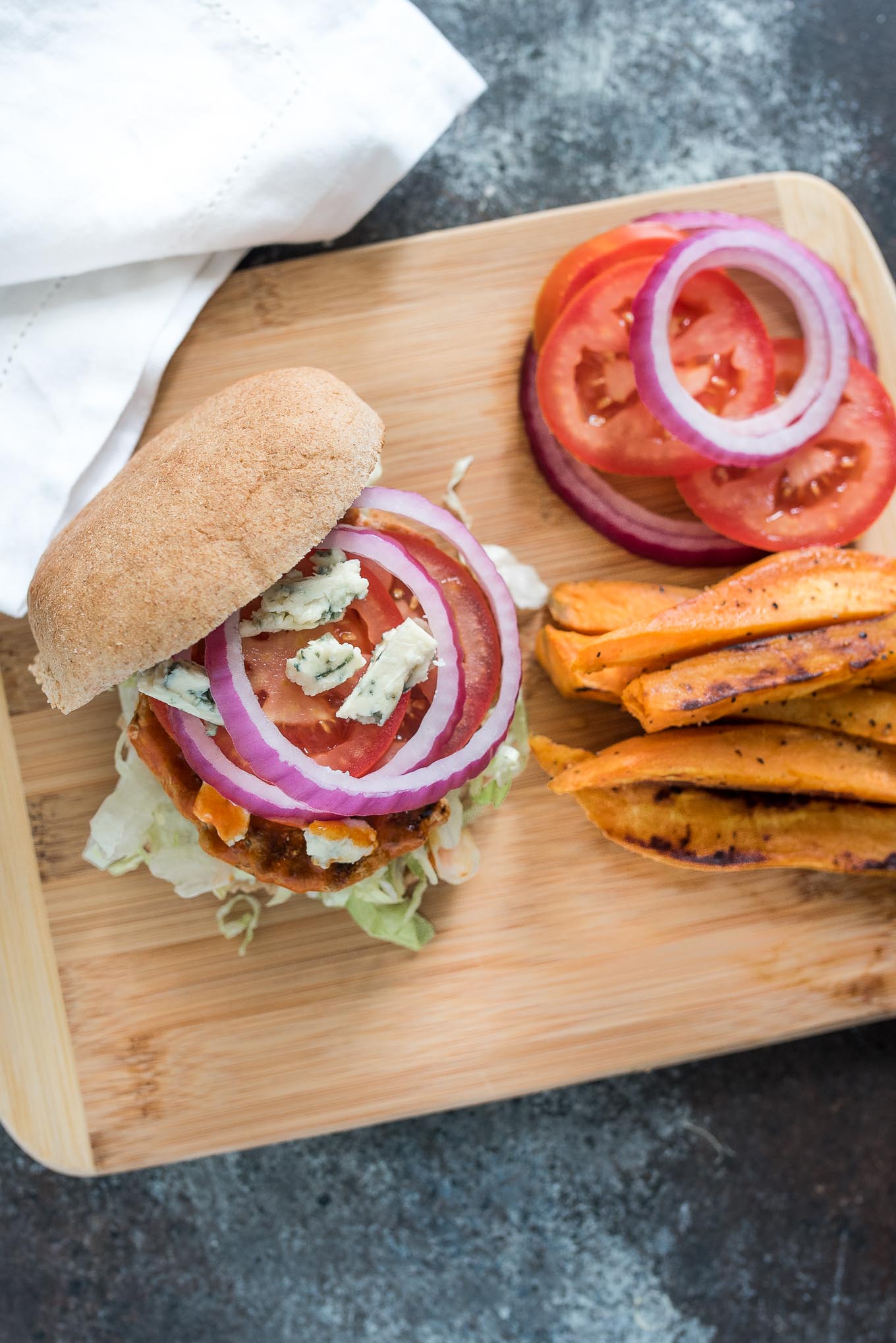 Another great thing about a meal like this is you can easily customize it for the kiddos by leaving some burgers without the buffalo sauce and blue cheese. Unless of course they like those flavors (mine don't)!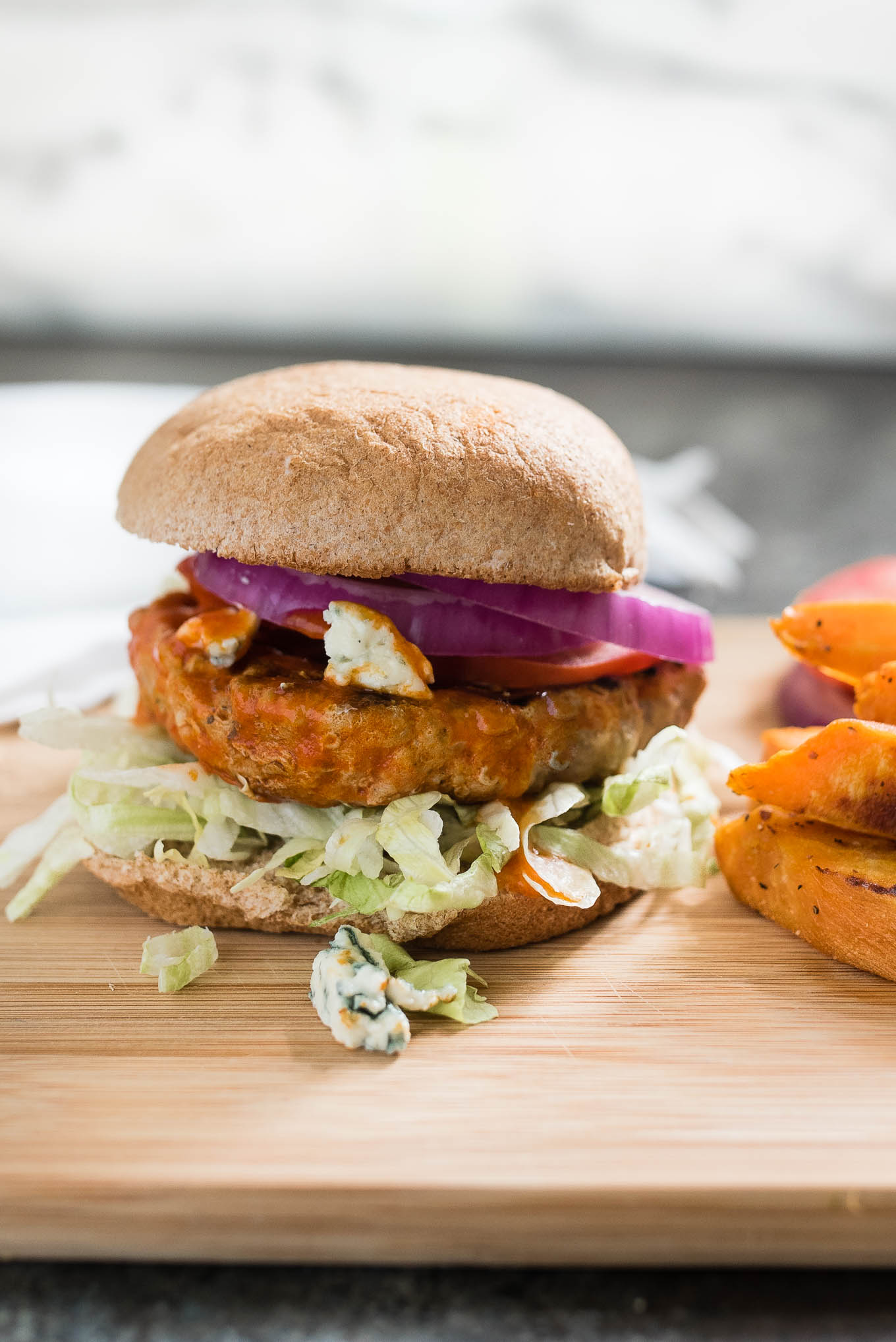 Let's just talk about blue cheese for a minute. Does anyone really love it? I try to love it, but it remains one of my least favorite cheese. So why did I use it here? Well oddly I do like the combo of buffalo sauce and blue cheese. I thought this time I would try buying a block of it (it was an Amish one) instead of the pre-crumbled one that is a little more pungent. I was excited that it was a little more mellow so if you are in a similar boat, you might want to try that.  You could totally do cheddar or skip cheese altogether.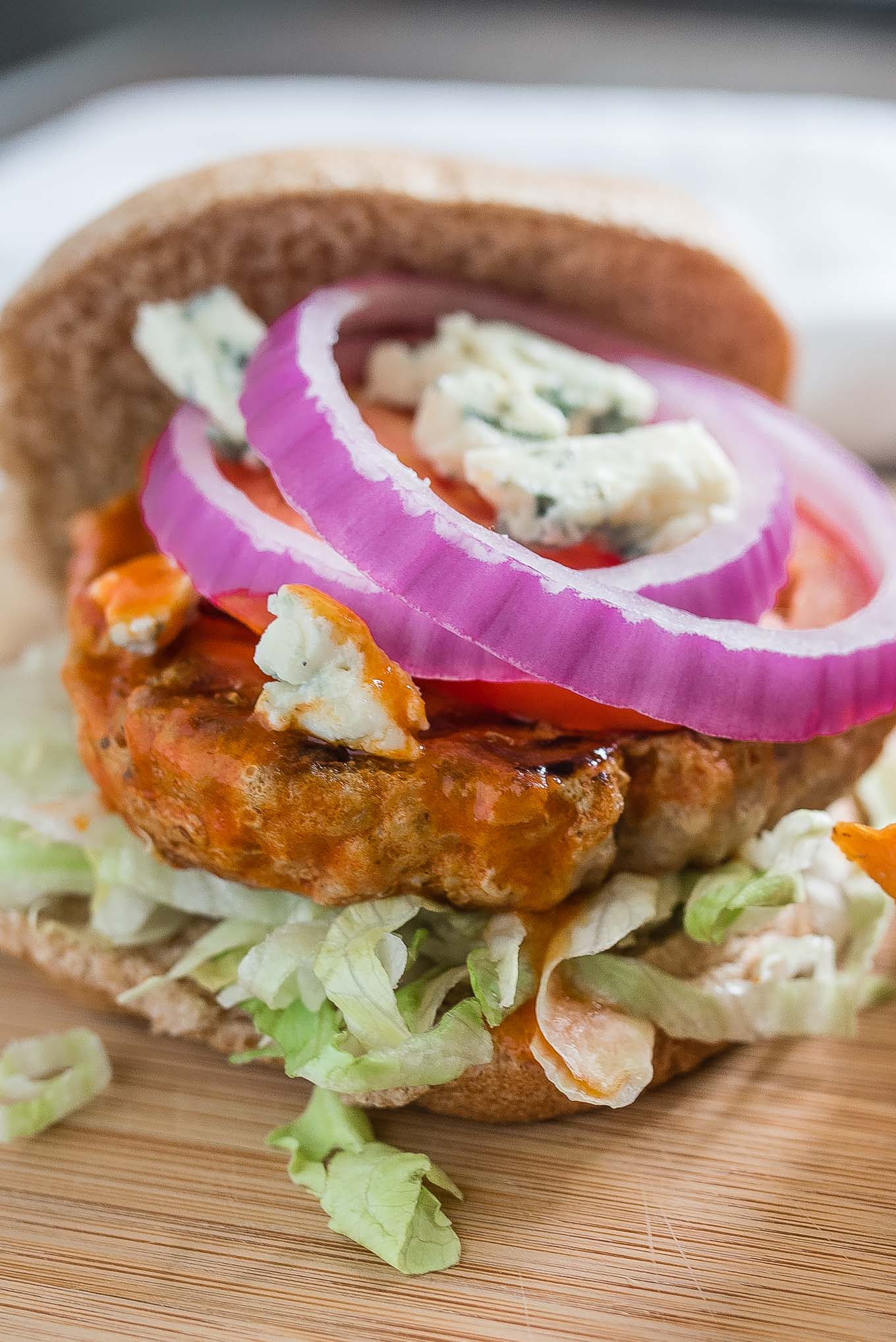 Throw the burger patties on the grill for an even simpler preparation method!
Looking for more turkey recipes?
Tools Used in Making This Recipe:
Cast Iron Grill Pan – I am so glad I bought this size grill pan many years ago. I do pancakes on the flat griddle side and burgers (among other things) on the grill side.
Square Pyrex– this basic square pyrex is a good size to fit 4 burgers in the sauce.
Frank's Original Red Hot Sauce– aka the best Buffalo sauce ever!
This post contains affiliate links.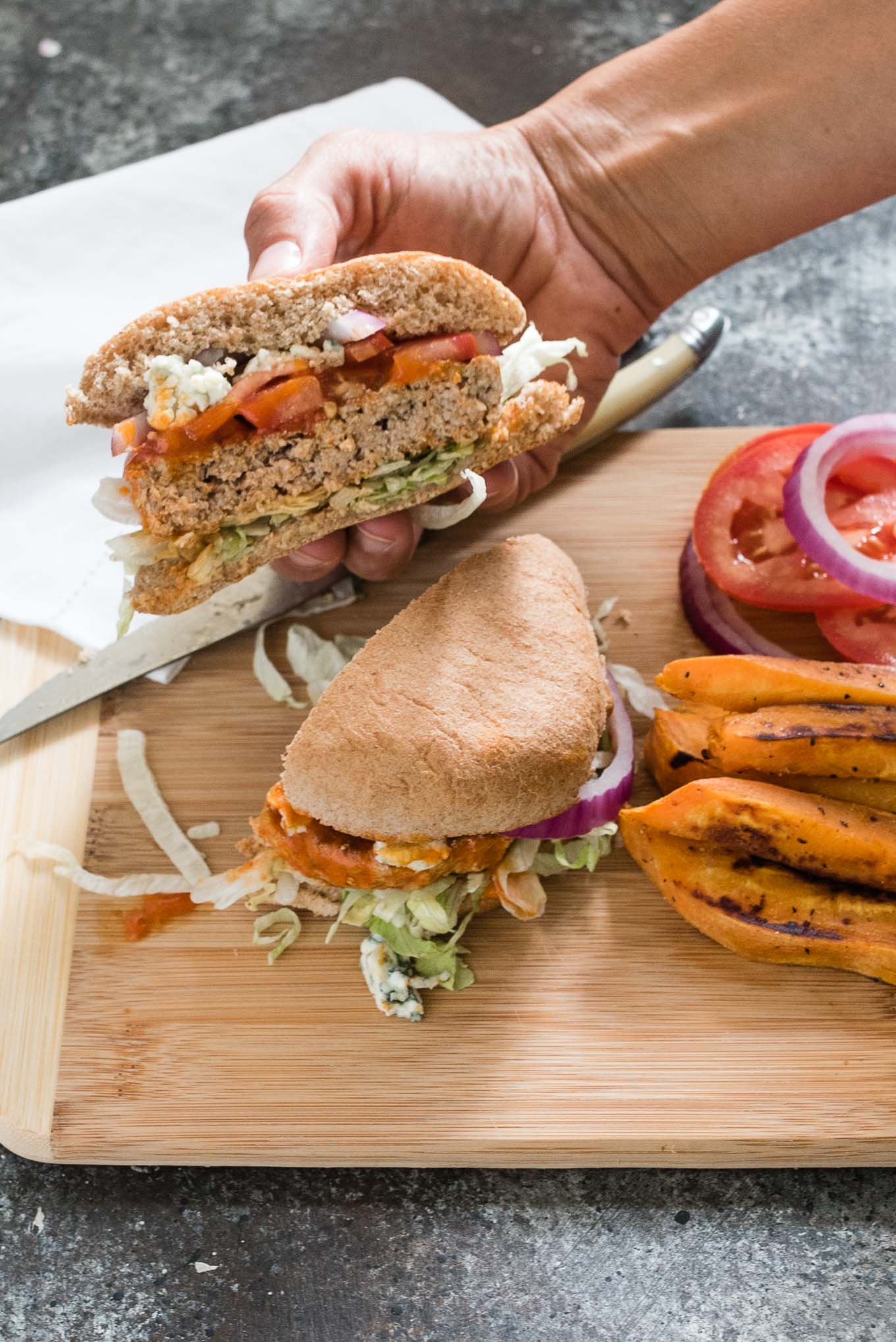 Buffalo Turkey Burger
Author:
Melanie F. | Nutritious Eats
Ingredients
1 lb lean ground turkey (can sub ground chicken)
⅛ teaspoon celery seed
⅛ teaspoon black pepper
1½ teaspoon olive oil
¼ cup Frank's Original Red Hot Sauce
1 tablespoon butter, melted (I use a vegan butter spread)
4 pieces of lettuce or 1½ cups shredded lettuce
8 tomato slices
4-8 red onion slices
2-3 ounces crumbled blue cheese
Instructions
Season turkey breast with celery seed and pepper. Form into 4 equal patties.
In a large skillet, heat olive oil to medium heat. Add turkey patties (if there isn't room for all 4, cook them in two batches). Heat for 8-10 minutes or until 165 degrees.
In a large dish, add melted butter and ¼ cup buffalo sauce. Add cooked turkey burgers and flip a couple times until well coated.
On a whole wheat bun (or large lettuce wrap), add a turkey patty, top with lettuce, 2 slices tomato, 2 slices of onion, and a few blue cheese crumbles. Serve with additional sauce if needed.