Chicken Taco Salad with Creamy Chipotle Dressing is delicious hearty salad, packed with flavor from the chicken, black beans, avocado and creamy spicy chipotle dressing.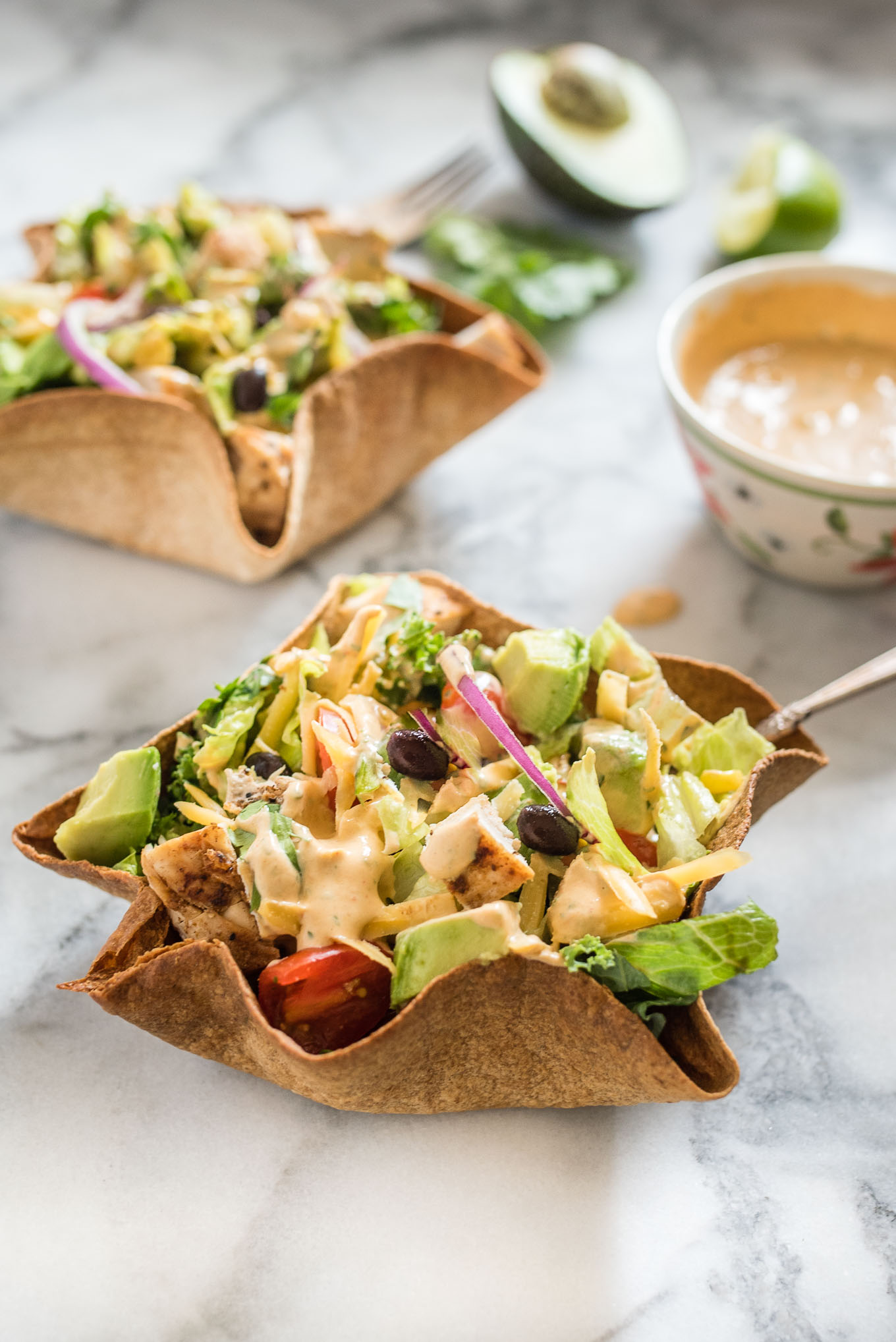 Taco Salad is one of my favorite kind of salads because it doesn't feel like you're eating a salad. You get all that taco-y flavor and you get in a handful of veggies doing it!
I remember being a kid and ordering a taco salad (maybe it was mostly so I could enjoy the deep fried shell, but we won't focus on that). This latest version is hitting the spot for me. It's light on the belly, yet flavorful enough to satisfy your tastebuds.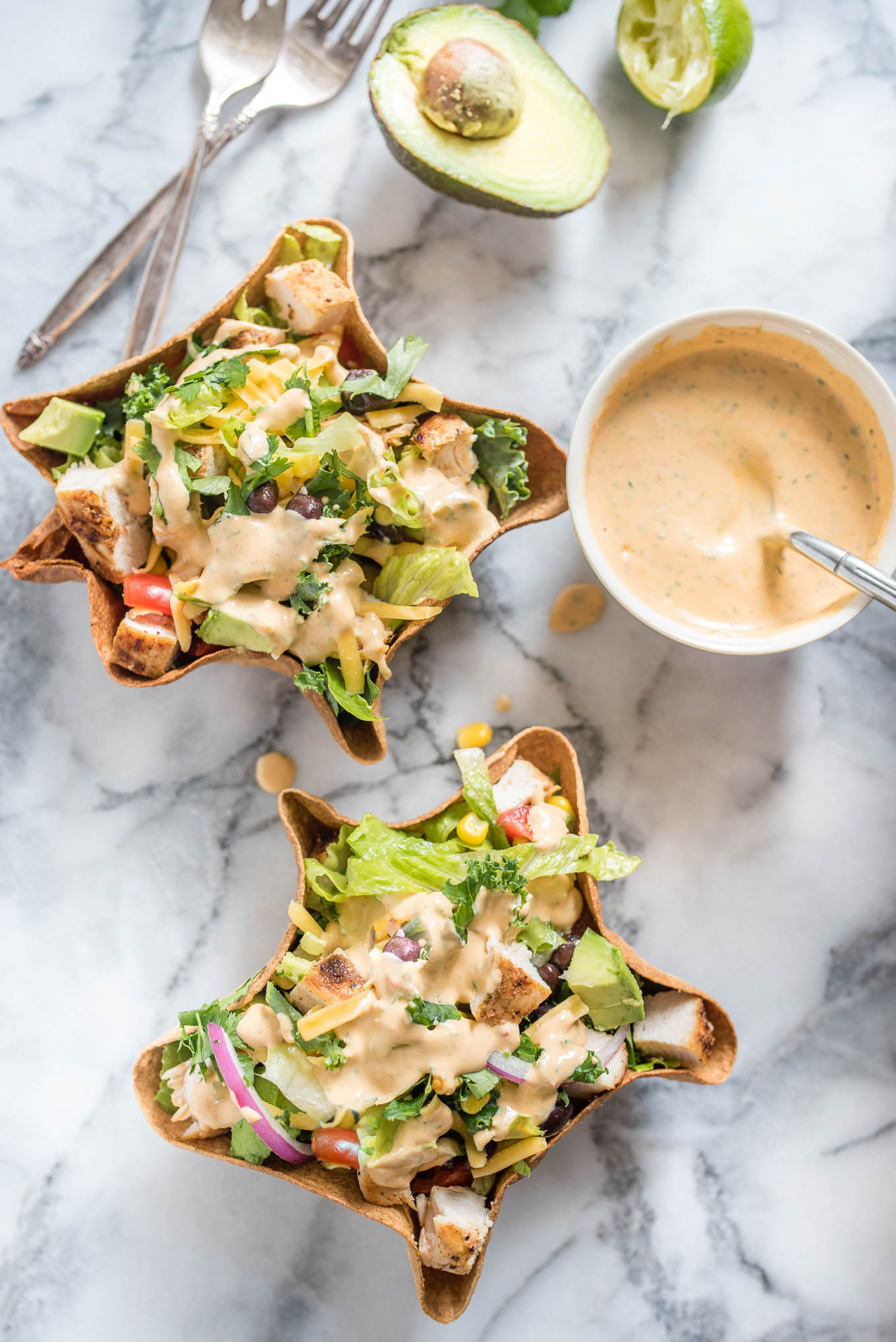 I seasoned the chicken simply and cooked that in the skillet, but you could use leftover grilled chicken too. The creamy dressing comes together in the blender in no time and can be made in advance.
Super creamy from plain Greek yogurt! Mmmmm…..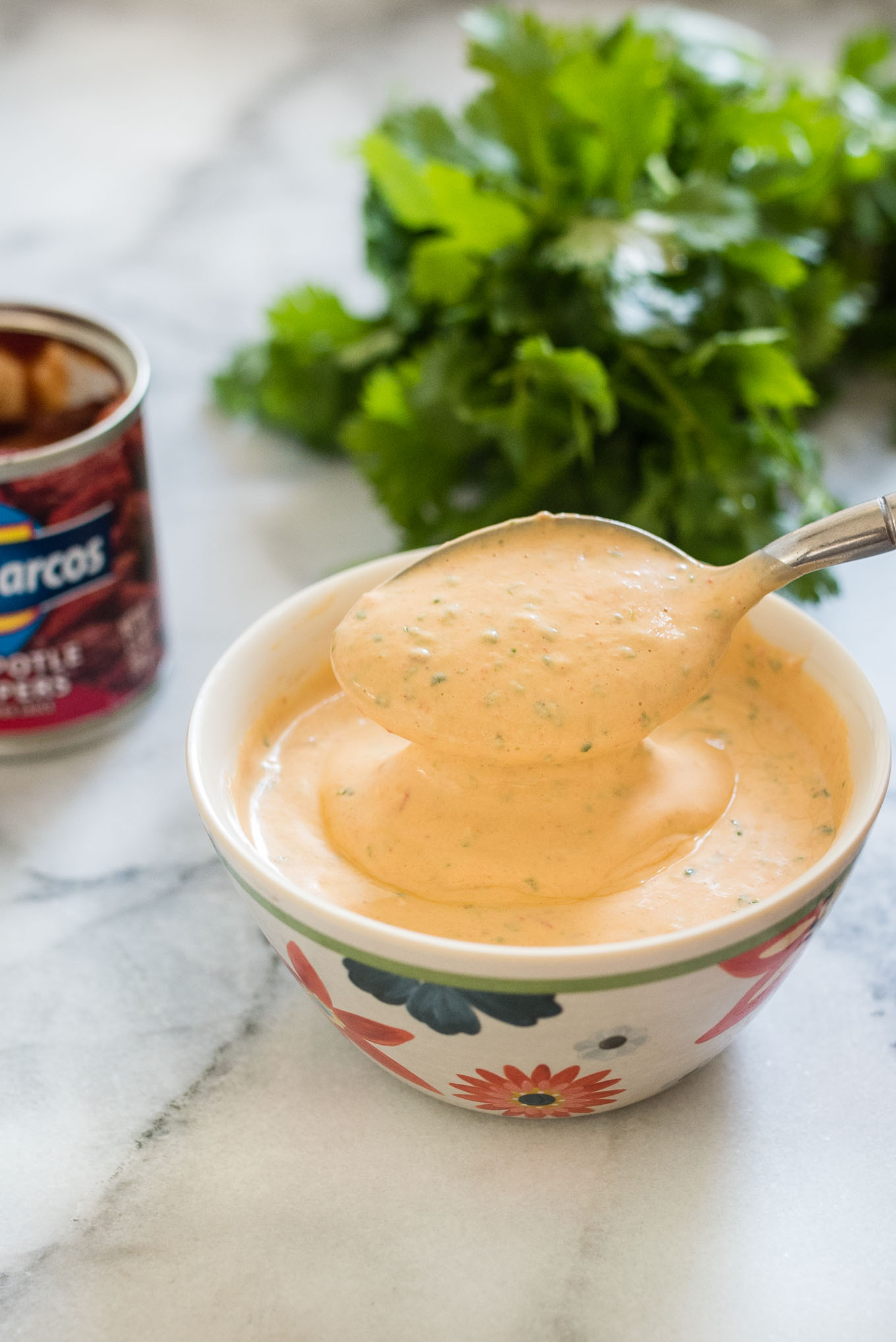 The tortilla shell bowls are totally optional, but they were a big hit so if you have time, I think they are a fun way to enjoy a salad.
I used whole wheat which when toasted into the shell form sort of tasted like a wheat thin. The kids enjoyed breaking off pieces to eat with the salad or dip in salsa.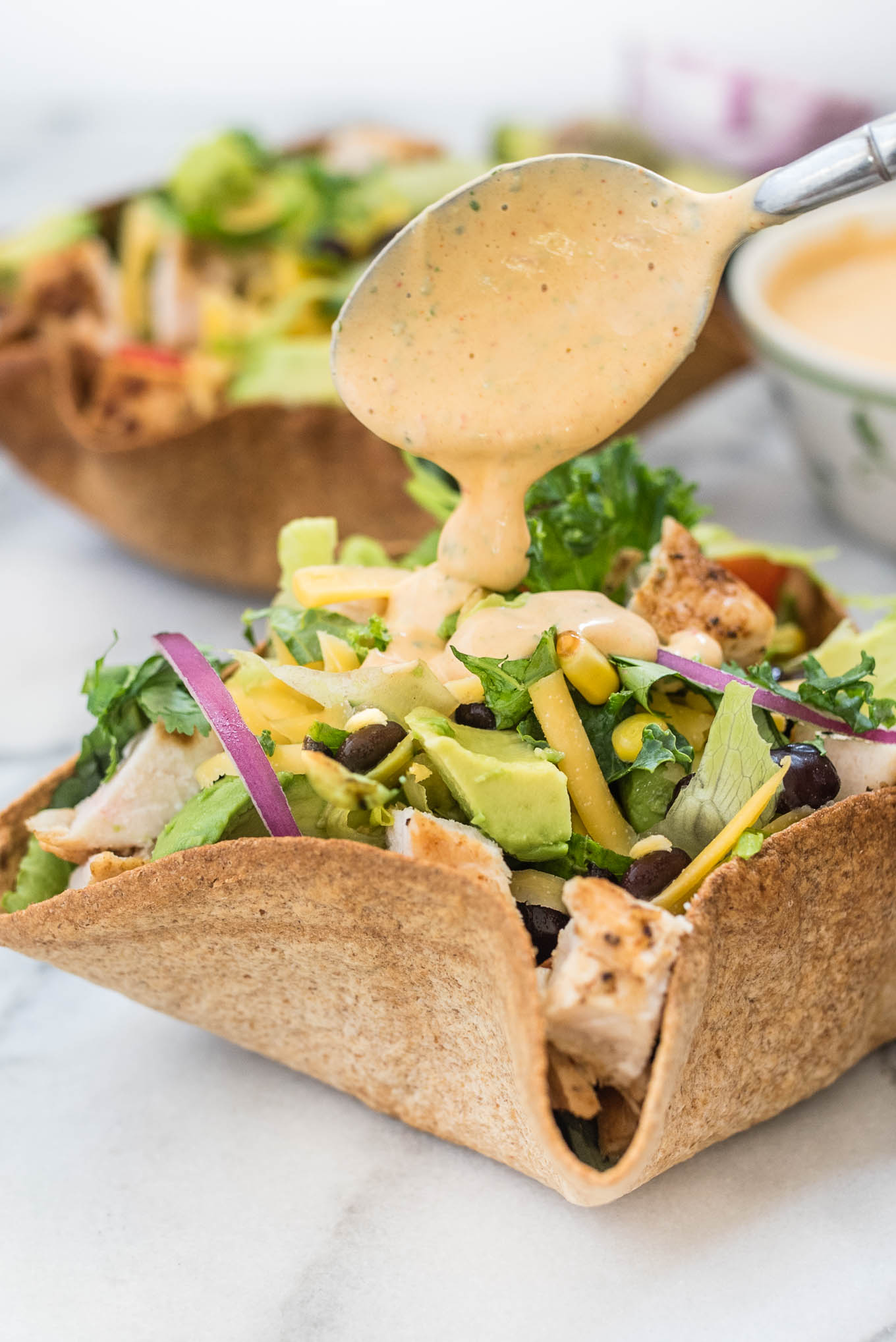 If you've never tried canned chipotle peppers, please keep in mind that they contain a good amount of heat. I used a small pepper, about the size of two teaspoons and it was the perfect amount!
So yeah, tacos salads are on my menu rotation pretty regularly- you can change them up with different proteins and dressing. What have you been loving lately?
There are so many great recipes on Facebook these days. I circulate a lot on my page so please join it for more meal ideas (if you are already on Facebook that is).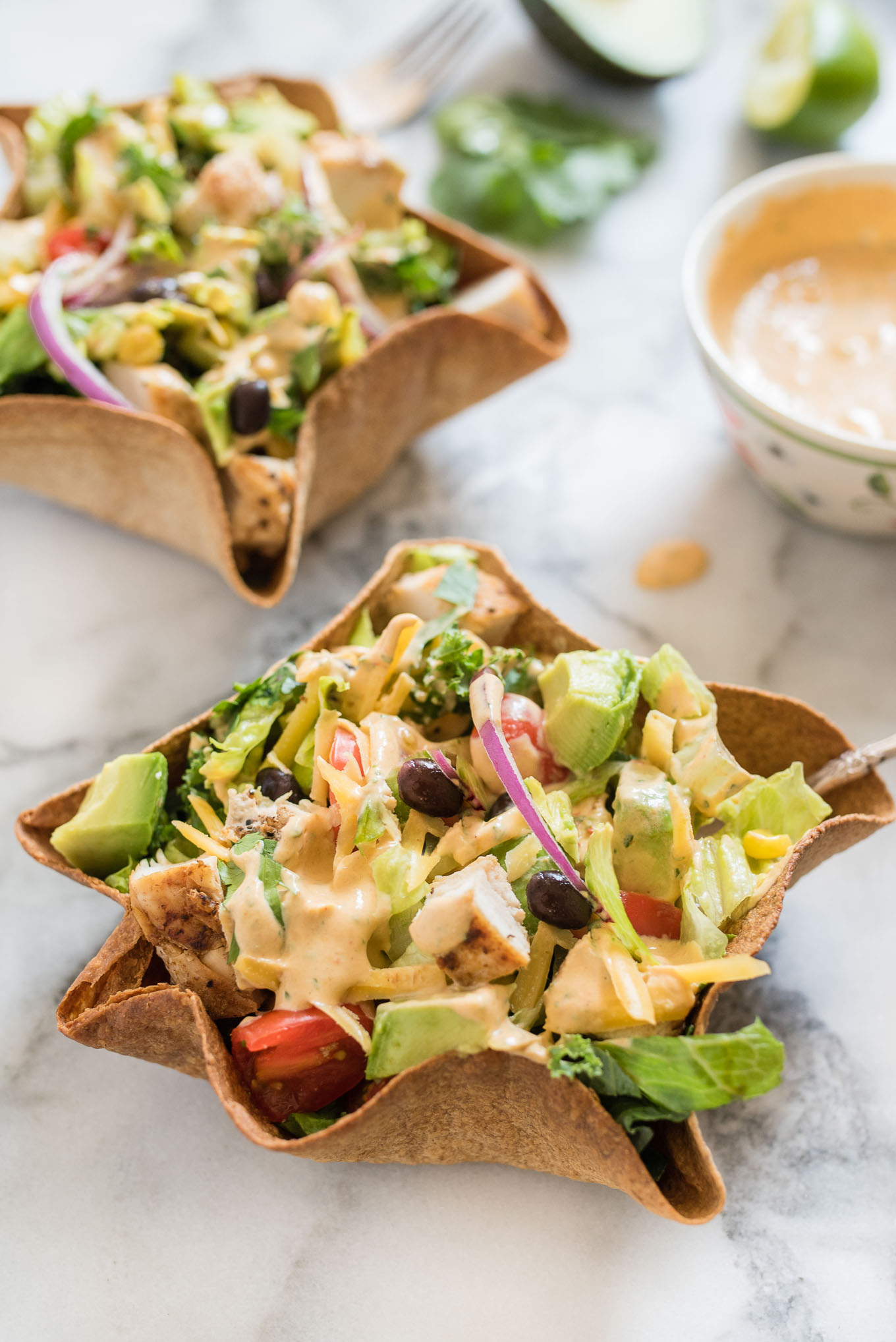 Looking for more salads?
HELPFUL TOOLS USED IN MAKING THIS DISH AND RELATED LINKS:
You'll need some basic ramekins (or something similar that is oven safe) if you want to make the tortilla shell. I just cover them in foil, brush the tortilla with oil and form it around the dish.
A good blender is helpful, not just for this, but so many other recipes. I used my mini twist jar attachment that came with my Blendtec. It's the perfect size for single portions of smoothie or a small batch of dressing like this one.

Chipotle Taco Salad
Author:
Melanie F. | Nutritious Eats
Ingredients
For the chicken:
2 chicken breasts
¼ teaspoon salt
¼ teaspoon cumin
¼ teaspoon chili powder
¼ teaspoon garlic powder
For the salad:
4 cups chopped romaine
2 cups chopped kale
¾ cup diced cherry tomatoes
¾ cup black beans, drained (use the rest as needed for those who want more)
¾ cup corn (frozen, defrosted)
⅓ cup sliced red onion
1 avocado, diced
chopped fresh cilantro for topping
salsa
baked tortilla shell as the bowl- optional (see instructions)
For the dressing:
½ cup Greek yogurt
2 tablespoons lime juice
2 teaspoons chipotle in adobo (~1 small pepper)
¼ teaspoon cumin
¼ teaspoon chili powder
¼ teaspoon salt
1 tablespoon olive oil
¼ cup cilantro
Instructions
For the chicken: combine ¼ teaspoon of the following spices: salt, cumin, chili powder and garlic powder in a small bowl. Sprinkle all over both sides of chicken. Cook on a grill or skillet over medium high heat in 2 teaspoons of oil, 7 minutes per side or until juices run clear.
For the tortilla shell: brush whole wheat tortillas with olive oil. Place foil over ramikens. Lay tortilla over the top and using hands mold down over the ramikan. Bake for 7 minutes. Remove tortilla bowls from ramikans, flip over and bake an additional 3 minutes.
For the dressing: blend all dressing ingredients (yogurt through olive oil) in a blender. Transfer to a bowl.