Here is a recap on what you've missed on Nutritious Eats:
I am doing a September Health Challenge (feel free to start it whenever you can- it lasts for 30 days). I will be posting the daily challenge to my facebook page, twitter and instagram so make sure to follow along.
Need some healthy kid lunch ideas? This post is for you plus I'm giving away a lunch kit to TWO readers- perfect for your kids! You have until Tuesday at 12:00pm CST to enter (UPDATE: GIVEAWAY IS NOW OVER).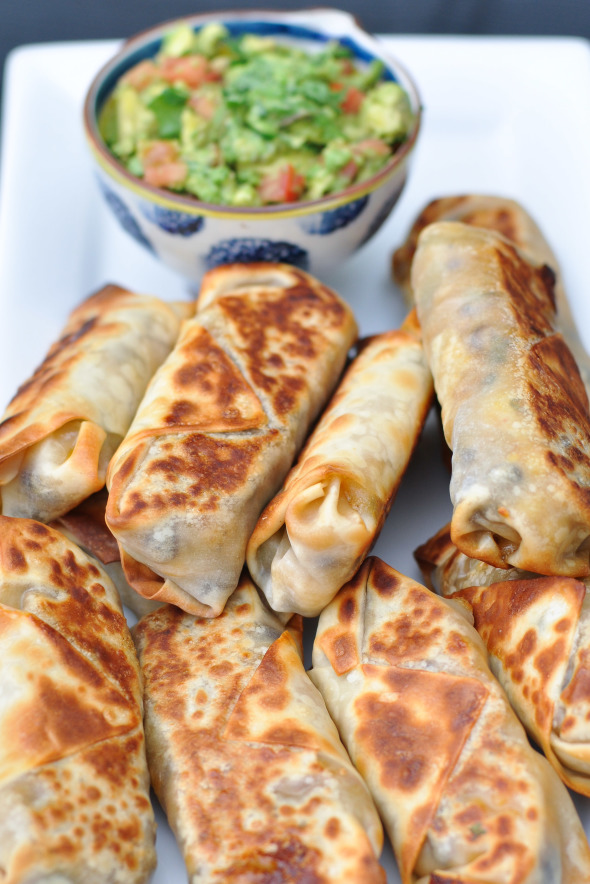 I am sharing today's recipe with you because I LOVE it and has become one of my favorite appetizers/vegetarian meals.
It is perfect for parties, game-days (hello college football!), even casual dinners. We do "appetizers" for dinner once in awhile and I often make these with guacamole, salsa and a veggie tray. Did I mention We LOVE THEM?!
I usually make the whole recipe for me and my husband (my kids don't like these much and I think it's because of the green chilies) so we always have leftovers.  I love them cold the next day or warmed up in the microwave too.
I love a good vegetarian meal. These are packed with beans, vegetables which means lots of fiber and they get nice and crispy even though they're not fried. Just pair them with a simple salad and you are good to go!
If you are making them for a party and need to do some early prep-work, you can make the filling ahead of time and just assemble and bake closer to party time. I like that they are a healthy yet hearty appetizer you can feel good about eating. You will LOVE 'em!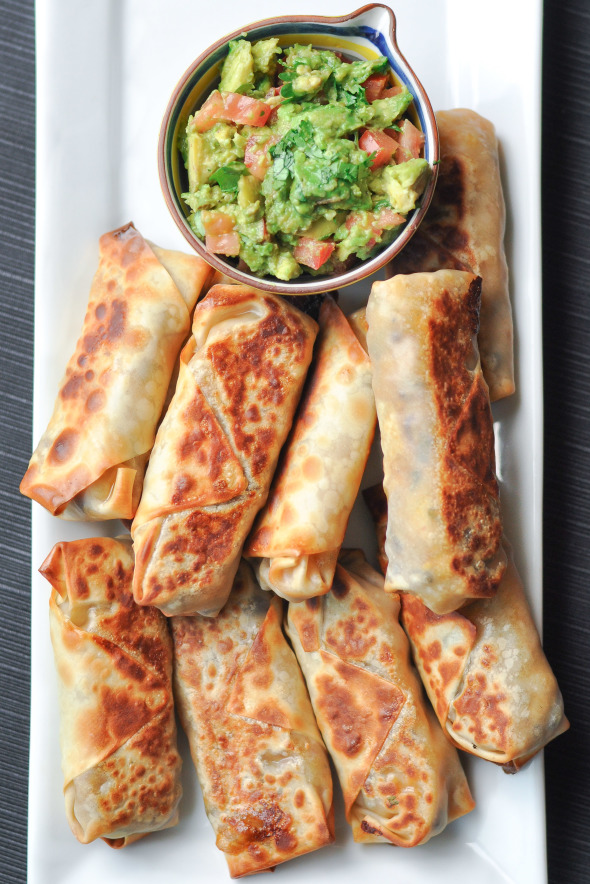 Now on to meal planning. I had some down-time over the long Holiday weekend and I realized why my meal plans have been lacking over the last couple months….I stopped looking at cookbooks, magazines and cooking shows!
Things just got busier since we moved and all the kids were home from school. I devoted an hour over the long weekend to do this and it was SO much easier to plan my menu for the week.
It doesn't mean you have to try a new recipe each night, but it sparks the creativity and ideas needed for cooking.
I totally recommend setting aside some time to flip through your cookbooks or online- just keep a notepad nearby to jot down the ingredients you'll need and by the end of it you will have your grocery list ready. It helps tremendously!
Sunday
Cobb Salad (romaine, tomatoes, avocado, blue cheese & cut up spiral ham)
Monday
Brown Rice & Lentil Burgers & regular hamburgers (for the kids and for leftovers), Traditional creamy coleslaw, homemade potato chips
Tuesday
Garlic Shrimp (got bumped from last week), Orzo-Feta Pasta Salad , Mixed Greens
Wednesday
Southwestern Egg Rolls, Guacamole (any other leftovers)
Tuesday
Spiced Rubbed Chicken breast, Roasted Sweet Potatoes, Leftover roasted Veggies (used in enchiladas)
Wednesday
Leftovers
Thursday
Mint-Pea Falafel, Baba Ganoush & Pitas, Veggie Tray
Friday
Pizza!
All you need for cooking these is a sheet pan like this one!
Baked Southwestern Egg Rolls
Author:
Melanie F. | Nutritious Eats, adapted from Taste of Home
Ingredients
2 cups frozen corn, thawed
1 can (15 OUNCES) black beans, rinsed and drained
1 package (10 ounces) frozen chopped spinach, thawed and squeezed dried
1½ cup shredded Mexican cheese blend
1 can (4 ounces) chopped green chilies, drained
4 green onions, chopped
¼ cup chopped cilantro
1 teaspoon ground cumin
½ teaspoon chili powder
1 teaspoon salt
½ teaspoon pepper
¼ teaspoon cayenne red pepper
1 package (21) egg roll wrappers
**1 egg beaten for sealing egg roll (can substitute water)
Guacamole (optional)
Instructions
In a large bowl, combine everything but the egg roll wrappers. Place ~1/4 cup mixture in the center of one egg roll wrapper. Fold bottom corner over filling. Fold sides toward center over filling and continue to roll tightly to seal (see directions on egg roll wrapper). Using your finger, moisten remaining corner with egg. Repeat.
Place seam-side down on a baking sheet coated with cooking spray. Brush tops of egg rolls lightly with olive oil. Bake at 425 degrees F for 10-15 minutes until lightly brown. Turn them halfway through baking.
Serve warm with guacamole and hot sauce.
Notes
I have substituted sautéed chopped bell pepper for the spinach before.
What do you have on your meal plan for the week? Are you excited about college football?
I love hearing from you! Please leave a comment and if you've enjoyed this post, please PIN, share, tweet or stumble away so that others can enjoy eating healthy with us! Thanks for reading!
This post contains an affiliate link.