Ok I will admit it, I get more excited about food than football. There, I said it. I honestly was just reminded that the Super Bowl was coming up from one of my friend's blogs. I just don't get into pro football, but don't hate me. I am still here to bring you some yummy  food ideas for your Super Bowl party.
I wanted to make a dip because who doesn't love dips during games? My big ol' Costco size tub of feta was looking at me and I immediately thought of this super simple hot feta artichoke dip that I've been making forever. I usually make it around the Holidays (Christmas Eve or Easter), but it is a great addition to any party.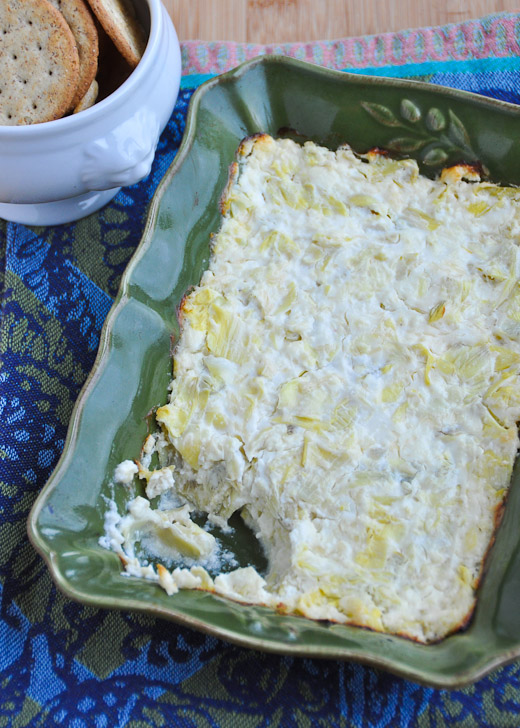 This is a perfect example of a dish that requires no skill. Just chop a couple things, mix in a bowl, then bake. When I see those jarred bottles of artichoke dip it makes me crazy. I am not admitting this to be the healthiest of dips but at least it isn't full of preservatives! Anyone can make this! Feel free to bump up the nutrition by adding spinach or sauteed mushrooms. I've done both and it works well. You might need to add more Greek yogurt or mayo but it's an easy adjustment.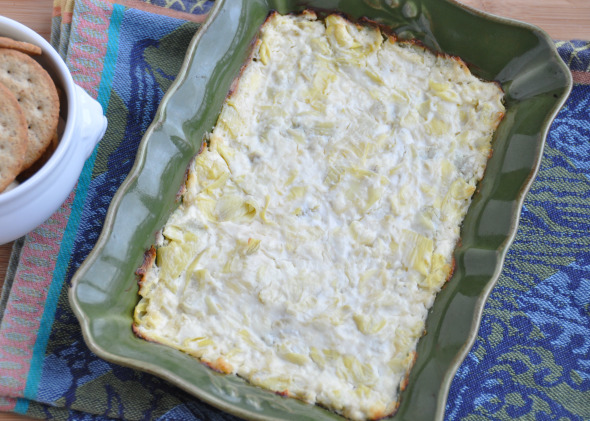 The great thing about appetizers for parties or game days is that you can really create a meal with a bunch of small plates. Need some other ideas? How about my turkey burger sliders? Love this size for sandwiches/burgers. For my vegan friends, you could easily make veggie burgers too and cut them into pieces.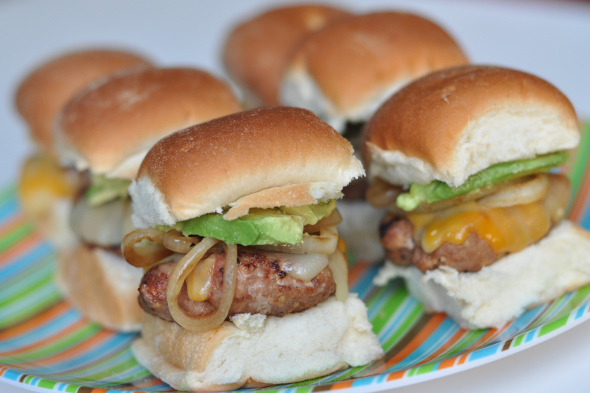 or you could make a big Crock Pot full of Pulled BBQ Chicken and have the mini rolls and all the fixings on the side for people to serve themselves or you could make these Pesto Parmesan Turkey Burgers and form them into smaller patties for sliders….or you could make a pot of vegetarian chili and serve it with tortilla chips and all the fun chili toppings.
But wait…there's more!
Here are some other party food recipes you can find on my blog:
and here are some more game day recipes from some fellow food bloggers:
Whatever you decide to make, I hope you enjoy the game and the food!
Hot Feta and Artichoke Dip
Ingredients
6 ounces crumbed feta cheese
¼ cup shredded Parmigiano Reggiano
1 (14 ounce) can artichoke hearts, drained and chopped
1 large garlic clove, minced
½ cup plain Greek yogurt
½ cup light mayonnaise
Instructions
Preheat oven to 350 degrees. Mix all the ingredients together in a medium sized bowl until well combined.
Transfer mixture to a small baking dish or glass pie plate. Bake for 25 minutes or until hot and bubbly.
Serve hot with crostini, pita chips, crackers, veggies or rice crackers.
Questions: What are you doing for Super Bowl Sunday? Do you like watching the game or do you go for the food and commercials? Who are you rooting for?